In this post, we review the iFi Audio xDSD Gryphon which is a portable Burr-Brown DAC and 1W-capable headphone amplifier with LDAC Bluetooth capability. It is priced at $599.
Disclaimer: This was sent to us as a sample for our honest opinion. Headfonics is an independent website with no affiliate links or services. Thank you to iFi Audio for giving us this opportunity.
You can read more about iFi Audio products we have covered before on Headfonics by clicking here.
Note, this article follows our latest scoring guidelines which you can read up on here.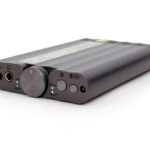 iFi Audio xDSD Gryphon
To be honest I care not what comes next on the market at this point because, besides the slight thump on operating the Xbass switch, the iFi Audio xDSD Gryphon is an almost, almost perfect portable solution that can go beyond its duty by also functioning as separate components. The excellent sound quality is just the cherry on top.
Pros
Excellent output power
Bluetooth performance
Versatile features
Cons
Xbass and XSpace button activation noise
The xDSD Gryphon is a new portable DAC amplifier and a Bluetooth device but also in many ways it is the next step in the evolution of the older xDSD reviewed a few years back.
Whilst the makeup of the device is not wholly unique since there are other units nowadays that can singularly handle all those requirements. Indeed, many have switched to DAPs for their portable needs so the Gryphon is hitting a niche segment, but one that has been recently awoken again with the launch of the Chord Mojo 2.
My apologies to those waiting for a direct comparison as Marcus did the Mojo 2 review recently so I do not have one in my possession.
So, what is the iFi xDSD Gryphon? To me, it seems more like an all-in-one device that can perform many tasks and is at home in many types of setups, not just in a portable scenario.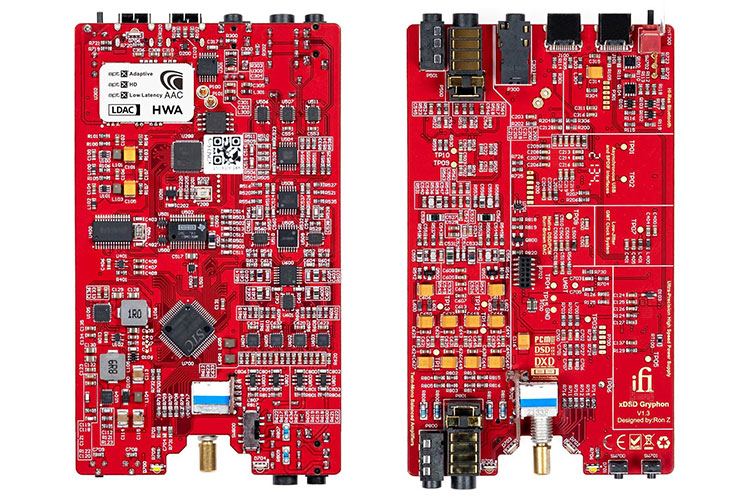 Tech Highlights
Circuit
The brain at the center of the xDSD Gryphon is a 16 core XMOS processor which has plenty of raw calculating power, enough to do all the rendering at the hardware level. Right beside it is a customized Burr-Brown DAC section which combined runs off an in-house iFi created firmware.
That stage passes onto some iFi OP amplifiers in a 2 plus one stage consisting of two OV2637 and a single 4627 chip and onto four Direct Drive headphone amplifier chips which are biased to run at 0V DC in circuitry which allows iFi to avoid the use of bulky capacitors and then combo configured within an OptimaLoop negative feedback circuit.
All these components of course have low distortion measurements on their own so the rest of the circuitry must be composed of quality parts to keep things clean. KEMET and Murata capacitors along with some Panasonic and TDK COGs, a Texas instruments low noise power supply, and Alps switches are used just to name some of the components.
To keep that large orchestra of parts synchronized the conductor used internally is the Femto ultra-low jitter audio stage oscillator which keeps audio synchronization under tight timing.
DAC Section
I wanted to touch on the DAC section individually because it has a selectable mode feature which includes a standard mode, bit-perfect mode, and a GTO filter mode.
The standard mode uses modest filtering while the GTO filter up samples up to 384/362kHz with no pre-ringing, minimum filtering, and post ringing. The bit-perfect mode leaves the conversion unaltered and retains the original source more than the other two.
If you decide to access the DAC on the xDSD Gryphon and use it as a standalone these settings carry on. You could also use the Xbass 2 and XSpace and the sound changes will reflect on the line out and even the volume control works. So that means you could use an analog input and use the xDSD Gryphon as a preamplifier.
Standard decoding limits for the Gryphon are impressive at up to DSD512 and PCM 32BIT/768kHz including MQA 8X unfolding.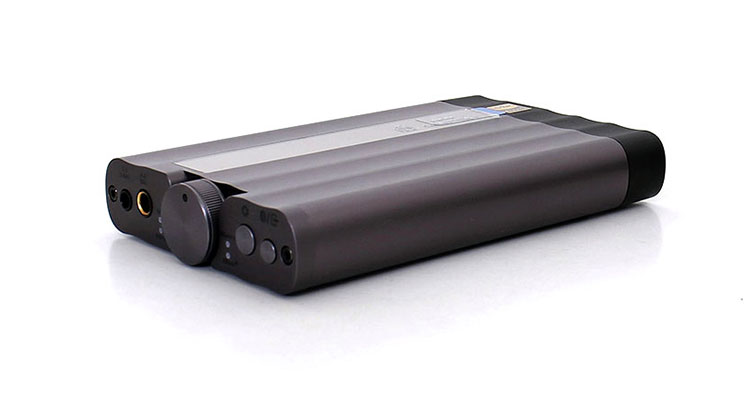 Amplifier Section
One of the ways the xDSD Gryphon maintains signal purity all the way to the amplifier port besides all the above implementations is the PureWave balanced circuit design which is a symmetrical dual-mono circuit topology. The Gryphon is the smallest iFi model that uses this particular circuitry.
This topology was used on their Diablo and on the NEO DAC amplifiers. OptimaLoop was also incorporated which uses multiple negative feedback paths instead of a global feedback loop which can cause phase shifts and group delays.
Performance Numbers
Power-wise, the xDSD Gryphon is not a powerhouse amplifier but with a full watt and 6.7 volts max off the balanced side it should be enough power for most cans out there. The single-ended 3.5mm side is capable of 320mW and 3.5 volts max. Both specs were measured at 32Ω.
Signal to noise is just one number higher than the balanced side at 116db A-weighted. Distortion is lower on the balanced side but at the posted numbers I doubt you could tell which port is cleaner sounding. We could talk a day about numbers but the end result is what matters.
Design
The half-pound main body style highly resembles the two units the Gryphon is supposedly based on which are the xDSD and the xCAN. All three have the same wave pattern top and an all-metal shell with a black end cap. The unit measures 123x75x19mm which is longer than the other two models which measure 96mm long each.
A rotary knob which is a precision digital interface analog volume control is employed at the center and countersunk upfront which combines an analog audio stage with a multifunction digital section. This knob can perform many functions, not just volume but you must update the firmware to gain its multimedia functions.
The one obvious visual difference between these three models is the addition of an OLED screen which to me adds some eye candy and displays lots of useful information. This feature was absent on the other two base models.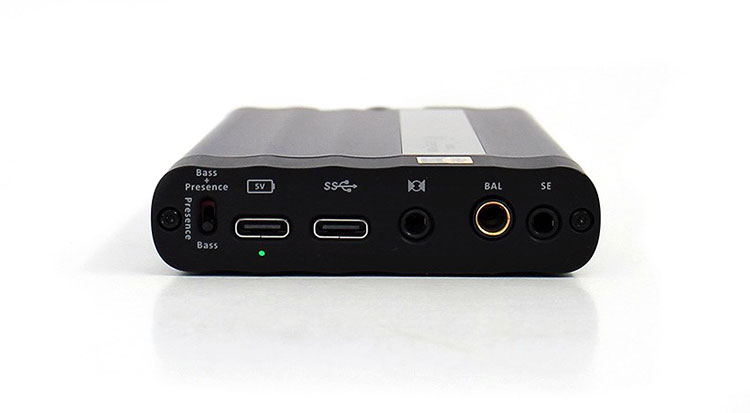 I/O
Well, where shall I start here because the xDSD Gryphon has so many input and output ports. Just from a glance, the front panel seems to be equipped with two headphone output ports. One is a 4.4mm Pentaconn balanced output and the other is a 3.5mm with S balanced circuitry so you could use TRS or TRRS balanced on the same plug.
The front panel is pretty simple but the rear panel is more complex. First off there are two USB-C connections. One is used for charging and the other for data. You can select where the unit will acquire charging power from within the settings if you so desire to separate power and signal which is especially useful in a desktop setup scenario.
Then there is a 3.5mm plug that doubles up as a SPDIF and an optical connection but best yet, it can act as an input or an output just as the other two analog connections can. The other two analog connections consist of a 3.5mm line in/out and a balanced 4.4mm in/out port.
All three ports can input and output a signal and since one is digital and two are analog it means you can access the DAC and the amplifier section separately making this unit highly versatile in any type of scenario far as inputs and outputs are concerned. The well-chosen name Gryphon can act out the part of many separate components.

Controls
The xDSD Gryphon has a center-mounted volume knob which if you update the firmware that can be downloaded from the iFi website will enable some multimedia controls like pause, play, next track or previous track, answer or hang up while connected to a phone via Bluetooth.
Out of the box, the volume control doubles up with some on-screen menu navigation duties. On the front panel, there's a button with a cogwheel and it activates a sub-menu in which you can make changes to the USB port functions, select DAC mode, screen brightness adjustments, factory reset plus a BT voice toggle.
One cute feature this volume knob has is that the LED changes color depending on volume level which I think is novel. To be honest, I personally like all the front panel indicators. The front-mounted multicolored LEDs which are for Bit rate, input, XSpace, and XBass 2 are small, subtle, and look great.
The new XBass 2 and XSpace are selectable with a single push button upfront plus doubles up to access the unit's menu with a long press. The other push button selects the input and doubles up to initiate Bluetooth pairing, again with a long press.
On the back, there's a small three-position toggle switch that controls a bass and presence feature. On top of that, well actually the bottom, there is yet another three-position toggle switch that operates the IEMatch feature which is handy to have if you plan to use sensitive IEMs.
Packaging & Accessories
Fancy packaging has never been an iFi Audio forte and the xDSD Gryphon follows that tradition with a simple box that simply protects the contents which is fine with me.
The contents of the box are rather nice which is what really counts starting with the three wires you get which are paracord wrapped, beige in color, and very nice looking. One is a short six-inch USB-C to USB-C, another foot long USB-C to full-size male USB, and a USB-C to a lightning connector which means that the Gryphon is Apple compatible and usable out the box.
There's also a decent size black velvet carrying pouch, right up Alannah Myles's alley. Get it? The included pouch is iFi branded with a drawstring to close it up and it could fit the Gryphon plus a couple of wires. Some paperwork completes the package.
Wireless Connectivity
Bluetooth
Wow, all this speak and not a mention of the xDSD Gryphon's 5.1 Bluetooth capabilities which just further reinforces its versatility value. The xDSD Gryphon has a Bluetooth receiver incorporated capable of running almost every BT codec out there. It uses a modern-day Qualcomm QCCS100 Bluetooth chipset.
Every codec from LDAC to SBC and everything in between runs on the xDSD Gryphon including Adaptive and low latency aptX. HWA\LDHC also runs on the xDSD Gryphon and of course the common SBC plus AAC. The codec type always displays itself on the OLED screen while in use plus the bit depth and some other stuff.
Latency
Latency is very low and this unit measures up in milliseconds which is unperceivable with our natural senses. Far as latency the xDSD Gryphon performed very well in this area.
However, the long-range transmission was just okay and not epic, especially on LDAC but that is a limitation of the codec. While on LDAC I could not turn a nearby corner without breakup issues. In a straight line I could get somewhere between 15 and 20 feet away from the source while using other codecs and beyond that distance, disconnects will occur.
Wired Connectivity
USB-DAC
If you plug any of the digital inputs into a PC or a phone and tap into one of the analog outputs then you could use the xDSD Gryphon as a standalone DAC. Just like you could input into those analog rear ports and use the Gryphon as a standalone headphone amplifier.
One of the drawbacks their recent iDSD Signature and the Diablo had was that the analog input feature was removed but the feature is back on the xDSD Gryphon in spades.
USB-OTG
Again, plug the xDSD Gryphon into any USB port on a laptop, desktop, or phone with OTG. You could also use any device with a lightning connection since iFi finally included a proper wire for use on Apple gear.
The internal DAC will do Ultra-res PCM up to 32 bit/ 768 kHz plus DSD512, DXD and there is also MQA full hardware decoding and up to 384 kHz. I think it's safe to say there's enough codec capability here for any file you have or desire to use now or in the near future.
Click on page 2 below for sound impressions and select comparisons