This is an in-depth review of the Ultimate Ears UE5 Pro dual BA driver custom IEM complete with switchable 311 faceplates and IPX sockets. It is priced from $549.
Disclaimer: This sample was sent to us in exchange for our honest opinion. Headfonics is an independent website with no affiliate links or status. We thank Ultimate Ears for this opportunity.
Click here to read more about UE gear that we have previously covered on Headfonics.
Note, that this article follows our latest scoring guidelines which you can read here.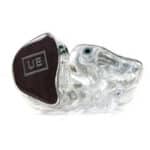 Ultimate Ears UE5 Pro Review
The Ultimate Ears UE5 Pro is a solid little entry-level dual driver custom monitor. It has a nice balance of punchy BA lows balanced out with a sparkling treble overtone and just enough midrange vocal presence and clarity to keep the listener engaged. 
Pros
Solid bass response for a BA
Switchable faceplates
Accurate fit
Cons
Shell design options limited
Slightly hot treble timbre
The UE5 Pro is our first review of an Ultimate Ears IEM in a very long time, perhaps as far back as the Mike Dias days of the UE900 sometime in 2014.
Now, this is not exactly a new product, in fact, it was launched over 25 years ago though this is my first time hearing it. Since then, it's gone through various tweaks to remain a competitive entry-level custom monitor.
The current iteration we have here is a variant with UE's new SWITCH feature which basically allows you to change the faceplate of your custom IEM very quickly and easily.
The second factor is the recent link-up with 311, a long-standing and well-known Nebraskan rock band for those plates.
311 is one of those bands that reminds me of slumming it out in Cheapo Records in the Mid-West hunting for CD bargains for a few months back in the mid-90s.
They have that classic mid-90s alt-rock sound with a genre-defying feel to most of their albums. That classic blue cover of their self-titled album in 1995 was everywhere at the time.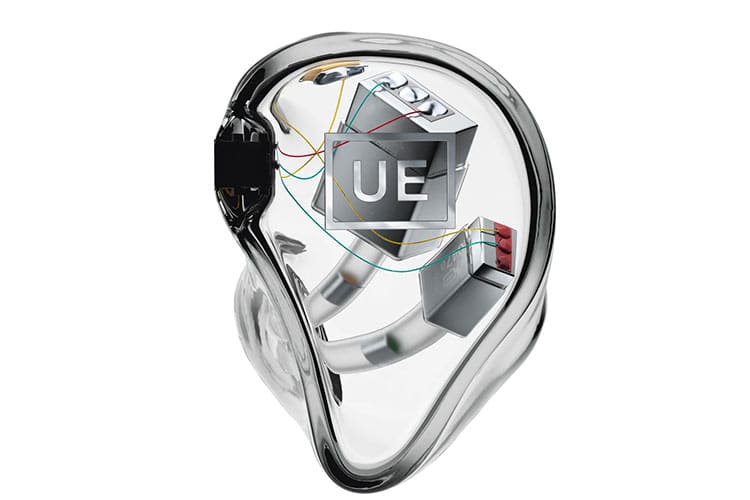 Tech Highlights
The UE5 Pro is a dual-balanced armature driver monitor and part of the company's wider Pro range with this being their entry-level offering.
The split is fairly simple with a single larger BA driver for the lows and mids and a smaller BA for the highs using an integrated 2-way crossover. UE does state that the drivers are proprietary so I cannot say where they originate from but I do know historically UE had a strong partnership with Knowles before the takeover in 2008 by Logitech.
Sensitivity-wise the UE5 Pro is rated at a fairly easy-to-drive 21Ω and 119dB SPL @ 1 kHz, 1mW and you can read up in more detail on how we fared for pairings on the second page of this review.
The other quasi-technical highlight is that this particular custom design has a rather large hole in the middle of the area where the plate is. That is because of the new UE SWITCH technology which allows you to twist, detach, and reapply different types of UE-supplied design faceplates that in turn complete the air seal for the CIEM.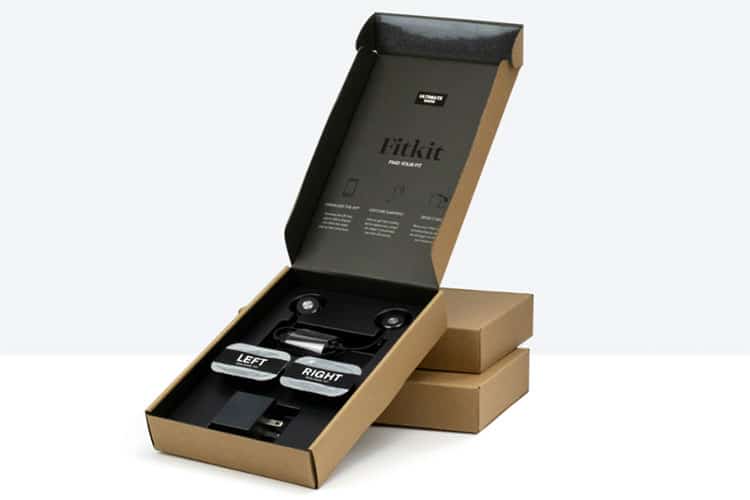 Design
Custom Options
Since this is a custom design monitor you have a number of options on how to customize your own pair of UE5 Pros, some of them quite unique to Ultimate Ears.
Everything starts with the fitting process and normally I send in my digital STL files which are 3D printing digital scans. UE will accept those but they also offer an inventive home molding service you can do yourself called the FitKit.
Basically, you get two pieces of molding clay or tips that you insert in your ear that gently expand in tandem with a companion app on your phone that guides you through the process. The expanded clay will work just like an audiologist's service in creating an exact impression of your ears which you then send back to UE for making your customs.
You can still use a traditional audiologist and create your own samples also. Some prefer this method as it tends to be able to go a bit deeper to the second bend and creates a tighter fit which is suited to active stage artists. For many, the slightly more relaxed FitKit impression is enough and probably cheaper also to use.
Finishing
The UE5 Pro, like any UE custom, is 3D printed these days so presuming your molds are accurate so also should be your finished monitor. And true enough, our received sample was blemish free and reasonably long on the nozzle which is normally my preferred finish. The nozzle itself seems to be a horn design with the bore exits recessed into a single wide opening.
The options for the shell are quite limited though with just a transparent clear resin finish on offer. I would have loved to have seen some complementary translucent shell designs to go along with the stock faceplate colors.
Still, if you are a curious soul like me, nothing beats peering at the internal mechanics of the driver/crossover design which can be easily seen with a translucent clear shell.
Faceplates
However, you do get plenty of plate options, especially with the UE SWITCH technology which allows you to grab a range of plates or 311 collections and easily change them depending on your mood. Just be aware that if you pick the 311 collection it will remain logo free on top due to branding requirements.
For this sample, we picked the 311 Soundsystem album cover from back in 1999 which is fairly striking as well as two UE stock plates, the Olive Camo and the Purple Heart Wood.
The plates themselves are quite thin but seem fairly sturdy with a low-profile resin locking mechanism on the underside that lets you insert into the top of the main shell at a 90-degree angle and then twist and lock in place.
I was worried that the air seal might not be so good on the locking port but in actual fact once inserted it's pretty tight with no noticeable gap on the seam between the plate and the shell.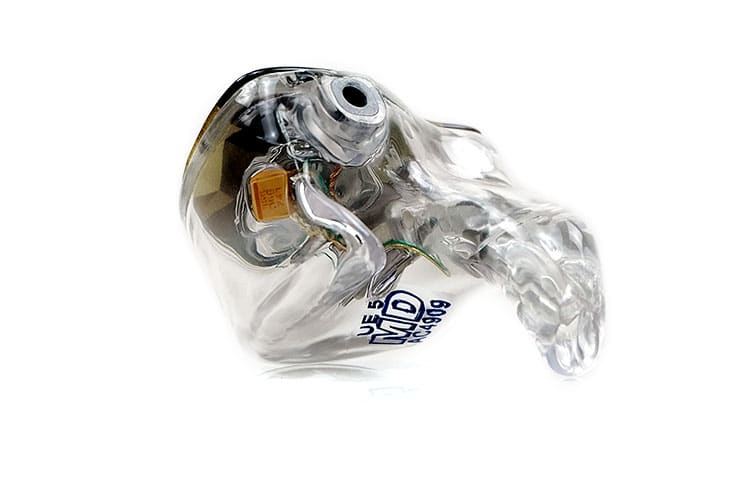 Comfort & Isolation
So long as your molds are accurate so also should the 3D printed shells of the UE5 Pro. Ideally, that should mean a perfect fit with excellent levels of isolation. In the case of this sample, the fit was excellent in terms of a balance between comfort and internal ear pressure.
Because the UE5 Pro uses only balanced armature drivers you will not find any external venting ports usually required if there is a dynamic driver. That lack of venting should improve overall levels of passive isolation also.
Compared with the likes of similarly priced all-BA customs such as the TP Audio Aurora and the Avara Custom AV3, the noise blocking is on par. However, it is slightly behind bulkier alternatives such as the Lime Ears Psi which has more girth and a little more ear canal pressure, as a result, further enhancing the level of isolation.
Stock Cable
IPX
As with previous UE models, the UE5 Pro comes with IPX connectors. When they were initially launched I was not overly fussed on yet another connector system but over time I have come to actually prefer them over MMCX and 2-pin.
IPX is low-profile as well as moisture and dust resistant which is ideally suited for stage performers building up a sweat over a 2-3 hour gig. From an audiophile perspective what won me over is the very simple connection system which is much easier than MMCX and looks more durable than the 0.78mm 2 pins method.
It also means the connecting ports on the shells are similarly very discreet with no requirement for lengthy stems or recessed ports for strengthening purposes.
Cable
The stock cable is a rebranded Linum G2 SuperBaX cable which I have a few here already. They are very lightweight, tough, and easy to manage with absolutely nothing in the way of memory retention or stubborn microphonics.
The internal wire is not AWG rated as far as I am aware but instead uses 168 strands of silver-plated copper Litz in a 2 x 2 4-wire twisted bundle configuration with a clear PVC jacket.
The cable is finished with the trademark UE branded triangular hard plastic splitter that smoothly splits in the middle to double as a fairly accurate chin chinch and a 3.5mm TRS right angles jack at the base.
I do wish you had the option to go 2.5mm TRRS or 4.4mm balanced options so take advantage of modern DAP balanced outputs. However, unlike similarly thin and lightweight black P1 stock cables that have been floating around for years, this cable has a surprisingly decent dynamic range performance.
Packaging & Accessories
Your UE5 Pro will come packed in a fairly compact all-black retail package with everything neatly laid out inside via a 2-layer cardboard packaging system.
One thing to note is that UE seems to ship the retail box as is without any external courier box meaning all your courier labels, bumps, and knocks will be on the actual box itself.
The internals will be unaffected but sadly you can kiss that external box goodbye in terms of keeping it in pristine condition. I would have preferred to have seen a standard brown courier box used to keep everything in perfect condition.
Cases
Aside from that, you do get a lot of decent accessories with the UE5 including two cases, a cleaning cloth, and a standard pick tool to get the grunge out of the nozzle horn.
The monitors themselves are front and center but below you get a fairly stiff and watertight branded black daily carry case on which you can inscribe your own name during the design stage of your purchase.
It is actually reasonably deep also and will hold both monitors, cable, and other accessories with plenty of space left. It does not come with any internal padding though so if you are a bit OCD on these things I suggest packing the supplied cleaning cloth at the bottom to cushion the shells a bit.
Below the top layer, you also get an additional leather wallet which is designed to hold your additional faceplates for the UE SWITCH system. It is an attractive little bi-fold case with room for up to 6 different plates and protected by some decent soft cushioning.
Click on page 2 below for sound impressions and pairings