The iFi Audio xCan is the latest slimline amp in their new 'x' range of portable amp/DACs and also includes Bluetooth connectivity. It is priced at $299.
Disclaimer: The iFi Audio xCAN sent to us for the purposes of this review is a sample and does not have to be returned. Thank you to iFi Audio for giving us this opportunity.
You can read more about iFi Audio products we reviewed on Headfonics by clicking here.
The xCAN is a fine pure portable amplifier at this price point. Its modern wireless connectivity may appeal more to a new generation, but as an old hack I really do appreciate a great analog performance and this is indeed a great one.
The portable amplifier market has had a tough time of late with the advancement of DAPs in both power and refinement. More and more people in portable audio are moving to sensitive IEMs which require less power but lap up more resolving sources.
What that means is you need to bring an "A-game" plan for any new portable external amplifier if you want to capture the market's attention. A key selling point if you will.
Traditionally, that meant a DAC/Amp combo with some killer features. Two of them last year grabbed our attention, the FiiO Q5, and iFi Audio's own xDSD.
Now iFi Audio is back with a new 'sibling' to the xDSD, the $299 xCAN portable amplifier and, true to our opening statement, it has more than a few key selling points that might make it a unique offering to audiophiles.
If there is one thing iFi Audio is very good at it's including lots of interesting features on their products.
xCAN New Features
Like the xDSD, the xCAN is awash with features in true iFi Audio style but the two that stand out the most is the amplification stage and its ability to receive a wireless Bluetooth connection. The BT side of things gives it a fresh coat of modernity on an otherwise fairly traditional analog portable amp setup.
It does have a DAC inside, a good Sabre chipset at that, but it is primarily for converting the BT signal into analog. There is no pure DAC capability inside the xCAN beyond that that would overlap with the major xDSD feature-set.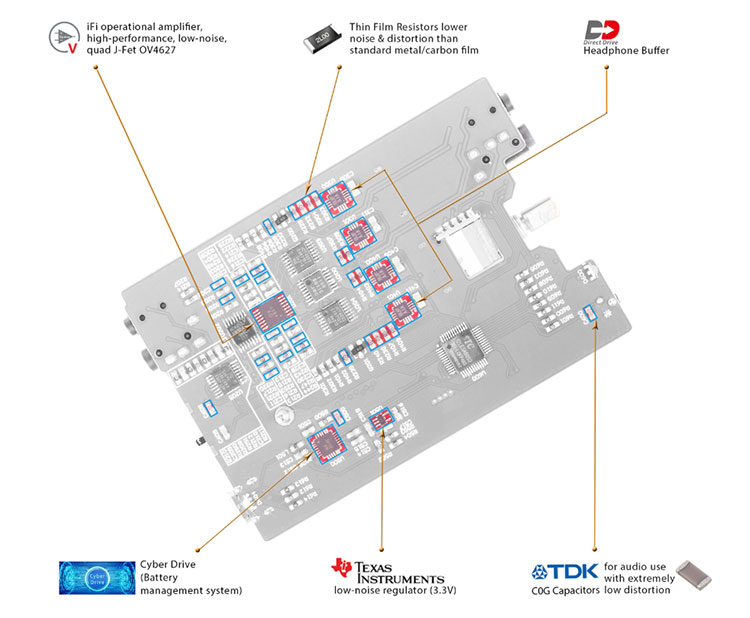 Amplification
So this is the first step in terms of attractive features. The xCAN has a ton more output power and connection options than the xDSD. This is its forte with a dual-mono amp stage outputting up to 1W into a 32Ω load balanced compared to the xDSD's 500mW into a lighter 16Ω load.
Even on the unbalanced output of the xCAN, you are getting 600mW into a 32Ω load which offers way more headroom still than the xDSD maximum output. This is plenty of juice for demanding headphones and beyond what a lot of DAPs can provide.
S-Balanced
But there is more. The xCAN not only does balanced and unbalanced output it includes a balanced and unbalanced line-in also to deliver a fully-balanced amplification stage. They also throw in their legacy S-Balanced feature from the xDSD to maximize their unbalanced 3.5mm output even further for crosstalk, noise and a few additional mW's.
Wireless
More specifically Bluetooth 4.2. and a few interesting features that make this more than simply receiving a digital signal and decoding it to analog. The first is the separation of the receiving and decoding with the use of an ESS Sabre chipset.
I am not entirely sure which one is used but it should provide a better level of dynamic range and lower noise floors than integrated BT chipsets. It should also compensate somewhat for the lack of aptX-HD and LDAC decoding which I would love to have seen on the xCAN.
The second is the inclusion of aptX LL which is an essential feature for those that run video, gaming and possibly video chat from smartphones. Audio out of sync is a killer for me on portable streaming.
Legacy Features
3D+ Matrix
The xCAN does actually pull in a few legacy features from the xDSD, such as their Cyber Drive battery system and their 3D+ Matrix and XBass technology. 3D+ Matrix basically reinterprets the "in-head" effect of playing music recorded for speakers via a headphone or IEM. It does this via instrumental imaging and singer placement so it sounds more like a speaker setup and outside your head not inside.
XBass
At a high-level, the XBass II functionality is primarily a bass booster but it is designed to isolate or filter the low-end so as not to muddy up the mids at the same time. On the xCAN, iFi Audio has further refined the XBass feature hence its II moniker and not the + icon.
The new XBass II now has an additional option to boost the lower-mids presence region for a more natural sound as well as older XBass + low-end boosting or just low-end boosting on its own.
Build Quality
Form Factor
If you are familiar with the modern design aesthetic of the xDSD then the xCAN will come as no surprise to you. The form factor is virtually identical save for the rear and front panel input and output options.
I called this a hip-flask type design and I still think of it that way. The size is diminutive enough, the weight none too taxing at 128g and the finish and aluminum ripple-like curving are pretty cool save for the heavy fingerprint attraction.
The edging on the chassis, whilst not overly-curved is not that sharp either. The vast majority of the chassis between the front and back is beautifully rounded so the xCAN is very comfortable for day to day handling.
All the knobs and buttons are pretty much flush which I find critical for external portable amps. You will not find yourself accidentally moving the volume dial (without some exertion) or switching on and off its 3D+/XBass II or BT functionality. This is a stable and pocketable form factor.
Materials
Much like the xDSD, the xCAN is crafted from a similar mix of a gunmetal chrome finished magnesium-aluminum alloy and hardened contoured matching plastics at the base.
It is a bit of a fingerprint magnet due to that shiny finish so bring a cloth if you want it to look perfect. And perfect looking is what you want because it is one of the nicest looking portable amplifiers I have seen for many a while.
The stiffened matching contoured plastics at the base is for optimal Bluetooth transmission strength. A pure aluminum case would diminish the signal substantially whereas the more porous plastic cap is much better.
LED Lights
At a high level, the xCAN LED light system works in much the same manner as the xDSD minus the pure DAC component. I do advise having a brief read of the user manual to familiarize yourself with the color system because it affects both functionality and precise volume levels via the center rotary dial.
Volume Colors
Except for the red LED light code, the db parameters for the volume control on the xCAN remain the same as the xDSD. The exact parameters are as follows:
Note that the red LED now goes up to +12dB whereas on the xDSD it only went up to 0dB. You will now get a much wider range of amplitude on the higher color setting on the xCAN volume control.
Functionality Indicators
When the xCAN starts in normal "wired" mode you get a tinge of green before it goes out. By starting and holding the central dial button from the power off position you get a blue tinge to indicate BT pairing mode. If there is no connection it will pulse blue on and off until you begin the pairing process.
By long pressing the far-left button on the front panel under the BT icon the main rotary dial LED will flash blue and red to indicate pairing. It will stop once paired with a BT source. It will remain blue until you start rotating the dial where it will assume the volume color code sequence in the image above.
Aside from that, you have a white LED for activation of the 3D+ and XBass II options and a small diode to the rear under the charging port to indicate battery status.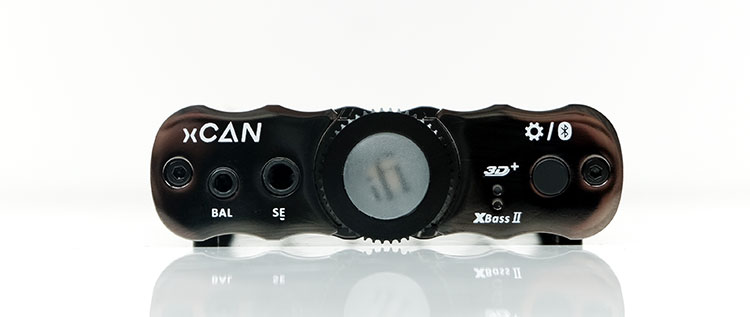 Inputs & Outputs
S-Balanced
S-Balanced is technically a 3.5mm unbalanced socket with balanced output benefits using dual-mono amp stage design. iFi Audio has been using this same principle from their top-tier Pro iCAN through to last year's xDSD so it is no surprise to see it in the xCAN's array of inputs.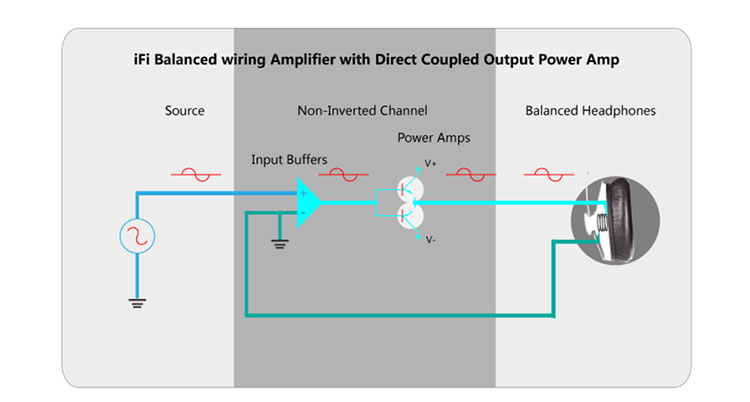 Essentially, the xCAN does away with the second amplifier channel that traditional balanced amp circuits deploy whilst retaining the negative wire per channel to the star ground to minimize crosstalk. Combined with their built-in IEMatch technology, iFi Audio see this output as having all the attributes of a well-designed balanced output but with less noise and distortion for sensitive IEMs.
Balanced 2.5mm
For those that want 'all the glory' of a traditional balanced output, the xCAN has that also on the front panel with a 2.5mm TRRS jack output. This was something missing on the xDSD last year so it is good to see it on the xCAN this year. It will deliver a lot more power also compared to the S-Balanced 3.5mm alternative.
Multi-Function Button Control
To the right of the front panel, you have the same triple function button which controls the xCAN BT pairing and the 3D+ and XBass II feature on and off. A long press will go into pairing mode also for new BT sources and short presses will interchange between the 3D+ and XBass II settings.
Volume Controls
The volume control is not digital, it is analog based though with a W990VST digitally controlled stepped attenuation process over a 113dB range in 1dB steps. The dial itself is slightly inset though not completely flush with the slightly bulbous iFi branded bulb area acting as a power on/off and BT function button. You can also press it to mute but it does not have any playback control.
The volume dial does not have a guard to protect from accidental physical adjustments. However, the stepped aspect has a degree of resistance to it so it is not terribly loose either. Unless you are very rough with it I can't see too much accidental movement. It will take about 5-6 knocks to get to an uncomfortable level.
Rear Panel
USB-C
Hooray! The latest batch of xCAN's has now switched to USB-C charging sockets. Mind you, the xDSD is still a micro-USB socket so it would be nice to see it get a change mid-production run also to match up. You will not find any additional USB ports on the back of the xCAN given it has no pure DAC functionality.
XBass II
Also, on the rear panel is the switcher for the XBass II system offering 3 presets including bass, presence and a combination of both. Turning on the XBass is still via the front panel switch on the xCAN.
Line-in
The final two inputs on the rear panel are line-inputs both balanced 2.5mm TRSS and unbalanced 3.5mm TRS. The traditional 3.5mm LO is an absolutely essential component of any respectable portable amplifier.
I am also glad to see a 2.5mm line-in for hooking up to the likes of the Sony 1Z and the Lotoo PAW Gold Touch, (using a 4.4mm adaptor). It pretty much ensures you have a fully balances source and amp system in a wired setup.
Battery Life
Because of the lack of pure DAC the xCAN gets a big boost in battery life numbers from the same 3.8V/2200mAh Li-poly battery from the xDSD. From a fairly average 8 hours on the xDSD, iFi Audio is spec'ing the xCAN at a very healthy 18 hours as a pure analog amp and a competitive 12 hours when deployed wirelessly.
If you are going super-efficient low impedance IEMs, that 12-hour wireless is pretty close. I think my loose monitoring had it around 10-11 hours continuous on aptX with a steady signal. I suspect you can go higher if you use a lighter data loading codec such as AAC.
For the analog rating, this will depend on what you plug into the xCAN. For IEMs it will come close but once you start going 50-150Ω and onwards it will drop fairly rapidly to under 10 hours for 300-600Ω dynamic headphones and more demanding planar alternatives.
Charging
Charging is via the USB-C socket, it does utilize fast-charging but as to compatibility with known standards, it is not clear if QC3 or PD2.0 or both.
The Cyberdrive charging system also has a positive and welcome feature that ensures a long battery lifespan. Say for instance you decide to power it and use it as a desktop solution so its "always on" a power source.
The Cyberdrive charging system will not max out that charge leading to the premature death of the battery. Instead, it enters a "desktop" mode which maintains it around 70% and "maintenance mode". That is a healthy level for the battery if it is always on a charger.
Accessories & Packaging
The xCAN comes in the classic iFi Audio packaging chock full of eye-catching slogans and most of the unique features of the xCAN. I kind of like it, it feels like I am getting a lot for the money and appeals to my inner nerd. Is that a bit shallow? Yeah, but the retail shelf can sometimes be like that.
iFi Audio always do a good accessory line-up and whilst the lack of pure DAC in the xCAN means there are not quite as many cables it is still fairly packed with useful stuff. Inside you get:
USB-A to USB-C cable
3.5mm to 3.5mm short interconnect
2.5mm to 2.5mm TRRS interconnect
Storage pouch
Dual locking velcro strips
Warranty / Instruction guide
The velcro straps remain from the xDSD and you can even work both the xDSD and the xCAN as a stack with the straps using the 2V analog line-out of the xDSD into the rear 3.5mm line-in of the xCAN.
The little pouch is a touch on the flimsy side though with the bottom of mine splitting fairly quickly upon initial use. Just be mindful of that when throwing your xCAN into the pouch it does not end up on the floor.
Click on Page 2 for Functionality & Sound Impressions