Today, we review the iFi Audio UNO, which is a compact USB-powered and OTG digital audio capable DAC and headphone amplifier. It is priced at $79.
Disclaimer: We received this sample in exchange for our honest opinion. Headfonics is an independent website that does not have any affiliate links. Thank you for the opportunity, iFi Audio.
More information about iFi Audio products that we have previously covered on Headfonics can be found here.
Please keep in mind that this post adheres to our most recent scoring guidelines, which you can find here.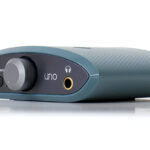 iFi Audio UNO
The iFi Audio UNO certainly is an improvement over many things. It also makes a great first-timer and an easy-to-transport DAC amplifier. It's a step above the common dongle DAC if you always wanted similar performance but in a desktop style. The EQ curves are just extra sprinkles.
Pros
Small and unobtrusive
Portable
Efficient circuitry
Cons
Susceptible to EMI noise
No external power option on a desktop solution
There's a curious set of chosen words and it's within the iFi Audio's jingle and introductory words for their UNO desktop DAC and amplifier which are "bigger, bolder, better sound". Well, I couldn't help myself and almost went into a helpless titter session the first time I saw it up close.
Because the word "smaller" should also be included within the jingle. The iFi Audio UNO is not only small but it's also a cute-looking device far as appearance. It's a replicant sibling to some of iFi Audio's other components that use their trademark rounded trapezoid shape but this time it's in miniature format.
The UNO also seems to have a modern-day list of internal known-good components stuffed within and iFi does emphasize the fact that it has over 10 years of know-how.
However, some of these components are not commonly used by iFi Audio which makes this an interesting offering on that factoid alone.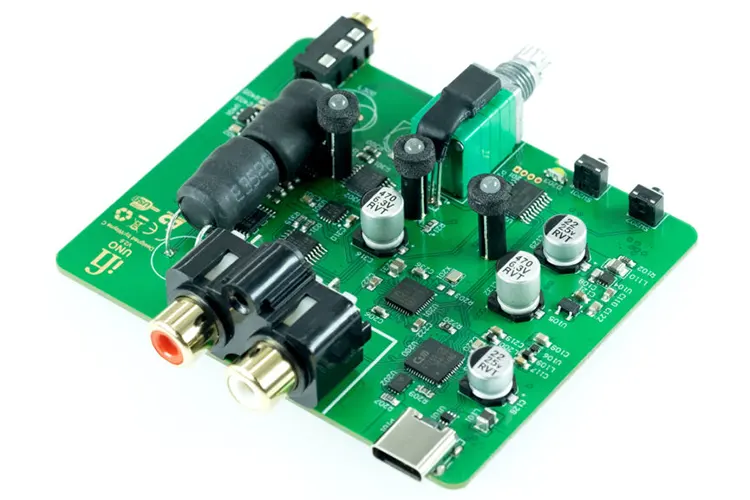 Tech Highlights
The component list and what's inside the iFi Audio UNO seem to be a unique combination of components for iFi. The DAC section is composed of a single ESS tech ES9219MQ which operates in conjunction with a Comtrue CT 7601 audio USB bridge.
The only other iFi Audio component I remember having an ESS DAC within the iFi product line is the GO Link which was recently released and curiously around the same time as the UNO DAC.
From what I can see, that portion of the previously mentioned circuitry jumps into an analog section. I can see there's a CT4053 multiplexer and all that circuitry terminates with a quad set of custom output transistors fed by two rather large capacitors.
There's another chip behind the three-way EQ button which I'm guessing gives function to that feature and is probably where the three-tone curves are stored. Other than that, the only other major components I see are 4 high-quality surface-mount Polymer capacitors by the power circuitry.
Decoding
The iFi Audio UNO works with the most common modern-day digital music formats. It's capable of rates of up to 32BIT/384kHz PCM and up to DSD256 bitperfect natively plus DXD 384k.
There's also MQA capability but iFi doesn't specify if it's done via hardware or software rendering. I have a feeling it's a combo rendering in which the folding responsibilities are shared.
The extensive jitter-eradication technology was also employed within the iFi Audio UNO and the GMT precision clock was implemented.
On regular use, this DAC is very stable and was designed to run on two channels at one time and not on multiple channels of its 8 channels or different bitrates simultaneously.
EQ Mode Switch
If you look on top of the iFi Audio UNO, you will see three backlit circles that are marked with a gaming pad icon, a play button icon, and a musical note symbol. That's because there are three distinct frequency curves you can employ by use of a front-mounted push button.
The three modes are just that, a frequency curve optimized for gaming, one for video watching, and one for music. You can also disable the frequency curve feature if you prefer a flatter response with zero coloration.
The three curves seem to have a similar bass emphasis of around 8 decibels but the movie mode has 3 decibels less compared to the other two. The other differences seem to be a slight emphasis around the 2.5kHz area in the movie mode, and a larger bump at around 3.5kHz in game mode while the music mode seems flat in that area.
In this case, graphs and measurements don't tell the entire story due to variations in impedance and certain headphones and even certain IEMs can have frequencies affected by impedance variations and other electrical variables.
So your mileage may vary and it's according to what headgear you're wearing.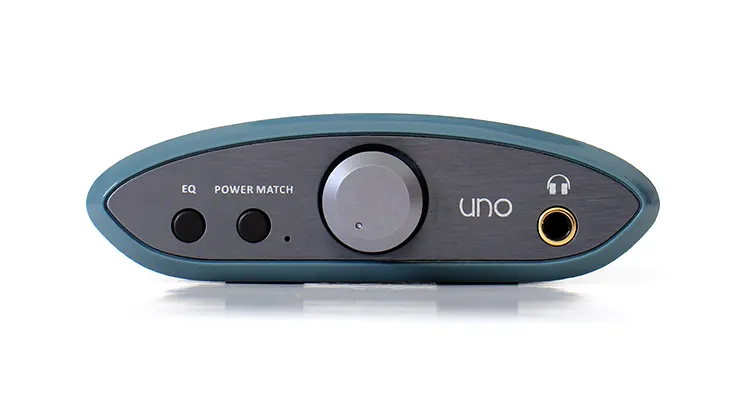 Design
The iFi Audio UNO might have a mini-replicant-like appearance on the outside but it's no toy. Care has been taken it seems to choose the shortest paths internally and it seems each component is well placed and isolated from the other although their in-between connectivity is shortened.
The general appearance is as if you took a ZEN Air DAC, paint it blue, and threw it in the dryer on high till the ZEN Air shrinks down to one-quarter size or perhaps even smaller. By the way, don't do that if you have a ZEN Air DAC, please. I'm just trying to make a point.
The iFi Audio UNO measures 88 x 81 x 26 mm or 3.5 x 2.8 x 1.0″. This little guy would fit in your pocket and although the UNO is capable of going portable by having the capacity of being run exclusively by a mobile device's USB output connected to the UNO I would say that's not a best-use scenario.
What makes it so is the shape which is their trademark round trapezoid that's not designed optimally for pocket use.
However, the material iFi used to construct the UNO is a durable Polymer that is scratch resistant but it's not as resistant to stray EMI, and on occasion my mobile device and other nearby electronics made the ONE produce EMI noise.
Analog Volume
The iFi Audio UNO has a smooth-feeling single volume knob on the front panel which works at the analog level and also powers the unit up with a click-to-turn-on feature. Most of the circuitry within the UNO works at the analog level which is tied to the volume knob.
There seems to be a direct connection between the output transistors and this volume knob. At this point, I'm unsure if this analog volume knob came from Alps or Tocos but it seems to have the infamous small channel imbalance but it's only on the bottom 2% of adjustment.
One particular characteristic that seems to also carry over from other iFi components is that the volume control is disabled when using the UNO within a Windows environment but not on the Android platform.
One drawback with that is that you're obligated to use the analog volume knob and with some very efficient IEMs, you tend to lose the bottom portion because of the imbalance.
By doing this iFi does improve sound quality but it has that small drawback that is nonexistent with lesser efficient headgear plus you could always adjust the volume at the source.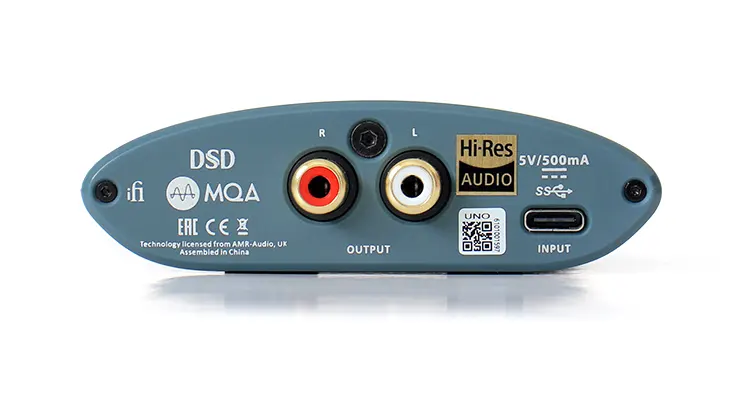 I/O
The I/O is simple, one in and, two out. You have a rear-mounted 2.0 USB-C input that feeds the Comtrue CT 7601 USB bridge we mentioned earlier.
The chip has format auto-detecting capability so just plug in the UNO and the format should be recognized automatically and adjust itself to the input bit rate. Plus it should work as a plug-and-play device.
One tip I could give you is to make sure to download the correct driver if needed. The UNO seems to have an exclusive driver which is only shared with the iFi Audio GO link. You'll need the driver to upgrade the firmware particularly which is on its third iteration, version 2.4 up to now.
The rear panel also contains two RCA outputs with a 2-volt line that lists a 119db SN ratio and a 115db DNR rating. So you could access the UNO DAC through those RCA plugs. The RCAs are the variable output type with the use of the front-mounted volume knob.
On the front panel, there's a single 3.5mm plug that seems to work with a balanced 3.5mm as well. The feature is called SBalance and it seems to be an iFi Audio exclusive design. By using the SBalance feature you won't get extra power from the jack but it might improve crosstalk.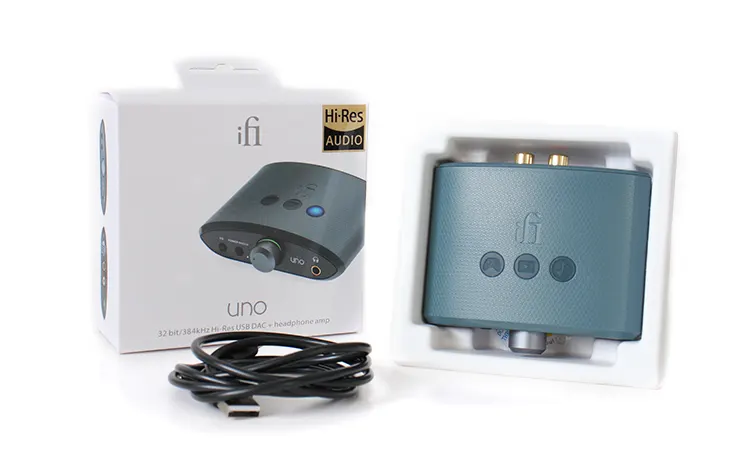 Packaging and Accessories
It seems iFi is refining its packaging concept in a way that things seem tighter but it's still made with the same printed thin cardboard which is fine. It's well-thought-out packaging and doesn't seem to carry over any extra extravagant costs plus the box itself could take some serious damage before you inflict damage on the goods inside.
The included accessories list is a short one. You get one USB cable that is an appropriate four feet in length. The cable has a USB-C male tip on one end and a male type A on the other end.
The rest of the accessories consist of paper, a warranty card with MQA setup info, a quick guide, and a Multilanguage safety guide.
Sound Impressions
Summary
There's a small veer from the iFi Audio house sound but the UNO still retains a warm character that portrays a flat bass response, a neutral characterized midrange with slightly indented highs.
There's also an inherent smooth character that is well-controlled and restrained from harshness unless you explore the top portion of the volume knob.
I did find it a curious fact that while the UNO was in a flat state the sound was a bit bland. But when you engage one of the EQ modes then life is bought back into the mix. The bass fattens up and the midrange gains some needed presence.
The UNO sounds best when plugged into a high-power USB port but it also sounds best from the front headphone jack and not so much from the RCA jacks feeding another amplifier. I tried that with a ZEN CAN and it works well but I preferred the built-in jack best due to the extra coloration you obtain from the EQ.
The other fact that makes it sound best upfront is the DRE system which is implemented within the amplification circuitry but doesn't carry over on the RCA outputs and neither do the 3 EQ curves.
The DRE feature seems to do what is claimed since there's a dynamic range gain and some extra impactfulness coming from those combined internal components.
Staging and Dynamics
The soundstage is a good one but it seems coherence and placement definition are gained as you go up in tier with IFI particularly. For example, the iFi Audio iDSD Diablo has the best technical capabilities, and as you go down the line, focus points seem to widen which can cause a small amount of conglomeration at times.
The UNO certainly has better staging capabilities compared to domestic devices like laptops, desktops, and mobile device output sections but I did detect a slight underfill in imaging particularly if I have to critique. It's still surprisingly good at this budget tier.
If you maintain the UNO below a certain threshold in volume it will produce good dynamics but if you overpower the output section with hard-to-drive cans performance will suffer. Long as you use efficient headgear I'm sure the UNO will satisfy.
Click on page 2 below for pairings and our selected comparisons.