The Fostex TM2 TWS is a unique modular true wireless receiver that uses detachable drivers as well as being compatible with regular earphones. It is priced at £269.
Disclaimer: The Fostex TM2 True Wireless sent to us is a sample in exchange for our honest opinion. We thank Fostex & SCV Distribution UK for this opportunity.
To learn more Fostex reviews on Headfonics you can click here.
Note, this review follows our new scoring guidelines for 2020 which you can read up on here.
Fostex TM2
However, the TM2 seems to be one of the best driver detachable TWS solutions on the market for those after absolute sound. The ability to take off those stock drivers and slap on a high-end custom monitor is a lot of fun.
Up until this point in my TWS journey, I have been content to work within certain parameters or limitations shall we say.
Knowing all too well that wireless is often not as good as wired and that TWS has yet to reach BT LDAC nirvana has led to contextual verdicts. And by that I mean, this one is better than that one rather than this one is amazing per se.
Choice
One of the constants or limitations has been the driver. Most TWS are relatively small single dynamic driver designs. A few are BA or hybrid. Almost all are fixed in terms of diameter, performance, and sound quality.
Whatever is baked on the inside is there from the moment you buy the TWS until you sell it. As an audiophile with some nicer monitor designs I know I can do better and Fostex seems to agree also with the TM2 TWS.
This is not just another single dynamic driver TWS. This is a detachable driver TWS. A TWS that can also reattach to just about any monitor, custom or universal out there with the relevant connection.
The pay off on all of these modular systems is that you are not stuck with that one driver. You can slap on your high-end favorite monitor and go suddenly you are wireless hi-end. Goosebumps!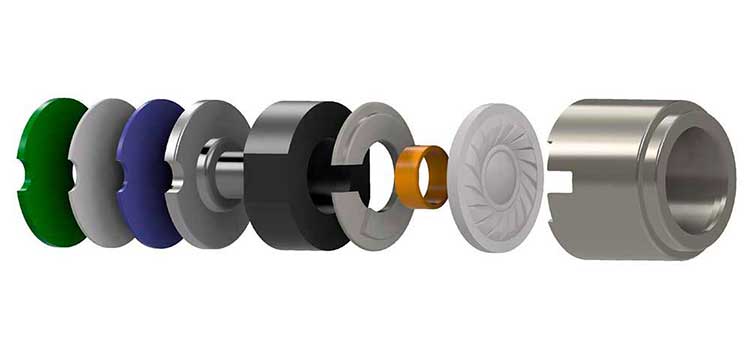 Tech Inside
At £269 the TM2 is not cheap and there are cheaper versions out there from the likes of FiiO and BGVP which we will review in due course. However, you do get a lot of the prerequisites in what I look for in a good TWS but also some curious misses that I took for granted thus far.
Rear Hook
The TM2 is split into 3 function parts, each with a key role to play. The rear ear hook is where all the tech is housed beyond the driver. That includes the Qualcomm QCC3026 SoC BT chipset offering BT5.0 and TrueWireless Stereo Plus, a feature we have only seen officially on the Lypertek TEVI thus far.
TrueWireless Stereo Plus
TrueWireless Stereo Plus dictates how the two drivers pair, both to the source and to each other. In a traditional 'non-Plus' system, there is a master and slave relationship whereby one driver pairs with the source and in turn creates a secondary connection with the other driver.
The Plus version allows each driver to connect directly to the source "in stereo" and do away with that master-slave connection between each other. The software inside the Qualcomm QCC3026 SoC then syncs them both as a single pair of earphones.
The master designation thus becomes more flexible. For example, if you run out of battery life on one side, the other side becomes the master so you do not lose a connection.
Decoding & Battery
The chipset also offers decoding capability from AAC/SBC up to aptX so we are up to the latest in terms of decoding standards in the TWS market today with the TM2.
The rear hook also houses the main battery and this is a talking point because it is the only place where you can find a battery on the TM2. The case does not have any battery capacity.
Middle Detachable Hook
The second component is the middle detachable hooks. These connect the rear hook to the main stock driver assemblies. The stock detachable hook has an MMCX termination but here is the cute part. You can also order differing terminations as optional extras.
Those include 2-pin, (see picture above), FitEar, and ADC type. I suspect MMCX and 2-pin will cover most people's needs and it is the one I am using 99% of the time when I am not using the stock drivers.
Drivers
For the drivers, Fostex are using a 6mm single dynamic which I have to presume is a standard driver so no titanium or beryllium coating on these two. They are terminated with MMCX connectors to match the stock middle connector hook.
The configuration is relatively easy to drive at 16Ω so the integrated amp on the Qualcomm SoC is unlikely to struggle and neither should your volume control on the back of the rear hooks and source.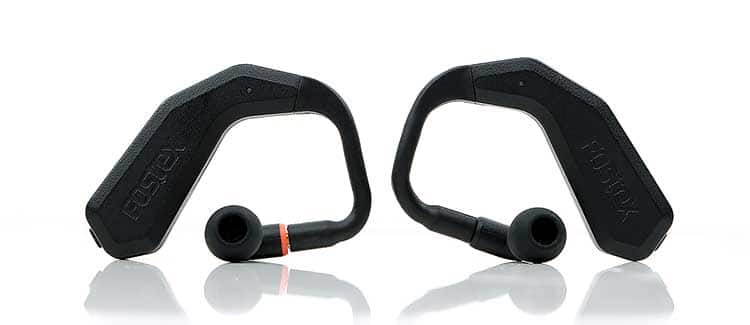 Design
The design concept is a wrap around the ear rather than the conventional smaller in-ear TWS device. Given the TM2 is modular and over the ear, the overall form factor is quite big but also quite robust with the three components fitting in a seamless manner. Fostex has launched the TM2 with an IPX5 rating which also adds to its outdoor or gym appeal.
The materials are all hard plastic, however, the middle detachable hook is slightly softer and quite pliant. That means there is an ability to adjust its shape to better fit your ear. Because it is an MMCX termination at the base connection, you can also spin the driver a little to finalize your fitting.
Comfort & Isolation
I have to say these are rock steady in my ear with the stock tips. The pliancy of the middle hooks makes a difference also. Not only does the over the ear design keep things very steady but the ability to bend and shape the middle hook makes things fairly comfortable.
If you are used to wearing over the ear monitors this is a somewhat similar if slightly heavier feeling. The MMCX swivel is more flexible than the 2-pin version which helps with the bullet form factor of the drivers which can move around a lot depending on how you like them in your ear.
The stock tips are actually spot-on for my own canals. The insertion is not only deep but also quite comfortable with an above-average seal. If you are considering changing tips then it will only be for sound preference purposes.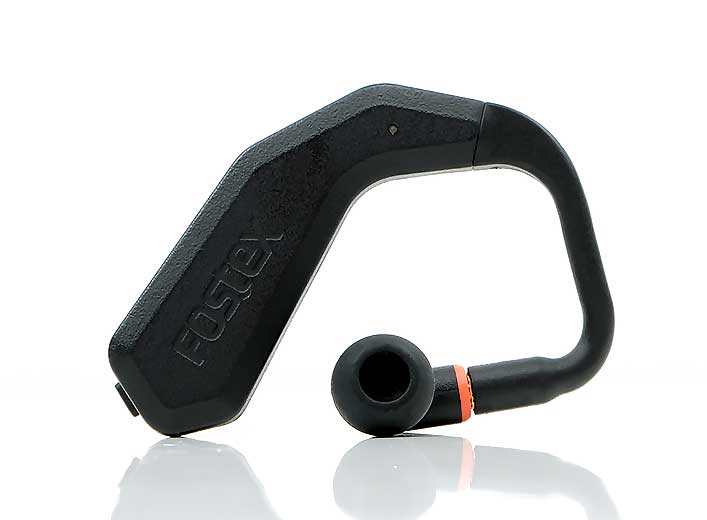 Controls
Controls are too the rear and are a combination of touch (volume control, fast forward), physical, (multi-function), and iOS and Android app integrated, (Landscape mode, EQ and Voice Assistant Tweaking). I think this is the first time I have had a TWS with a mix of all 3 virtual and physical control options.
The physical and touch controls are all housed on the rear hook on each side. The multifunction physical button is right on the rear corner so you will have to do a 2-finger grip to use it or else the TM2 will move around awkwardly.
Touch
The touch is swipe or gesture-based on the side of the rear hook and controls the volume as well as ff'ing the current track played. A swipe down decreases the volume and up increases the volume. If the two drivers are paired you can control volume for both on either side by swiping up and down.
To fast forward just press on the left or right touch-sensitive area of the rear hook for two seconds then release. You get a jump of about 5 seconds so it not terribly accurate for me.
Physical
The multifunction button is standard fare with a single button for play/pausing music as well as starting and ending a call. Two clicks will slip to the next track and three to the previous. That works for both sides by the way.
You can power up or power down each side by holding in the buttons on each side for 3 seconds and 2 seconds more will get you into pairing mode. You can also pair by just taking them out of the cradle as most TWS do these days.
Fostex TM
The app is constantly evolving and only recently they launched the Android version having had the iOS option for a while. It is part of the reason why I did not review the TM2 earlier than now. The version currently is V2.90 so some promised features are not there like the 5-band EQ. I hope it will come in due course.
Features
What we have now is a battery life per channel indicator, the landscape sound option, and the ability to upgrade the firmware of each side individually. I would upgrade everything first which is fairly painless. Connect one side at a time and just hit the firmware update start button once the TM2 is connected via BT on the source and app.
It takes about 4-5 mins then switches off and disconnects. Once both sides are done, clean the pairings on the source, place both drivers back in the cradle and restart the pairing process all over again and you are done.
Landscape Sound
I actually found this feature very useful. I presume it works on the same basis as cVc 8.0 and similar software-based environmental noise suppression techniques. This is not to be confused with active noise cancellation but there is some minor overlap.
Basically, you have 10 grades of noise suppression controlled via a GUI slider scale in the app. Zero is the default, -10 suppresses and +10 enhances.
I presume enhancement to accentuate your surroundings in airports and other locations where you do not want to miss out on announcements whilst having the TM2 in your ears. The negative 10 does dull down a lot of lower frequency sound though not quite to the level of an ANC.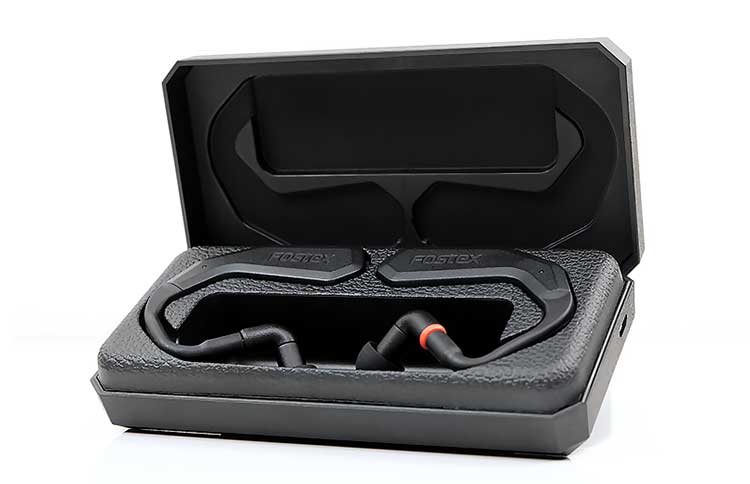 Cradle
This is where things get a bit sticky for the TM2. The cradle is huge. It would be ok if there was a huge battery inside but it has no battery capacity at all. It is literally a big plastic carry case.
That would even be ok if I could charge the TM2 separately with some sort of USB port on the drivers but no, you cannot do that. You have to charge both drivers in the cradle with a micro USB port on the side. That means you have to take it with you wherever you go.
You have to see this case as a route to charging the drivers and for them to reset or turn off when housed. If you are a glass half full person there is a ton of space inside to house tips, spare middle connector hooks and even a set of reasonably sized third-party drivers.
If you are a pure TWS guy you are scratching your head here because the case is not really part of the whole TWS deal, i.e. small, pocketable with good battery life.
Battery Life
Sticking on the positive side the TM2 drivers, when fully charged have a massive 10 hours per side. You can also check their battery status via the app so you do not run out accidentally.
That's class-leading for battery life cycle in the actual units themselves. I can get that with the TEVI at 10 hours also and I highly rate that so yes, I highly rate the battery performance of the TM2 drivers.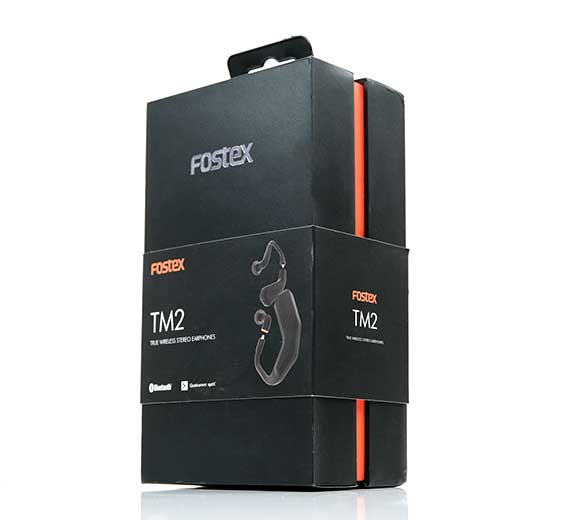 Accessories & Packaging
As with most Fostex audio retail products, the packaging is always professionally finished and everything is well protected with the case inside a top layer and the accessories packaged below.
You do get a few little extras in there that you do not normally get in TWS boxes such as the PU leather pouch but apart from that, it is standard fare with a set of single-bore silicone tips in small, medium and large. Luckily, the tips work really nicely and I do not feel the need to roll but I do wish they threw in a few more options given the hefty price tag.
The complete accessory lineup is as follows:
USB Charge cable
Earpieces, (S, M, L, M size equipped)
PU leather pouch
Logo sticker
User manual
The PU leather case is a nice alternative if you do not want to be lugging around the big charging case and you are fairly sure you only need 8-9 hours max. Otherwise, take the big case since it has room to spare for all the accessories.
The 2-pin and other middle detachable hooks are optional extras that you will need to buy from your local Fostex retailer. I can also fit a spare set in the big cradle with no issues.
Click on Page 2 below for sound impressions & comparisons