Bluetooth Performance
I do not keep secret the fact that I'm an LDAC fanboy because it's capable of a 24-bit/96 kHz sample and bit rates and at 990kbps which more closely rivals FLAC file levels of performance and the difference can be heard.
Well not only did the FiiO BTR7 sound great over LDAC but it seemed to be very stable as well. Most Bluetooth devices shrink the distance you could receive a transmission but the BTR7 seemed stable all the way to around 17 feet away from home base and that was over a 5.0 transmission, not 5.1.
Microphone Performance
One major benefit of this type of device is that you could leave your mobile device in your pocket or inside your backpack and still operate all the functions of your phone from the FiiO BTR7. The built-in microphone comes in handy while connected to a Bluetooth transmission.
The microphone system employs clear voice 8 or CVC 8 and from what I can tell it's just one microphone system. It does seem to have passive noise reduction at a minimum since I did not experience much wind noise.
My test run of this particular single microphone setup actually performed surprisingly well for me and it picked up my voice well according to my test subjects. There was a high level of sensitivity, perhaps a beam forming implemented design but FiiO only mentions the microphone briefly.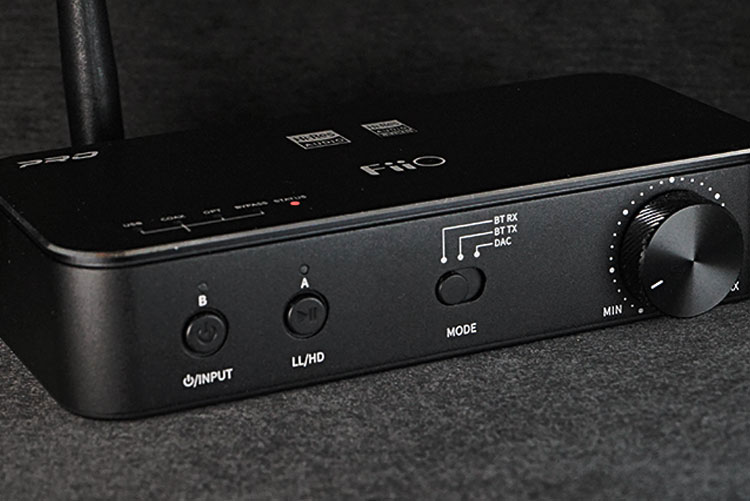 Pairings
FiiO BTA30
This particular combo worked very well and this combo seemed rock solid all the time. I did run an optical signal from my EVGA sound card over to the BTA30 to retain LDAC Bluetooth since the codec doesn't work with the USB input on the BTA30.
A quick pairing at first was a good sign and connection quality was very good since I could almost roam my entire home with no dropouts except for a fringe area in the back. A bathroom which you have to take a right turn to get into and Bluetooth doesn't like corners or walls so that is forgivable.
Mobile Devices
Again, a flawless pairing was achieved with both my Android-based phones. But what really enhanced the experience was the FiiO app. It is an advantage to have so much control over the overall sound quality and features incorporated into the app.
Another received advantage is the fact that you could then use the built-in media controls which allow you to pause and play, advance to the next track or return to a previous one. You could also allow or refuse incoming calls plus recall voice assistance.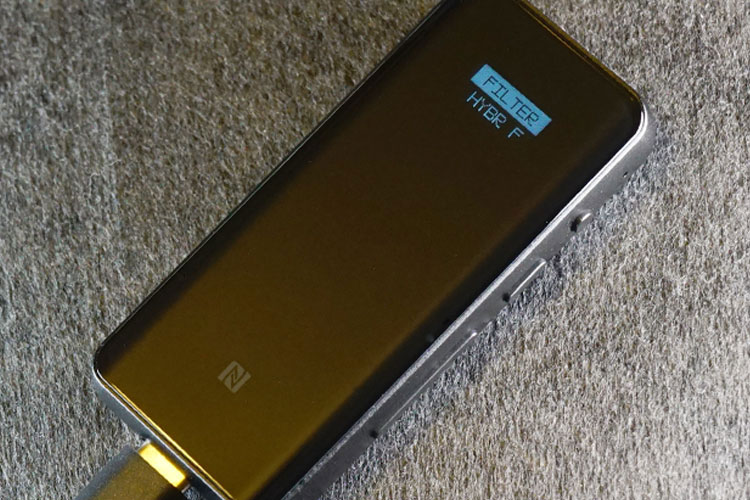 Select Comparisons
FiiO BTR5 2021
$129.00
Technical
A lot of the tech used within the BTR7 actually came from the BTR5 2021. For example, they both use the same DAC section which consists of two ES9219C along with an XMOS XUF208 USB chip which is also a shared component between the two devices.
The major changes are the addition of the dual AAA28 THX amplifier chips that increased power output therefore, performance increased considerably but only if you plan on using large cans.
You still get full access to the FiiO control app and all the features work well with the BTR5. Including firmware updates and you get a full 10-band equalizer.
Design
I really preferred the rounded edges the BTR5 2021 had over the sharp edges of the BTR7 but of course, this is just a cosmetic annoyance but only if you pocket carry. The sharp edges can be felt within your hands but don't bring any band-aids with you just yet.
Because the BTR7 has an included cover that makes this particular complaint moot. Once you slip the cover on those sharper edges go away. The BTR5 2021 comes with a clear resin clip-on holster which works out well for those who prefer that carrying method. I prefer the pocket carry method.
Both the BTR5 and the BTR7 have an all-metal black anodized body along with tempered glass side panels but the one feature that stands out is the differences between the screens. The IPS 1.3-inch color screen is surely a step up from the .49-inch OLED.
Performance
Tonality is the same basically since both units share identical DAC sections and are probably set the same at the DSP level. What makes a big difference here is the amplification section and power delivery.
A puncher character comes through due to the extra power but the frequency response stays the same. Both present a slightly warm character but remain neutral in general.
One particular specification that's inverted with these two is the MQA capability because it seems to be better on the BTR5 which can do 16x folding with the appropriate app while the BTR7 can only do 8x folding, even though they use the same hardware for that purpose basically.
iFi Audio GO blu
$199.00
Technical
The iFi Audio GO blu is probably one of my favorite pieces of portable gear that has come across my desk. It's a high-quality device that sports some decent hardware but does contrast the BTR7 in many ways starting with the Cirrus Logic CS43131 Master HIFI chip DAC section.
Another major difference between these two lies within their amplification implementations. The GO blu uses custom OV series OP amplifiers customarily used by iFi in most of their amplifier stages tied together to an XMOS setup and ran by custom firmware.
The Bluetooth receiver inside the GO blu is also a Qualcomm variant but iFi only states it's a QCC5100 which is a general number for a line of Qualcomm chips.
The GO blu runs on a 5.1 radio but again all I was able to get was a 5.0 signal. This is not a deal breaker long as you could run LDAC but you do expectedly lose some transmission distance running the particular codec.
Design
There are so many differences between these two and although they both have identical functionality, visually things get even more interesting. The GO blu has a somewhat of a retro look, a dark brown color resin body with a brass fascia laminate.
On top of that, the GO blu also has a brass multifunction knob that's unique in the industry. It performs many tasks and most modern-day functions but it still looks retro. The major differences however are the XBass and XSpace features.
If the size is of most importance to you the GO blu is half the size of the BTR7 and half the weight also even though connectivity is the same and similar power output. The GO blu has a 4.4mm balanced connector along with a 3.5mm single ended which is equipped with S-balanced circuitry so you could run a 3.5mm balanced technically.
Performance
The GO blu has a more forward presentation and is a touch more ardent, especially on the top end. The overall sonic character seems punchier and more expressive and what I would call the opposite of shy. The GO blu likes to be noticed.
The dynamic range is higher when you compare the two-component tech specs. The numbers stand at 118dB for the BTR7 and 130dB on the GO blu and it somewhat reflects in the overall performance. However, I do recommend using the GO blu on the low gain with highly sensitive IEMs due to a slight increase in hiss production.
The one area I did not give an award to the GO blu in is the Bluetooth reception. It's just more solid on the BTR7. But when it comes to drivability and raw power it's an almost even fight. Perhaps the BTR7 sticks out front some in this aspect but it's only by a nose.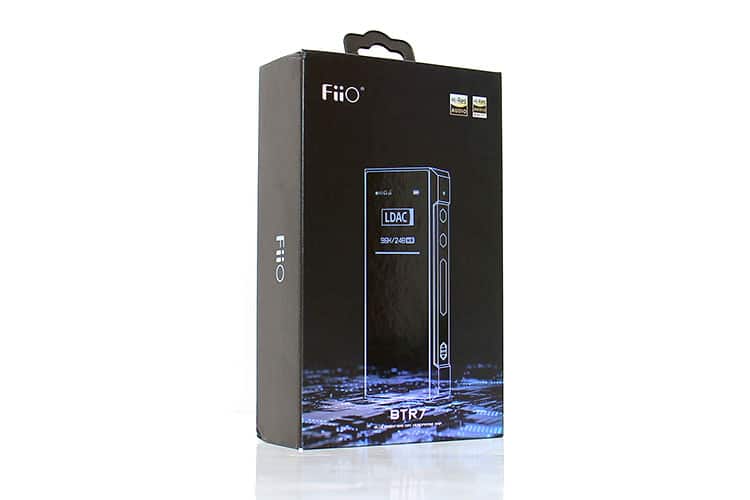 Our Verdict
The FiiO BTR7 is a very versatile piece of gear to have since it's not just a Bluetooth receiver but it's also a dongle DAC plus it can also play the part of a desktop DAC amp combo. Most first-time buyers who have an all-in-one frame of mind will benefit the most.
It's a little chunky solid piece and perhaps some might prefer it for portability's sake but if you want more power then the choice is obvious.
Perhaps some might feel improvements could be made to the control features but that can be fixed with a firmware update. Besides that what is unlikeable about it? The answer is almost nothing.
It's a great piece of gear to have that incorporates a Bluetooth section with LDAC capability, a hefty THX amplification section, and an XMOS USB front end. All within a portable battery-powered device that includes multifunction media controls, a decent screen to scroll through all the features with great sound being an end result. Need I say more?
FiiO BTR7 Technical Specifications
Display 1.3-inch IPS color screen
Charging Wired and wireless charging
Bluetooth version 5.1
Bluetooth chip QCC5124
DAC chip ES9219C x 2
Amp chip THX AAA 28 x2
Battery capacity 880mAh
Power output (3.5mm) 160mW
Power output (Balanced) 320mW
Audio format support SBC, AAC, aptX, aptX Low Latency, aptX HD, aptX Ad aptive,LDAC