This review covers the new Ferrum ERCO integrated ES9028PRO DAC and balanced 6.1W capable headphone amplifier. It is priced at €2395.
Disclaimer: This was sent to us as a sample for our honest opinion. Headfonics is an independent website with no affiliate links or services. We thank the team at Ferrum for giving us this opportunity.
To read more about Ferrum products we have previously featured on Headfonics click here.
Note, this 3-page article follows our latest scoring guidelines which you can read up on here.
Ferrum ERCO Review
The Ferrum ERCO DAC is neutral to natural, accurate, and articulate. Its amplifier has bags of power to drive just about any headphone you want to throw at it. It is also incredibly simple to operate right out of the box.
Pros
Balanced clear sound
Excellent output power
Beautiful compact stackable design
Cons
Lacks balanced analog inputs
No balanced 4-pin XLR
The OOR and HYPSOS made quite an impression on us in 2021 but we did think back then this was a 'to-be-continued' story given the rather stackable nature of the amp and PSU.
And true enough we are back again with Ferrum and their new ERCO integrated DAC and headphone amplifier. Like the aforementioned units, this is another stackable high-end audio unit but this time it offers us a glimpse of Ferrum's 'digital vision' with a Sabre DAC implementation.
You could argue that the ERCO is aimed at the growing audience for an all-in-one desktop headphone system but I would also suggest at €2395 this is also a more affordable solution than getting the OOR with a 3rd party DAC or the HYPSOS underneath.
Then again, the ERCO is also HYPSOS compatible and can analog out to an OOR so the possibilities with this growing product eco-system seem to be expanding in an equally intriguing manner.
Tech Inside
Pronounced 'Ertso', the ERCO has a number of modes. It can operate primarily as an integrated DAC to its own built-in headphone amplifier using the OOR topology. It can handle both a single-ended analog input signal and deliver a balanced output signal for a wide range of headphones.
On the digital side, the ERCO can hub for USB, S/PDIF coaxial, and optical, as well as offer MQA unfolding options with an in-house non-XMOS chipset.
And finally, the ERCO is entirely stackable with other Ferrum components including the OOR pure analog amplifier via its pre-amp analog output or power it via HYPSOS using the Weipu DC coupler system.
DAC
That 'digital hub' is gatewayed by a Burr-Brown DIX 41921 to receive the SPDIF input signal and a USB chipset which I believe is proprietary in terms of connecting to an STM ARM STM32H7 series MCU.
This MCU houses Ferrum's own algorithms for general decoding, including MQA unfolding, rather than outsourcing to the likes of XMOS. Clocking is then done by a dual Abracon ABLNO Crystal Oscillator operating at 44.1k and 48k before moving to the DAC.
Ferrum has used a single-channel Sabre ES9028PRO DAC chipset implementation with an independent I/V implementation. Whilst not flagship ES9038PRO level, (stay tuned on that one in the coming months), it is considered a very capable DAC chipset and one we have seen before in the likes of the Burson Composer 3X Performance.
The ERCO can decode the standards including DSD up to DSD256 and PCM up to 32BIT/384kHz as well as natively unfold and render MQA 8X. Both SPDIF coaxial and optical input will decode up to PCM 24-bit/192 kHz and DoP64 with the added bonus of the ERCO being able to receive and decode MQA via these two inputs also.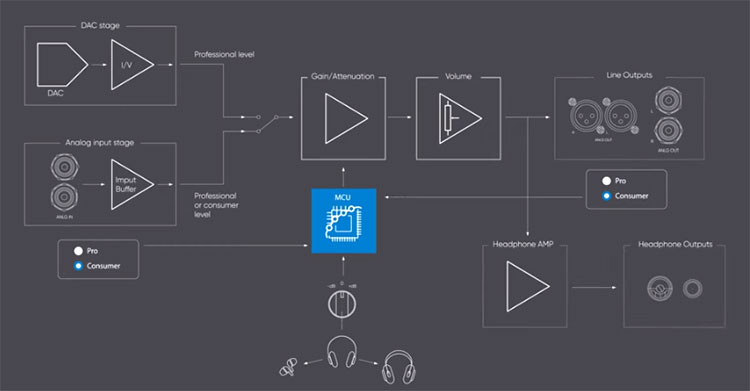 Amplifier
The ERCO uses a fully balanced proprietary IC power amp design for its headphone amplifier topology with a series of micro-controllers also for balanced or single-ended pre-amp output switching.
Though not discreet like the OOR, the ERCO volume control uses the same Alps RK27 "Blue Velvet" attenuator which in turn is fine-tuned by the MCU alongside the gain level controls.
These are classic or well-known high-end potentiometers with excellent wiper contact and usually a very long useable life span. The Blue Velvet pots also normally come with inter-channel matching within +/- 2dB so the ERCO should sound quite balanced for channel matching with sensitive monitors on low volume.
The final key feature is the Ferrum Power Link (FPL) denoted by the Weipu DC coupler at the back of the ERCO. That means, that like the OOR, the ERCO can use the HYPSOS PSU instead of the supplied SMTP DC brick though the precise design is slightly different.
Like the OOR, the ERCO uses a Weipu SF12 Series coupler designed to connect with the HYPSOS PSU system. It is wired 2 x 2 with two wires for power and the other 2 for feedback to ensure the voltage remains stable or flat during use for optimal audio performance from the ERCO.
Performance Numbers
In balanced mode, the ERCO headphone amplifier is capable of up to 6.1W into a 50Ω load. Though not quite the powerhouse 8W we got from the OOR, it's still a very powerful output level for the majority of demanding headphones.
In single-ended mode, the headphone output drops to 1.7 W into the same 50Ω load which I find to be more than acceptable, even for some picky planar magnetic headphones.
Importantly, for both IEM and headphone users, the output jack impedance ratings are low at < 0.3 Ω so there should be no risk from potential impedance skew when using sensitive low impedance gear.
Design
The ERCO design will be a very familiar aesthetic and form factor to the OOR and HYPSOS, and with good reason.
This is a stackable pitch, one which will sit very neatly on top of either the amplifier or the PSU and not look out of place. At 1.8Kg and 21.7×20.6x5cm in dimension and weight, the ERCO exactly matches the OOR
It's also equally harmonious, clean, and modern looking and one which managed to take a beautifully nuanced approach to what is otherwise a very traditional desktop HiFi shape.
Yes, it still has that same shallow and compact boxy look but with the clean and distinctive Ferrum design language. That includes a largely fingerprint-resistant matte-black finished Corten steel panel and textured black for the main chassis. Screws are only visible on the side panels with both front and rear panels clean and well laid out.
To the far left, the ERCO also has that little terracotta-styled textured finish with the Ferrum logo in the middle, one that lights up when powered. Underneath you have four sturdy rubber feet lifting the unit up and away from any surface you place it on. It also does a good job of staying in place when stacked with other Ferrum units.
I/O
The rear of the ERCO has similar styling and layout to the OOR's equivalent but with an integrated DAC it's not surprising that it's a little bit busier looking.
All analog I/O is to the left including balanced and unbalanced 3-pin XLR and dual RCA outputs for pre-amp duties directly from the DAC. Surprisingly, there are no balanced analog inputs which would have been ideal since it does have a single-ended dual RCA to receive a 3rd party analog signal directly to the amplifier.
Beyond that is the digital layout with options for SPDIF coaxial, optical, and a USB-C input and not a USB-B traditional port. The far-right is a similar layout to the OOR including the Weipu DC coupler, a bypass dial, a trigger command port, and a brightness rotary control.
The bypass switch is a binary 1 and 0 with the setting on 0 or off for safety purposes. If it is switched on you get the maximum voltage in a fixed setting and no volume control from the ERCO.
On the front panel, you get perhaps a little bit of a curiosity in terms of traditional headphone jacks. Instead of a 3-pin XLR, we have a 4.4mm balanced output
Certainly, is a plus in terms of clean lines and a space saver but I also got the impression they did not want the ERCO to directly compete with the OOR which does have XLR outputs. You could also argue it's a nod to the IEM user with this market dominated by 4.4mm capable cables.
As with the OOR, the ERCO also offers SE outputs with a 6.35mm gold-plated PO socket beside the 4.4mm pentaconn output.
Controls
Given there is a DAC inside the control system has a higher degree of 'complexity' than the OOR but not by much. It's still a very clean and simple-to-understand interface with your source selector switch beside a 3-stage gain control and the Alps volume attenuator.
The ERCO controls are entirely switch-based though you can do an auto-start option for the unit when you turn on the HYPSOS if coupled. That tends to be my preferred route when the two are paired together.
The three-stage gain function switch works in dB increments and is split between balanced and unbalanced. Going balanced you can opt for -5.8 dB, +6 dB, or +17.8 dB, and going single-ended you get a lower level of -11.8 dB, 0 dB, and +11.8 dB. Ferrum does recommend you start with about 25% volume and one of the low gain settings and work your way up from there.
Packaging & Accessories
Similarly styled packaging for the ERCO with both the aesthetics and form factor of the box drawn from the professional matching themed looks of the OOR and HYPSOS variants.
That means matching black and orange color schemes on the outside and plenty of protective foam packaging on the inside to protect both the unit and the accessories.
The accessories list is different though. You do not get a DC coupler included this time, just the external Dc power brick so if you want one to hook it up to HYPSOS you will have to buy it as an additional accessory.
You do get a 1m USB-C to USB-A cable to allow you to connect the ERCO directly to your PC or MAC. Note you will need to download drivers for full Windows functionality whereas it's plug and play for MACs.
The last thing you get is a very single laminated sheet in matching color schemes to the packaging and unit. It's a setup guide with a comprehensive rundown of the different features, I/O, and usage scenarios of the ERCO.
Click on page 2 below for sound impressions and pairings
Click on page 3 below for select comparisons