The Effect Audio Thor II is a second-generation cable release in the company's Premium Line using a pure silver Litz build. It is priced at $399.
Disclaimer: The Effect Audio Thor II was sent to us in advance of retail release to allow us to complete this review. Many thanks to Effect Audio for giving us this opportunity.
To read more about Effect Audio products reviewed on Headfonics click here.
The Thor Silver IEM cable is one of Effect Audio's core or long-term product lines and was originally launched in 2013. You can still buy it today from Effect Audio for around $250 and graze through the various positive reviews it garnished around the time of release.
I actually didn't get to try out the original Thor Silver Edition until a few months ago when I bought it as part of an IEM package in one of our local groups. The guy didn't even mention it by name, just said aftermarket cable so it was a nice surprise when it arrived.
A chance discussion with Eric of Effect Audio led to the suggestion of trying out the Thor II, which was launched late 2016, to see if I felt there was an audible improvement. At $399 this is no starter upgrade cable, but I am very pleased to see this is a fantastic mid-fi cable and a worthy upgrade on the original Thor.
Anyone working a set of high-end customs or a picky IEM, in general, should consider the Thor II Silver as one of their options if they are choosing a cable upgrade.
What Is The Pitch?
Positioning
Generational
Thor II is the second generation release of the Thor cable line, the first in 3 years and is positioned within Effect Audio's Premium line of IEM cables. The Premium line is different from the Heritage Series from which we review the Lionheart. It is less "out there" or less bleeding edge and instead relies more on developing products for all tastes and budgets using tried and tested cable building techniques.
Variations of Thor
The Thor line is quite numerous though and not simply one silver cable. Thor creations start at a "mere" $149 for their Copper OCC line and each one has a specific focus in terms of audible focus. The Copper OFC, for instance, makes a beeline for a more planted bass response and warmer mids as well as a generally improved level of clarity.
Thor & Thor II Qualities
The original cryo treated, pure UPOCC silver Thor does a lot to dispel the concept that somehow silver means bright by focusing on delivering a smoother sound, better low-end definition yet crystal clear highs and a more spacious staging quality.
The Thor II in deference to the original Thor is being pitched as everything that the Thor was noted for but pushes it up a notch with a particular emphasis on improved dynamics and better vocal delivery. In summary, this is the cable you are looking for if you have issues with sibilance or a laid back compressed sounding IEM and you want to get a more coherent and smoother sound.
Materials
The Thor II has had some tweaks to its material build over the original Thor II. Whilst both use UPOCC Silver the Thor this time uses a pure silver litz variation whereas the older Thor did not.
Litz
There are numerous advantages to working with Litz materials. The first is the ability to build a multi-stranded cable which has better high-frequency properties due to what is known as the "skin effect" where electrons travel along the skin of the wire. A litz cable has a higher surface and for that reason will deliver a better high-frequency performance. It will also be more durable than other cables when flexed and we flex our IEM cables a lot!
Geometry
Whilst both Thor and Thor II have this, the Thor II is unique in offering a multi-size multi-stranded geometry. Multi-sized allows Effect Audio to build a Litz cable with different sized wires, thinner ones for high frequencies and thicker ones for lower frequencies.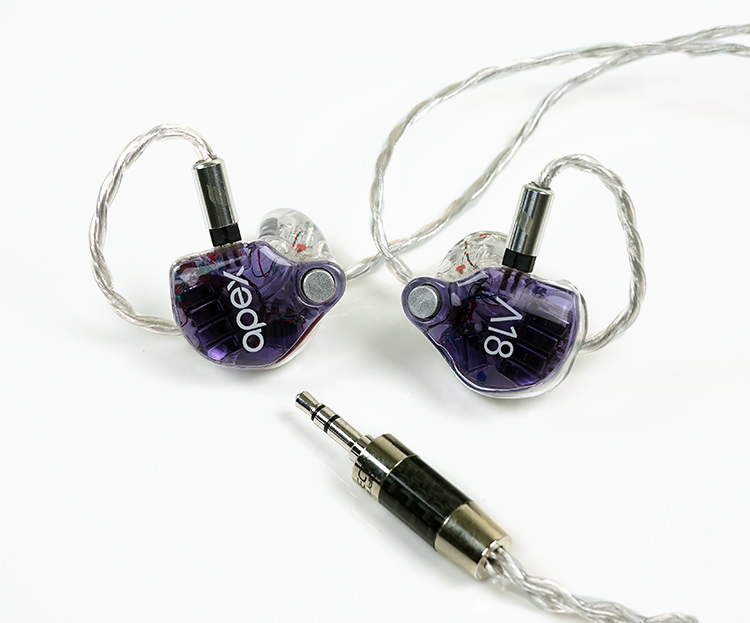 Build
Pliancy
Much like the Lionheart the Thor II is 26Awg rated strand composition with an approx 0.405mm diameter and 62.7 turns of wire below the additional depth of the reworked insulation the Thor II borrows from their high-end Leonidas Prestige cable.
After playing around with a few cables, both at 22AWG and 26AWG I have to say the 26AWG is the sweet spot in terms of pliancy and ease of use, particularly with smaller IEM bodies which can be prone to movement from the additional pressure from stiffer 22AWG cables.
22AWG cables may have superior sonic performance and EA does offer a 22AWG 8 strand option but it also can cause lightweight IEM bodies to pop-out as well as present additional issues for those who wear glasses due to their thicker form factor running around the back of the ear. Not so with the Thor II which has superb control and pliancy.
EA Flex Jackets
The Thor II also benefits from the new EA Ultra-Flex jacket which, for my money offers a more supple design than the older Thor mark 1 PE jacket. Side by side you can feel a definite difference in the softness of the Thor II's jacket over the slightly stiffer PR jacket of the Thor I.
This also allows the Thor II to have a tighter and more attractive braiding design. The Thor Mark 1, on the other hand, looks a little looser with longer arches that tend to lose their shape a bit more.
Terminations
The Thor II cable is a standard 1.2m length and terminated with a 0.78mm 2-pin socket design encased in chrome finished aluminum tubes sporting Effect Audio's logo on each and a carbon weave and chrome finished 3.5mm stereo jack on the other end.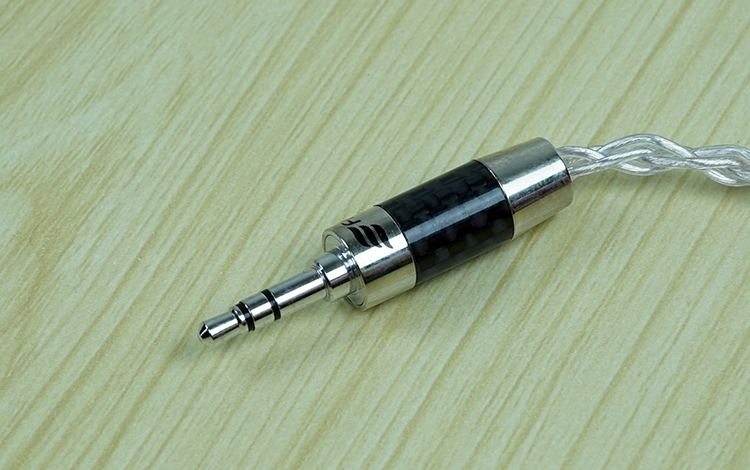 Unfortunately, you cannot get the pSquared version as a standard jack option online but it may be possible for an additional cost if you drop EA an email requesting as such.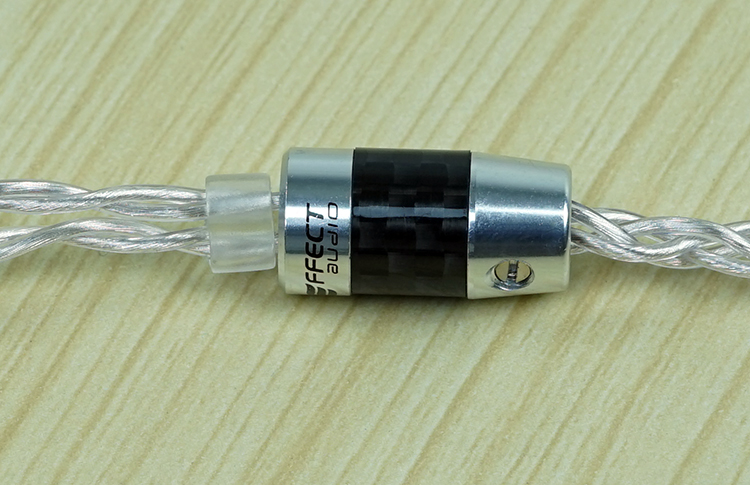 In-between you have a similar chrome and carbon weave alloy finish for the y-split tube which does a really nice job of separating the wires and reducing any microphonics without adding too much additional overall weight to the cable. Just above you have a small silicone adjustable chin strap that doesn't feel overly tight when moving up or down.
This is a definite upgrade on the older Thor I black heat shrink and hard plastic jack and y-split finish and more synced with the light shimmer of the EA Flex jacket on the cable itself.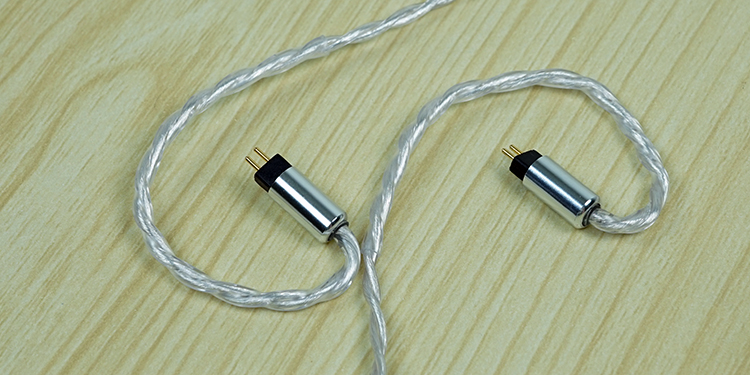 Strain Relief
The strain relief on each termination is subtler than the Lionheart but more flexible than the Thor Mark I. You could be forgiven for thinking it has none but in truth, it's just cut much closer to the join of the termination socket.
Memory Wire
The memory wire on the Thor II is a little bit more flexible than the Thor I but slightly less pliant and supple than the Lionheart which I rate as one of the very best. Much like the Lionheart, this is an excellent cable for wrapping around your ear and keeping a low but comfortable profile and fit.
Again, like most EA cables, this is not a stiff memory wire so you cannot just manipulate it and keep it in that shape. It will bend, flex, shape but once you take it off it will snap back into its original shape. Quite a lot of stiffer materials on other cables will hold their shape indefinitely, this one does not.
Options
As with the Lionheart as well as the older Thor Mark I, Effect Audio provides a massive range of termination options for both the top and bottom of the Thor II cable.
You can elect though to terminate with no less than 7 different varieties of plugs including rhodium 3.5mm and right angle 3.5mm, rhodium and gold plated 2.5mm, 4.5mm, and 3.5mm balanced as well as old school RSA type balanced.
The connector varieties are equally abundant with no less than 12 different types from 2 pin, MMCX, FitEar, UE, Sennheiser to name but a few. This particular review version came with the standard 2 pin which has that nice shiny chrome finish and is perhaps the most attractive of the termination tubes. The rest of the connectors will come in black apart from the UE-Pro connectors which come in clear plastic.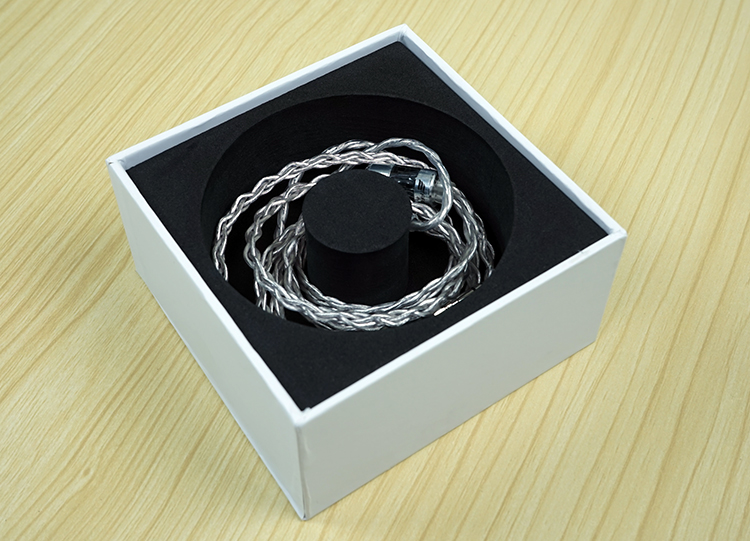 Accessories & Packaging
The Thor II packaging is a little more functional than the Lionheart but given its slightly cheaper price point, it is entirely understandable. It does come in a similar-looking white printed box to the Lionheart just slightly smaller in dimensions.
The box itself can actually double up as the carry case for the cable when not in use with an internal circular foam cutaway and central pole to wrap the cable around.
Sound Impressions
Tonality & Presentation
Dynamic Range
The Thor II is a clean yet smooth sounding IEM cable that really delivers in terms of clarity particularly at either end where it's enhanced dynamic range produces a tight, snappy and well-defined bass signature and a sparkling yet smooth treble response. This is a different beast to say the Whiplash Twag range which gravitates more to a neutral and natural response and keeps the presentation firmly balanced. The Thor II is much more musical, exciting and vivid sounding.
PRaT
This is the kind of cable you want to switch to if your IEM is edgy, neutral perhaps or simply too flat sounding with whatever stock cable you use. Even with neutral sources such as the X7 Mark from FiiO and the iBasso DX200, the jump in dynamics and clarity was palatable. If you want additional PRaT in your IEM's performance the Thor II will deliver it in bucket loads.
Staging
The Thor II is not just about impact and sparkle, the staging in terms of depth, air, and general instrumental separation goes up a notch also, particularly over stock cables supplied with quite a lot of good CIEMs. The improved depth and cleaner response deliver a more three-dimensional presentation, allowing for a bit more space for instruments and particularity vocals to breathe. In short, the Thor II will seem less congested and more spacious sounding than stock CIEM cables.
Matching
It will not give you a huge swing in sound like the Lionheart, it's not quite as transformational in its coloration as the Prestige alternative, but it is most definitely musical and will optimize IEMs such as the VE8, A18, and Vega that can really show off their superb range, extension, and staging capability.
It is a shame that the CL1 from RHA has those proprietary MMCX connectors, the Thor II seems a perfect match for this kind of IEM in terms of controlling its aggressive top end and warmish low-end without overly smoothing out the response.
Thor I and Thor II
Both are firmly musical and have excellent dynamics but the Thor II differs in terms of vocal presence and top-end articulation where there seems to be a little more air and space.
The Thor I, by comparison, is a bit more attenuated in terms of treble presence and a little more laid back with slightly less extension and energy. Thor II's vocals are also slightly more forward with a bit more focus and definition which delivers a more vivid and engaging signature overall.
The Thor II's low-end performance also has benefited from the superior treble contrast. You get a slightly cleaner snap and a bit more definition and generally a more impactful bass signature.
Select Stock Comparisons
64 Audio A18 Premium Cable
Premium stock cable
This is a natural-sounding but more laid back and less articulate cable than the Thor II. It suffers a little from an attenuated top-end performance and a soft low-end with a slower sub-bass response in comparison to the Thor II. Vocals are similar in terms of positioning, slightly forward but the Premium has a bit more warmth to its timbre whereas the Thor II has a better definition and detail.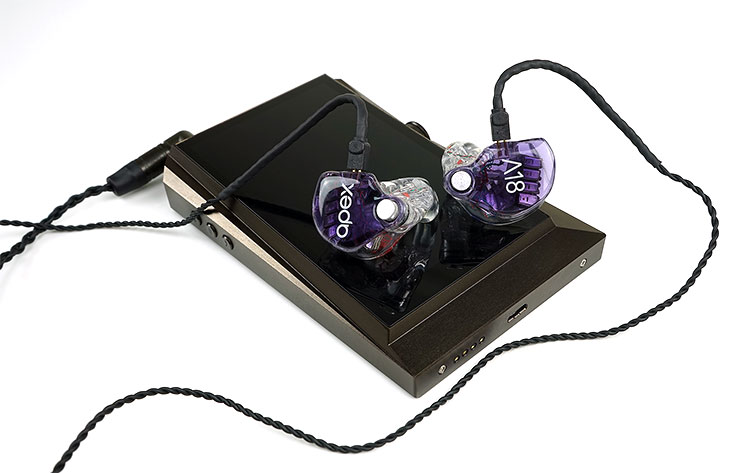 Thor II
The Thor II has superior dynamics and better definition at both ends of the spectrum than the Premium 64 Audio Cable. It also possesses a cleaner high end that is more articulate and resolving but still very smooth. There is also better snap in the low end, you can hear the difference in the sub-bass response in terms of detail and dynamics.
Presentation-wise the Thor II is the more spacious and holographic presentation with better layering than the stock 64 Audio cable. The better extension provides an airier sound with more sparkle.
Vision Ears VE8 Stock Cable
Stock Cable
The stock cable is ok but in truth, compared to the Thor II it offers a fuzzier sound and less separation and air. Its low end is softer and not as well defined with less dynamic snap and definition. Top end is also softer and not as clean or articulate as the Thor II. This cable does not get the absolute best out of the VE8 in terms of clarity.
Thor II
The dynamic capability of the Thor II really shines with this very musical and engaging CIEM. The top-end, in particular, has more sparkle and extension but still stays incredibly smooth without any peakiness. Vocals are more focused and vivid in their presentation. The forward pitch and better top-end extension create a better sense of space to allow the vocal to take center stage.
The low-end, one of the best aspects of the VE8 is so much tighter, better defined and dynamic sounding than the stock cable. There is no bleed or bloom in achieving that impactful and engaging performance.
Campfire Audio SPC Litz
Top-end clarity
The biggest difference between these two cables is the level of clarity from top to bottom with particular emphasis in the upper mids, vocal presence and treble performance.
Zero Sibilance
There is a lot of debate on whether the Vega displays sibilance or not, the Thor II takes that debate away from the table with a very refined and smooth top-end performance. At the same time the sparkle, articulation, and energy remain which is vitally important for the Vega to sound good.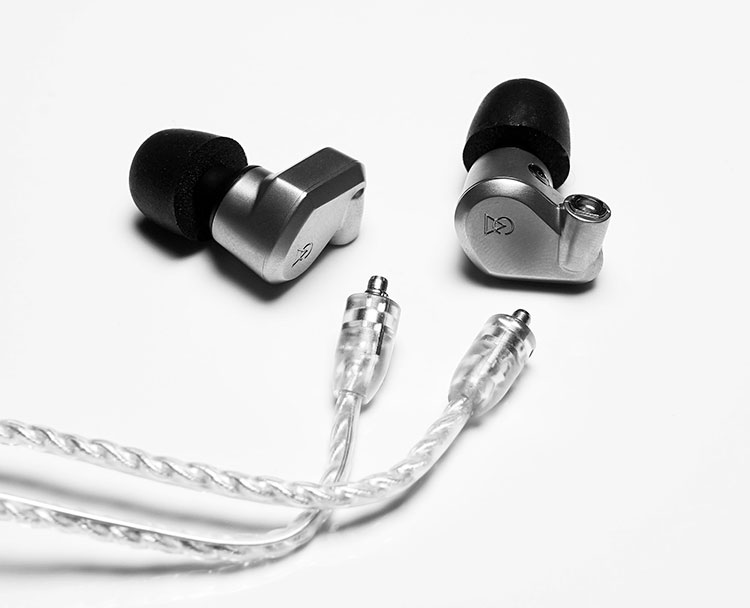 Dynamics
Low-end dynamics also get a tweak, both stock Litz and Thor II retain that physicality the Vega is renowned for however the Thor II is a little tighter, more controlled sounding than the stock litz with superior resolution.
The stock Litz does a great job delivering a huge bass performance but it is a touch softer and woollier sounding than the Thor II.
Our Verdict
At $399 the Thor II is excellent value for what I think is a cable that simply works with a very wide range of IEMs in terms of dynamic range improvements, staging depth and imaging control and bringing out the excitement and sparkle in any treble response.
Whilst the Lionheart is truly transformational in both tone and timbre the Thor II is really a universally matchable cable that will bring something I think pretty much any audiophile will enjoy. Some SPC variants I have heard through the years will bring dynamics into play but it is quite rare they get a grip on top-end quite like the Thor II. Even the Thor I will sound slightly attenuated and less impactful than the Thor II.
Since most CIEMs come with what I regard as a purely functional and soft sounding cable (there are a few exceptions). The Thor II is the perfect antidote to the usual soft sounding and slightly flat sound these cables can produce. It is almost the perfect upgrade in that respect bringing no small measure of fun and musicality into any IEM's performance.
Thor II Technical Specifications
26 AWG
UPOCC Pure Silver Litz
Proprietary Multi-Size Stranded design within single encapsulation
Flexible insulation (same as Leonidas)
New EA CF connectors and Y-Split