Our review of the WAVAYA Octa, which is a flagship porcelain CIEM featuring a dual-electrostatic array and a triple BA driver hybrid configuration. It is priced from €1,590.
Disclaimer: The WAVAYA Octa sent to us is a sample in exchange for our honest opinion. We thank WAVAYA for this opportunity.
To learn more about custom monitor reviews on Headfonics you can click here.
Note, this review follows our latest scoring guidelines which you can read up on here.
Wavaya Octa
This is a nicely balanced hybrid electrostatic hybrid monitor with a bit more emphasis on mids/vocals over a pounding bassline. This is also a monitor that allows the treble to breathe with some fantastically sweet-sounding vocals timbre.
Technically the first quad electrostatic driver custom monitor we received but the second we have reviewed with the Empire ears Wraith sneaking in just before Xmas.
The Wraith is quite an interesting tuning and a good example of the various interpretations companies are doing right now with the new Sonion electrostatic drivers. Especially with four drivers which is exactly what the Wavaya Octa has in its configuration, albeit with a very different overall hybrid driver configuration.
Despite the Octa being the flagship custom monitor in the Wavaya line-up, the pricing isn't exorbitant by today's standards. Starting from €1,590, which is just a little over $1750, this one seems more obtainable as well as offering some very unique features to go along with that price.
Tech Inside
Cyprus-based newcomers, WAVAYA, feel they have the answer to that with not one, two but a total of 4 electrostatic drivers in their flagship Octa custom monitors and all neatly tucked inside a porcelain shell. Yes, correct, porcelain and not the usual acrylic, silicone, or a metal build.
Porcelain
So why porcelain? WAVAYA contends that the material is not just for aesthetical purposes. In fact, the primary pitch is more for medical reasons with porcelain being used as a much mroe effective barrier to contact related infections inside the ear due to less buildup of sweat compared to acrylic.
Ear infections such as Contact Dermatitis can impair your general hearing capability as well as cause a discomforting sensation requiring specific medication to cure. Porcelain is a naturally hypoallergenic material unlike plastics and acrylic builds so it will do a lot better at avoiding this issue.
Of course, it also looks really unique and feels a little different in your ear also so I can't discount that factor. At the time of writing, WAVAYA is the only company I know that is taking this approach so that is pretty unique right there.
Configuration
Those 4 electrostatic drivers are accompanied by 3 BA drivers, (one is a dual woofer so 8 in total), but unlike the vast majority of the competition, they have opted not to use a dynamic driver. So, whilst the Octa is a hybrid it is not a 'tri-brid'. That will have certain connotations for the final tuning and timbre as we move forward.
The configuration is also a little different from the usual crossover designs you see in competing models. The double driver for the low-end is a full range plus woofer with its own crossover covering the sub-to-midbass range. You then have a super double tweeter for the mid to upper mid frequencies and another full-range cover the upper bass to lower-mids. The electrostatic drivers are for the highs and super highs.
Due to the particular structure of the electrostatic drivers, WAVAYA started the tuning from there and added the other bands one by one configuring each driver or set of drivers separately. So, each driver or double driver has his own crossover/band passing and WAVAYA contends that a single crossover would not suffice.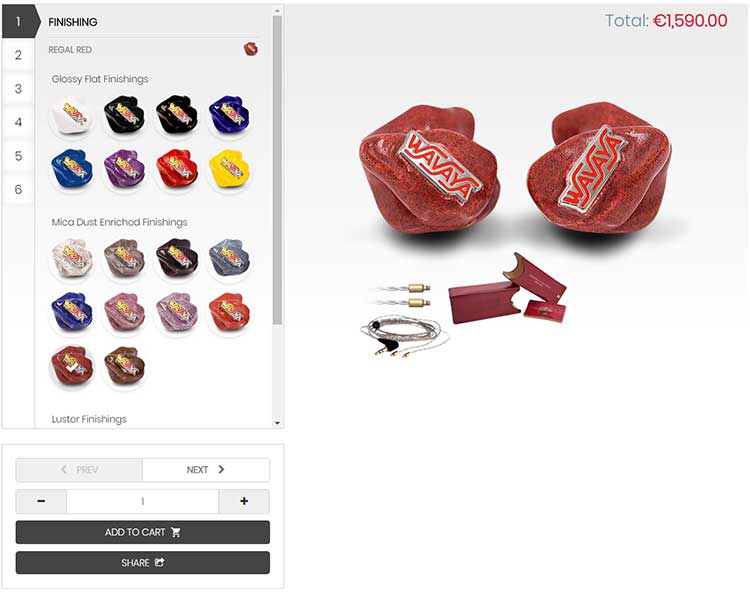 The Process
'Build Your Own'
The WAVAYA online builder is quite simple but elegant and very easy to use. You get a total of 23 design choices and 'praise be to the gods' not a single one of them costs an additional fee.
The design choices are in 3 categories depending on the finish. These are glossy, Mica dust and Luster and have between 5 and 8 different color options. My choice was the Mica Dust Regal Red finish. I like 'em loud and proud though I shied away from the really shiny luster finishes. I found them a little flat in tone in the supplied pictures. Just a question of personal preference but the Mica Dust speckle effect looked cooler to me.
I love the 3 logo choices. They are brutally big and in your face like a knuckle duster from the '70s. I have seen nothing like these before and they rock. I went for the red version as it matched the Regal Red shell quite nicely. Of course, if you want something a bit more subtle like no logo at all you can email WAVAYA and make a custom request.
Add-ons
You can check out with any design without spending a single additional coin beyond the initial advertised price. The only additional expenditure you could incur is if you want an additional Super BAX cable at €180 for your IPX terminated design choice. One small feedback for WAVAYA is the lack of additional cable purchases for the 2-pin designs. That would be welcome also.
The rest of the add-ons are more in relation to final options such as having your name on the supplied case or what color you want the case to be – black or red currently available. As you can see in our accessory breakdown below, the red case is a cracking choice if you happen to go with a red design. It all fits harmoniously together. You can go with a black version of the case and that works with their black designs in the same manner.
Outside of the initial stage, you can buy additional accessories, items or services from WAVAYA. I do wonder though if things like a concierge service can be integrated into the 'Build Your Own' design process directly as a buyable option. I think it might add more value to the design process if customers can avail of things like additional cases and fast-tracking, even if they have to pay an additional fee.
Mind you, you can add these to the cart at the same time as your custom design and pay for them all in one go but I am not 100% sure people will be aware of that. Hopefully, these options can be added by WAVAYA.
Customer Service & Turnaround
It is difficult to assess turnaround as my own unit had a small delay due to raw material supplies in September. However, I can extrapolate that a VIP service that guarantees a 30-day turnaround might mean the trickier porcelain designs can take an average of longer than 30 days to get back to their new owners.
In fact, the Fast Track option at €99 does indicate that a standard lead time of up to 60 days or 2 months is possible. If you are impatient this might be a price worth paying to half that longish turnaround time.
VIP Service
What I do like, however, is their VIP service. Now, admittedly at €199, it might be too much for some budgets. However, the value add is very attractive with a 30-day turnaround, pick up of your impressions from your doorstep, dedicated CS rep and return shipment of your final samples. That is not bad actually.
WAVAYA will even throw in an advance shipment of sample impression shells so that you can check if your finished ear impressions are correctly formed before sending them in. Honestly, that might be worth looking at as a bad fit is really irritating.
Ear Impressions
WAVAYA's ear impression guidelines are simply excellent. You can find extensive information on how to make them and what to tell your local audiologist.
In summary, WAVAYA requires a full open-jaw impression of each ear including the full helix, crus of the helix, tragus, and the antitragus. The depth of the impression must also go past the second bend of the ear canal.
Bringing a bite block is useful as you need to keep your mouth very steady. Around 3-5cm will work maximum, or as I like to say, about one coke bottle screw cap on its side in your mouth!
If you plan on doing them yourself or if the audiologist has not done this before then ask for a high viscosity silicone impression material or clay. Once done, either use their service or pop them in a stiffened plastic container in a few tissue sheets to protect them from bumps and knocks and use a registered trackable courier such as FedEx.
Packaging
The box is funky, the feel is more like a VANS shoebox than a traditional IEM container. I guess I am used to the 'Asian styling' a lot these days so it is refreshing to see something very different from a very different cultural background.
Accessories
And goodness in case you forget, this is "WAVAYA!". You will be reminded of that with tons of branded accessories including a cleaning cloth, badges, stickers cards, and the list goes on. It is overwhelming but in a good way. Guitar cases around the world will start showing these off pretty soon I think. Heck, there is even a set of magnets to allow the beautiful carry case to attach to microphone stands. That is very cool.
Aside from that, you get this beautifully handcrafted real Italian seamless leather case to store your Octa. Although you cannot just shove them in loose, you need to use the special matching leather binder so they do not knock and bang together when carrying them around.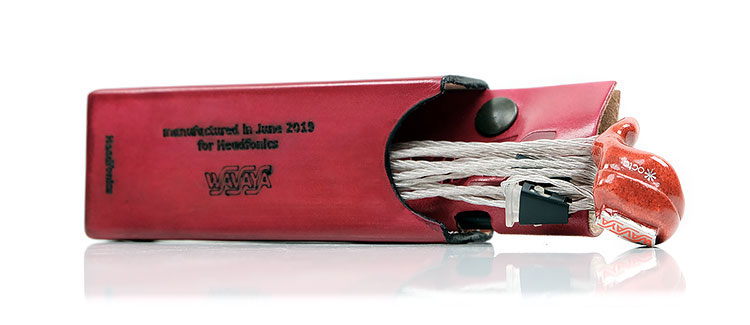 Honestly, it is a pretty wicked lineup of accessories and a genuinely beautiful and unique case. Makes a refreshing change from Pelican 1010 and threaded pill cases. Just to summarize, here is what you will find inside that retail Octa box:
50″ Linum™ G2 Super BaX™ cable with T2™ connectors.
Genuine Handcrafted Italian Leather case with matching binder
2 x WAVAYA pendants
1 x WAVAYA black cleaning cloth
2 x attachable case magnets
Various assorted stickers, cards, and decals
Warranty card
Click on Page 2 below: Meet the Octa & Sound Impressions