Empire Ears Legend EVO is a flagship-level hybrid universal IEM with dual W9+ subwoofers, 5 BA, and a Weapon X Bone Conduction driver. It is priced at $3099.
Disclaimer: The Empire Ears Legend EVO was sent to us in exchange for our honest opinion in this review. Many thanks to Empire Ears for giving us this opportunity.
You can read about previous Empire Ears products reviewed on Headfonics here.
Note, this 2-page review follows our new scoring guidelines for 2021 which you can read up on here.
Empire Ears Legend EVO
The Empire Ears Legend EVO is a bass monster, but a monster with refined taste and also one that brings some sort of A-game to the mids and treble table in terms of resolution and timbral balance. 
I had 2 choices for a review project with Empire Ears during CanJam Singapore 2018: either go with the Phantom or go with the Legend X. I went with the Phantom but at the same time, I couldn't help but wonder how popular the Legend X might be.
It turns out it was hugely popular, the ultimate basshead experience at the time without sacrificing a technical performance level demanded from high-end monitors. The ironic thing is I never got to hear the Legend X ever again.
That sucks because after hearing the Valkyrie MKI and MKII Weapon X+ woofers let loose I had a penchant for 'huge bass' in at least one flagship monitor in the office. Well, here comes the new Legend EVO boasting of multiple Weapon IX+ drivers and a bone conduction system to boot to satisfy my curiosity.
At $3099 it is the penultimate monitor in Empire Ear's revamped lineup just behind the Odin. It is not cheap but let me tell you, there is nothing that I know of that sounds like the Legend EVO, nothing.
Technical Highlights
Dual Conduction Architecture
The Legend EVO is a hybrid universal monitor consisting of 8 drivers with 3 different flavors. Instead of a mix of dynamic, BA, and electrostatic as found in the flagship Odin, you get a blend of dynamic, BA, and a brand new bone conduction driver system with a 9-Way synX Crossover Network.
The driver grouping is a dual Weapon IX+ subwoofer for the lows and 5 BA for the mids and highs. Then you have that Weapon X Bone Conduction Ultra Driver as a 'layer' right across the level response curve, 5Hz-35kHz, via Empire Ears' new Dual Conduction Architecture.
The dual stands for air conduction via the regular drivers (5Hz to 20kHz) and bone conduction to generate that deeper and almost tactile tone that might not be possible with dynamic drivers alone.
The Weapon X Bone Conduction Ultra Driver in the Legend EVO is designed to flesh out the sub-bass, add more reverb and in doing so deepen the soundstage. It is a very focused application.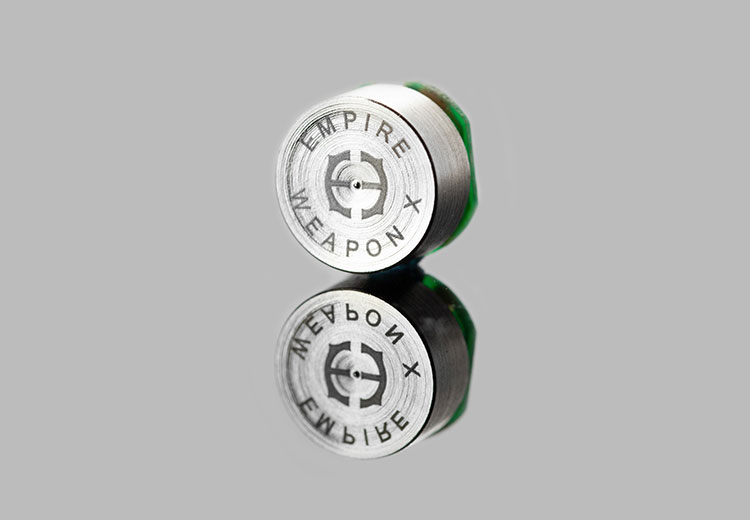 Weapon IX
Empire Ears have gone with 2 of their newer Weapon IX+ subwoofers in the Legend EVO, a combo that was first seen in the flagship Odin in 2020. This is an upgrade or improved version of the original IX dynamic subwoofer design used in the original Legend X.
The Weapon IX+ inside the Legend EVO is a proprietary rare-earth magnet-infused dynamic driver. Technically, the 9 or the IX referred to is the actual size of the driver as in 9mm.
The defining characteristic in the design of the original Weapon IX driver is how the woofer is enclosed in a tuned bass-reflex system. It has a front-firing port and rear-firing vent to reduce distortion and enhance frequency extension. This is different from traditional DD designs that rely more on internal shell enclosures for volume and can often end up being fairly inefficient.
This time around Empire Ears has designed a Weapon IX driver with a larger internal coil diameter and an improved suspension design to reduce potential peak-to-peak distortion.
Weapon X Bone Conduction Ultra Driver
The Weapon X Bone Conduction Ultra Driver or W10 as they call it in the marketing collateral uses a nickel-plated SPCC housing to reduce resonance or any unwanted flex.
This is combined with a very strong rare-earth N52 neodymium magnet which works particularly well in tight spaces such as an IEM shell. They are also known to have an excellent coercivity performance, (resistance to demagnetization), and well, the stronger the magnet the stronger the potential driving force of the W10.
The W10 copper voice coil works in tandem with the magnet using a varying push/pull magnetic field to generate that all-important bone conduction vibration throughout the housing. The vibrations themselves are conducted through a vibrational membrane interface constructed from steel and laser-welded into place in combination with three cantilevered struts.
The Legend EVO shell is then further sealed with a custom cast polymer to ensure those vibrations are not diffuse and lost before they hit the listener's ear canal or picks up any unwanted vibrations on the way.
A.R.C.
The Legend EVO uses Empire Ear's A.R.C tech which is now almost in every Empire ears monitor by default including Odin, Valkyrie MKII, and Hero.
A.R.C is short for Anti-Resonance Compound and is a special type of damping coating used on the inside of Legend EVO's shell. It is applied to virtually every component used such as the drivers, tubes, and crossover boards.
Empire Ears claims that this coating adds a critical level of mass or solidity to the internal components. This, combined with ferrofluid damping inside the driver, creates a very resonate-free and phase-correct listening experience with the Legend EVO.
Design
It's a Legend so there was only ever one aesthetic considered for the EVO and that is pure glossy black with just a hint of transparency that I only picked up from the studio photography work.
The form factor is similar to the Odin, and that means a heavily contoured opaque onyx acrylic hollow-body shell with a matching faceplate. The nozzle length is fairly standard for an Empire ears universal monitor and terminated with a 4-bore exit.
The plates are adorned with bold gold prints of the Empire ears winged logo on right and the EVO moniker on left. The Legend EVO moniker kind of reminds me of the classic Van Halen logo with its triple stripe to the left and V in the middle.
Despite the similar form factor, the Legend EVO is a slightly bigger and heavier monitor in terms of dimensions and probably the biggest in their current range. Compared to the Odin it is just a little fatter on the sides and marginally taller also.
I presume that's to produce enough surface contact to get optimize the bone conduction effect on the ear because this has fewer drivers tucked inside than the Odin.
You get a further set of dual 'Tri-Port' exhaust exits for venting of the W10 and Weapon IX+ drivers at the top of the shell. One set is in the usual position from the previous dynamic driver implemented shells to the rear and an additional set of holes closer to the 2-pin connection.
Stock Cable
Geometry
A new monitor and another new cable creation. Empire Ears are picking up a reputation for launching IEMs with quality stock cables and the Legend EVO is no exception.
This time we have a collaboration with PW Audio called Genesis. The internal wiring is upgraded from the usual 26AWG from the likes of the previously used Effect Audio Ares II to a beefier 24AWG Ultra-Pure OCC copper wire with a polypropylene reinforced core.
The wires are wrapped in a translucent insulated UV-resistant polyvinyl chloride sheath with an unusual blue-streak aesthetic running through an otherwise pure copper look. If you are wondering what this is, that's the polypropylene core.
The braiding is a medium throw classic style similar to most good quality aftermarket cables though perhaps on the slightly looser side which I presume is to accommodate the twisting of those larger 24AWG wires. It is a little stiffer than regular PVC and has the odd kink or two but the microphonics performance is excellent.
Finishing
The cable is finished with a mix of classic and new from PW Audio's styling cabinet. The classic is that heat shrink cover on the pentaconn 4.4mm plug which I am not a huge fan of for its DIY'ish look.
The plug, splitter, and connector barrels are another thing entirely and come fresh off the PW Audio conveyor belt with a hefty but cool screw lock splitter barrel, a Pentaconn 4.4mm plug, and 2-pin long but slim aluminum barrels.
All of them have a complementary color scheme in either dark gunmetal for the plug or matte black for the splitter, chin cinch, or connector barrels. Both the splitter and connector barrels of the Legend EVO also sport the EVO branding and Empire Ears name in white.
Comfort & Isolation
A slightly different fitting experience compared to the smaller Odin but not a huge gap. Using the same large tip size, the Legend EVO felt slightly larger in the ear, understandably as it is a beefier shell.
However, despite the Legend EVO sticking out of my ears a bit more than the Odin, the insertion depth is similar with the stock Final E tips doing a really nice job in terms of comfort. Tips will take it the 'final mile' for securing the Legend EVO in the ear and the amount of isolation you can get but the nuanced curvature of the acrylic shell is plenty for a very comfortable fit.
One thing to note is the isolation level is a little lower than the likes of the all-BA Wraith and even more so than the Odin. You can put that down to the dual tri-port exhaust system or the additional 3 venting holes making 6 in total compared to just 3 on EE dynamic driver hybrids. They will open up a little bit more for low-level background noise but it is still fairly manageable.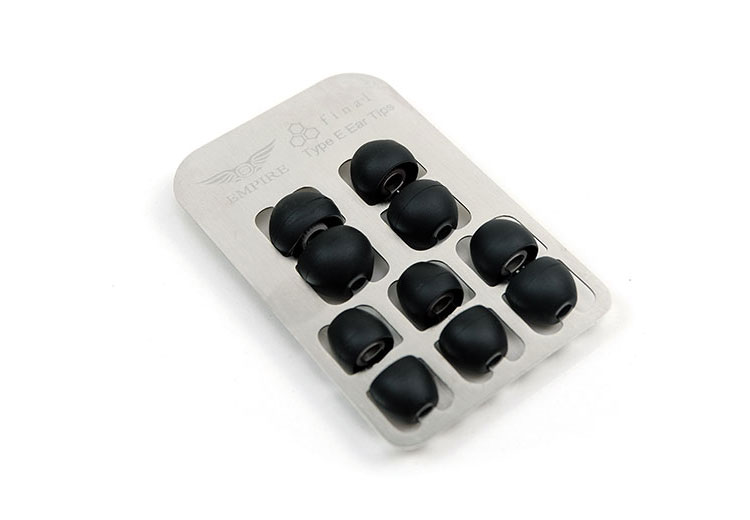 Tips
As far as I know, the Legend EVO only comes with Final E-tips and there is apparently a very good reason for that. Apparently, foam tips do not provide optimal performance with bone conduction drivers due to their softer, more porous foam materials allowing the sound waves to bleed out easily.
I honestly do not mind as Final E Tips are my preferred go-to tips for sound signatures like this and they are indeed very comfortable and seal just as well if not better than any foam tip I have tried before.
Final E tips tend to produce very powerful bass performances if you can nail that seal though mids can be a little thinner and treble a little brighter on some pairings. I never found that the case with the Legend EVO matchup though.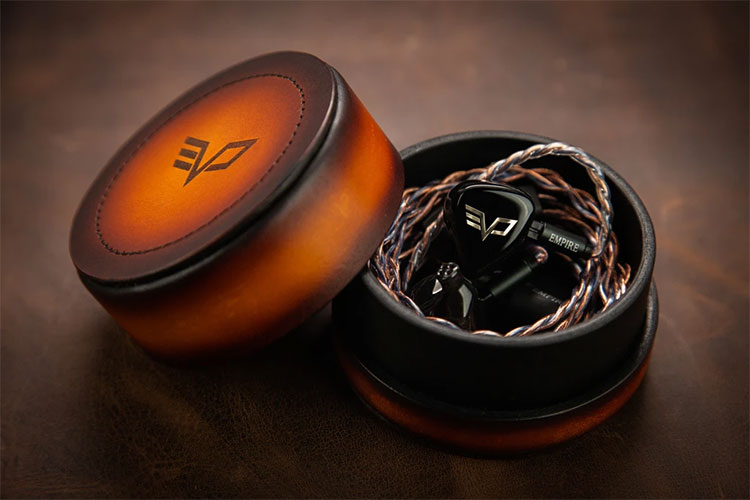 Packaging & Accessories
As this Legend EVO was a sample package we did not get the final packaging for a hands-on experience. I have little info to shed to you right now on that but I believe it would be an accurate guess it is in one of Empire ear's compact jewelry style display cases with a sliding accessories drawer.
There will be a special launch edition of the Legend EVO, some 400 of them so strictly limited-edition. This will include among other things a tanned patina leather case handcrafted by Ryu Sangwoo of Vishnu Leather in South Korea.
Aside from that, you should expect to get your Final E tips in various sizes in the now customary Empire Ears aluminum tray tips holder, the black satin branded cleaning cloth, cleaning brush, and your warranty/serial number card.
Once the Legend EVO launch editions are all bought up, the patina case will be replaced by the standard Empire Ears and Legend EVO branded puck-type hard shell carry case in the picture above.
The threaded aluminum case might have slightly less space to work with than the limited-edition Patina case but they are really solid and durable containers. Apparently, it is also weatherproof and it does look fairly tight when the lid is screwed shut. It is a shade on the heavy side though but not unwieldy. More baggable than pocketable.
Click on page 2 below for sound impressions and select comparisons