The Empire Ears Odin is a flagship universal IEM with 11 proprietary drivers including a dual dynamic, 5 BA, and 4 electrostatic drivers. It is priced at $3399.
Disclaimer: The Empire Ears Odin was sent to us in exchange for our honest opinion in this review. Many thanks to Empire Ears for giving us this opportunity.
You can read about previous Empire Ears products reviewed on Headfonics here.
Note, this review follows our new scoring guidelines for 2020 which you can read up on here.
Empire Ears Odin
The Odin is a technical beast bar none with masterful levels of control from the dual subwoofer configuration right up to that nuanced treble tuning. Nothing is overdone, even those forward upper mids are beautifully tempered by a coherent treble tuning.
There has been a lot of buzz in the last few weeks regarding Empire Ears' new flagship universal monitor, the Odin. From the feedback, the company is billing this as the 'Norse kitchen sink' of everything they have accomplished to date all jam-packed into one set of IEMs.
The launch of the Odin is also one of those moments that founding employee 001, Mr. Dean Vang, unleashed a new creation that was not subjected to the usual trade show rounds of feedback. For such that 2020 is, I am not surprised since the ability to meet people safely in a trade show environment is current a pipedream.
As such you could argue this is 100% Empire Ears, the 'Full Monty' so to speak and not just on the tech side but also, and critically, a sound signature that best represents what this company is all about at the very high level.
At $3399 you would, neigh should expect that but quite often in this hobby, some flagships can leave you wondering if there is more to come or there is an additional ounce to be squeezed out of that bounce. With the Odin? The short story? Probably, possibly the most technically complete universal IEM I have heard this year. For some, that might be worth every cent of the asking price.
Tech Inside
Configuration
What is inside the Odin? Quite a lot actually. Let's start with the driver configuration. This is an 11-A.R.C. coated driver hybrid monitor with 3 very distinct driver types.
On the low-end, Empire Ears have used an improved W9+ 9mm dynamic subwoofer design over the original Weapon IX driver used in the likes of their Legend X and Valkyrie monitors. You get two of these bad boys in tandem for the sub-bass and bass response.
For the mids, the Odin contains 5 balanced armatures with 2 dual-driver units for the lower mids and the mids and a single BA driver for the mid-highs.
Layered on top of that are those Sonion electrostatic drivers for the highs and ultra-highs. There are 4 in total, much like the recently reviewed Wraith treble configuration from their EP series. Empire Ears do not reveal if these are the Sonion generation 2 transformers behind the drivers but I can tell you these sound very different to the Wraith treble tuning.
All of this is threaded together with a ridiculously complex-sounding 8-way synX crossover which I bet took an age to configure just right. I am used to seeing 3 up to 5-way but 8-way is a new bar for me regarding crossover technology.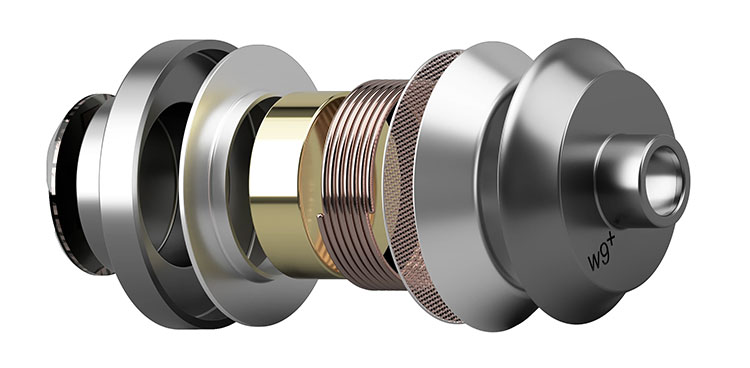 Weapon IX+
The Weapon IX+ inside the Odin is a proprietary rare-earth magnet infused dynamic driver. The original Weapon IX driver has been used before in multiple configurations in their Nemesis, Valkyrie, and the Legend X. Technically, the 9 or the IX referred to is the actual size of the driver as in 9mm.
The defining characteristic in the design of the original Weapon IX driver is how the woofer is enclosed in a tuned bass-reflex system. It has a front-firing port and rear-firing vent to reduce distortion and enhance frequency extension. This is different from traditional DD designs that rely more on internal shell enclosures for volume and can often end up being fairly inefficient.
This time around Empire Ears has designed a Weapon IX driver with a larger internal coil diameter and an improved suspension design to reduce potential peak-to-peak distortion. Believe me, the bass response on this new driver is incredibly tight and clean.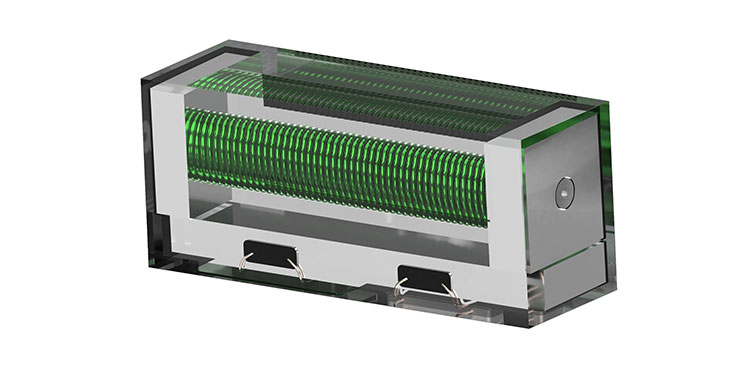 EIVEC
On the opposite end of the spectrum, Empire Ears has continued with its EIVEC transformer technology to manage the quad-electrostatic driver performance. EIVEC stands for Empire Intelligent Variable Electrostatic Control and it is designed in work in tandem with their 8-way synX crossover network inside the Odin.
You can consider it as a measure of additional control on the EST drivers through electronics components and how it works in tandem with the other drivers. Its main job is to ensure that the EST driver works optimally across a potentially vast 4kHz-100kHz range without upsetting the harmonic balance with the BA driver configuration underpinning it.
A.R.C
The Odin uses Empire Ear's A.R.C tech which I first encountered when reviewing the Phantom in 2018. This is a technology also applied inside the Wraith. A.R.C is short for Anti-Resonance Compound and is a special type of damping coating used on the inside of Odin's shell. It is applied to virtually every component used such as the drivers, tubes, and crossover boards.
Empire Ears claims that this coating adds a critical level of mass or solidity to the internal components. This, combined with ferrofluid damping inside the driver, creates a very resonate-free and phase-correct listening experience with the Odin.
Design
The Odin is a universal monitor with an opaque onyx acrylic hollow-body build quite similar to the Wraith universal shell with its gentle contoured lightweight design. However, it is the new faceplate creation that gets all the attention, the Bifrost version of their new Dragonhide range of faceplates.
Dragonhide was launched by Empire Ears a while back and it is a treat visually with a layered rainbow effect or collage of interlocking colored layers. However, the Bifrost is more intense and a denser interweave of brightly colored splashes.
Bifrost is an aptly named moniker because if you know anything about Norse mythology then you would know that it is in fact a rainbow bridge that runs between 2 of the 9 worlds, Midgard and Asgard.
The Bifrost plates are also adorned with Empire Ears trademark winged logo on the right and a similarly gold plated Borromean Valknut symbol which is a running theme throughout the Odin retail styling.
The pop on this faceplate design is 'over 9000', no kidding. I would love to see a matching body shell in the same design just to see what a full spectrum Bifrost dragonhide CIEM would look like in the flesh. That would be something else.
Stock Cable
Geometry
The stock Odin cable is no tack-on either. This called Stormbreaker and it is a bonafide high-end cable that retails for $1299 on EE's website. I know it is high-end beyond the price because I have had a version of this (2-wire 1960s) for a few years now from one of EE's collaborators for the cable, Hong Kong's PW Audio. The other collaborate being Pentaconn from Japan.
This is an excellent performing 2-wire, 4-conductor (2 positives, 2 negatives), OCC copper Litz geometry with a variable wire gauge, 26AWG for the positive side, and a larger 24AWG for the negative side. The smaller gauge wired is sealed in FEP and the larger in a more flexible PVC jacket then both are encased in PW Audio signature nylon jacket and finished with a twist braid.
Finishing
The finishing is excellent, better than what I have seen before in the 1960s cable range. Instead of the usual steel barrel, you have Pentaconn's contribution, which is a CNC silver Borromean Valknut splitter with a sliding chin cinch using the same finish. Both are beautifully made but also feel very durable so I cannot see these flaking or falling apart any time soon.
The Stormbreaker connectors are 2-pin 0.78mm encase in a relatively long glue-locked complementary chrome barrel for both left and right. There are no L or R markers, instead, you have Empire etched on one side and you plug in with the etching facing outwards which sort of makes it easy to know which channel is which.
The jack barrel is also chrome finished and relatively wide with a very tidy heat shrink and Empire logo finish. This cable is a 2.5mm TRRS which seems to be the default termination but you can also opt for 4.4mm and 3.5mm optional adapters of the same materials from the EE website. They are also PW Creations with the same wiring so it won't freak out cable enthusiasts.
The only aspect of the cable design and materials I am not mad keen on is the memory sleeve on the connectors. It seems a bit long, not overly opaque, and sticks out a bit from the main cable design.
Handling
The cable handling is very good as you would expect from a high-end creation. Microphonics is super low to almost nothing below the splitter and just the expected friction noises from behind the ear above the splitter.
It is also very light, even for a 4-wire creation. Much credit to Pentaconn for creating a very lightweight splitter that keeps everything manageable.
Comfort & Isolation
Despite having a fairly short nozzle the Odin slips into the ear really nicely. Tips will take it the 'final mile' for securing and the amount of isolation you can get but the nuanced curvature of the acrylic shell is plenty for a very comfortable fit.
Ironically, I was expecting the Odin shells to be heavier than the all BA/e-stat build of the Wraith but in actual fact, I found them a shade lighter in the hand and the ear. They also seem marginally smaller and not quite as tall so they do not stick out of your ear quite as much like the Wraith.
However, the Odin shells do not isolate quite as completely as the Wraith due to the triple-bore bass vent to the rear of the acrylic shell. A necessary evil to allow the low-end drivers to breathe properly. The Wraith, being an all-BA build does not need them, the Odin being a dual-Weapon IX+ design does.
Tips
Thankfully, the Odin comes with my current favorite silicone tips, the single bore Final E in 5 different sizes from seriously small to big lugs. The Final E tips are an excellent choice because of the way they really tease out a much more explosive sound to many regular silicone tips but at the same time give you a seal on par with foams.
The only thing I have to say though is if you are new to these tips you might push them all the way in which can close off their narrow bores and kill the Odin performance. Just enough until you hear the obligatory dynamic driver diaphragm flex and you are all set.
You can and should tip roll just to help you get an idea of how much the stock sound is for you because as mentioned I find the Final E tips to be extremely vivid. SpinFits are a valid alternative for me and help produce a more gentile and warmish sound to the Odin.
You could call it slightly more relaxed compared to the Final E in a manner of speaking with a slightly reduced bass response and a sweeter midrange timbre.
Packaging & Accessories
I feel Empire Ears now are more relaxed and surer of their identity when it comes to retail packaging. The construct of the Odin package is very similar to the Wraith box only with a white vinyl sleeve adorned with the Odin in gold font and that Valknut symbol, also in gold, to the front as well as Dean Vang's signature to the side.
Slide off the white sleeve and you get that tidy 2-piece tiered modernistic all-black slider box similar to the aforementioned 2019 releases. The cable plus the drivers are neatly housed on the top-tier in their own display foam and the accessories are all housed in the slide-out tray just below.
Inside the slider tray, you get Empire Ears standard durable round screw aluminum case that is printed with the EE branded wings and a text engraving of Odin. You also get a small cleaning tool under the tips tray and a satin cleaning cloth inside the aluminum case.
The threaded aluminum case has slightly less space to work with than the weather-sealed Aegis cases of before but they are bloody solid, and I mean practically bombproof.
Apparently, it is also weatherproof and it does look fairly tight when the lid is screwed shut. It is a shade on the heavy side though so I am not 100% sure I would be using it on tight Kg limits for travel.
The Final E tips come in their own little silver tray which I much prefer over cheaper cardboard variants that a lot of mid-fi IEMs seem burdened with. Aside from that you also get some stickers, product brochure, and a black thank you card
Click on Page 2 below for sound impressions & comparisons