The SONCOZ SGA1 is a fully balanced desktop headphone amplifier and pre-amp offering up to 840mW into a 300Ω load. It is priced at $649.99
Disclaimer: The SONCOZ SGA1 sent to us for this review is a sample in exchange for our honest opinion. We thank SONCOZ and HiFiGo for giving us this opportunity.
To read more about SONCOZ products we have reviewed on Headfonics click here.
Note, this review follows our new scoring guidelines for 2021 which you can read up on here.
SONCOZ SGA1
The very modern-looking SONCOZ SGA1 headphone amplifier delivers an impressive amount of high-load balanced power while having the ability to capture fine details and demonstrate buttery smoothness in presentation.
SONCOZ has set the bar high with its successful DACs enjoyed by both tech-savvy users and veteran audiophiles. Previously we had reviewed their popular LA-QXD1 entry-level DAC, however, this time we have gone up a grade with a review of their new amplifier SGA1.
This is not just a complementing product for their SGD1 DAC, but a standalone design packed with advanced features. Exquisitely designed with XLR and 4.4 Bal connection ready, this amp feels convincing just by the look and their track record. Now let's hook it up and hear how it performs!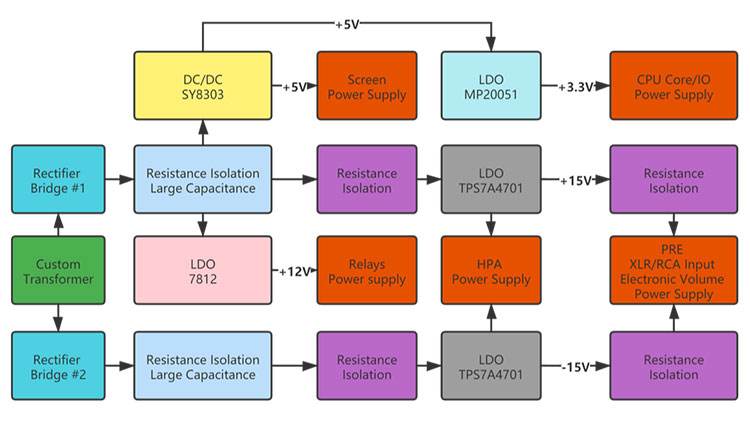 Tech Highlights
A reliable and sufficient power supply is vital for higher fidelity. SONCOZ stresses their effort in planning the PSU, so we are getting a very dark background but a truckload of power. The other features under the spotlight include a proprietary Toroidal transformer with permalloy shielding.
Looking closely, you can see metallic baffles that separate components inside to lessen induced interference. If you always look into the small details, the neat layout arrangement and audiophile components on top look very professionally finished.
The SGA1 has a digital volume control which aligns well with its futuristic appearance. The flagship-tier New Japan Radio MUSES 72320 volume control chipset takes care of the sound level adjustment, offering excellent noise control and fine incremental steps for very sensitive ears.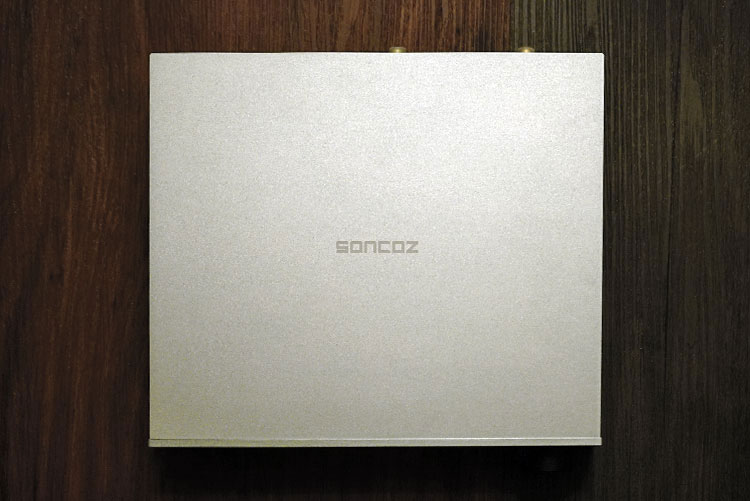 Design
With a reflective, inlaid glass layer over the stealthy grey, smoothly finished aluminum chassis, the SGA1 has strong visual appeal and a tough build. There are more heat dissipation vents on the chassis compared to the SGD1, creating a visual in my mind of those sexy back lids on supercars.
The orange-toned OLED panel allows you to switch between in/output, volume, and gain settings. Gain and volume are displayed precisely to a few decimal points. When leaving unattended for 40 sec, the screen will automatically go off.
Another noteworthy feature is the inbuilt 110/220v adaptive power switch. If you travel with your audio gears you will not need an extra transformer to be around. The SGA1 has an identical size to the SGD1 DAC, with both of them measuring 22.5*25*5.5cm, which won't take too much space on the desktop.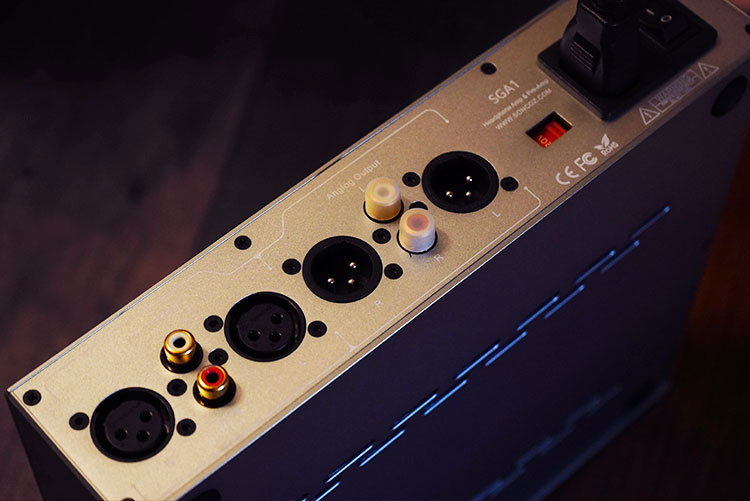 I/O
On the back panel of the SGA1 you will find the analog in/output, XLR balanced in/output, which you can hook up to active speakers as a preamp. The on/off button is also located at the back which keeps the front panel clean.
The front side houses a single-end 6.35mm jack, balanced 4-pin XLR jack plus the 4.4mm balanced output. The jacks are sturdily installed, also nicely gold plated; the fully gold-plated jacks have impressed me on the LX-QXD1 and the SGA1 looks no less professionally finished.
Since the output path is discreet you can only connect to the headphone out or the pre-amp output one at a time. If you don't look at the user manual it may take a minute or two for you to work around the controls but once you get used to it you can quickly navigate through the outputs.
Controls
The multi-function volume knob allows easy navigation between outputs, setting the gain and volume with a simplistic twist. Controls with the big round knob are spontaneous and straight-forward, press once the knob and you can enter and cycle between V (Volume), -G (Gain), -IN (Input), -HPA (Headphone amp mode), and -PRE (Preamp mode).
If you hold the button for 6 sec you will be resetting it to factory default, and when you quickly turn the knob the SGA1 will enter a fast volume adjustment mode to let you quickly bring up or down the volume. All settings will be memorized internally so you don't need to set them every time.
Packaging & Accessories
Coming in a white thick paper box with EVA foams inside, the SGA1 is well protected for transportation. Call it a no-frills unboxing experience and you will be getting a thick power cord with it, the same type you see that connects to PC transformers.
The cable is, however, only 1m in length and I don't think it is long enough for most users. The package could be more complete if there is a remote or an infrared sensor for volume control, so the user can sit back and control the speaker output without having to walk back and forth each time.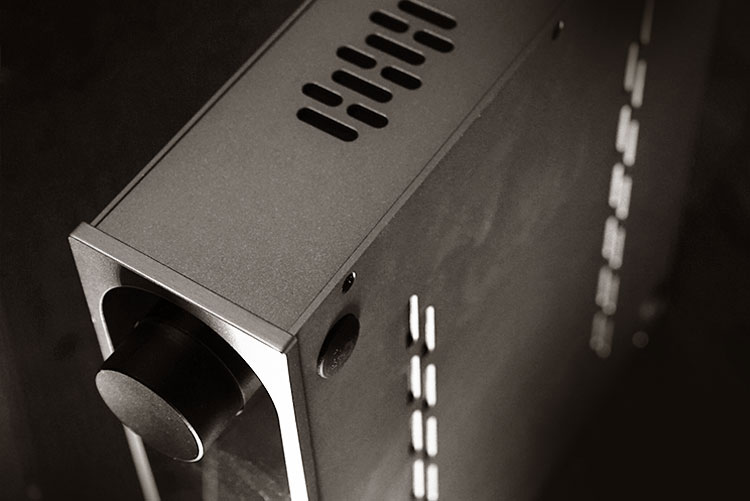 Internal Hardware
Inside the SGA1 fits an isolated, proprietary toroidal transformer that has multiple layers of permalloy shielding, ideally targeted to eliminate 50/60Hz low-frequency noise.
To achieve even better noise control, SONCOZ uses discreet regulators that supply stable power to different parts of the circuit and wraps metallic shields/ baffles around the most sensitive components.
On the amping path, you will find the TI's OPA1611, JFET OPA1641, OPA1622 op-amps, with WIMA MKS2 film caps coupling the output. The choice of opamp targets high power output as well as maximizing the headroom.
Powered by a MUSES 72320 volume control chipsets you can adjust the output level from -110.75dB~0dB, by 0.25dB/step when the gain is zero which means very fine incremental adjustments. The digital volume attenuation allows L/R channel balance to be very precise even at a very low volume level such that the SGA1 is usable with custom IEMs or very sensitive headphones.
Hidden in plain sight, the motherboard is also a part of the noise control design, where 4 layers of gold-plated circuits – Ground, Signal, Power, Ground are arranged to sandwich the power supply and signal layer, shielding them from outside interference.
Performance Numbers
With all the effort in interference and noise reduction, the SGA1 output distortions levels are quite good at <-118dB THD+N @1kHz S/N ratio with a <-126dB dynamic range performance.
The output maxes at 7.8Vrms with SGA1's balanced headphone output and its impedance measures 0.05ohm, meaning that it can handle more sensitive IEMs without impedance skew. With nearly 1W power with a 300Ω load, the noise floor is very low with a quiet background rated at <3.0μVrms.
From official data, the output is most potent when pairing with 300Ω load which will get you as much as 840mW in the output. The preamp output has a 200Ω output impedance on XLR/RCA output and 4Vrms max output, which again promises low noise performance with speakers.
Spotted on the SGA1 motherboard are two 8200μF ELNA caps which are part of the ultra-low ripple voltage supply architecture that helps the noise level to go as low as 1.8μVrms on its SE connection and 3.6μVrms using balanced.
To avoid any pop sound, there is a hardware relay mechanism so you don't need to worry about sudden voltage swings.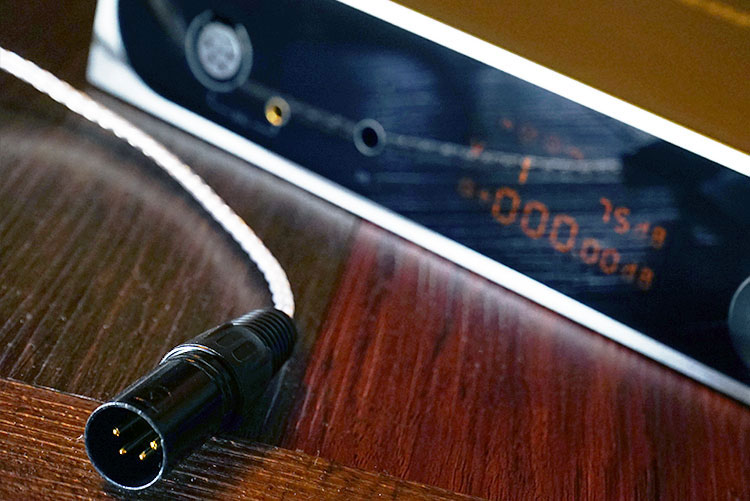 Sound Impressions
Generally, the output leans to the slightly warm side, fast on decay with excellent depth in bass plus good fullness in the mids. Dynamic range is good if not excellent, malleable when applying EQ, and does not distort even at very high volume. With good neutrality, it matches well basically any gears thrown at it.
There are always some higher impedance models that need powerful amplification such as the earlier Sennheiser HD series which the SGA1 power curve seems tailer-mode for.
If you are pairing with sensitive IEMs and planars that may not need that much amplification it may sound a bit flat in tone. In short, the closer the load approaches 300Ω, the more euphonic and dynamic the SGA1 pairings get.
The fine steps of volume control are note-worthy, allowing for a very precise setting for sensitive gear which could be intolerably loud and imbalanced in the L/R channels with common powerful amps. With very small incremental steps in volume, you can fine-tune to a sweet spot much easier.
Bass
Bass performance on the SGA1 is solid and it is exactly the kind of bass you expect on TOTL amps from a few years ago. Handling the HD800 and HD650 on XLR balanced configuration, the output attacks impactfully and is well layered.
Cranking up the volume high the bass is still tight and punchy, reaching very deep down and you can hear big drums radiating firmly with good power. Detail are still preserved when it disperses and decays into the background.
Firing up Rachmaninov's 2nd Piano Concerto the deep bassline sounds immersive and well-paced, tension sustains in the more distant end of the soundscape and good fullness is rendered.
The upper bass frequencies are not protruding and articulate swiftly to the mids, thus giving the bass a good sense of control. The SGA1 seems able to handle swiftly fast-switching melody contours that require a good level of dynamic range quite well.
Mids
The midrange on the SGA1 is smoothly delivered, packing in satisfying density while sounding quite natural. Backing instruments and vocal separation is good, nicely defined in terms of imaging, and are not overly hefty. It is clearly outlined in the vocal line with small bumps around the 3-5kHz range that strengthen the texture.
Timbre and placement are finely balanced with every element getting enough weight to appear natural rather than siloed. The SGA1 has a flexible tonal coloration that works well with different genres of music sounding dynamic and extended.
Treble
The treble is energetic but refined at the same time. On high loads, it extends well with some upper sheen that helps to add extra clarity and air just beyond getting over the peaking threshold. Overtones are pronounced which makes guitar licks and jazzes very slick, yet the upper treble is polished enough so that it doesn't sound harsh at all even with intensive string plucking.
The 5-6kHz region in particular has good intensity with a shimmering edge to cymbals and woodwind energizing the output. Listening to bells and singing bowls you can hear clearly the harmonics developing and decaying into mid-air, with realistic levels of note body and any distracting dissonance.
The use of WIMA caps from my experience gives a more substantial outline to the treble frequencies and the vocal a more distinctive image. With most pairings, the treble sounds precise, non-invasive, nicely textured, and naturally extended.
It does not feel digitally manipulated nor overly altered; in fact, the treble is more on the smooth side and does not overemphasize any particular frequency range to boost perceived resolution.
Soundstage
Managing a good balance in tuning and being well extended in both ends helps the SGA1 render an expansive and holistic soundscape.
There is good air that contributes to the sense of space while instruments are positioned and image precisely with just the right weight and texture to sound clean but not too protruded or forward. The output is coherent allowing you to pick out individual instruments from the mix.
The X-axis of the staging is particularly spacious, the stereophonic, oval-shaped stage spaces instruments well, and you can hear elements of the drum set well defined from each other. The vocal has a decent 3D image and when it comes to solos or very clean voices its strength to sound clear and true-to-life is clear.
Click on page 2 below for pairings and select comparisons