Moondrop Sparks is a debut TWS featuring a 6mm beryllium-coated dynamic driver, aptX, and dual transmission TWS+. It is priced around $89.99.
Disclaimer: The Moondrop Sparks sent to us is a sample in exchange for our honest opinion in this review. We thank the team at Moondrop and Yaoyaotiger HIFI for giving us this opportunity. There will also be a new 'International Edition' coming soon with a different design.
To read more about Moondrop products we have previously reviewed on Headfonics, click here.
Note, this review follows our new scoring guidelines for 2021 which you can read up on here.
Moondrop Sparks
The Sparks is a solid first foray into the TWS earbuds sphere with an attractive translucent charging case that packs quite a lot of juice, and a standard nozzle on their earbuds for better ear tip compatibility.
Moondrop is a company that started with a pair of enthusiasts who wanted to develop earbuds, and in 2015 they released their first product, the VX. Which is a pair of earbuds that are still actually being sold as of the time of this writing.
Lately, Moondrop has been making waves in the IEM scene, especially with their widely popular Blessing, and Blessing 2 IEMs and our recently reviewed Starfield.
With their popularity in the IEM scene, Moondrop has also chosen to expand into the field of TWS earbuds. Their first foray into this growing wireless audio market is the Sparks which retails for an affordable $89.99 in its current iteration. We as yet have no price indication for the forthcoming international edition.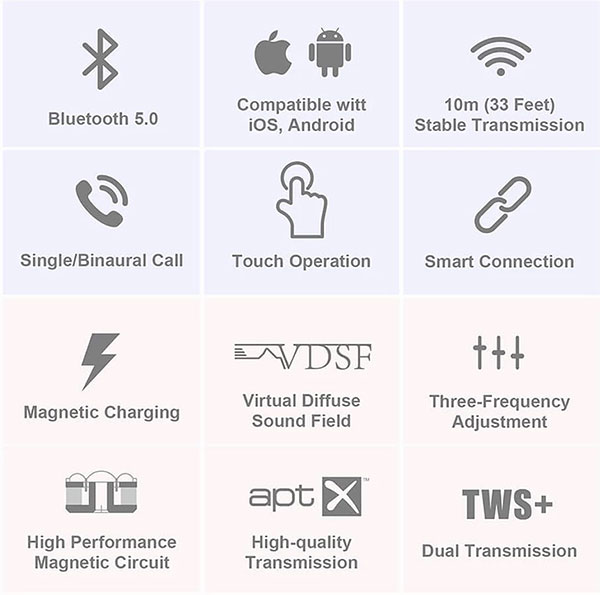 Tech Highlights
The Moondrop Sparks features a high-efficiency magnetic circuit using N52 magnets that will ensure that there will be a high magnetic flux density in the magnetic circuit.
Each 6mm dynamic driver is coated with Beryllium and supported by a PU suspension ring. These features ensure that the Sparks can deliver a dynamic sound while maintaining clarity with the Beryllium-coated drivers tuned with Moondrop's VDSF(Virtual Diffuse Sound Field) tuning.
The Sparks is equipped with Bluetooth 5.0 and is capable of running aptX, SBC and AAC. So running it on Android will allow for higher resolution transmission with aptX, while still being compatible with Apple devices through AAC.
Bluetooth is handled by a Qualcomm Chipset that is programmed to integrate with the Hiby Blue app. The Hiby Blue app promises to allow the user to access additional options for customization.
Design
The charging case is made of translucent purple plastic that shows some of the innards of the charging case. It is equipped with 3 LEDs in front that indicate the level of charge available in the case, and it has a USB-C charging port at the back of the device.
The top of the case has a nice tight hinge that has a satisfying magnetic closure mechanism that will keep the lid closed while traveling.
Upon opening the case, the earbuds sit nicely inside and are made of a more solid purple plastic. Each earbud has a multi-colored LED light that indicates the status of the TWS earbuds themselves and they can be seen through the LED window as well as the translucent spark-shaped window on the earbuds.
The nozzles on the Sparks are the standard nozzle size and length, so swapping in-ear tips from more traditional IEMs can be an option with the Sparks.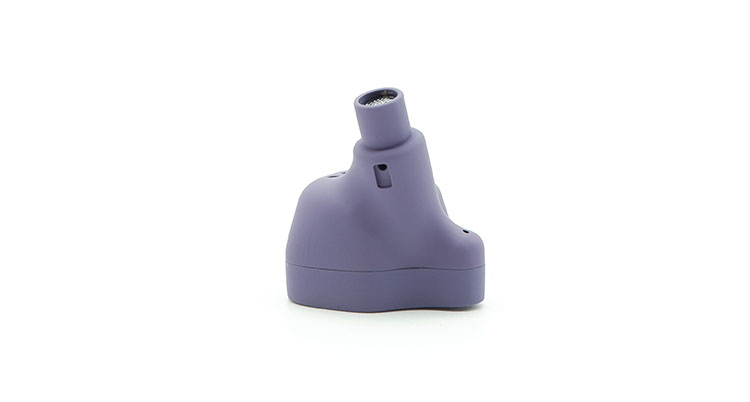 Comfort & Isolation
The TWS earbuds on the Moondrop Sparks seem like they're a pair of really big earbuds that could be too large to be comfortable. Fortunately, the design is properly thought through. The nozzles and the shape of the part that touches the concha are just perfectly molded to ergonomically fit into my ears.
The Sparks do not come equipped with active noise-canceling, however, the in-ear nature of the Sparks still ensures that there is enough noise isolation. While they are in my ears, noise doesn't come through even when there isn't any music playing.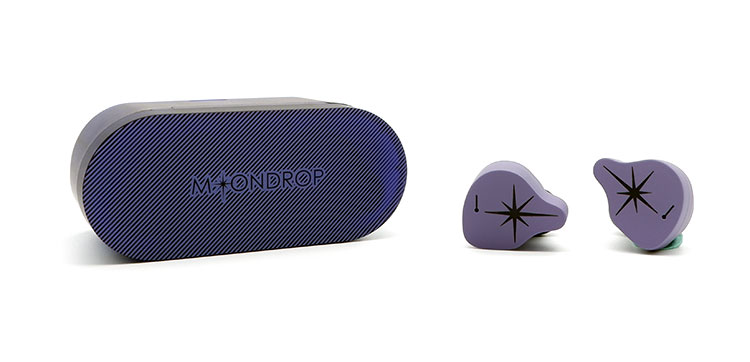 Battery Life
Moondrop promises that the Sparks have enough battery life to last around 7 hours, and the charging case has another 35 hours left inside, meaning it would last a total of 42 hours.
In my real-life testing, I was able to get around 6.5 hours on each charge and around 5 full charges from the charging case. While this isn't exactly the same as the numbers on the box, factors such as volume or Bluetooth protocol could have affected battery life.
Charging the earbuds when they are fully drained will only take around 30 minutes, while fully recharging the case takes a bit more than an hour. These figures are pretty standard, but thoroughly acceptable since the Sparks can be up and running pretty quickly if they are ever fully drained.
Controls
The Sparks implements a touch interface as with most modern TWS earbuds. However, with the Sparks, single taps won't do anything, while a long touch will activate either Google Assistant or Siri.
Double taps on either earbud will toggle play/pause, while triple taps will trigger the next track or the previous track. Double tapping will also answer or end calls, while a long press will reject calls.
Touch controls are responsive most of the time, but double or triple taps are hard to execute in general. I experienced a few times when triple taps didn't activate anything, or triple taps activated the functionality that was meant for double taps. I honestly would have wanted to see a more reliable touch interface and functionality for a single tap.
Software
The software that the Sparks integrates with is the Hiby Blue app and it features a status display as well as numerous customization options.
It has options for equalizer settings, modifying double tap and triple tap functionality, TWS+, and firmware upgrades. Out of the box, the Sparks are tuned to follow Moondrop's Virtual Diffuse Sound Field tuning, but customizing the tonality with the 5-band equalizer is an option.
Functionalities for double and triple tap can be changed to play/pause, previous/next track, volume up/down, call voice or the function can also be deactivated altogether. Software connectivity with the Sparks is done quite easily, and it doesn't require any fiddling around as long as your phone is connected to the Sparks via Bluetooth.
The customization options that are available through the software are pretty impressive. However, I would have wanted to see an option to activate a single tap function for a more comprehensive set of available functions that can be activated through the touch interface.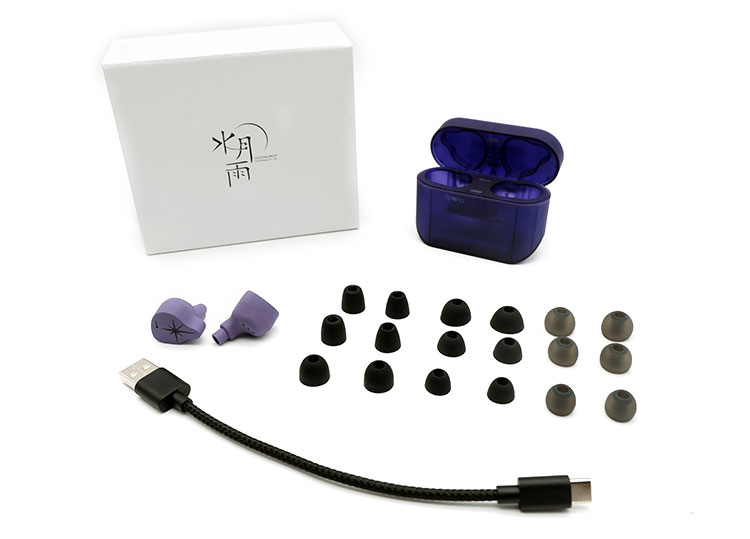 Packaging & Accessories
The Sparks comes in a white box covered with a sleeve that features a color-matched design with the color of the TWS earbuds. The ones that we got are the purple ones. The inner box is a plain white box with the Moondrop logo with the Chinese characters 水月雨. The box has a magnetic closure flap that keeps it securely closed most of the time.
Upon opening the box, you get a top foam layer containing the earbuds, charging case, and foam inserts that keep the earbuds secure. Beneath the foam inserts, you get the manual and other papers. You also get a box underneath that contains a very short charging cable, as well as 3 types of ear tips that come in small, medium, and large.
Aside from the accessories inside the box, Moondrop also sent over a form-fitting magnetic leatherette outer case that will protect the charging case from accidental drops and scratches when it's inside a fully packed bag.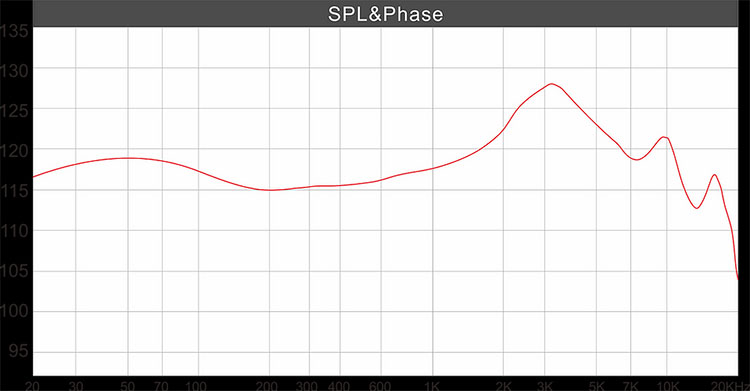 Sound Impressions
Most of my sound impressions were done with the default VDSF EQ settings and using the default ear tips that are on the earbuds when they are taken out of the box.
Bass
The sub-bass is slightly rolled off. Deep bass tones are still present, but the ethereal environmental quality of sub-bass notes is just not quite there. Each note can be heard clearly though, but each note just doesn't quite have enough body to it.
Mid-bass on the Sparks is substantial, but never overbearing. Each drum hit is immediately apparent, and transient attacks from each drum hit have a good bite to them, but decays in drum hits have a slightly sluggish transient decay. Bass notes from bass guitars are very flowy and rounded, and bass grooves have a flowy and natural character.
Although the bass on the Sparks could use a bit more speed, the bass on the Sparks is generally natural when bass notes start playing.
Midrange
Compared to the bass, the lower midrange is slightly more recessed. Male vocals such as the vocals on James Blunt's Monsters have a good amount of texture and detail. However, when there are passages where bass notes start playing at the same time as vocals, the vocals are slightly overshadowed by the bass notes.
Female vocals on the other hand have a slightly more forward presentation, but surprisingly not as textured as male vocals. The timbre for both male and female vocals are both pretty good though.
The lower registers on both guitars and pianos are generally more recessed, while the upper registers are slightly more emphasized. Guitar strums come through naturally, and picking on the guitars is very clear and each movement of the hand on the fretboard can even be heard clearly.
Piano notes are naturally presented, where percussive strikes of the piano's hammers are very immediate. Both guitars and pianos are naturally presented, with a slightly brighter harmonic tilt than usual.
Treble
With the Sparks, treble is delivered with a good amount of quality, and clarity. However, it is generally a bit shy and stays on the safer side of becoming too bright. Cymbal crashes are crisp and clear, however, each cymbal strike could do with a bit more splashiness to feel more natural.
Treble passages with synthesizers, like the one on Owl City's Fireflies, end up sounding slightly thinner than usual.
While treble on the Sparks is generally clear and controlled. A bit more splashiness and a slight uptick on the treble range would have made treble a bit more exciting.
Staging
When listening to the Sparks, the room has an apparent expansiveness to it. However, sound elements don't generally make use of the entire expansiveness of the soundscape. Sound elements generally go beyond my head, but only up to 2 inches beyond my head for elements that are usually whey out, but most others stay in my head.
Image placement in the sound stage is generally vivid, where each sound element can accurately be placed in terms of directionality, as well as depth within the soundstage. However, each image is a bit fuzzy, where they seem larger and slightly blurred together sometimes.
Ear Tip Rolling
Moondrop provided the Sparks with 3 types of ear tips, the slimmer flange long stem ear tips, the stout flange long stem ear tips, and the short stem ear tips that are installed on the earbuds by default.
The stout flange long stem ear tips look very similar to the ear tips that can normally be found on standard IEMs. They have noticeably more bass and a more forward midrange than the stock tips.
The slim flange long stem ear tips on the other hand do a similar thing in terms of bass, except the midrange is not as forward. However, the unfortunate side-effect of these long stem ear tips is that they make the sound a bit more congested and closed-in when compared to the stock short stem ear tips.
A major benefit of the Sparks having a standard nozzle length though is that they are compatible with most aftermarket ear tips for IEMs. From my box of ear tips, the spiral dots ear tips improved the sound quality of the Sparks. It slightly boosts treble quality and quantity, while improving detail retrieval and giving a slight improvement in soundstage width.
Click on Page 2 below for wireless performance and select comparisons