In this feature, we review the Edifier Stax Spirit S3, which is a pair of wireless Bluetooth closed-back planar magnetic headphones with aptX Adaptive decoding. It is priced at $399.99.
Disclaimer: This is a sample sent in exchange for our honest opinion. Headfonics is an independent website with no affiliate links or services. We thank the team at Edifier for giving us this opportunity.
To read more about the Edifier gear we have reviewed previously on Headfonics click here.
Note, that this review follows our current scoring guidelines which you can read up on in more detail here.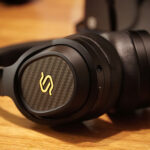 Edifier Stax Spirit S3
The Edifier Stax Spirit S3 has a balanced sound signature, which seems to be the most common variant of tone and presentation in the last few years for headphones of this design type.
Pros
Excellent design
Coherent imaging
Nice portable size
Cons
Lacks bass response
Nasal upper mids
The Edifier Stax Spirit S3 was launched back in 2022 and is pitched as being the first in a series of audio products lined up under their new "Stax Spirit" branding.
There is some irony in that branding given the Stax Spirit S3 is a planar magnetic headphone and more than that, it has licensed tech coming over from one of the poster boys of planar headphones, Audeze.
Nothing in the way of the direct use of electrostatic technology which is more relatable driver tech to the Stax brand.
Rather, it is a homage to the spirit of craftsmanship of STAX embodied in a headphone design from Edifier. Not only that, but the Stax Spirit S3 is also a wireless planar headphone, one that is priced at $399.99.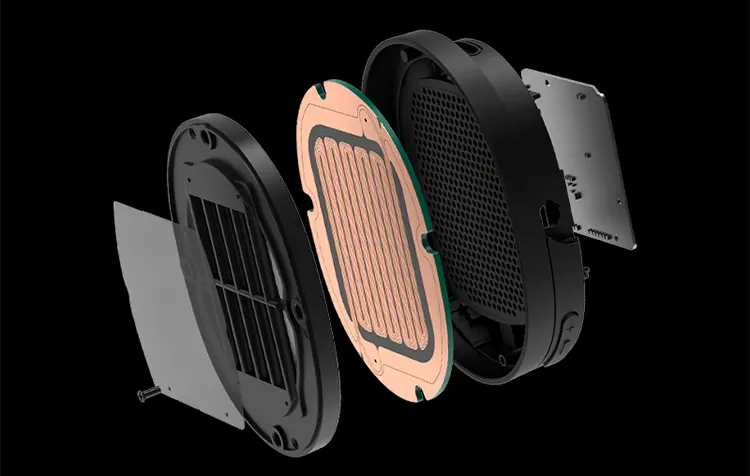 Tech Highlights
The Stax Spirit S3 is a relatively small and compact closed-back planar magnetic headphone geared more towards the audio enthusiast and typical traveler's needs than hardcore gamers though it does offer a low latency mode for gaming if needed.
It also represents Edifier's first-ever BT-powered wireless set of headphones complete with an accompanying iOS and Android-compatible Edifier Connect app.
Planar Driver
Edifier says that this headphone offers lower distortion and wider dynamic response than a lot of traditional sets of planar drivers out there that are available for us nerdy audio enthusiasts.
Right off the bat, I can see that their marketing campaign on this is taking aim at the entire planar tier. Slinging such a bold claim on their website is something I like, but then again, I'm an agent of pure chaos and enjoy the drama.
The 89mm*70mm planar driver uses what Edifier called an EqualMass™ diaphragm technology. Edifier claims this diaphragm is set up and specifically designed for "accuracy".
This is where Audeze comes into play since the Stax Spirit S3 also uses the Audeze Fluxor magnetic array combined with their ultra-thin Uniforce diaphragm technology and yes, Fazor phase management.
Bluetooth & Call Quality
Since the Stax Spirit S3 is a wireless planar headphone it also has a BT chipset with multi-point connectivity embedded into its design.
I give marks to Edifier for keeping the BT version relatively current with their use of Qualcomm aptX™ Bluetooth v5.2. Though no LDAC is offered you do get a wide range of codec-receiving options including aptX Adaptive and aptX HD.
During testing, there were no disconnects or problems with connection integrity. Edifier says the headphone offers 32 kHz voice call quality with its use of Qualcomm® aptX™ Voice audio technology.
While on paper that might be true, I found the call quality to be pretty much the same as models such as the Cleer Audio Alpha that I have reviewed in the past.
In comparison, the Audeze Maxwell far exceeds this Edifier Stax Spirit S3 in call quality though bear in mind the Stax Spirit S3 predates the Stax Spirit S3 by almost a year.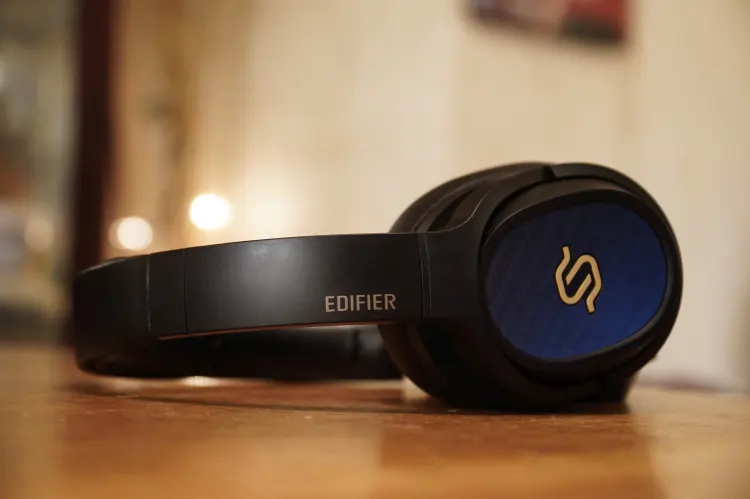 Design
The Edifier Stax Spirit S3 is a planar magnetic driver as well as a fully closed-back design. For being so small though, it is heavy enough at 329g. But that is to be expected. Planar designs are always heavy.
Having said that, I enjoy the form factor quite a lot and prefer the size ratio over pretty much any other portable that I have now. I am so thankful that they didn't opt for a ridiculous leather strap design or some giant and uber-thick headband. None of that here.
Someone at Edifier clearly wanted to use their portable headphones, you know, portably. The headband is thin and the earcups are not monstrously large, thank the audio gods.
Pads and Cable
The earpads and underside of the headband are extremely soft and forgiving. They are also very slick feeling and have a hyper-smooth texture to them.
That feels weird on the top of my head. As someone who shaves his head, we all know that silk and very smooth surfaces just feel strange to us. You lot with hair, you don't know how good you have it!
Lambskin leather is high-tier, not trash quality. The entire experience and design itself, at least in terms of the build materials offered, is entirely excellent.
Edifier claims the pads are breathable but these are solid lambskin pads and have no perforations. I don't see how these are breathable, they are quite the opposite of breathable.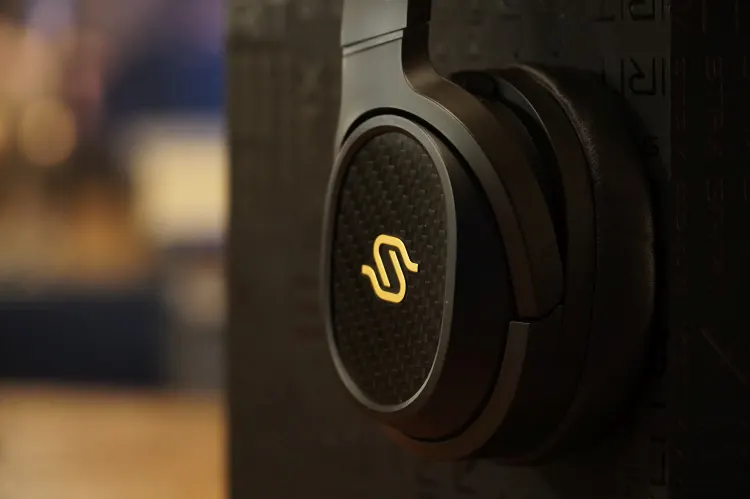 Comfort
Alright, well, the headphones are a little lead weight, that is true, but the headband at least is designed for a human head and not like a satellite dish. So, the clamp factor is relatively mild and allows for a snug but comfy fit in that regard.
The addition of a larger and thicker headband would have been severely detrimental to the comfort factor, so it makes me happy that they didn't opt for that in the design phase.
However, these earpads have stitching that is of a completely different material than the outer areas offer.
The top half is the lambskin leather materials, but halfway down in depth on the pads, the part that resides right on your ear and touches it, shifts to a lighter and scratchy feeling material. Perhaps that is what they feel is the breathable section of the comfort experience.
I don't know really. But the material is highly undesirable and feels quite terrible on my ear. I am astounded that I couldn't find any other reviews even mentioning this. Just run your finger along that seem halfway into the material and depth of the earpad on the cups and you'll understand what I am talking about.
That shouldn't exist. That should be entirely smooth and one piece of material, not having a cross stitch right in the center area that your ear will constantly rub against.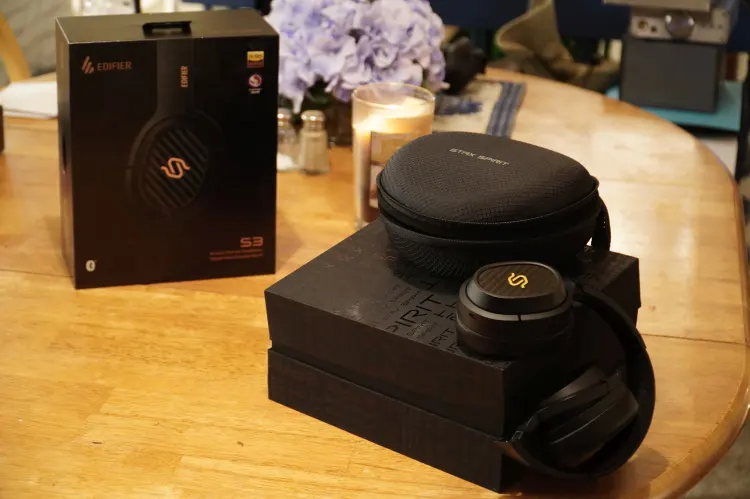 Packaging & Accessories
The Edifier box experience for the Stax Spirit S3 is excellent. The external box is high quality and has a weird and cool texture to it, akin to the Stax SRM-D10. I can clearly see the influence of team Stax coming through in the Edifier merger.
The Stax Spirit S3 comes with a small hardshell case, lovely to see an actually small case for a small headphone. I really enjoy this.
It also comes with a 3.5mm to 6.35mm cable, which is standard and just okay in quality. The connections are normal and strong, with no flux and no jiggle in the connectors, they seem well made but standard in actual materials used.
Sound Impressions
Bass
This is a planar headphone with a balanced sound signature, which seems to be the most common variant of tone and presentation in the last few years for headphones of this design type.
The Edifier Stax Spirit S3 is a very smooth feeling down yonder in the lower regions.
Bass response to EQ is negligible. What I mean by that is I cannot raise the bass or alter it with EQ in the Edifier App, or with my source music app, and have the Stax Spirit S3 respond with a proper increase percentage ratio.
I cannot raise the bass by +6dB and make the Stax Spirit S3 feel like I've added that amount. Hardly any change happens, which means the Stax Spirit S3 is at best, moderately responsive to alteration and EQ.
Fidelity is just fine and is cleaner than the Sennheiser Momentum 4 Wireless. However, on quite on the same level as the recent Audeze Maxwell, which has a similarly competitive price point.
Not only is the Maxwell cleaner, more pure feeling, but it also reaches a bit deeper. The problem? I've felt that the Maxwell also lacks bass depth and response in the same manner. So, the Stax Spirit S3 is a step behind in that regard.
Mids
This is a planar headphone that does not house a typical planar driver mids tone or sound signature. In fact, it feels identical to the Yamaha 700B that I reviewed earlier in the year, which gave me pause for thought.
The biggest problem I have is the upper mid-range, which is an immensely unfocused and splashy feeling. Coherency is not in play here.
Vocals are portrayed in a nasal manner, with solidity and density, unlike most planars in tone. The physicality difference between the Stax Spirit S3 and the Audeze Maxwell is fairly noticeable.
Fidelity is fine, but again a little stubborn for EQ. It doesn't seem to change no matter what preset EQ I am using or what I do to the sound signature with any EQ in my source player. Presets and EQ are a big thing these days in wireless headphones So I hope Edifier can introduce something here that is demonstrably more effective.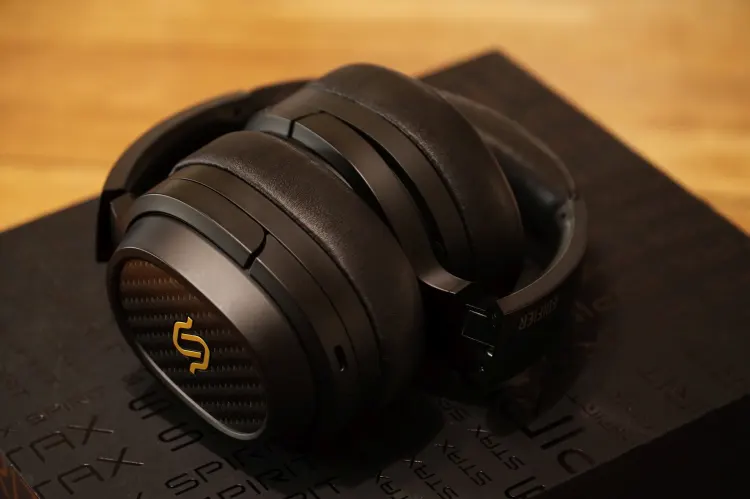 Treble
The entire upper mids and up into the treble range come across as shouty and a little unfocused. Tone and texture are the biggest issues, again, that lack of sense of strength and planar density is just not here.
The fidelity lacks a darkened background that should exist in a headphone of this price, even a wireless one.
Interestingly, the cheaper Sennheiser Momentum 4 Wireless model has that type of treble, with a darker-than-usual background effect with a nice sheen to the treble that makes the experience pop and feel lively, beautiful even.
This Stax Spirit S3 doesn't have that. It feels like the Yamaha YH-E700B model that I mentioned before, which offers a shouty and omnipresent brightness factor that I find unappealing.
Side by side with the Momentum 4 Wireless, the Stax Spirit S3 feels less clean and pure.
Imaging
The Edifier Stax Spirit S3 is a small closed-back planar driver model so do not expect a huge soundstage here. The imaging experience is actually quite coherent.
Depth of field and realism factor is the biggest issue I have, as it feels like the stage depth and cavernous effect was the biggest culprit for why I didn't enjoy this model as much as I wanted to.
Width and height are all equal parts, nothing wider than tall or taller than wide. Think mini Beyerdynamic in physical presentation shape. It's totally rounded, which is a good thing, as I consider it wildly perfect in shape and ratios of width, height, and depth of field.
The problem is that they are all just average in setup and quantity and nothing stands out or takes my ears to another place entirely.
The overall imaging experience is modest at best, and I am not taking points off. It's a mid-tier planar, none of them have an amazing staging experience but it is quite a lot smaller than the Maxwell offers in every aspect.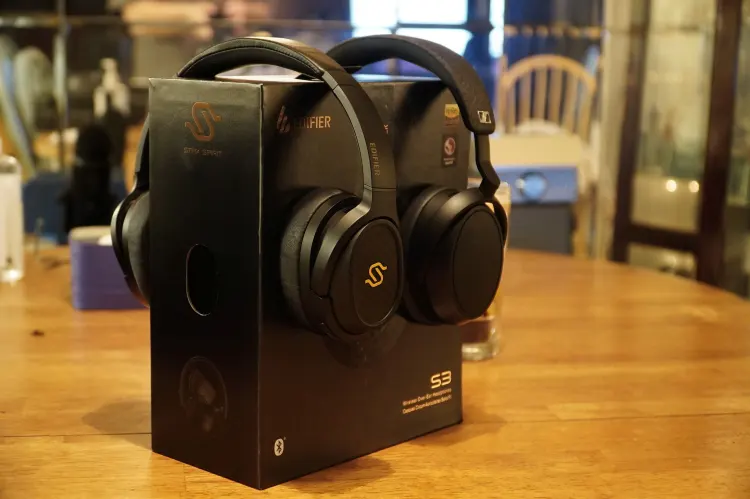 Select Comparisons
Sennheiser Momentum 4 Wireless.
The Stax Spirit S3 is brighter up top, and not as clean sounding as the Momentum 4 Wireless in the treble areas. The Stax Spirit S3 lacks awesome touch controls that are abundant on the Sennheiser.
The Stax Spirit S3 also cannot respond to bass amplification anywhere near the level of the Sennheiser.
You can achieve the first step of bass head quantity on the Sennheiser Momentum 4 Wireless, but you can hardly change the quantity factor even at +6dB extra on the bass side with the Stax Spirit S3.
Yamaha YH-E700B
The Stax Spirit S3 sounds like it is closely related to the YH-E700B. Small staging, lacking proper density, a strange earpad experience with that half lambskin and half inner area totally different material with a thick stitching that rubs on my ear.
The Stax Spirit S3 has a similar responsiveness to the YH-E700B. If you convert the 700B into a planar, it will become the Stax Spirit S3. And that makes me very sad, I wanted a smaller portable planar just like this Stax Spirit S3.
Audeze Maxwell
The Edifier team was using Audeze tech and design with this Stax Spirit S3 but the newer Maxwell far exceeds the Stax Spirit S3 in every manner possible.
I felt the Stax Spirit S3 underperformed for its price tag but the fidelity factor of the $299 Maxwell from Audeze far, far exceeded its value and even beat some more expensive closed-backs that I own, like the Beyerdynamic T3 3rd Gen and even the older Fostex TH600 series models that were originally in the $600 range.
The Stax Spirit S3 treble is problematic and so are the upper mids, these are not issues on the Maxwell.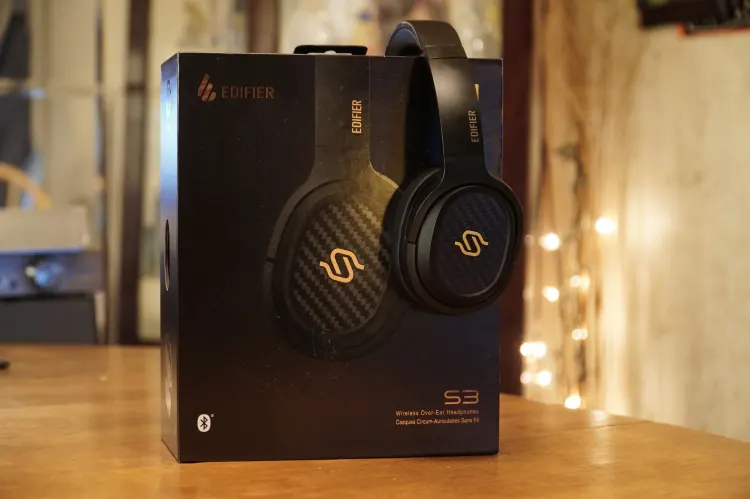 Our Verdict
The Edifier Stax Spirit S3 is a miss for me personally, but an important one for the company because it's their first attempt at this. It is important that they revise and release a much better version.
This headphone was made before the Audeze Maxwell was released, but I am reviewing it well afterward. I should have reviewed this Stax Spirit S3 earlier in the year and the Maxwell second, but I received the Maxwell first.
The Maxwell changed the game. But, even if that didn't exist, the Momentum 4 Wireless from Sennheiser sounds cleaner from top to bottom and has way more to offer with touch controls and useful technologies.
The Edifier Stax Spirit S3 at $399 is a headphone I would wait a bit for the price to go down before interacting with. But don't count Edifier out of the game, almost no company has ever released a true winner on their very first attempt at something like this.
It takes time and with Team Stax on their side, it's just a short matter of time before they release something amazing.
Edifier Stax Spirit S3 Specifications
Bluetooth version v5.2
Bluetooth protocol A2DP, AVRCP, HFP
Effective distance 10m
Playtime 80hrs
Battery capacity 1500mAh
Charging port USB Type C
Input 5v/1.5a
Charging time around 2hrs
Audio codecs aptX, aptX HD, aptX, adaptive, SBC
Driver 89mm*70mm planar magnetic driver
Impedance 24ω
Sound pressure level 94±3db SPL (A)
Frequency response 20hz~40khz
Microphones 1
Microphone type/size MEMS / 3.50×2.65×0.98mm
Microphone frequency response -37dBfs ±1 dBfs
Weight 329g
Dimension 208x110x255mm