Disclaimer: The Stax SRM-D10 sent to us is a sample in exchange for our honest opinion. We thank the team at Stax for giving us this opportunity.
To read more about electrostatic products we reviewed on Headfonics click here.
This is our first formal Stax product review on Headfonics though we have done a fair few electrostatic product reviews down through the years. I first saw this in the run-up to CanJam Singapore 2018 so I ended up speaking to the guys at Stax and inquiring if we could work together on the SRM-D10 since the concept of a transportable amp for stats headphones has been a dream of mine.
Since then we had hoped to bring this First Contact and subsequent full review much earlier than this so apologies to anyone who was waiting on it.
The Story
Now to be fair, I have had a portable stats amp in our office before and it is right beside me, the Kingsound M-03. However, the SRM-D10 is both a DAC and an amp and specifically tuned for Stax headphones so this is a whole different angle for me. Stax is promoting this heavily as a first and looking around the market this still may well be the first and only such example.
My own opinion is that the electrostatics market has a somewhat conservative characteristic. Things tend to change at a much slower pace than the planar or dynamic headphone market and positively glacial compared to the in-ear sector.
I see that as a consequence of the way electrostatics work and the type of power they demand. Up until this point, most amps outside of the Baby Stax range are 100% desktop and at times quite large. No issues there is you are a stats fan and primarily a desktop user.
For those with smaller setups or maybe looking for something more discreet then the options are more limited. With the launch of the SRM-D10 at $899 (and the new D50 indirectly), those options just got a little wider.
Technology Inside
Amp
At its heart, this is a proper yet portable electrostatic amplifier with a 5-pin PRO bias Stax headphone output connector and a 200Vrms output rating under load.
DAC
However, it is more than that. It also packs a DAC inside, an ESS ES9018 DAC coupled with TI OPA1642. It is capable of hooking right up to your laptop and decoding up to DSD128 and PCM audio up to 384KHz. The D10 will also handle a line-in from another source as well as operating as a dedicated USB-DAC. Can it handle OTG based digital audio from your phone or DAP? Yes, it can!
Battery Powered
Oh, and one more thing. The D10 is fully transportable with a battery inside to allow you to unhook it from its DC connector (for charging). Now the numbers aren't amazing. This is around 3-5 hours max playback time (in our testing around 4 hours) but you have to remember how much voltage is required to drive stats and its a lot more than IEMs. Combine that with a DAC and it feels about right.
That's why I am initially calling it transportable rather than portable. Stats headphones are generally big and open so it is unlikely this setup will ever be seen as a commuter or gym solution.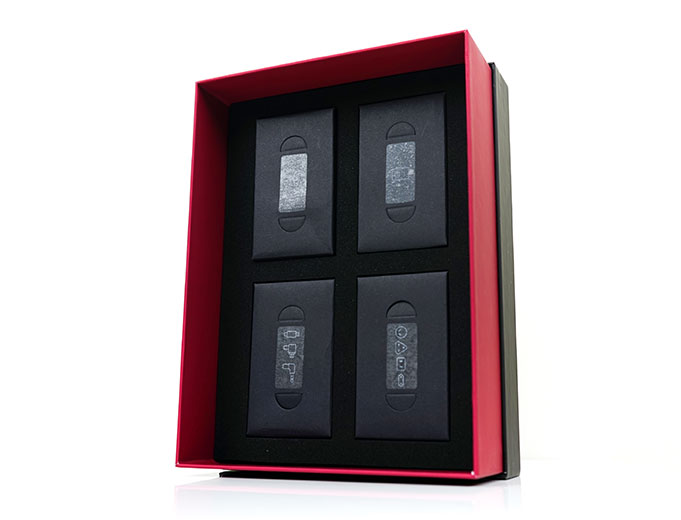 Unboxing
The quality of the packaging is true to the Stax level of professionalism. It is not the smallest for what is, after all, a fairly compact device and you really have no idea what is inside with just the branding on the front of the box.
However, the layout is very tastefully done with a neat arrangement of four cardboard boxes of accessories in the bottom layer and the amp unit in a top layer of protective foam. The amp itself is protected with one of those old iPod style thin film wraps.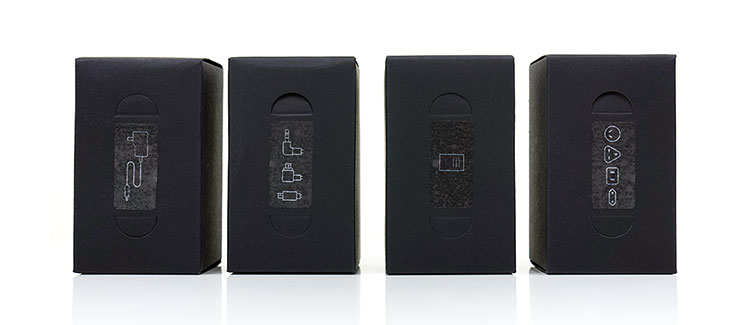 Accessories
Inside those neat little boxes, you get a DC 14V switching charger, 2 sets of USB cables (one right-angled), a short 3.5mm interconnect for analog and a bunch of charger adapters for whatever sockets you happen to have in your part of the world. The third box in the pic above is your usual assortment of manuals, guide and warranty details.
Build Quality
Our initial impressions of the D10 is a fairly hefty device at 450g but one that is beautifully engineered. Certainly, the design is much more complex and premium to look at and hold than the fairly cheap looking Kingsound M-03 alternative.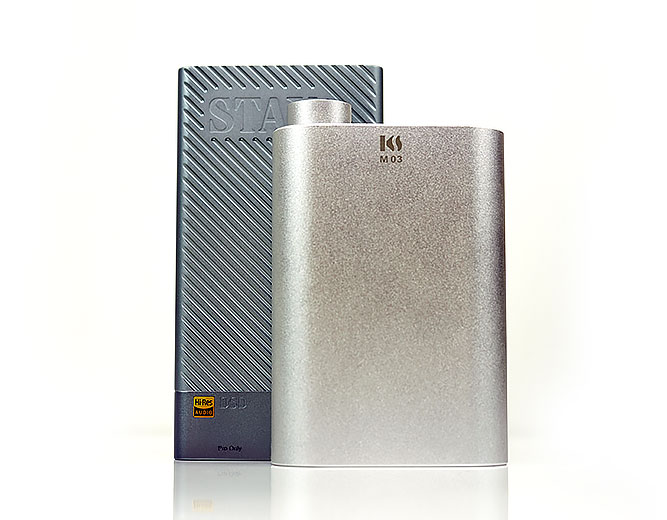 The materials are all-aluminum and look to be a 3-piece design with the main body, front panel with rotary dial guard, and a rear panel. Screws are little obvious on the sides, not terribly discreet but not a deal breaker either. They sit slight inset so they won't catch anything accidentally.
The finish is just excellent. The silver anodized paint job sits over this grooved top panel that provides a good level of grip in the hand. The 450g weight really does require it not to be slippy and the D10 is not slippy at all. It does, however, get a bit warm during use.
Inputs & Outputs
To the front things are fairly simple with a 5-pin pro bias female socket and smooth and grippy rotary volume dial. The dial is set slightly in with protection to the left and right to prevent accidental volume bumps. It also doubles as resistance-based power on and off dial. By the way, much of the D10's thickness is more of a limitation of the pro bias socket's dimensions. It is quite large and unlikely to change for the foreseeable future.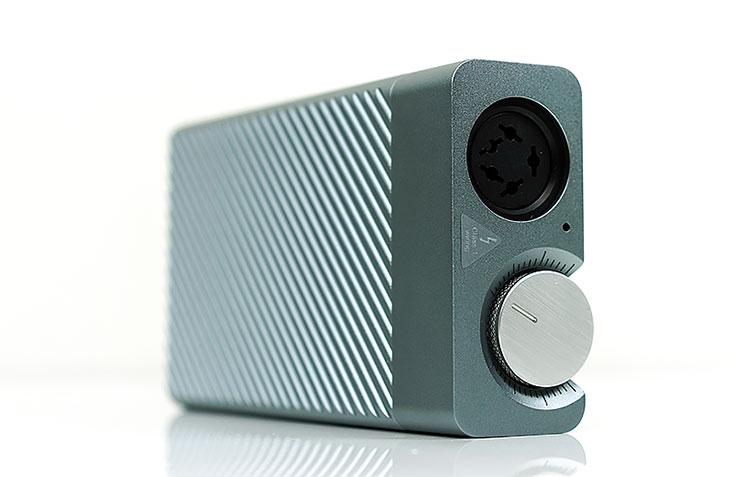 To the rear of the D10, it gets a lot busier. Here you will find the DC input for the charger, a USB/Line-in switch for analog or digital input selection and a micro USB socket for digital audio purposes. The line-in socket to the far left completes the line-up.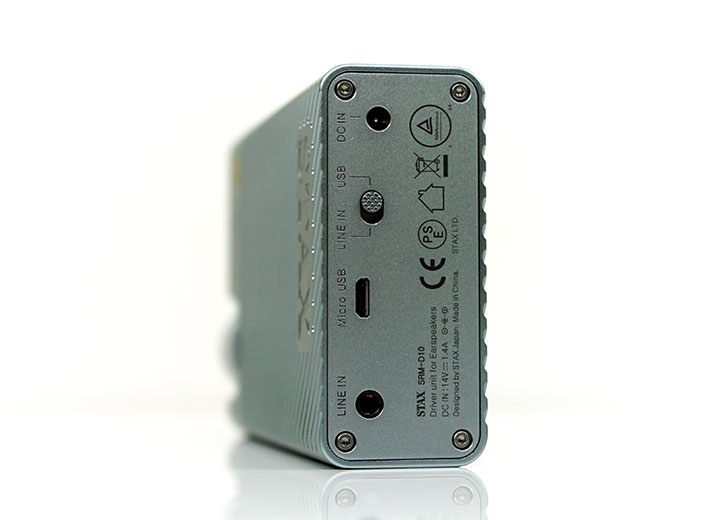 It is a pity Stax didn't opt for USB-C for their digital socket and introduce some fast charging element to the devices power supply and keep it future-proofed. Having said that micro-USB is still fine for most situations and there are plenty of cheap USB-C adapters if you really need one.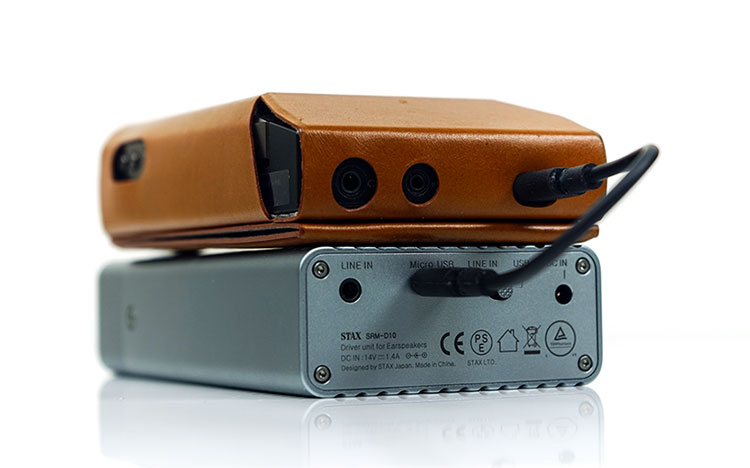 Initial Sound Impressions
(Tested with a PC/Foobar 44.1k 16BIT FLAC tracks as well as a HiBy Music R6 Pro DAP as an analog source with a 2V line-out)
My initial impression of the D10 is of a reasonably clean and relatively transparent or neutral sounding amp with nothing in the way of any harsh Sabre glare, at least not with the MrSpeakers VOCE and Stax's own 007 MK2. The dynamic range is good and the resolution is better than I expected with pretty much any stats headphone we used.
For power, the VOCE seems to push the D10 quite hard in terms of current and subsequently, I found myself looking for a little more headroom than I think it can deliver. The VOCE is much harder to drive than the 007 MK2 or the ESP950 so this may well be the exception than the norm for the D10.
For the Stax 007 MK2, which is the easier of the two headphones to drive, there are no issues with a max comfortable volume range for me around 1pm on the dial.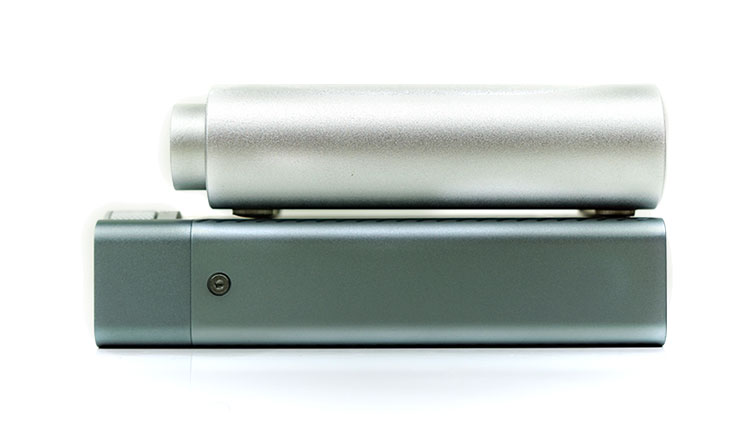 Vs Kingsound M-03
My initial comparisons with the Kingsound M-03 are favorable in most areas except power where I think the M-03 might have an edge with more demanding stats headphones. Though by no means a liquid sounding DAC, the D10 does sound smoother and more refined than the M-03, especially its treble which is little edgier and brighter on the M-03.
Of course, the M-03 is just an amp so it is somewhat source dependent and you can adjust that sound from an EQ or DSP point of view. With the R6 Pro DAP using its line-out the Kingsound sounded punchier in the low-end than the D10 for instance.
You can also bypass the DAC section of the D10 also using either its analog line-in or the USB port and produce a similar effect. Here, the D10 steps ahead with a more refined treble delivery using the R6 Pro as a test case source. I think in the full review we will explore higher-end DACs such as the Hugo 2 and Qutest just to see how well the D10 amp stage can really perform.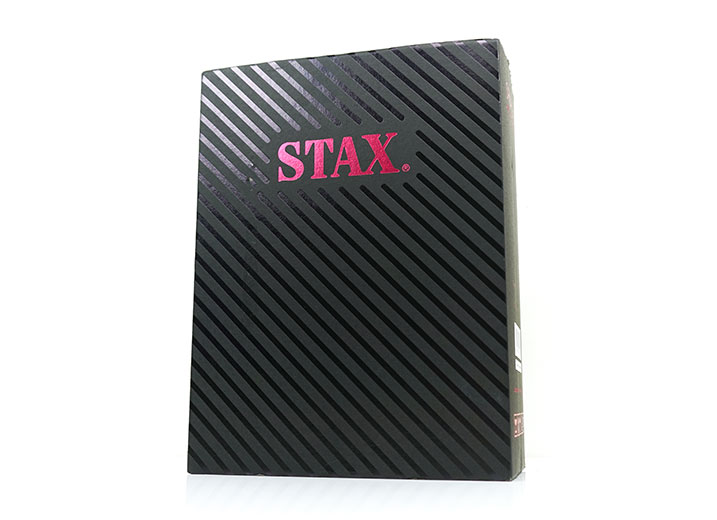 Stay Tuned!
I am really batting for the SRM-D10 on a personal preference level, to be honest with you. I just hope it can live up to my excited expectations in the main review. There are some slight concerns on just how much power this can deliver to the likes of the VOCE and just how good an ES9018 chipset really is for highly resolving headphones in 2019.
However, its Stax, it is portable and it already sounds and looks more refined than the only other portable stats amp I have heard to date, the Kingsound M-03. The fact that I can connect it to other DACs is an exciting option so for the main review, you can expect to see plenty of matchups and not just as a USB-DAC for the PC. There is a lot of potential here so stay tuned!
Stax SRM-D10 Specifications
5-pin PRO bias Stax earspeaker output
MicroUSB digital input,
3.5mm analog input
Supply voltage: DC 14V (charger included)
Frequency response: 20Hz – 40KHz (+0dB,-3dB)
Rated input level: 230mV (100V output)
Harmonic distortion: <0.025% / 1KHz-10KHz
Input impedance: 10 KΩ (analog input)
Maximum output voltage: 200Vr.m.s / 100Hz-10KHz
Power consumption: 6.4W (USB input) 5W (analog input)
Recommended operating temperature: 0-35°C, <90% RH (No condensation)
Dimensions: 75(W) X 32(H) X 141(D) mm
Net weight: 450g
Voltage: 100-240V/50-60HZ
Warranty: 1-year U.S. limited warranty