Select Comparisons
The Cyrus One Cast is quite a unique device so there is no single device we have reviewed before that offers the exact same features. Rather, we have modular systems that come close hence our comparisons section reflects that.
Cayin i-Series
The Cayin i-Series is comprised of 3 different components, the iDAP-6 streamer, the iHA-6 headphone amplifier, and the iDAC-6 MK2 DAC with pre-amp output. You can buy all 3 separately and they are designed to neatly stack on top of each other with integration via rear digital and analog wiring.
Priced on their own the iDAP-6 is $799, the iHA-6 is now $699, and the iDAC-6 MKII is $999 giving it a combo price of $2497 or around $500 more than the One Cast SRP.
On a high level, the Cayin suite has an edge in terms of DAC and headphone performance but lacks a few features that the One Cast has such as the phono stage and direct speaker amplification. The One Cast also has a more comprehensive suite of streaming options with integrated Chromecast though neither has a dedicated app for managing the devices.
iDAP-6
Streaming
Starting with streaming, both devices have good WiFi streaming capability with 802.11a/b/g/n rates. However, the One Cast offers the newer 801.11ac protocol which maxes out at 1.3Gbits per second (162.5 MB/s) or around double the capability of the iDAP-6 802.11n rate.
Do note, however, this is a 5GHz protocol only so will only be effective over short distances compared to the 2.4Ghz band which is more suited to larger room setups or zones in other rooms.
Both devices offer DLNA and Airplay integration via WiFi through 3rd party apps such as BubbleUPnP but only the One Cast can Chromecast meaning integration with the likes of Google Nest, Deezer, and Spotify as well as voice activation and control.
If you want to stream Spotify you will have to use a Bluetooth connection with the iDAP-6 but you can also do that with the One Cast if you so choose and both offer aptX as the maximum rate for receiving.
Physical
There is no onboard volume control on the iDAP-6. You have to connect it via the variable voltage setting on the DAC or via the iHA-6 headphone amplifier. The One Cast's integration means it's one dial for volume and can be master-controlled via the Google Home app also.
What the iDAP6 does have though is local transport options on the rear and front (OTG & SD card) to allow you to hook up hard drives or flash drives for enhanced digital media storage. It also has LAN capability which is a strange omission from the One Cast.
The final difference is the use of HDMI. Both have HDMI ports but the iDAP-6 uses the I2S protocol for linking to a DAC with an I2S receiving port such as the iDAC-6 MKII. Whereas the One Cast uses the HDMI ARC technology for routing incoming audio out via speakers or the PO.
iDAC-6 MK2
The iDAC-6 MK2 is a recent launch in 2020 and it does benefit from an upgraded ES9028 PRO DAC compared to the One Cast's older 2-channel ES9018K2M chipset. You get a higher level of decoding from the iDAC-6 MK2 at DSD512 and PCM 32BIT/768kHz compared to just 32BIT/384kHz and DSD128 from the One Cast.
The iDAC-6 MK2 topology is also a balanced and single-ended circuit for an independent lineout and pre-amp design. The line-out rating is a standard 2.2V and 4.4V whereas the pre-amp offers a lot more a maximum of 7V unbalanced and 13V balanced which is ideal for powered amps.
On top of that, the iDAC-6 MK2 has a dual timbre mode with its additional quad triode tube buffer and standard resistor-based topology that can add some coloration to both the line-out and the pre-amp analog signal.
The One Cast also has a pre-out but it is only single-ended with no balanced equivalent so it is limited to 2.4V maximum output. It will accept a line-in SE (via AV) so you can technically bypass its DAC with something like the iDAC-6 MK2 for headphone and speaker amplification.
The One Cast SNR on pre-out would have been competitive with the original iDAC-6 MKI's AK4490 implementation at 107dB compared to 105-110dB on the older Cayin DAC. However, the MK2 newer DAC and design further lowers distortion to 1115dB and 122dB balanced on the MK2 giving it a distinct advantage.
A key One Cast feature missing on the iDAC-6 MKII is that phono stage which I find very handy. You will have to buy an additional phono stage with good grounding if you want to use a turntable with the Cayin i-Series.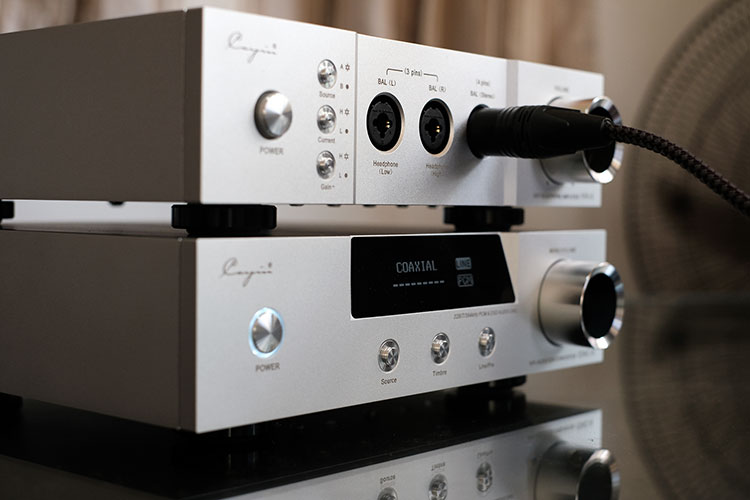 iHA-6
The iHA-6 is a Class AB headphone amplifier with fully discrete components and a balanced circuit design. On a like-for-like basis, it should be compared only to the headphone amplifier of the One Cast which is also a Class AB design.
It does not offer the equivalent of the Cyrus Audio's 4th Gen Class D amplifier 100W output for speakers so that's a negative point in terms of flexibility but it does have superior performance for pure headphone output.
The One Cast headphone amplifier is not fully discreet and offers only a single SE output as opposed to both balanced and SE. Thus, there is a bit of a power gap as well as some impedance flexibility which ironically Cyrus offers on the Class D speaker output, (S.I.D) but not on the headphone output.
On the iHA-6 you have two SE jacks that allow you to switch between low (10Ω) and high impedance outputs (120Ω) to better match your headphone loads. It is not automatic like the Class D amplifier inside the One Cast for speakers but for headphone users, it is more suited for the wide range of loads headphones can require.
In terms of power, the iHA-6 can offer up to 1.1W using the high current mode and up to 2.2w into a 32Ω load SE with its low current mode. On high current, the One Cast SE output at 1W is the same for 32Ω loads.
However, with balanced output, the iHA-6 can offer 5w @32Ω high current and 7W low current into the same load which is a significant advantage for demanding headphones. I will note on the thing and that's the SNR on paper with the One Cast offering a much lower -128dbA SE compared to 105dBA for the iHA-6 on the equivalent output.
Design
This is a compact all-in-one versus a modular rack and stack system, there are pros and cons in both in terms of design.
The Cayin i-Series is much heavier combined than the One Cast and given its stacked dimensions, it goes tall instead of deep as they ideally go on top of each other due to wiring constraints. The One Cast can go anywhere, with only a power cable required if you go wireless and are a headphone user.
I will say though that the Cayin build quality is stronger with no sign of plastics anywhere and the inclusion of a welcome GUI for both the iDAP-6 and iDAC-6 MK2. This makes system status and UI navigation a lot easier and more intuitive.
On the flip side, there is no remote control on the i-Series for any component which the One Cast offers. You do get apps integration control indirectly via the likes of Roon Core and Airplay for the iDAP-6. However, a physical remote and Google Home combined with voice control for the One Cast offers a bit more.
Streaming Performance
Setting up for WiFi streaming is a bit ponderous with the iDAP-6 as it is all done directly on the iDAP-6 unit menu using the command dial for password input compared to the quick and painless Google Home App BT/WiFi process from your phone for the One Cast. Once sorted connections on both devices are rock solid.
Streaming with your Android phone to the i-Series is more complex than casting from the One Cast. You will have to create your own mobile WiFi hotspot to be able to see the iDAP-6 as a rendering device aside from having a WiFi connection with your main modem. You do not require that with Chromecast. It is a simple setup but an additional step nonetheless.
From there you do have access to services such as TIDAL, DLNA, Qobuz, and any cloud-based audio you have such as OneDrive and Google Drive as well as any audio stored on your phone. Mind you, the interface on 3rd Party apps is never as complete as using the likes of TIDAL directly which is an advantage for One Cast which does not need a 3rd Party app.
Airplay for both was very straightforward with both devices picked up on an old iTouch 6th Gen I have lying around here using the home router. I would highly recommend this route for both if you are an Apple fan.
Via Roon, there were also no issues picking up both the iDAP-6 via Airplay and the Cast One via Chromecast with neither showing any lag issues during playback. You do, however, get a bonus control suite from Google Home for Roon playback and volume as well as Netflix and Google Podcast integration should you need it.
Audio Performance
There are a couple of contrasting points between these two for headphone amplification. The first is the technical side and here the i-Series shows off its chops with better dynamic range, a blacker background, and superior instrumental separation. In transistor mode, the transient response is very fast and precise with the iHA-6 pairing.
The One Cast sounds competent but comes across as a bit more centered and not quite as expansive-sounding as the iDAC-6/iHA-6 combo. The equivalent headroom is not quite there in the high-frequency region so left-right panning is not as articulate and clean as the iHA-6.
Staging is also a bit different with the One Cast sounding the deeper and weightier of the two whereas the iHA-6 and iDAC-6 combo are more neutral and spacious across the board with the highs more prominent. The One Cast sound has a little bit of roll-off on the upper treble which might explain the slightly less open sound.
However, and the second point, the One Cast has a weightier denser bass and a warmer instrumental and vocal timbre performance. It is a tonal quality that is very much suited to modern pop and rock and pairs very nicely with clean balanced headphones such as the D8000 Pro.
The iHA-6 and iDAC-6 can, however, switch to a smoother sound signature through the timbre mode vacuum tube mode. It is still not as dense and weighted sounding as the One Cast low-end but it does resolve better and sounds less digital through the mids and highs.
I would pick the Cayin i-Series to maximize headphone performance with its superior dynamic range and resolution. However, the One Cast will introduce more warmth and low-end power. Of the two it is the more forgiving for poor recordings and yes, streaming content.
Chord Electronics Hugo 2 / 2GO
This is another high-end combo featuring the portable Hugo 2 DAC/Amp and their new wireless 2GO module. Combined they offer portable WiFi and Ethernet-enabled streaming, up to 4TB onboard local media storage, a Class A headphone amplifier, and an internal DAC with pre-amp output.
Alone they retail at £1,800 for the Hugo 2 and £995 for the 2GO so together they are roughly around $3,800 or about $800 more than the Cyrus One Cast.
2GO
The 2Go module handles all the local storage and streaming duties when paired with the Hugo 2 DAC and amp. Unlike the One Cast, 2GO does not have built-in Chromecast support so it is not compatible with Google Home or uses voice activation but it does have its own dedicated app called Go Figure.
The 2GO is certified Roon Ready via USB which the One Cast is not, however, it will stream just fine with Roon's Chromecast compatibility showing the One Cast under the audio tab. Just to note, however, streaming via Roon Chromecast is capped at 96kHz/24BIT.
On the hardware side, the 2Go WiFi is only 2.4GHz compatible whereas the One Cast offers both 2.4GhHz and 5GHz giving it both long-range and short-range compatibility and better data transfer speeds. However, the 2Go does offer LAN Gigabit connectivity and can store and serve local media files locally via 2 microSD memory card slots which the One Cast does not offer.
Bluetooth on the 2GO is also the older BT4.1 serving only AD2P whereas the One Cast does not specifically state what version of BT it offers but can receive up to aptX. You should consider BT on the 2GO more of a backup if you have no WiFi connection than a serious audio service.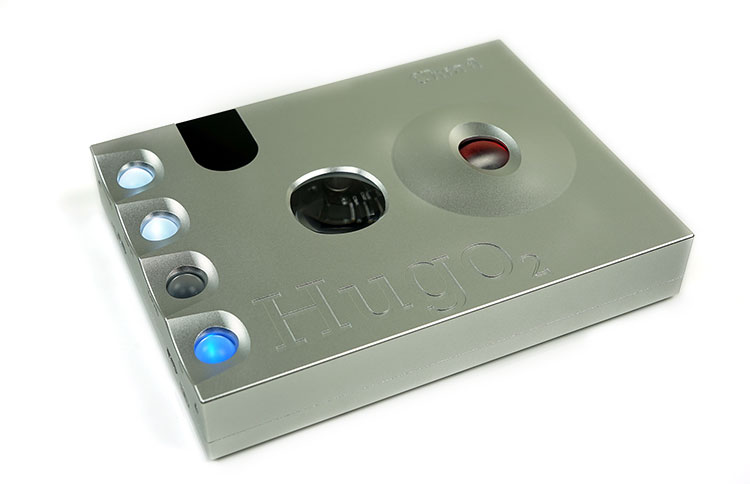 Hugo 2
I have to say the in-house Hugo 2 Xilinx Artix 7 (XC7A15T) FPGA and FIR filter-based DAC implementation is light years ahead of the older delta-sigma 2-channel ES9018Q2M implementation inside the One Cast.
On a decoding level, the Hugo 2 can deliver up to PCM 768kHz/32BIT and DSD512 native decoding compared to the humbler DSD128 and PCM 32BIT/384kHz capability of the One Cast via USB. Via SPDIF both are the same with optical at 24BIT/192kHZ.
Sadly, the requisite performance data to compare like for like is missing from the Cyrus Audio documentation with only SNR at -128dBA and a maximum output of 1W per channel from the Class AB headphone amplifier on a 32Ω load being quoted. On the face of it, the SNR seems very competitive with the Hugo 2 amplifier capable of a similar SNR of 126dB 'A' Weighted.
The Hugo 2 headphone amplification stage is also SE only but does offer an additional 3.5mm TRS output for IEM users whereas the One Cast is 6.35mm TRS only. Topologies differ, with the Hugo 2 using a Class A solid-state design though its output power is lower at 740mW into a 32Ω load.
Both have single-ended pre-outs (analog out) but neither have any dedicated rating so I have to presume they operate as a standard 2V or 2.1V lineout to analog amplifiers. The Hugo 2 does not have any speaker integration, you will need a TTOBY or their new Anni integrated amplifier add-on. It is also missing the One Cast phono stage.
Design
Completely different designs and audience pitches here. The One Cast is more in sync with the Hugo TT2 as a desktop component whereas the Hugo 2 and 2Go are battery-powered portable devices that can be used as a desktop component if so required.
That means the Hugo 2 and the 2GO are tiny compared to the One Cast and very much more pocketable or transportable being the more apt phrase. However, battery life is always an issue with this combo with a max of 7-8 hours of playback before charging is required. If you plan on using the Hugo2/2GO as a desktop then its 5V USB wall wart is mandatory.
The Hugo 2 and the 2Go module are solidly built, more so than the One Cast, however, like the One Cast, the Hugo 2 lacks a GUI with much of the streaming operation for the 2Go on the app.
In fact, the simpler command and volume dials of the One Cast combined with Google Home setup are easier to understand and use than the orb system/Go Figure system for the Hugo 2 and 2Go.
Streaming Performance
With Chromecast, the One Cast integrates superbly with Spotify, TIDAL, Roon, and Qobuz. You can also cast via 3rd party apps such as BubbleUPnP via the Cast icon and selecting One Cast as your local rendering device in combination.
The 2GO will not integrate directly with the likes of Spotify, TIDAL, and Qobuz via Go Figure but you can access apps such as Spotify via 3rd party streaming apps such as BubbleUPnP with a fair degree of control.
My main critique is the usability of Go Figure with 2GO which at times can be quite a bit more taxing than Google Home or casting directly from an app. There is a steeper learning curve with Go Figure compared to One Cast that may put some off.
Outside of that, however, the 2GO is Roon Ready so it will work right out of the box and indeed Roon picks it up right away as it does with the One Cast via Chromecast services. That gives you access to the excellent Roon Core app on your smartphone and another GUI-based navigation route for playback and settings control on the One Cast and 2Go.
Of course, the main strength of 2GO is portability so 2.4Ghz is going to come more into play than required with One Cast stationary position unless your modem is quite far from the Cyrus system. On this basis, I had no issue walking around with the 2Go/Hugo 2 combo in the house suffering zero dropouts, (around 15m from modem to further point in the house).
Audio Performance
On a high level, the Hugo 2/2Go combo is more linear on the lows with a stronger mid-centric placement compared to the denser and weightier One Cast sound signature.
The Hugo 2/2Go tonal quality is not bright or dry however, more of a slightly soft lilt on the harmonic balance to produce a relatively sweet overtone with the D8000 Pro. This also helps to take the edge of this pairing's more aggressive attack and faster transient response.
Imaging teases out an excellent and very involving midrange on the Hugo 2/2GO with the D8000 Pro. This is a complex and articulate soundstage with a flatter but better-defined bass response You also get a superior level of instrumental separation helped along by a blacker background, and more headroom.
The One Cast ops instead to deliver more bass body with more weight, warmth, and power up to the lower mids. However, at times the vocal imaging sounds more neutral with the mids instrumental positioning also narrower compared to the Hugo 2 wider stereo image and vibrant vocals.
The Hugo 2/2Go combo will play out higher-pitched timbral tones a bit smoother also. Both have a similar treble presence and neither are overly cooked or hot sounding but the One Cast sounds a little thinner for upper mids percussion strikes. There is a subtle increase in harmonic dissonance here compared to the smoother Hugo 2.
Overall, the Hugo 2/2Go will deliver the audiophile experience in terms of dynamic range, resolution, and an accurate harmonic balance. However, if you need a bit more low-end body and weight in your sound then One Cast can give the slam and warmth more suited to pop, and R'n'B standards.
Our Verdict
The One Cast covers pretty much all the bases for modern audiophile needs in 2021. I am starting to see more and more of these all-in-one devices hit the market of late but this is the first one that has crossed our office threshold and I am impressed by what it can do.
Streaming is particularly easy with Google Home and Chromecast integration as is your traditional setups including turntable integration. Be you analog or digital, the One Cast has you covered.
Is the sound quality as dynamic and resolving as a dedicated amplifier in the same price range or close to it? Perhaps not, but the Class AB headphone timbral coloration is very easy on the ear and they have done a fine job avoiding the traditional 'glare' traps from that ES9018 chipset inside. 1W should be enough to drive most decent headphones also.
Who would buy this? The 'crossover person' as I like to call them. Someone who wants decent quality audio over a very wide spectrum of devices and wants a minimum of wires clogging up his personal space in order to achieve that. You can get by with just a smartphone, router, and the power plug to drive good-sounding audio into your headphones.
Cyrus One Cast Specifications
Inputs
Google Assistant-enabled, Amazon™ Alexa enabled and Apple® AirPlay 2 enabled
Asynchronous USB input (up to 32bit 192khz and DSD to DSD128),
HDMI (ARC),
Optical Toslink,
Coaxial SPDIF Bluetooth™
Audio RCA input to built-in MM phono stage for turntables.
Analog input configurable for AV integration
Amplifier
Cyrus 4th generation Hybrid Class D amplifier – outputs 2 x 100W (into 8 Ω at 0.1% THD+N)
SID – Speaker Impedance Detection (automatically calibrates amplifier to your speakers)
Pre outputs – connect to additional power amplifiers
High power, high voltage class AB headphone amplifier
Features
Over the air firmware update – Latest software downloads and installs automatically.
Linear power supply
IR remote control
Lockable front panel controls
WiFi Connectivity
802.11a/b/g/n/ac
WEP, WPA, WPA2 security
Headphone Amplifier
Signal to Noise Ratio – 128dBA
1300V/us Slew Rate
700mA max output current (per channel)
2 x 1W max output power
Recommended headphone impedance 16 – 1200 Ohm