The Auris Audio HA-2SE is a contemporary desktop headphone tube amplifier finished in a wood and leather design retailing for €2,070.00.
Disclaimer: The Auris Audio HA-2SE was sent to us in exchange for our honest opinion in this review. Many thanks to Auris Audio for giving us this opportunity.
To read more about Auris Audio products we have featured on Headfonics click here.
The Auris Audio HA-2SE is a really excellent sounding headphone tube amp. More than that it is an amp that I find myself wanting to use both on a recreational casual listening level as well as the times when I want to take a more studied approach. It has an enticingly quiet, balanced, and analog-type sound with just a hint of wetness but nothing painfully slow. It is just so easy to listen to.
We tend to buy our headphone amps for a variety of reasons such as power, tonal preference, connectivity to name but a few.
Auris Audio of Serbia will give you all that but they also throw in an engaging visual appeal to their amp designs that perhaps I have not seen in headphone amps before.
Tube amps have always had a striking appearance. Primarily due to the way the tubes are often open for the eye combined with that warm glow that makes for attractive low-light pictures. It is almost an artistry in its own right if not for the fact we buy them to listen to our gear rather than hang them on the wall.
The Auris Audio HA-2SE is on another level when it comes to design aesthetics, even compared to other tube amps. Of course, there is not much point in having a beautiful looking build costing over $2000 if it does not have the chops in terms of sound quality.
Just as well then as quite a lot of my headphones positively sound beautiful with the HA-2SE making this my go-to amp for the majority of my listening sessions right now.
Company Background
Auris Audio was founded in 2013 by the now CEO of Auris Audio, Mr. Milomir Trosic. It is located just outside a town called Kruševac in the heart of Serbia.
Serbia is not really known for class-leading headphone audio manufacturing, unlike say Austria or Germany. However, in the last 12-18 months, I have seen an increasing rise of genuinely interesting audio products from Eastern Europe such as the Erzetich amps from Slovenia, Verum Audio Planars from Ukraine, Feliks from Poland, and StereoPravda/Kennerton from Russia.
Auris seems to be part of that rising pack of new bolder audio designers and it was no surprise when I met Milomir in CanJam Singapore 2018 he was chatting away with both Lukasz of Feliks on one side and Valentin of Kennerton on the other.
Product Line up
The single-ended Auris Audio HA-2SE has actually been out for a while now since 2017 to be precise. It was their debut entry into the headphone amplification market after a previous launch of traditional hiFi amps, DACs, and speaker product lines.
The Auris Audio HA-2SE price point of €2,070.00 is modest compared to their higher-end flagship Headonia amp which sits at a cool €7,498.80. However, you would still consider the Auris Audio HA-2SE to be technically a high-end headphone tube-amp in its own right despite it being the entry-level model in the Auris range.
Design
Aesthetic
Wood
An absolutely stunning design. I first saw them up close during CanJam Singapore 2018 and having spent some months with the black leather and wood version I never get tired of gazing at it. Granted a slightly superficial obsession but often visuals can make or break a close deal. The HA-2SE has attractive visuals by the bucketload.
The main body is a grained and varnished medium-toned walnut wood and it is a solid cut at that. This is not thin wood paneling or a liquid wood plastic texture, this is the genuine deal. Knock on the body and it feels very sturdy and thick. The body is also very smoothly curved with neigh a sharp corner to be found anywhere.
Leather
Wrapped around the side panel is a vintage piece of leather that delivers a retro but beautiful accented finish on the wood grain. There is no cheap white or black stitching to be seen anywhere on the leather finish. This is a really smooth integration both top and bottom.
You can actually buy the HA-2SE in two leather finishes, black or white. (The Picture above is their flagship Headonia headphone amp in white). I must admit the white is very attractive and almost art decor but the possibility of smudging or black marks gave me some doubts as to the longevity of such a look.
Metal
The base and just underneath the wood body is a black metal-plated finish though for a number of reasons. First, for easy access to the components (screw in plates) and second for shielding and venting, especially around the tube sockets area.
The metal base plate also houses the power switch which I personally thought was an excellent spot and very easy to access without constantly fiddling at the back blindly for switches as in most amps. The blue LED power-on light just beside the switch is also a lovely touch, creating a very nice contrasting cooler ambiance to the warmer tube glow at the top.
Tube Placement
The 5 tube sockets are front and center on the top panel and slightly inset also. Auris have created a small wood and metal guar at the front to prevent from accidental knocks or burns. It only adds to the attractiveness of the design in my opinion.
Behind the tubes is a large or tall toroidal transformer circular housing in all black metal casing. It does add a fair bit to the overall height of the amp and gets slightly warm during operation but not hot.
Dimensions
As desktop headphone amps go, particularly tube ones, the HA-2SE main body is medium to large sized at 300 x 320 x 230 mm. This is exacerbated by the transformer protrusion at the top and the spiked feet on the base. The main housing is a little taller than the Studio 6 from ALO Audio and where is not for the transformer box much shorter than the Xi Audio Formula S.
The Auris Audio HA-2E also weighs in at 9kg which is fairly heavy at almost twice the weight of the Formula S (4.8kg). Whilst no official weight is prescribed for the Studio 6 the HA-2SE does feel a little lighter and is also somewhat smaller than the ALO Audio flagship tube amp. It is also much heavier than the slimline Violectric V281 solid-state headphone amp (our 3 comparative amps).
Inputs and Outputs
Inputs
The Auris Audio HA-2SE has 3 individual RCA analog single-ended inputs to the rear and a corresponding large black input selector on the front left to control them. Anything within reason with an unbalanced analog output can be connected to the rear of the HA-2SE such as a DAC or pre-amp or even a DAP with a line-out. This is a pure single-ended design so nothing XLR based either for inputs or outputs.
Controls
The front panel houses 3 recessed areas that include a single quarter jack output, the input selector, and a matching design rotary switch volume control. Overall the volume pot felt smooth, decent resistance, and released a fairly steady increase in voltage with most headphones.
It is also sensitive enough for tinier adjustments and certainly a lot more even than the Studio 6 pot. The Studio 6 seems fairly flat until 2pm then has lift-off from 2-3pm so volume jumps quicker there than the Auris Audio HA-2SE.
Resistance Selector
The Auris Audio HA-2SE also has a resistance selector on the rear which is actually very useful. Basically, depending on your headphone impedance load rating you can select the level of resistance on the amp to match it as closely as possible.
There are 4 choices starting at 50Ω going up to 600Ω. Since there is nothing lower than 50 almost all IEMs and efficient portable headphones should be set at the 50Ω level. The majority of planars will sit fine at the 50Ω level also though personally, I felt the 150Ω position sounded pretty good also on some planars.
For those with HD700 or HD800's you do have a 150Ω and 300Ω setting and for Beyer 600Ω cans you can match that exactly also with the HA-2SE 600Ω setting. I would have liked to have seen a 250Ω setting for a few other applicable headphones such as the DT1770/1990's but I guess you can round up to 300Ω for these and get away with it.
Amplification
Tubes
The Auris HA-2SE uses a 4+1 tube configuration of either 7-pin EL95 or PL95 tubes which are the equivalent to 6DL5's. The single input tube is a Tung-Sol 12AU7W / 6189.
Be aware of the fact the topology is not flexible between the EL and PL tubes automatically. There is a switch at the back to allow you choose between EL95 and PL95 setups so make sure the right tube matches that switch setting or your tubes may meet an early death.
This particular unit has been supplied with 4 PL95 EI Yugoslavia branded tubes but you can find variants of these under the Philips branding from the 80s. The EL95 is similarly made in Yugoslavia in the 80s or earlier and also has some heavy rebranding into the likes of Mullard, Siemens, Telefunken, Valvo, and Philips. The average street price on these is about $10-15 but you pay more for a matched pair in good condition.
The Tung Sol single input tube is usually around $20 for a good unit and you want the best possible unit you can find because these tubes are well known to be super quiet which is one of the strongest features of the HA-2SE's presentation.
Numbers
The Auris HA-2SE is a moderately powered SET desktop tube amp on paper at 1W (presumed load is 32Ω but not stated). 1W should be enough for all but the most demanding of headphones such as Hifiman's older HE6 and the Abyss. Those two will need more headroom.
Newer planar headphones such as Hifiman's Ananda and Audeze's LCD-4 run just fine off the HA-2SE. Almost all dynamic headphones should not have an issue with the output power of the HA-2SE.
It is not as powerful as the Xi Audio Formula S which is a solid-state Class A 6w into a 16Ω load. Then again, the $4000 Formula S is set up for the likes of the HE6 and Abyss even though just single-ended so it does need that additional power. The SET designed Studio 6 is almost the exact same spec at 1w into 32Ω so it more or less has the same range of headphone pairings as the HA-2SE.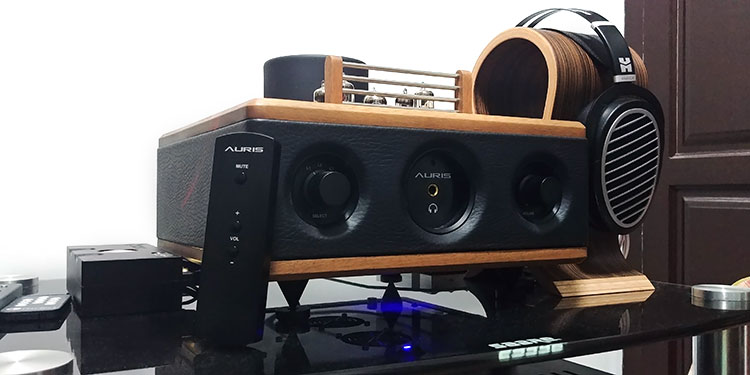 Accessories & Packaging
Packaging is solid and functional though it seems to have evolved from earlier samples which included some sort of carrying case. There is no longer any carry case though quite why you want to carry this around is beyond me at 9kg. Having said that the box is well insulated from knocks and more of a keeper than a throwaway courier brown box variety (white with logo print).
You do not receive a power or mains cable with the amp, this you will have to provide yourself. It does take a fairly generic 3-prong "kettle type" AC wire and plug so you can fit anything from your regular $10 generic black plug to a hospital-grade after-market variety depending on your preference. There is no rear power switch on this variation either so bulky plugs will not block off any functionality.
Remote Control
Inside you also get a very nice little remote control. It is solid metal construction with pre-supplied blister feet on the base which honestly I wish more companies would offer, particularly if you use HiFi tempered glass racks such as we do.
The control is volume only in terms of plus or minus with a mute button. You do not have to point it directly at the front panel to get a reliable level of control though the movement is not as refined when you go for manual.
Feet
Apart from that, you get 4 screw-in spiked feet and removable bases for glass or fragile surfaces to place under the spikes and prevent them from doing a bit of damage. Be careful these are very sharp. I do suggest putting all 4 down on your surface first then carefully aligning them under each spike as you slowly place the Auris Audio HA-2SE down. Once in place, they do not move.
The additional height is a very nice touch also for running additional wire underneath. We have the Chord Qutest in the pic above sitting right beside the amp looking very neat and tidy with the wires under the amp.
Click on Page 2 below for Sound Impressions & Comparisons