CanJam Singapore 2023 was perhaps a more significant event given the pandemic situation from the previous few years. The 2022 show did happen but restrictions were still there so a lot of potential attendees could not make it.
2023 was a different story. With the world opening up we could finally meet and greet a lot of company reps and attendees that couldn't be there stretching back to 2019 which made it more of a special reunion for many there.
The World's Best Airport
Unless you are driving in from places like Johor Bahru in Malaysia going to CanJam Singapore 2023 will inevitably lead you to the city's main airport, Changi. It was recently voted the world's best airport by Skytrax and for good reason.
I run a pretty tough schedule going to the show which means I am in and out in a matter of days and I end up spending almost as much time in Changi as I do at the show waiting for late-night flights.
I have to say though Changi's effortless automated check-in and security systems and serene atmosphere makes it worth the long wait times because it is just so stress-free.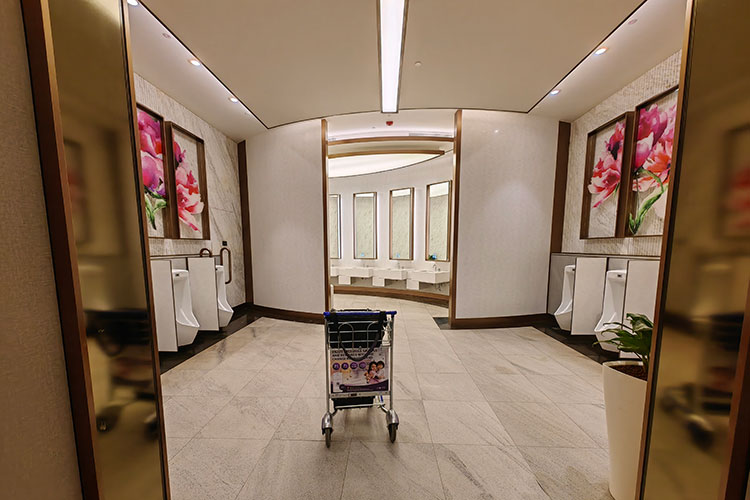 In Terminal 4, for example, you can literally go from check-in to boarding the plane without interacting with a single airport support staff member which is unreal. That is exactly what I did on the way out of Singapore on Sunday night. And yes, my bags showed up on the other side without a scratch on them.
And the restrooms, good grief, they look and smell better than some business-class lounges I have been to and that is saying something.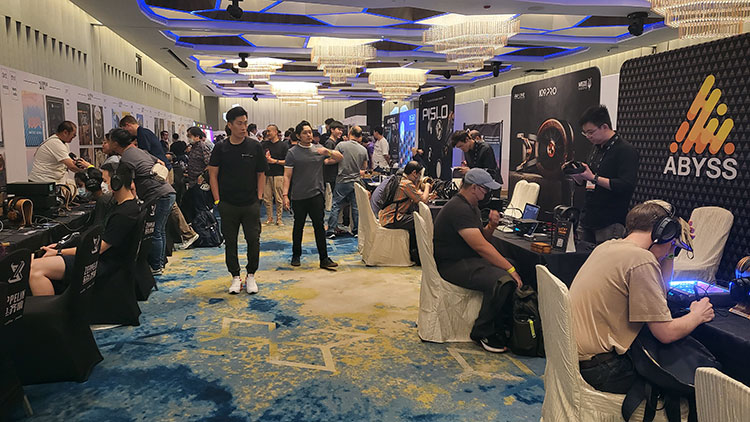 The Headcount
CanJam Singapore 2023 was once again located at the Pan Pacific Hotel on Raffles Boulevard near the city center which has been the same spot since its inception back in 2016. This is my fourth time attending missing 2022 due to covid restrictions and the original 2016 show.
Each year it seems to be getting bigger, or should I say, the dealer presence and the number of brands they are representing are expanding all the time.
Back in 2017, there were a lot of individual manufacturer booths but this time we have tons of manufacturers under the umbrella of Singapore-based dealers.
This includes a massive wall for Zeppelin & Co, numerous AV One booths, Project Perfection, Eng Siang, Jaben, ConnectIT, and Sam Audio. There were even some international dealers there including Linsoul and Leiyin Audio from China which was a bit of a welcome surprise.
On the manufacturer side, at least officially we had around 75 brands there covering a wide range of portable and desktop audio products. Way too much to be covered in the 2 days so apologies if we didn't cover your favorite brand or latest product.
Many of the impressions below will also have in-depth follow-up reviews. Since they are short impressions in trade show conditions I would advise waiting for that full review to confirm what we heard initially at CanJam Singapore 2023.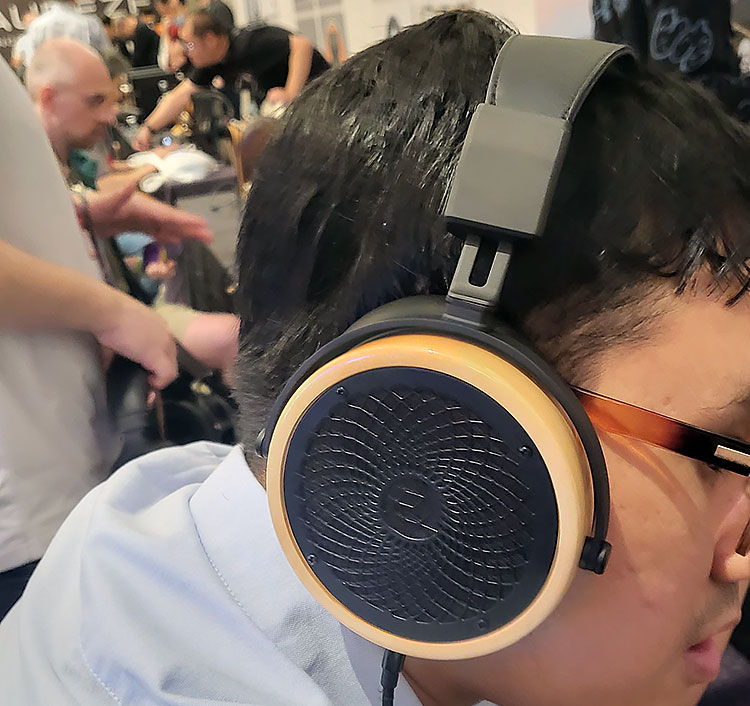 For easy reference you can find the following brands on each page of this report:
Page 1 – Rosson Audio, HiBy, Cayin, Empire Ears
Page 2 – ZMF Headphones, Focal, Fir Audio, Campfire Audio, Noble Audio
Page 3 – Effect Audio, Elysian Acoustic Labs, Vision Ears, Dan Clark Audio, FiiO
Rosson Audio
Ok, I was not expecting this at all, Rosson Audio just launched their second headphone, the MPL-01, and the first few units were there at CanJam Singapore 2023. It retails for $1699 so a lot cheaper than the original RAD-0 also.
I believe MPL stands for Maple and yes, its exterior has a very nice glossy light-colored maple finish. This is an open-back planar headphone with a design language very similar to the RAD-01. It uses a 66mm driver which is the same size as the RAD-0 and might well be a re-tuned version of the same driver.
The weight and external structures are also very similar also so presuming the MPL-01 also uses a dual-sided magnet array so any differences will come down to the way the driver is tuned including the internal acoustical damping system.
What you get is a smoother-sounding version of the RAD-0 with a more neutral vocal image and the treble energy comparatively dampened. The bass response has some good extension with a staging quality that is a little less in your face compared to the original from the mids upwards. It also seems to follow that old-school Audeze fulsome-sounding lower-mids presentation.
We will have a review of the MPL-01 in the coming weeks but for those looking for a more relaxed and slightly darker version of the RAD-0, this might work well for them. And it's a lot cheaper also than the flagship which is not a bad thing.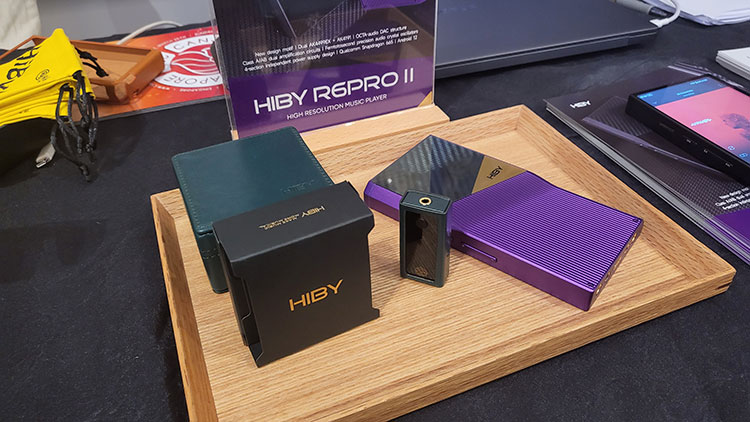 HiBy
HiBy had no less than 3 new products on show at CanJam Singapore 2023. Two I knew about, the new R2R-designed FC06 dongle and the fabulously cool looking new R6 Pro II DAP which I believe will be officially out in a matter of weeks. Both of which we will have reviews on shortly after.
FC06
The FC06 was perhaps the one I was most keen to try and it is one I will be personally reviewing also. It's the second dongle that I know of to use a discrete R2R internal DAC with the first being Cayin's RU6 from 2021/2022.
And boy is it a tiny dongle, perhaps the smallest I have used to date, and packaged also in this gorgeous dark green leather case with a matching leather sleeve also. If that is not to your preference it also comes in all black. Both variations retail for $299.
The FC06 only offers a 3.5mm PO so sadly no balanced output but you will get a reasonable 100mW into a 32Ω load so on initial impression this might be an IEM pairing for on-the-go use though it's plug-and-play as a USB-DAC also.
You also get a very clear and easy-to-read LCD screen, onboard volume controls, MQA, and NOS which is where I think the FC06 sounds ideal. In NOS, the sound is smooth but not overly smooth or dripping in euphony. It's a little more neutral with good low-end weight and excellent vocal texture.
I would say timbre-wise it's somewhere in between the RS8 tuning and the warmer RS6 DAP. And yes, I have one back with me from the show and it does open up the more hours you put on those R2R resistors which is quite normal for any R2R DAC.
Zeta
This is HiBy's flagship universal IEM and again, I wasn't reading up on this one before the show so I naturally wanted to get listening to it.
This is priced at $1399 so very much a high-end IEM with a tribrid 9-driver configuration consisting of a single 10mm dynamic driver for the lows, 4 BA for the mids, and 4 EST for the highs.
The titanium shell is quite well done and sits very comfortably in the ear during my limited time with it so initial fit impressions seem favorable. The stock cable is an 8-core copper Litz wire and comes terminated with a 4.4mm plug as standard.
Sound-wise it is quite punchy on the lows with a decent balance on the highs when paired with the Cayin N7 which was my test DAP for the show. The EST and upper-mids BA drivers are not too hot or tinny sounding either with more focus on the bass and upper-mids.
Higher-pitching vocals seem to come to the fore from my testing so I would expect the pinna-gain curve to be fairly elevated on the Zeta. Overall, a lively tuning with a strong bass response.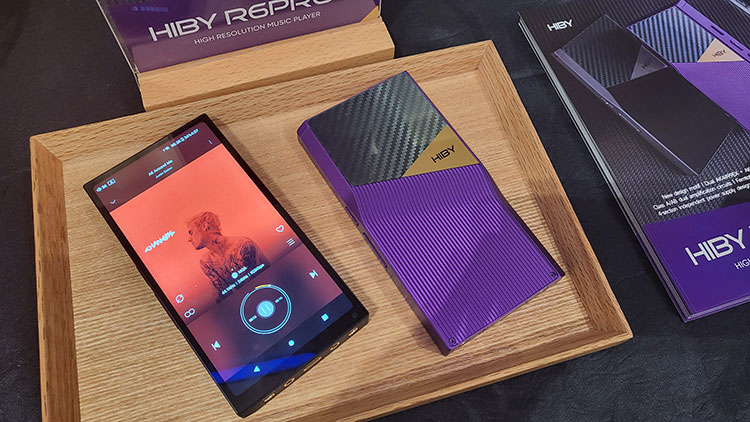 R6 Pro II
This is one seriously cool-looking DAP and much better in the hand than the pictures might actually indicate. Hard to believe it's around $800 SRP, I was expecting this to be about $1k upwards in current market conditions.
I was also speaking to the team at Vision Ears who want a few of these units because of how well the purple wave design matches their EXT IEM shells. I would agree with that 100%.
The tech inside is excellent with a high-end dual AK4499EX 8-way DAC implementation, discrete Class A amplification with dedicated 4.4mm/3.5mm line out, and Android 12 with a Snapdragon 665 CPU. The OS felt snappy during the show, with no perceived lag, and pretty much a similar experience I have with the RS8 OS.
I didn't get to spend a whole lot of time with it as it's going to James for review shortly, (our resident mid-fi DAP expert). However, it does seem to offer a pleasingly low noise floor with decent but not overwhelming output power numbers. I would say the R6 Pro II seems geared more toward sensitive gear or IEMs than driving any thirsty headphones.
Sound-wise, it came across as fairly beefy, nothing as overtly colored or as warm as the RS6, but with a very low noise floor and that superb black background with my test rig, the Noble Viking Ragnar.
Cayin
For me, it was all about the new N7 DAP from Cayin at CanJam Singapore 2023. They had a lot of great gear at the show under the Zeppelin & Co banner including the HA-300MK2 and the flagship Cayin N8ii but we have covered those in some detail already.
What we have not covered is the discrete-designed pure 1-BIT N7 and there will be a full review from us very shortly also. Let me just say it's a fantastic sounding device, particularly in the way it presents a huge soundstage on just about any IEM I have paired it with to date, especially the Noble Audio Viking Ragnar.
I also managed to test it with Noble's new Ronin on the way home from the show and got pretty much the same super black background and expansive holographic performance so it's not a one-off with the Ragnar.
It also has a fast OS complete with a UI refresh similar to the RS8 with its more modern Android 12 platform. It works in a dual operational mode Class A and Class B and surprisingly I found Class A to be the weightier sound compared to the AB variant. Normally I find Class A to be somewhat lighter on the bass weight on other dual amp players but not this time.
It comes in a bit cheaper than the flagship N8ii at $1999 SRP but I have to say I might actually prefer the N7 over the N8ii in some situations, (not all!).
Empire Ears
I did not know Empire Ears would be at CanJam Singapore 2023 until someone pointed me in the direction of Jack and the team at one of the Zeppelin & Co stands towards the end of day 1.
I am glad I did find them because Project Raven is something very special indeed and right up my alley in terms of how I like their IEMs to sound.
This is something new, priced a little higher than Odin but taking the best bits of both the Odin and the Legend EVO and pairing them into one seriously heavyweight contender for IEMs in 2023.
It uses a dual W9+ woofer for the lows, 5 BA for the mids/mid-highs, and 4 EST drivers for the highs and super-highs. It is also packed with a W10 bone conductor driver which should give you some idea of what to expect on the lows of the Raven.
In a nutshell, the sound is a little warmer on the lows compared to the Odin, with a bit more mid-bass and lower-mid presence to go along with it. The pinna gain is just a shade milder also with the lower treble slightly more relaxed with a vocal timbre that is smooth and more natural sounding as a result.
The bass is kicking, and I mean with some serious evil intent on that sub-bass presence with some tightness there despite the slightly amplified mid-bass warmth. It digs seriously deep.
As for the externals, the design above I am told is still a work in progress so I am not 100% sure what the final product will look like when it is due to be launched sometime in May or June. One final note, the cable is a PW Audio creation and I have no data on what wire is used but it's a 'thick boi' for sure.
Click on page 2 below for more impressions from CanJam Singapore 2023
Click on page 3 below for more impressions from CanJam Singapore 2023