The Cayin iDAC-6 MK2 is the company's 2nd-generation i-Series hybrid tube DAC capable of up to DSD512 and PCM 768kHz decoding. It is currently priced at $999.
Disclaimer: The Cayin iDAC-6 MK2 sent to us is a sample in exchange for our honest opinion. We thank Cayin for this opportunity.
To learn more about Cayin products on Headfonics you can click here.
Note, this review follows our latest scoring guidelines which you can read up on here.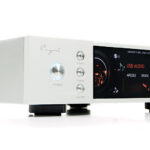 Cayin iDAC-6 MK2
Implementation is key they say, but rarely at this price point is it as expressively demonstrated as it is with the iDAC-6 MK2. This is not a neutral sound, it is not analytical, it is natural, slightly weighted and very listenable. In doing so, it has also changed the character of the iHA-6 for the better in that i-Series stack.
We reviewed the first-gen iDAC-6 i-Series pure DAC back in early 2017 alongside the excellent iHA-6 solid-state amplifier. I guess the iHA-6 grabbed the plaudits at that time and true enough we did give an award to what was an excellent headphone amplifier.
It is not that the iDAC-6 was bad, at $699 I thought it had immense value. Rather, it is much easier at times to remember the performance of an amp than a DAC, particularly when it is a combo review.
So, this review is ideal then. Not just because the iDAC-6 MK2 is a second-generation and, on paper, should an improved DAC but also we can shine the entire review' light' on it alone. The SRP is $999, which was the SRP of the original iDAC-6 before it got a hefty discount late in its product cycle. So, technically no change in its initial price point.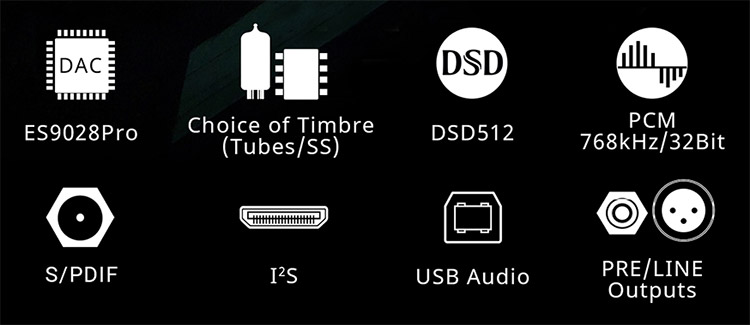 Tech Inside
So, who should be using the Cayin iDAC-6 MK2? Well, this is a pure DAC similar to the MK1 and part of the i-Series 'trinity' which includes the iDAP-6 streamer and the iHA-6 headphone amplifier.
It is not exclusively for headphone users, however. The iDAC-6 MK2 can now stand on its own two feet as a pure DAC and a preamp for active speakers and demanding hi-fi setups with compatible connections.
New DAC
Whilst the core purposing of the hybrid tube MK2 DAC has not changed from the MK1, what makes it tick inside has changed. Internally, we have a new delta-sigma-based Sabre ES9028PRO DAC chipset backed up by a triple Femtosecond Crystal Oscillator design.
The original iDAC-6 used a dual-channel AKM AK4490 implementation with a dual oscillator setup which, by today's standard, is quite dated. Not to say that I have not enjoyed the AK4990 "house sound" but the introduction of the new Sabre chipset should deliver something a bit more transparent and detailed, and potentially with dynamic range performance.
Decoding
The MK2 has some serious upgrades in terms of decoding as a result of implementing the newer ES9028PRO over the older AK4490.
Previously the MK1 offered a maximum of DSD128 and PCM 32Bit/384kHz via USB. This dropped to 24Bit/192kHz via coaxial and 24Bit/176.4kHz optical. In 2020, that just will not cut it in terms of shelf life attractiveness, despite most digital audio still being 16BIT/44.1kHz.
The MK2 can now decode up to DSD512 and 32BIT/768kHz PCM via USB, (coaxial and optical remain the same), as well as adding an I²S socket that delivers the same decoding ceiling. For those with an iDAP-6, you can now connect both with an HDMI cable which some might rate as superior digital delivery to USB.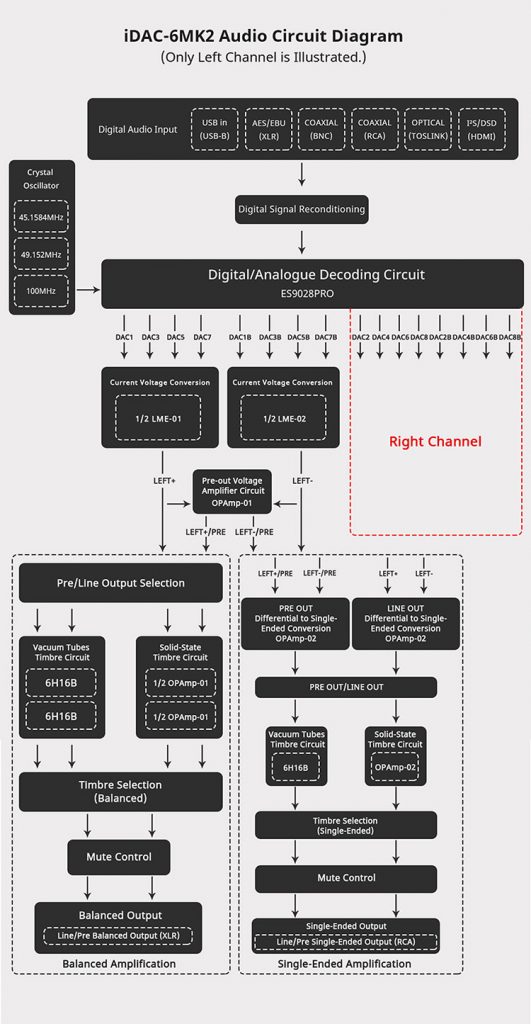 Dual Output
The iDAC-6 MK2 now has an independent circuit design for the line-out and the pre-out whereas before this was shared. Several changes have thus been brought in to capitalize on this new topology.
The quad triode tube buffer remains intact, however, the original 6N16B configuration has now changed to a 6H16B lineup for all 4 tubes. Two tubes are now dedicated to the single-ended output and 2 for the balanced output. This will now allow you to switch timbre on both outputs which is a big change-up from the MK1.
The original MK1 previously had an 'always on' state for the vacuum timbre option when switching to the XLR balanced output. Not only should this bring a different flavor to the balanced output of the MK2 but it should also help conserve the life of the tubes inside the unit.
Dual Out Numbers
The iDAC-6 MK2 independent circuit design topology also offers a lot more flexibility in your line-out and pre-out settings. It also allowed Cayin to design for a bit more 'voltage for your money' compared to the MK1.
On the line-out circuit, you get what I would consider a standard voltage rating for most headphone amps on a dedicated line-out at 2.2V unbalanced and 4.4V balanced. Whilst those numbers have not changed from the MK1's line-out capability, what has changed considerably is the pre-out voltage levels.
Previously, the pre-out ratings were matched to the line-out at 2.2Vand 4.4V. With the new tube and OPA buffer implementation, you can now get a pre-out capability of up to 7V unbalanced and 13V balanced. This will give hi-fi power amps a much-needed boost for driving speakers.
Performance Numbers
Comparing the MK1 and MK2 there is a stark contrast in the SNR and consequently, the dynamic range at least on paper is much improved. This is down to a combination of an improved and more modern ES9028PRO chipset as well switching from the original MK1 OPA2064 and 604 buffer blocks for LPF, current, and buffer to a new OPA1662 and 134UA lineup.
The SNR on the MK2 has dramatically improved from 105dB and 110dB on the MK1 tube and transistor outputs respectively to a much more competitive 115dB and 122dB on the MK2.
And that is just the unbalanced side. Going balanced, (independent circuits this time), the SNR improves to 121dB for the tube output whilst remaining consistent at 122dB for the transistor output.
There are also some minor improvements on the THD-N solid-state performance over the MK1 with a reduction from ≤0.004% (Fs=192kHz) down to ≤0.002%. The tube performance remains the same at ≤0.8% (Fs=192kHz).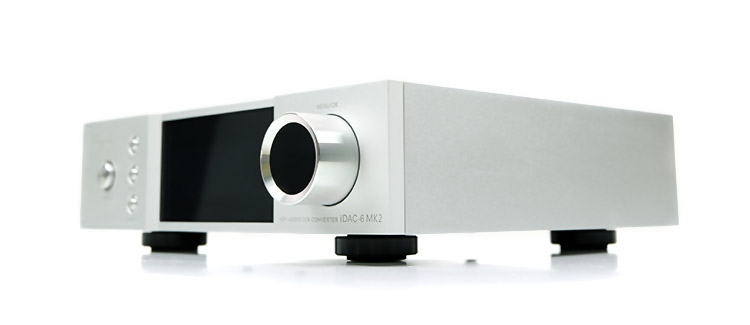 Design
The form factor remains the same as the MK1 and it has to really for it to neatly fit into their original triple stack of the iHA-6 amplifier and the iDAP-6 streamer. It is a little more compact than most desktop designs but it is weighty enough to feel planted even when stacked.
The chassis is cut from a solid aluminum alloy and coated with a sandblasted finish to reduce potential external interference. The iDAC-6 MK2 is extremely solid to the touch despite the relatively low weight and does to suffer from any flex or hollowed-out noises when knocking on the housing.
The finishing is also very discreet with the only visible screws to be found at the back and bottom plates making this a fairly smooth if somewhat edged finish. I say edged because the corners are a bit more 'edged' than rounded though smooth enough to avoid classifying them as sharp.
I am still not a fan of the etched labeling they have used on the front plate to indicate functionality. It has some legibility issues in regular room lighting when you view it at certain angles.
Controls
Upgraded Screen
What has changed in a big way is the LCD screen and the front control layout. The new LCD screen is a huge upgrade on the older trapezium-shaped OLED display which was tilted at a 15-degree angle for enhanced legibility.
The new screen is a mirror of the LCD panel used in the iDAP-6 and brings a certain 'feng shui' to the triple stack look with both screens harmoniously complementing each other.
The display used is a non-touch 3.5′ AMOLED color-capable display and whilst it does not have a tilting presentation angle it does have a superior display resolution. This, combined with the large screen format, means the display is very easy to read from most angles.
Tech notes readers will notice that the MK2 is slightly lighter than the MK1 at 3.6Kg compared to 3.8Kg. I might hazard a guess here and suggest the reduced complexity of the new aluminum LCD screen frame might have something to do with that.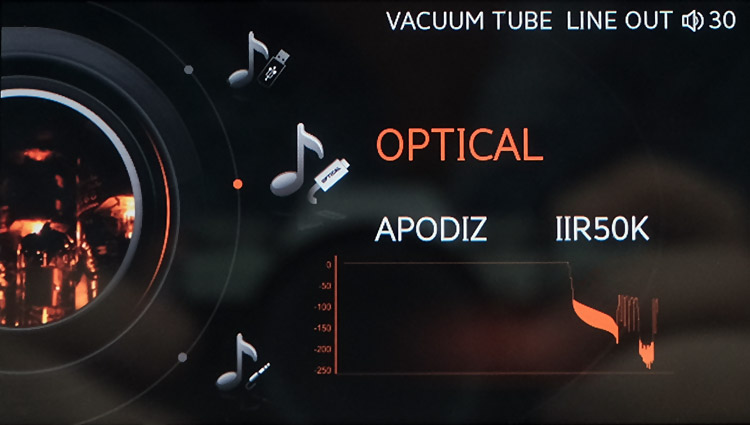 GUI
The new HiBy designed software system is much more intuitive than the 'dot matrix' display of the MK1 LCD. It is also a bit more design flair than the current iDAP-6 GUI on the same panel.
Timbre Control
To the left and central to the graphical 'circles' is the timbre mode. When you switch between vacuum and transistor, (short 15-second delay), the graphical overlay switches from a warm tube display to a cooler aqua blue and green PCB visual. You also have a small text line stating the exact timbre being used in white at the top of the screen.
I would have loved if the entire interface had that matching cooler tone but it is fairly obvious at a glance which timbre you are using when working on other options. It is also far more useful than the MK1 timbre menu which disappeared once you selected it.
Source Control
On the 'outer ring' are your source inputs and they include AES/EBU, optical, coaxial, coaxial BNC, USB, and I²S which you can select via the top source physical button. The select input will display in a bold larger font centrally making it very easy to read from a distance.
Filters
Below the source status on the GUI, are two smaller alerts and these are related to the MK2's PCM and DSD filter controls. The filters, along with the ability to switch output modes, can be activated on any source mode by pressing the rotary dial inwards.
There are 7 filters for PCM and 4 for DSD and all of them are pulled from the built-in digital filter features of the ES9028PRO DAC chipset.
Volume Control
The iDAC-6 MK2 volume control, like the MK1, is only active and usable when in pre-out mode and not in line-out mode where the voltage is fixed. The variable pre-out allows you to control volume in the analog domain with up to 100 steps.
You can switch to pre-out by pressing down on the rotary dial and from any currently activated source. Once selected the GUI volume control will respond to using the rotary control like any regular potentiometer.
Certainly, a far more impressive visual display with big and bright numbering and a very smooth and accurate response control. You will not find any unintended step skipping on the iDAC-6 MK2 pre-out.

I/O
(For reference the top unit in the above picture is the MK1 and the bottom unit is MK2).
Starting on the rear we do have some functional or I/O changes, both to the layout and inputs. What has remained the same physically are the analog outputs, both XLR balanced and dual RCA unbalanced though both have some serious voltage upgrades for pre-out as mentioned in at the beginning of this review.
The 3 core digital inputs, optical and coaxial RCA also remain unchanged centrally on the rear panel layout.
One other small physical change is a new streamlined ventilation system with a more focused venting design above the analog outputs and a more discreet slot near the AES/EBU and I²S socket.
Additional BNC
We now have 2 coaxial inputs instead of one, with the second one being a BNC connector. For those with upsampling devices or streamers such as Cayin's iDAP-6 or the Chord Hugo M Scaler, this will be a handy additional input.
Not least with the M Scaler's excellent switchable upsampling which is capable of delivering a maximum 352kHz rate to the iDAC-6 MK2 from a 16BIT/44.1kHz source file using a single BNC connection. With the BNC coaxial via the iDAP-6, for example, you can also decode up to 24BIT/192kHz and DSD64 (DoP only), much like its RCA coaxial counterpart.
I²S
I was not surprised to see the iDAC-6 MK2 receive an I²S input socket as Cayin has been gradually introducing this across a wide range of their source devices including their new N8 and N6ii portable media players.
It is already a digital transport output socket on the iDAP-6 so for those using the full i-Series stack you can now join the two devices with a single short, (ideally 0.5m), HDMI cable.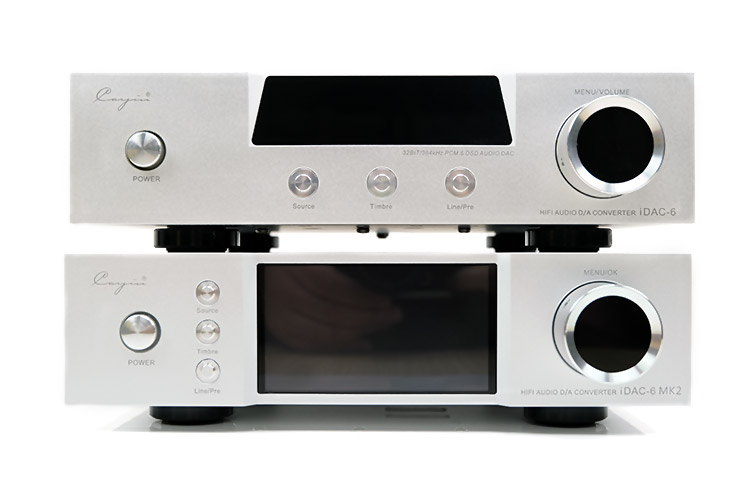 Front Panel
Aside from the new LCD GUI interface the front panel of the iDAC-6 MK2 is now reorganized. All quick access smaller buttons are now stacked to the left near the power button which remains unchanged in form and function.
I would say this is due to the sizeable LCD panel leaving no space below where the original M1 buttons were located. However, it does look a little more aesthetically pleasing to my eyes on the left.
Analog Volume Control
The far-right rotary dial still duals as a menu sector and variable pre-amp volume control, (line-out is fixed voltage). However, two important changes. The first is the switch to the LCD HiBy GUI allows for a much more engaging and intuitive use of the rotary dial.
The second, and a more technical changeup, is the switch from the previous digital to a new analog domain with the use of a PGA2311 analog volume control in the MK2. In the MK1 pre-out, the use of a digital volume control meant DSD was converted to PCM before going analog. The MK2 allows DSD to stay native and enhanced the potential dynamic range to power amps as a result.
It is also a far more precise volume control with 99 steps instead of an awkward and less manageable 23 steps in the older MK1 digital volume control.
Packaging & Accessories
Not to go on too much about what is, after all, a box but Cayin does make some wonderfully compact packaging for these i-Series desktop units. More than that, they are entirely reusable and fairly sturdy at that.
The actual design is a flip lid cardboard container with good foam packaging on the inside though yours may come with any number of external courier boxes depending on where you bought it. Sadly, no white gloves this time. I do love those white gloves from the original i-Series accessories lineup. Keeps everything clean and fingerprint-free during handling.
Accessories are a bit sparse with just a power cable, (socket depends on region), and a USB-B to USB-A 1.5m cable for connection to your digital transport of choice. I would have loved to have seen a dual RCA cable to get it up and running out of the box so be prepared to put that into your budget if you do not have one already.
Click on page 2 below for sound impressions and comparisons.