The Cayin YB04 is the company's debut universal monitor featuring a quad balanced armature driver configuration and CNC Aluminum design. It is priced at $499.
Disclaimer: The Cayin YB04 sent to us is a sample in exchange for our honest opinion. We thank Cayin for this opportunity.
To learn more about Cayin products on Headfonics you can click here.
Note, this 2-page review follows our new scoring guidelines for 2020 which you can read up on here.
For those that have been keeping tabs on our YB04 discussion to date with our previous First Contact article will find a degree of overlap on most of page 1 of this review. We suggest moving to the bottom of page 1 to read our in-depth sound impressions and page 2 for synergy and select comparisons instead. For everyone new to the YB04 and wants to know more, then read on.
For a traditional HiFi company to spread its wings into portable audio over the last few years the launch of an IEM really should come as no surprise. Cayin has been rolling out DAPs and portable amps for several years now so something to pair with them is the next logical step.
The YB04 is aimed squarely at the mid-fi market and from the outside looking this seems to be a modest or affordable offering on paper, at least for a high-end company such as Cayin.
Yet, I would stop you there because the tuning inside the YB04 is way more refined than competing models at a similar price point. Cayin knows what they are doing with the YB04 and if it's a "hi-fidelity" experience you are after, then this $499 offering comes closer than most.
Tech Inside
The YB acronym is a designated product line branding tool with the words C-A-Y-I-N all studiously ripped apart and applied to unique product categories. The N is for DAPs, the C has been used for portable amps, I for their desktop gear (iHA and iDAC), and the Y is for IEMs. The B stands for 'balanced armature' and in this case, 04 is the driver count.
The YB04 universal monitor is a mix of two dual armature driver brands. For the mid to highs, Cayin is using 2 dual-tweeter Knowles drivers and for the lows a single set of Sonion dual-sub drivers. The crossover is a 2-way resistor-capacitor crossover.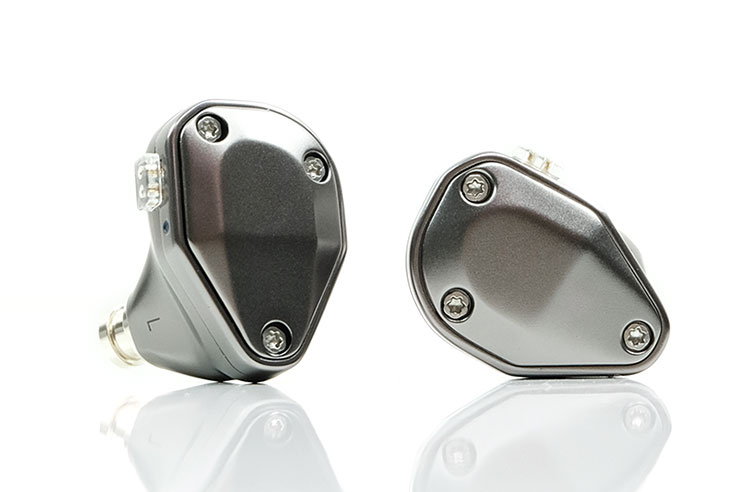 Design
When I first clapped my eyes on the YB04 my initial reaction was "Campfire" and indeed it does have a very slight nod to the CA aesthetic with its triple screw visual on its hexagonal faceplate. However, on further inspection, the overall design is different and perhaps sturdier also.
The YB04 is a 3-piece CNC machined aluminum shell with a matching contoured faceplate and finished with a stainless steel short "lippy" nozzle. Its dimensions are reasonably shallow with the majority of the length coming from the angular neck of the CNC body quickly narrowing into the stainless-steel nozzle. The lack of girth means it should sit flush to the ear with the rest of the work of sealing and holding in place done by the selected tip.
The YB04 finishing feels solid in the hand but also quite smooth on the angles. The curving is elongated and rounded rather than abrupt and sharp so its highly unlikely these will cause long-term discomfort.
Cable & Connectors
Connectors
The YB04 uses a protruding 0.78mm 2-pin connector system much like those used by Unique Melody and qdc, albeit without the slightly frustrating reversed polarity of qdc's connectors. The logic behind these is the sheath type connector on the cable side adding some protection to the pins when inserted and preventing bending and accidental breakage.
Of course, if you are going to use aftermarket cables it will add a bit of length to the connection since most 3rd party cables do not use that sheath connector system. The connection will also be a touch weaker than the stock cable system.
Stock Cable
The stock cable is a 1.3m 8-wire, (4×4), hybrid geometry consisting of a blend of OCC and a silver alloy. That hybrid mix is reinforced by the translucent PVC jacket finish of the cable. You can clearly see the intertwining of the silver and copper in an attractive braided finish.
And it is quite an attractive lightweight cable at that. It has virtually no spring or memory retention and an excellent low microphonic performance, even above the aluminum splitter.
Both the jack and splitter barrels are crafted with the same material and design, differing only in sizing. These are gun metal aluminum builds and reasonable low-profile with the jack barrel using a screw lock rather than cheaper glue slide-in alternatives.
The cable is terminated with a gold-plated 3.5mm TRS jack so sadly, no balanced options out of the box. The translucent plastic chin cinch is a little on the cheaper side but functions pretty smoothly.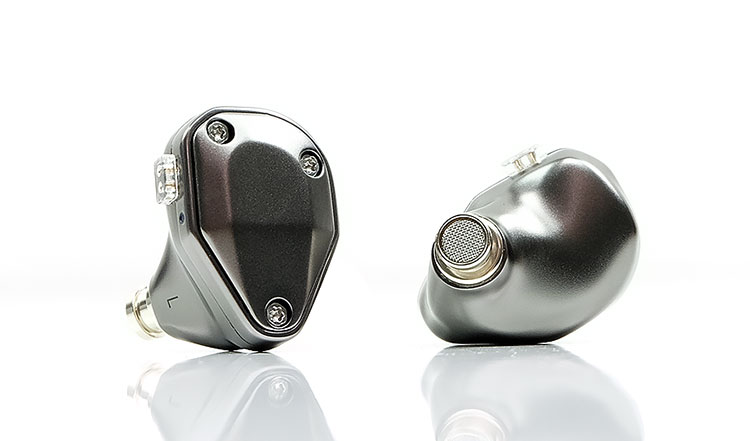 Comfort & Seal
The YB04 offers a comfortable if somewhat shallow fit with the tips really doing the rest of the work to acquire a seal and keep things steady.
The shallow design does mean it doesn't really stick out of your ear and for the most part, the YB04 main body doesn't bear down on your ears pressure-sensitive points. I was able to get around 1.5 hours before the back end of the YB04 started to make its presence felt against my outer ear.
The protruding 2-pin 0.78mm connectors also have enough 'throw' to keep the cable from pinching the edges of your ear which is another area that can often lead to annoyances. However, the long memory wire sheath ending on the main cable can push into the base of your ear. It does not create any discomfort but you are aware of it.
Tip Choice
The YB04 comes with a wide range of tips grouped into form and function. You receive 3 sets of S/M/L single bore silicone tips grouped according to performance tweaks, namely, bass, vocal and balanced. You also receive 2 medium foam tips and 1 pair of bi-flange tips. There is also a set of transparent single-bore silicone tips on the YB04 out of the box.
In terms of passive isolation, there is not a huge amount of difference between the foam and silicone tips with perhaps the bi-flange the least effective. I actually think the single silicone tips were excellent, not just for sealing and isolation but also in terms of comfort and a steady fit.
The only ones I was not fond of were the additional stock medium-sized single silicone tips that come on the YB04 out of the box. They seal the least for me as they are a bit too small for my ear canal. As ever, YMMV with tip dimensions and fitting.
Accessories & Packaging
The YB04 package is on the large and elaborate side with plenty of accessories inside. It can be a bit shallow to equate size with the price these days, however, the YB04 box and accessories do go some way to injecting the perception that you are getting a bit of value for money here.
The box is nice and professional looking from the outside with a graphic vinyl slide-off sleeve showing the obligatory Hi-Res certification and a picture of the YB04 with the Cayin branding. Underneath is a flip-open display box with plenty of contoured foam passing holding the drivers, cable, case, and accessories.
A few things stand out immediately and that's the beautiful tanned leather case and the excellent selection of tips that Cayin has supplied with the YB04.
The tanned and branded stitched leather case is substantial with excellent padding and plenty of space. Internally you get pockets for the tips, drivers, cable and most other accessories that come with the YB04. Everything is capped off with a nice fine-satin cleaning cloth more akin to those you find inside with a set of reading glasses. It is quality and then some for this price point.
The tips play a big role in the tuning of the YB04 similar to SIMGOT and FiiO's recent monitor tip selections. You get 5 different single-bore silicone types covering bass, vocals, and a more balanced sound signature as well as a single set of bi-flange and 2 sets of foam tips. Plenty here to choose from and you can click on page 2 below to find out how the tuning of each sound.
Sound Impressions
Summary
After being on a diet of hybrids for the most part of 2019 its is quite refreshing to listen to an all balanced armature driver monitor again. And make no mistake, at a high-level this is a quintessentially balanced armature sound but with a better performance than I have heard from similar configurations previously.
The cute part here is the mix of drivers with the Sonion for the YB04 low-end and Knowles for the mids and top-end. The Sonion dual-driver sub has a different signature to the Knowles drivers with a bit more wetness and warmth and certainly the better body of the two groupings. But that is what it is precisely there for, to tease out some low-end depth and texture that the smaller Knowles drivers are not normally known for.
Once you move into the mids, then the slightly drier fast and detailed sound of the Knowles driver stake over. Even then, the contrast is not stark but rather quite nuanced or subtle. The YB04 has perhaps a slightly mid-forward sound but not hugely so and a treble delivery that stays on the smoother side of netural and not as dry as I would have expected before testing them out.
It is a very coherent and refined sound but not a beefy rich or rumbunctious presentation. You do not get the solidity of a dynamic driver hybrid but you do get a very coherent and almost pure sound. I normally refer this to this as a "hi-fidelity" presentation where detail is the priority and imaging is king.
Staging
Staging depth is controlled and clear but there is not a huge amount of power with a low-end tuning that seems tight and relatively neutral in quantity. That takes a little something away in terms of dimensionality and more of a traditional stereo 2-speaker setup equivalent in the HiFi world.
Width is excellent, however, and I am impressed by how much separation and imaging the YB04 can deliver. Complex instrumental passages are no problem for the precise control of the YB04 drivers with excellent levels of micro-detail making it very easy to pick out spatial cues and instrumental positioning in general.
Overall height is good but not huge with what I suspect a slight fade or less upper treble elevation in the Yb04 to get that natural overtone and prevent the Knowles from sounding edgy. Still, I have no issues with the headroom it offers and there is enough air for sure or else that excellent separation would otherwise sound muted.
Bass
There is some tip dependency on the exact level of low-end weight and coloration and you can read more about that in our tips discussion below.
With the balanced tips, you get a fairly linear and solid sounding low-end with excellent definition and a tight pacy and slightly wet to warm overtone. Sub-bass weight is just average and if you are looking for physicality and presence you will not get that from the YB04. It is not lacking in extension but it is controlled and not as impactful as dynamic driver infused hybrids.
There is a slight mid-bass elevation that injects a bit of warmth and body that I think underpins that generally smooth but detailed mids presentation on the YB04. The mid-bass elevation is more about timbral balance than injecting a heady bass fundamental into the YB04. As such the bass tuning feels more about articulation and control than a driving high-level of PRaT.
Mids
I love the YB04 mids and it was the very first thing I picked up on in our initial feature on the YB04. The combination of a slightly warmish bass response, a smooth transition into the lower-mid without a huge dip and a very slightly bumped or forward vocal makes the YB04 mids presentation very engaging without sounding forced.
Paired with the N6ii, the YB04 mids delivers a slightly analog and smooth midrange. Vocal delivers a sweet-sounding timbre with a lightish yet precise tone which makes for a very easy listening experience. Instrumental timbre follows a similar path with a nice emphasis on detail and speed as opposed to outright power and physicality.
The YB04 also avoids stewing those upper mids in effervescent energy and pulling too much treble odd-harmonic overtone into the timbre as a result. This is the Achilles heel of the FiiO FH7 and more often than not you can detect a little edginess on the iBasso IT04 upper mids also though in a more controlled manner.
This means less vocal sibilance on the YB04, less percussion splashiness and a wetter more pleasing note attack on the YB04. It also means the mids just sound so much more coherent and accurate to my ear although I would admit some might find the lack of peppy treble contrast a bit less 'exciting'.
Treble
The treble tuning on the YB04 is excellent. It has a superb balance with just enough lower-treble energy to add some necessary accuracy to percussion timbre without sounding harsh or splashy.
The upper treble is a bit more linear or perhaps just slightly faded rather than pumped like the IT04 equivalent. What that means is that it is not overly ethereal or brittle sounding. Nuanced and articulate yes, but thin or lean no.
Any instrument pulling its upper harmonic order from the YB04's treble tuning benefits, period. Its one of the major reasons why the overall mids timbre of the YB04 sounds so pleasing. You get just the right amount of low-end body and warmth and treble clarity and brightness.
Click on Page 2 for Synergy & Comparisons