The YULONG DA-ART Aquila II is an all-in-one desktop pure DAC, preamp, and balanced headphone amplifier featuring an ES9038PRO DAC and up to 4W of balanced output power. It is priced at $700.
You can find the link to the full review now published here.
Disclaimer: The YULONG DA-ART Aquila II sent to us is a sample in exchange for our honest opinion. We thank the team at YULONG for giving us this opportunity.
To read more about desktop DAC products we have reviewed on Headfonics click here. For solid-state desktop amplifiers reviewed, click here.
I had my first 'YULONG experience' last year with the DA10 which is a similar pitch but more expensive compared to the new DA-ART Aquila II we have here for review. The Aquila II, which is also an integrated amplifier and DAC is just $700 compared to the $1200 DA10.
That $700 may well be a bit of a fiscal sweet spot for a lot of audiophiles looking for an integrated desktop solution and even out of the box right now the Aquila II looks good value.
On initial impressions, The Aquila II does have that distinctive YULONG vibe from the pricier DA10 with a similar OS and some shared external features. However, looking at the tech and topology, the Aquila II is a different beast altogether.
With up to 4W of power into a 32Ω load to drive most headphones as well as the ability to digitally handshake with my Chromebook streaming station without any tweaking, the Aquila II could well be a firm desktop favorite of mine.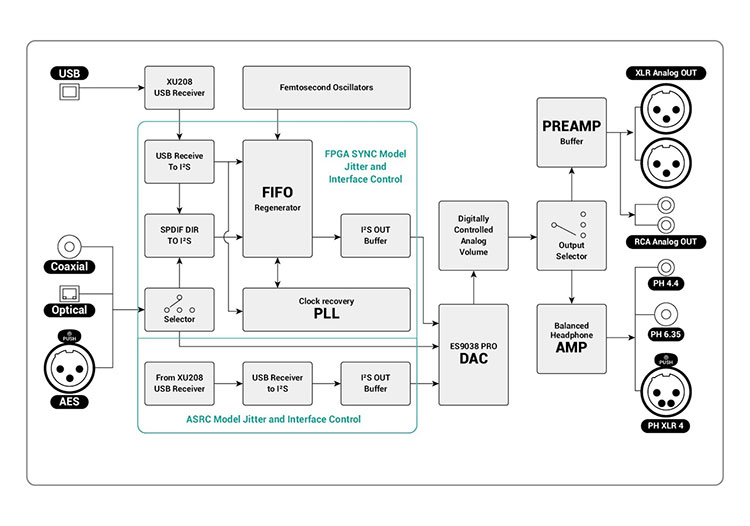 Tech Inside
DAC
The Aquila II marks a break from YULONG's previous focus on the AKM AK4497 inside the DA10 and a return to their Sabre roots. Inside, we now have an ES9038PRO single DAC chipset implementation combined with an XMOS XU208 USB stage capable of decoding up to PCM 32Bit/768kHz and DSD512.
YULONG JIC
Both features are underpinned by their new YULONG JIC (Jitter and Interface Control) System which is a proprietary FPGA solution and the first point of contact for receiving the digital signal inside the Aquila II.
The YULONG JIC minimizes jitter, a common issue with USB stages, into a low-jitter I²S bit-stream using a FIFO input buffer (first in, first out) combined with a built-in Femtosecond Oscillator implementation.
The final phase is a clock recovery PLL (phase-locked loop) implementation that corrects for any potential drift in the signal timing. Once corrected, the sampled signal is then sent to the ES9038PRO for analog conversion and output.
Dual ESS Digital Processing Circuit
The DAC implementation, combined with the FPGA architecture allows the Aquila II two different synchronous modes, both of which can be user-controlled via the onboard OS.
The first is a digital synchronous mode that is fully FPGA based rather than using the ASRC circuit of the ES9038PRO and will allow more of an analog flavor in the resulting output. The second is an asynchronous SRC mode that does go through the ESS internal digital processing to get that more familiar clean Sabre sound.
Both modes have varying decoding capabilities as a result of how they interface with the DAC implementation so you do need to be aware of that when using hi-res audio. Note this does not affect USB but rather coaxial, AES, and optical input.
Synchronous Mode will allow up to PCM 24BIT/384kHz and DSD DoP128 via Coaxial, AES, and optical whereas asynchronous mode using the same inputs is more limited at PCM 24BIT/192kHZ and DSD DoP64.
MAS (Mobile Audio Source)
The final digital input feature is something I was not expecting and that is the ability to handle an input source from a mobile device such as a smartphone or iOS.
I actually have that confirmed with the Aquila II interfacing with my own Asus Chromebook Flip C434 via a USB-C to USB-A cable as well as the standard USB-A interface on the laptop. This makes the Aquila II a very flexible desktop integrated DAC/amp and one that is no tired to a classic HiFi or even a PC digital setup.
Amplification
The Aquila II uses a DC-coupled Class AB design that can operate both as a preamp or a dedicated headphone amplifier. It has a single-ended dual RCA and 3-pin XLR output to the rear and balanced 4.4mm/4-pin XLR as well as 6.35mm outputs to the front.
Sadly, there is no built-in gain control for either balanced or unbalanced output though the 99-step digitally controlled analog volume does offer a decent amount of current headroom.
The single-ended looks decent enough at 1.6W into 32Ω and should be more than enough for the likes of the Final D8000 Pro or the Empyrean which are not hugely demanding modern planar.
However, the balanced 4W into a similar load looks much more capable and should allow for the likes of the Susvara and Hedd Audio's new AMT Heddphones to sound more optimal, especially since both are below 90dB SPL.
The introduction of a 4.4mm balanced output combined with what seems to be a very low noise floor will excite IEM users though bear in mind the output impedance is closer to 2Ω than sub-1Ω.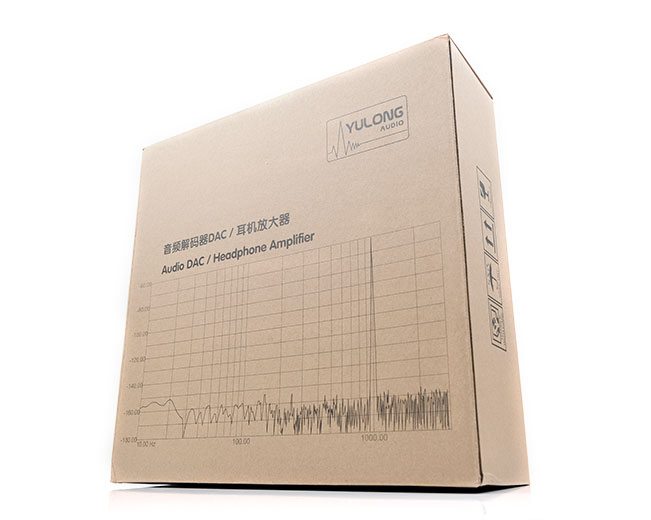 Unboxing & Accessories
The packaging is pretty much the same as my first YULONG experience with the DA10 and whilst not spectacular it is compact and efficient. There is much to be said in these current times for keeping logistics costs low and certainly, the Aquila II box is not necessarily padded but still quite protective.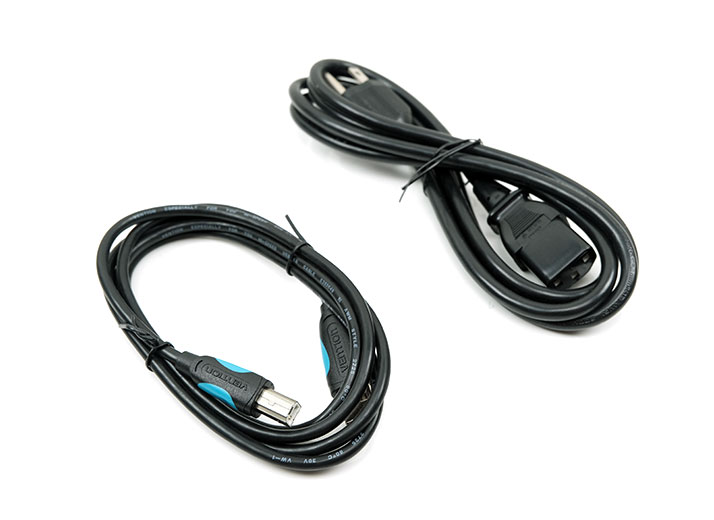 The accessory line-up is a bit sparse with a manual, (thankfully in English), USB-B to USB-A short 1m cable, and a detachable 3-pin grounded power cable.
Note, the Aquila II will come set up for your region so it is important to check this when ordering so you do not get a 110V sent to a 220V region and vice versa. The Aquila II is not switchable so the wrong choice will invariably mean a transformer.
I would have liked to have seen a basic dual RCA cable throw-in also but since this is pitched as an integrated desktop DAC and amplifier it will not prevent you from getting started out of the box.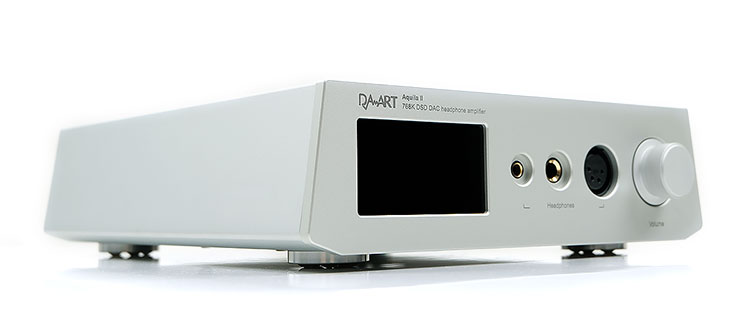 Design
I am not a huge fan of quirky desktop component designs but the Aquila II has grown on me in terms of aesthetic appeal. You could argue it is more pleasing on the eye than the DA10's industrial lines.
It has a curious isosceles trapezoid form factor on the sides and front plate that makes it quite unique from standard box designs. However, the thick anodized aluminum plating and 4KG weight offer a very planted and sturdy platform so it is not a powder puff component and you can easily stack on top or place it on top of something that can handle the 4KG weight.
Display/OS
Those familiar with the DA10 will pick up right away on that familiar IPS display on the front panel to the left. Font size is good for the most part so you will find this panel fairly easy to read. It is not quite as engaging as the new Cayin iDAC-6 MK2 GUI but it is more user-friendly than Chord's orb array UI or the older spartan Oppo Digital Sonica OLED.
The panel is pretty much your hub of data for the Aquila II. Navigation and the operating status you choose are very similar to the DA10 which is via the rotary dial to the far right. This doubles up as a pressure-sensitive function selector.
Certain options are changeable using the rotary dial such as the input method, (USB, coaxial, optical and ABS), 3 digital filters, the sync mode, as well as the output mode (DAC, preamp, and headamp).
The volume adjuster is disabled by default when in pure DAC mode. The Aquila II operates a fixed-line voltage in pure DAC mode and the dB incremental is set to 0dB. The volume becomes 'live' once you move into preamp and headamp modes with a range of 99dB or 99 steps, (99-0dB).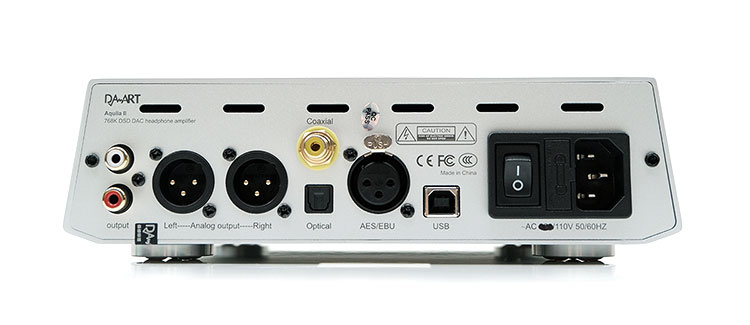 I/O
The rear is a carbon copy of the DA10 right down to the upper letterbox venting system. That means a pretty good selection of inputs and outputs with the only thing really missing is a 3.5mm line-in. To the rear, you will find all the digital inputs including USB, optical and coaxial, as well as single AES/EBU input.
These are all housed beside the 220/110v AC socket which is connected to a multi-stage independently regulated power supply from two toroidal transformers with low noise regulators inside the main chassis.
Fuses are disposable on the Aquila II which is a huge plus for me living in a region with power surges. You can simply swap them out if they blow. To the far left you have a set of dual RCA unbalanced and 3-pin XLR balanced outputs for preamp duties if you wish to bypass the headphone amplifier.
There is still no remote control supplied with the Aquila II much like the DA10, something which I would like to have seen included.
Initial Aquila II Sound Impressions
Sensitivity
For medium efficiency IEMs, the Aquila II performs very well indeed. However, for sensitive IEMs such as the Campfire Audio Solaris (SE) and Noble Audio's Sultan, you will hear a fair amount of background hiss using the 4.4mm balanced output.
The Aquila II does a lot better once you drop the SPL to something like 64 Audio's tia Trio's 104dB which delivers a very nice black background and above-average channel balancing at low volume levels.
Power
For dynamic driver headphones such as Ultrasone's Edition 11 and AKG's K872, you will not find any issues driving either from the 6.35mm single-ended output.
The Edition 11 sat very comfortably at -40dB and around 75% on the Chromebook's internal volume control. Both headphones were impeccable for low noise and good black backgrounds with the Aquila II and more than enough headroom to sound well driven given their respective 32Ω loads.
For efficient planar headphones such as the Final D8000 Pro or Audeze's LCD-1 the single-ended 1.5W output capability of the Aquila II is pretty good. However, for dynamic headphones such as the HD600 at 300Ω, the balanced output of the Aquila II felt the more worthy option with a slightly better level of dynamic range from the more powerful output.
For the Hedd Audio Heddphone, which just arrived this week, you do need balanced. Its 42Ω 87dB SPL AMT driver needs a lot of current which the single-ended output of the Aquila II seems not to be able to supply. The dynamic range also is a bit lacking for me unbalanced.
Going balanced with the Heddphone changes things for the better with a punchier more powerful low-end and a more vivid midrange sound.
Timbre
My initial impression from the Aquila II is that there is a detectable difference in the two sync modes in terms of tuning.
The synchronous mode is a little closer to the DA10 tuning with a softer overtone and a bit more bass warmth. Also, the upper mids and treble are a little more liquid soundings and not as aggressive.
That is not to say the async mode is brighter but you will find the mids and treble to have a bit more focus and the instrumental timbre a bit cleaner. It also sounds perceptibly the more articulate for percussion which might suit smoother sounding headphones like the Heddphone.
Headphones such as the more neutral HD600 are very comfortable sounding with the sync mode's liquid delivery.
Stay Tuned!
The Aquila II actually looks to be a bit of a bargain at $700. You get the full ES9038Pro experience, a pure DAC, pre-amp and headphone amp feature set as well as a modern 4.4mm balanced PO for potential IEM use.
It is plug and play, works just fine with mobile sources as well as slotting right into a decent desktop component system. Most importantly, it has plenty of power for a wide range of headphones.
Granted, there are a few integrated options out there at a similar price. Sadly, we do not have the Topping DX7 Pro here to directly compare which would seem an obvious comparison. We do, however, have the DA10 so we can see how a Class A YULONG competes with a Class AB at up to $500 less in the main review.
Other options include the Burson Audio Play with their top of the line V6 Classic Opamps and that ES9018 implementation at around $400-500 as well as Pro-Ject Audio's mid-fi S2 integrated line-up might also be worth looking at also when we begin the full write up. Stay Tuned!
YULONG DA-ART Aquila II Specifications
ESS9038Pro DAC Chip, with dual decoding mode
Full FPGA digital signal low jitter processing module, YULONG JIC(Jitter and Interfacing Control)
PCM decoding up to 32-Bit/768kHz, DSD up to DSD512 natively
Frequency Response Range: 20Hz-30kHz
THD+N: 0.00025%
Dynamic Range: 125dB
Signal to Noise Ratio: -130dB
Cross Talk: < -120dB
Multiple Input Ports: USB, AES, Optical, SPDIF
Multiple Output Ports, 4-Pin XLR balanced port, 4.4mm, and 6.35mm
Output Power(Single Ended): up to 1600mW @ 32 Ohms
Output Power(Balanced): up to 4000mW @ 32 Ohms
Output Impedance: ~2Ohms
Output Voltage(RCA): 2.1V
Output Voltage(XLR): 4.2V
Analog Volume Control
Supports Windows, iOS, Mac, Android, Linux.
Aluminium Alloy Metal Shell
Power Consumption: <30W
Dimensions: 248x210x60mm(LxDxH)
Weight:4Kg