Shanling
The M0 DAP. In so many words.
Shanling didn't have much of a booth but what they had there I think is going to be one heck of a hot product for 2018. The M0 DAP may not be the most advanced, perhaps not even the best sounding but it is frickin' small and cute. It is also priced at $99 and looks like it should be on the end of a watch strap.
This DAP has a major crossover appeal. I think Shanling knows that because it is coming in a lot of different color combinations that will appeal to a wide variety of hardcore and casual consumers. I believe it is due to launch by May and I know the chassis frames are already formed for assembly so it is not a concept product by any means.
So what has it got? Well, apart from wired it is also wireless with Bluetooth 4.1, LDAC, and aptX capabilities which will no doubt appeal to many coming onto Oreo or using LDAC capable IEMs such as the new 1MORE range.
I am also told it will be OTG capable and act as a USB DAC. Inside it has an ES9218P DAC and a fairly ok power output of 80mW into 32Ω making it more powerful than the likes of the Hidizs AP60 MK1 and MK2.
The screen is touch-capable and works pretty for the majority of the time with left and right swipes though given the size you just have to be a bit more careful about where your finger hits. The OS looks reasonably easy to work with also though the lack of screen real estate means it is a fairly linear experience in terms of what you can do and when you can do it.
It also has a really excellent battery life of around 15 hours continuous and a deep-sleep standby for up to 30 days. No onboard memory but it does have a single microSD slot.
What seems to be missing based on initial impressions? No balanced output, no line out, no onboard memory, no WiFi, and no lanyard on the chassis for those that like to stick wrist straps on devices of this size.
Sound-wise, well I did not get too much time hearing but from what I heard this is a lot more neutral than the Hidizs AP60 MK1 and a lot better sounding as well. Of massive importance to IEM users is that 0.17Ω output impedance combined with a really low noise floor. I stuck my A18's into this which may be overkill but I did not pick up an ounce of hiss during my time using it.
ColorFly
Colorfly grabbed a booth at CanJam Singapore 2018 for the first time to show off their new U8 DAP. I could not get near it during my time there which was a shame because it did look very interesting. Colorfly is on a bit of a comeback trail recently after being rather quiet since their C10/C200 releases and the U8 represents their latest flagship which should be out in the next 2 months.
Mind you we did a C10 review quite late in the day (Jan 2018) and the response was very strong so they do still have plenty of fans of their woody DAPs. I still have the original C4 Pro which I consider to be the DAP that kicked off the whole hi-res rage that AK took over 7-8 years ago.
The U8 looks quite different from the older offerings. Much slimmer, more modern looking with two screens no less. The main screen is touch-sensitive and has a little screen on the top as you would find on a DSLR which seems to convey some critical data such as BT, WiFi, volume levels, battery life, and track data. The U8 also uses a touch-sensitive volume control pad which I am not too sure how will work in real life but certainly unique.
Colorfly is suggesting that the U8 will compete with the likes of the DX200 from iBasso and the Sony W1MA so my guess is the $1k marker SRP but let us see when the launch announcement comes out next month.
HiBy Music
Fanoble, Joe, and the team grabbed an entire Ocean suite upstairs which was probably a good thing considering how "hot" their DAPs have been in 2018. The R6 was our DAP of the year with its cracking speed, excellent build, and sound quality. The price was none too shabby either.
Their new R3, which we reviewed a few weeks ago, is pretty much expected to go the same route, and just about everyone there was grabbing the demo units to try it out for themselves. This is, for now, their entry-level DAP at an SRP of $229 but going as low as $180 on their Kickstarter Campaign. That campaign is still running by the way and they have more than surpassed their target.
What's not to like about the R3? HiBy OS touch, WiFi, BT (including aptX), 8-ball, bit-perfect output, OTG, USB DAC and TIDAL all in one small and very well-designed player. The power rating is a bit on the low side but the very low output impedance rating makes this a great pairing for IEMs. Throw in Joe's MSEB baby and you can start weaving some very interesting DSP-induced sound presentations.
It is early days yet in the firmware, some things do need changing up a little and there is the room I think for more than TIDAL. However, knowing HiBy Music their firmware support is very good indeed so definitely keep an eye out for one of the most capable HiBy Music-powered devices to hit the market.
Brainwavz
Brainwavz has been making steady inroads into the more ardent audiophile domains with their excellent dual and quad driver B200 and B400 IEMs. Their annual attendance in Singapore is no surprise and when I met them on Sunday morning they did not have many B400s left to demo. In fact, they brought 8 units with them at a special show price and all sold out on the first day.
I did not need to listen to the B400 as our review was completed a few weeks ago and you can read it here. So instead I chatted with Pandora and Marlon about life in general and ended up spending the guts of an hour talking about everything from traffic, weather, the price of real estate in Hong Kong, and our genetic disposition to the heat which was stifling that day. Not a gush of wind anywhere, high humidity, and over 32-degree Celsius heat. That is melting weather folks!
Again, I have to emphasize you can learn so much more about companies just by talking to the people behind them. Both Pandora and Marlon come from the Netherlands and Canada and now live in Hong Kong so they are well-traveled with plenty of interesting snippets of life to impart. That was a really nice start to day 2 for me.
1MORE
Apart from the standard booth in the main hall, 1MORE also booked a suite halfway up the hotel.
The room had plenty of goodies including their new $2999 Luxtrada Headphones which is a seriously blinged-out version of their Triple Driver OnEar headphones. They are calling this a 'Fantasy headphone'. It is positively bathed in Swarovski Crystals from head to toe as well as sporting a slightly different design from the standard version. This is one for the Lil' Wayne's and Stephen Curry's of this world, of which I am neither.
The PR Director of 1MORE, Ari Morguelan, came across from LA and the guy is at heart a hardcore audiophile. We discussed the age of wireless, LDAC, and entry-level audio and at the same time really got into flagship DAPs such as my gold brick, the Sony 1Z. I could tell Ari really loved audio which I guess makes his job a whole lot easier.
Now we covered most of their wired earphones in our reviews to date including the Triple and Quad driver versions. We will also have a 1MORE Triple driver review in due course as one is in the office right now so I did not spend too much time covering those. What we did talk about were their new wireless BT earphones which will also come in dual, triple, and quad mode.
I actually listened to the RHA MA750 Wireless a few weeks ago and though them pretty good for a BT earphone. The 1MORE variants look fairly similar and that rubbery head strap popularized by the LG Tone line is actually very comfortable on the back of your neck. It may not look like it but these designs do work and keep everything fairly well organized during use.
They also have magnetized driver housing that not only locks the drivers together and keeps everything clean but once they touch the music pauses at the same time. That is pretty cool.
What I do know about the 1MORE variants is that they will do apt-X, HD, and LDAC so those with Oreo Android flavored phones and Sony Walkman devices will get the best possible quality wirelessly streamed. They will also have ANC stuffed in there as a feature for travelers on certain models. Color me interested if only to see what LDAC can really do compared to aptX.
The other little device Ari showed to me was their spin on the AirPods from Apple. They certainly look nicer than the Apple version and the case is magnetized supposedly to ensure that they do not fall out. Probably not my cup of tea in terms of audio gear, one for the consumer line but it does provide what I think is a more attractive version of Apple's design.
Wrapping Up – Polish Chocolate
And now to the final but possibly the most critically important aspect of the show, the candy or more specifically, Polish chocolate. Oh man! I must have raided all the Polish exhibitor's desks for their wrapped fudge and fruit-flavored chocolate during the two days.
At first, I thought, heck, cheap gifts for everyone back home why not. Then I tasted them back at the hotel. "Just the one", I said like a faltering chocoholic and ate the whole damn lot in about 3 hours.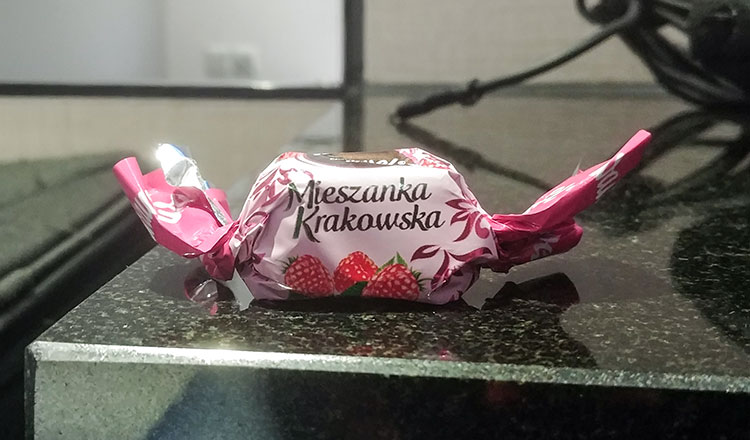 This particular one in the picture was my absolute favorite called Mieszanka Krakowska. This is fruit-flavored chocolate and seems to be gelatin-based with a chocolate coating. The flavors are varied including lemon, orange, and pineapple but it is the strawberry one that did it for me.
I suspect the likes of Custom Art, Lime Ears, and Feliks Audio knew what they were doing by bringing a clearly lethal mix of sumptuous chocolate to their exhibition stands. It probably explains why I had little luck in getting some demo time right beside those damn sweets. Bring more please to Singapore in 2019!