The Advanced Alpha is a brand new planar magnetic headphone from a company previously known for bang for buck earphones. Priced at $499.
Disclaimer: The Advanced Alpha sent to us for this review is a sample and does not have to be returned to Advanced. Thank you to distributors Aurem Fidelitatem and Advanced for giving us this opportunity.
To read more about Advanced reviews we have done on Headfonics, click here.
It is always exciting to see a new entry into perhaps my favorite category of audio gear, planar magnetic headphones. I have been a solid user of planar headphones for going on 10 years now and I doubt that will change.
Not to denigrate dynamic drivers as some of my favorite headphones such as the HD800 are steeped in excellent DD design. Rather my excitement is watching an old technology get revived, grow and mature and still evolving in 2018. I feel a part of that experience whether bought personally or reviewed for the site.
Road Map
Advanced has worked with us before on several review projects though they are not officially affiliated with us. To date, its been bang for buck IEMs sub-$100 and both Mike and I have been quietly happy about how they go about their business. The launch of the full-sized open Alpha planar headphone thus took me totally by surprise.
Going from 'bang for the buck' to mid-fi is one thing but from IEM to full-size planar is quite another. At $499 the Alpha is heading into territory long dominated by the likes of Hifiman, Oppo and to some extent Audeze and MrSpeakers. That is a tough market to compete in.
What Is The Pitch?
Home Use
The Advanced Alpha is a full-sized or circumaural planar magnetic headphone with an open-back design. The specs combined with the design would seem to suggest that Advanced feel this is best suited for home use where a fairly quiet background is required.
Certainly, the specs back it up with fairly demanding 90dB efficiency and we do know that quite a lot of planars do need plenty of power to overcome relatively low efficiency. In the last few years, the likes of Oppo, Hifiman, and Audeze have released lighter and thinner diagrams to maximize efficiency and get the planar tech out of the house.
Not so with the Alpha. Yes, it is a single-sided planar so it is much lighter than traditional designs. However, at 90dB SPL I think this pitch is still subtly aimed more at home users with good amps.
Mid-fi Competitive
The price point cannot be ignored. The Alpha is 100% mid-fi and going against the likes of the Sundara, or the older HE400i from Hifiman and maybe trying to nick a bit of business from the slightly higher priced LCD-2c and AEON from MrSpeakers and Audeze. It also seems to be openly competing against Oppo's more portable orientated PM3 price-wise.
The price point does make it more obtainable for a wider base of audiophiles looking to crack into the planar headphone hobby. That is something I like to see. Value is always a good pitch.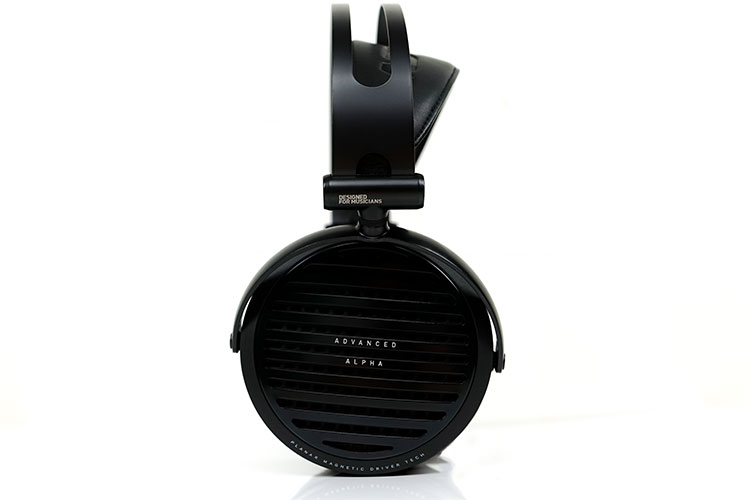 Build
Form Factor
The Alpha follows a more traditional full-sized headphone aesthetic and form factor. Not for it the AEON teardrop designs and BMW-designer inspired SINE curves. This is more bread and butter in visual impact with a sturdy if slightly utilitarian design.
I would not confuse that with rough, far from it. It is attractive in its own right and the quality of the finish is very good indeed. Also at 425g, I would classify its handling as relatively lightweight compared to the LCD's and EL8's of this world though heavier than the smaller PM3 and plasticky HE400s.
The form factor reminds me of a little more of the original Hifiman planar design with its rounded cups. The design also seems to mesh the AKG 8s-series type dual-rod arched headband and leather adjusting strap just underneath. The Alpha is a little smaller in size than the LCD series and more comparable to the Ether cup-size minus the Nitinol-infused headband.
Materials & Finish
The materials and finish on the Alpha are well done. This is a mixture of plastics and metal combined with a faux leather set of pads and sturdy looking headband. The metal is where the majority of the weight lies with the dual-rod arch, gimbals and grill all finished in a black metal alloy. Most importantly it joints and hinges are quiet. You will not hear any naughty flex sounds, creaks or squeaks from the Alpha.
The cup housings are a solid black finish plastic and fairly durable looking. It is not a glossy finish, more of a matte black with a slightly bluish tint to the grills and the brand monikered in white centrally.
At the bottom of the cups are the Alpha's dual entry 2.5mm sockets. These slightly recessed sockets use the same connectors as Hifiman for their latest HE series so if you want to swap around you can reach for those cables as an alternative.
Headband
The Alpha headband system works pretty much like AKG and MrSpeakers though it feels somewhat weightier in application. The pressure strap underneath the arch is fairly robust but thicker than either of the alternative brands mentioned which might explain some of that additional weight.
You will certainly feel it on the top of your head but the pressure distribution is not too bad for me. It is a personal experience so I am not too sure how it will work for everyone else but the net result felt ok. There is a fairly heavy clamp on the Alpha though so the full weight of the Alpha is a bit "suspended' and away from the top of your head. With less clamping, I get a feeling you might feel it a bit more.
Pads
Like the pressure strap, the 'out of the box' pads on the Alpha are made from a protein leather. They are rounded, thick and very comfortable as well as being detachable. Being an open back you will not get much of a seal anyhow but they do float nicely around my ear and just below my jaw. There is plenty of distance between my ear and the driver also.
Advanced has also supplied a second set of pads that are more like the Hifiman hybrid A-pads. These are a mix of outer-wall protein leather and on the inside, a fabric material. The purpose of these is to allow a more porous breathing system for hotter environments. There may some minor changes in the tonality also between these and the protein pads but the difference is not as big as you would think.
Changing them is fairly easy with a twist and lock, untwist and unlock mechanism. They are four hooks underneath with one of them color-coded with a dot on the outside. A simple line them up with the same colored dot on the cup and twist to lock. The colors are useful and prevent putting the pads on the wrong way around; red for right and blue for left
Cable
This is a strange one for me. This is a 1.5m SPC cable with a tightly braided multi-wire design and a PET jacket/wire tone that gives off a nice coppery feel to it.
I am not sure if it is 4 or 8 core but it is not the thickest of full-size desktop headphone cables and would look more at home on a portable setup or even an IEM for that matter. It is microphonics free and doesn't have too much in the way of memory retention.
The cable is terminated with a straight-angle 3.5mm TRRS stereo jack but does not come with a quarter jack adapter even further reinforcing my feeling that Advanced want us to try it with portable gear. I previously mentioned that the connectors are TRS 2.5mm so I would encourage cable rolling if you have the opportunity and want desktop use.
Comfort & Seal
An open back headphone is never going to offer much in the way of a seal and such is the case with the Alpha. However, in terms of comfort, I felt it more than ok actually.
The clamp is fairly strong but the depth of the deeper protein leather pads seems to offset any discomfort that may come from that. It also keeps everything pretty steady even when moving around. The fairly large pad openings also keep undue pressure away from the outer ears and any unintended physical fatigue.
The pressure distribution will vary from head to head but overall you are going to feel a bit more side to side pressure rather than top-down. It not quite as balanced as I would like but it is not as rough as the original HE series from Hifiman which pulled down a bit too much nor is it as heavy as the LCD range from Audeze.
Accessories & Packaging
The Alpha packaging is big and fairly impressive. It is not too far off the Hifiman approach with a large rectangular box that doubles up as a storage unit for the Alpha headphones. It is finished with black nylon or vinyl coating, a silver finished latch at the front and the Advanced moniker embossed on the top.
Inside the box is filled with a foam insert and contoured cutaways to house the headphones safely as well as the cable and additional cable organizer strap. The strap is much like any good IEM leather fastener with magnetized edged to keep it closed. And yes, it is genuine cowhide leather.
The top of the container has two additional cutouts for housing the second set of hybrid pads. You can swap them around though the protein pads are a bit taller and might flatten a bit more inside the box. You also get a small manual underneath with instructions for changing the pads and on how to use the color coding on the gimbals for matching up the cable connectors properly.
FYI the Alpha also comes with a whopping 3-year warranty which is a big positive for me. You can find details of the warranty on the back of the manual also.
Page 2: Sound Impressions & Comparisons