Vision Ears
Wer reitet so spät durch Nacht und Wind? Erlkönig! That was the name on everyone's lips when visiting the VE stand this year. Last year it was the VE8 and Vision Ears does seem to have a knack for new product launches right around the time I get to meet them so it is always a very interesting table for discussion.
The Erlkönig is their first universal IEM with a 13 BA driver complement and from what I am told there will be adjustable tuning though the demo unit had only one tuning and I am told perhaps not the final tuning. I hope it is because I found it sublime.
This is more balanced sounding than the VE8 with less bass impact yet still a fairly musical signature. The Erlkönig is also a more resolving and detailed presentation with a beautiful vocal delivery. I could have listened to this for hours it was that engaging.
The form factor looks to be a custom type mold you usually get on demo units of their custom versions. I was told by the guys that normally when people try the demo units and like the sound they ask to keep the demo units so some of the inspiration came from that demand.
Design wise it is under wraps with a specially designed wrapper that will not constitute the final finish. Mind you, I have seen this design quite a lot since the announcement and I am growing to quite like its bold swirls and white background. I might even ask for it to be made with the wrapper finish if possible for any review.
Empire Ears
EE has been blazing a trail around Asia of late with their revamped line up of custom IEMs. Jack and Dean Vang have done some major air miles in the last month alone. I am not sure what is powering Jack or if that was even him on the stand and not some battery-powered OEM replacement. I take my hat off either way to the well-traveled men still standing, I know I couldn't do it myself.
Phantom & Legend X
The two big product launches just prior to the show were the Phantom and the Legend X priced at $1799 and $2,299 respectively (regional prices may vary). You can get them in either custom or universal format and the starting price is the same for both. Right now, EE is saying around 3 weeks build time for either format and both models which is pretty fast.
Empire Ears have also joined with Effect Audio for stock cables to most of their line-up. Both the Phantom and Legend X come armed with Ares II cables as stock which is a nice upgrade on the old Plastics One variants.
Listening to both they paint a very different picture presentation-wise. The Phantom is more of a smooth mid-centric presentation with an excellent focus on the lower mids up to around the upper mids so instruments and vocals stood out for me and worked very well indeed for rock. Not to say the bottom end was sucked out, far from it but compared to the Legend X it was not as pronounced.
The Legend X was more of a u-shaped presentation with great bass and treble emphasis and a slightly dipped midrange. Vocals fell further back compared to the Phantom but it also hit much harder with more bass weight and quantity. Treble also had a bit more sparkle and air.
My own personal preference was the Phantom. I do love a good midrange and engaging vocal though I could well see a lot of people opting for the more visceral bass of the Legend X.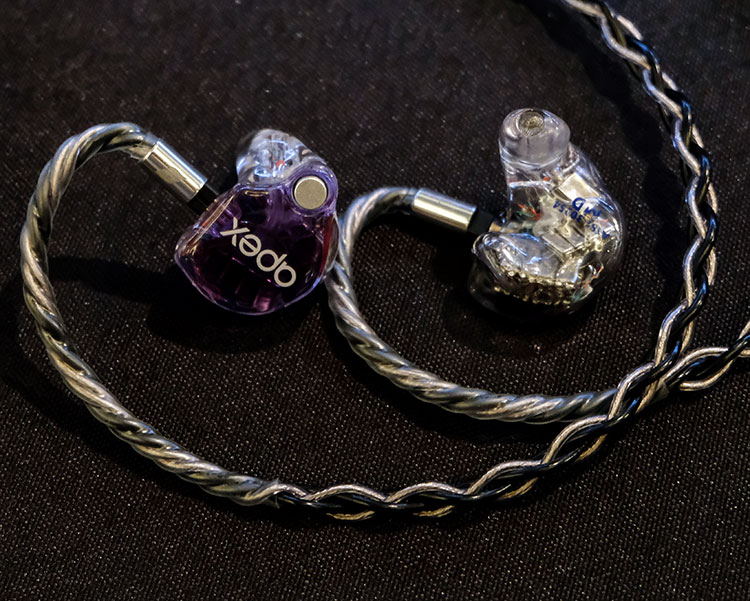 Effect Audio
Ever busy with new creations Effect Audio had 2 new cables on display from their Hall Of Fame Range. Well actually one, but two versions; the Janus Dynamic and the Janus Basso.
Now the key feature of this new cable is the introduction of some Palladium into the mix. Palladium is expensive stuff and does all sorts of interesting colorations with its high resistance factor. The exact geometry of this is a palladium-coated copper with a special alloy mix of copper and GPC so it is not pure palladium and maybe just as well.
Overall, it is a 24AWG rated wire with an 8-strand configuration. The EA Ultra-Flex PET jacket and wire combo are striking actually. It looks black but I think there might be a hint of blue mixed with the light gold colors of the wire to give a nice two-tone effect. It is microphonics free, very manageable, and feels premium. The price is premium also at $1399.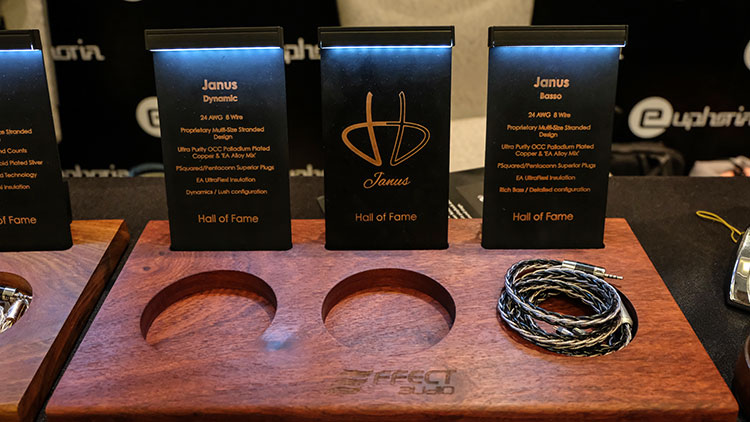 So what is the difference between the dynamic version and the Basso version? Well handily EA has given a tiny description at the bottom of their trade show placards and I agree with the statements 100%.
The dynamic is more of a mids player and quite lush sounding from top to bottom when paired with my A18. The Basso had a weightier and more dominant low-end as well as less vocal presence It also has a more articulate and forward top end.
I found the Janus Dynamic to be more to my taste with the more prominent vocal and better balance. I also love that smooth sound. I don't mind giving up a little presence in the top end to get that sound.
By the way, you can blind A/B these no issue they are that distinct in their presentations. Cables that can do that get my vote.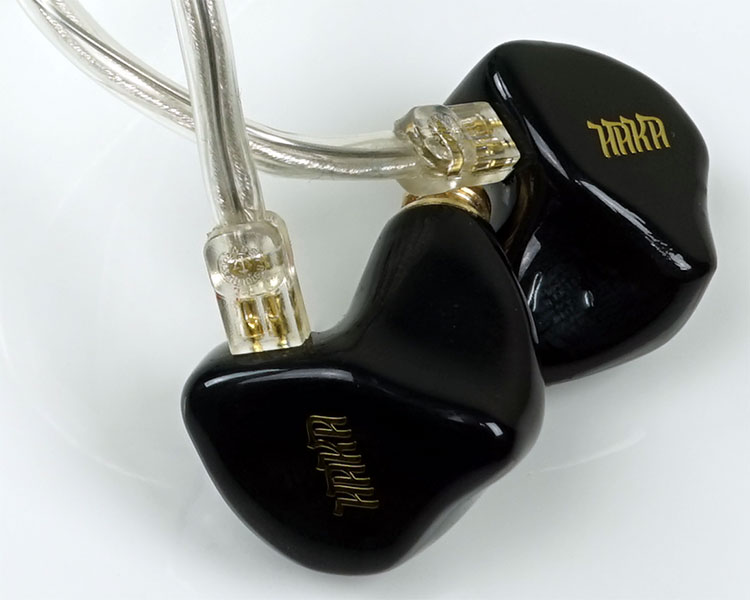 Jomo Audio
Jomo Audio has been very active in the last few months with the launch of its unique sounding entry-level single BA Haka. This was reviewed just a few days ago and I consider it to be a very musical and engaging presentation and definitely one to check out if you are a little fatigued from the usual mid-centric single BA offerings.
The Haka price is competitive and from my own personal experience, I found the fit excellent. This is a tip centric IEM by the way with the foam tips producing the best response overall in terms of isolation and low-end heft.
At the table were also two early-stage prototypes, simply called X and Y. Joseph, the owner of Jomo Audio was naturally a bit coy on the specs of the two units including the driver configuration. He also stated that both may be revised and today was simply gathering feedback from those attending the show.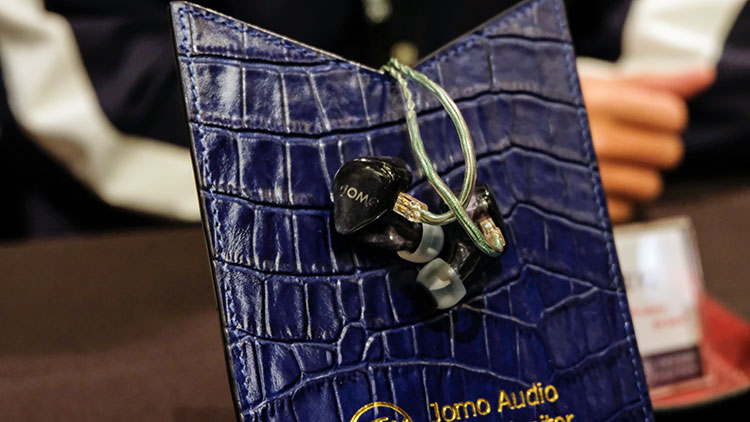 Prototype X struck me as the more balanced and neutral of the two with a bigger soundstage and perhaps more top-end extension. The Prototype Y was more colored with an elevated low-end and a more forward vocal presence but less air and a more intimate staging quality.
Now maybe it was the end of the day for me and I had ear fatigue or maybe my tastes are changing slightly but I found the prototype Y more to my tastes and something I wanted to hear again. Not that the X was bad but sometimes you want a smoother easier listening sound and I consider vocal performance in my headgear to be very important.
For those who need more air or something a bit more neutral then the X is the superior choice.
In any event, all of this is still up in the air and it could well be that none of all or just one of them makes it to production level so I am keen to see how this rolls out in the coming months form Jomo Audio.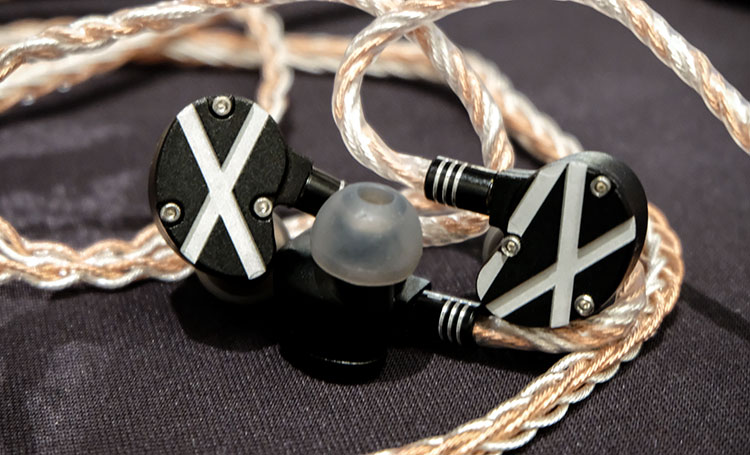 Clear Tune Monitors (CTM)
I was really pleased to see Cesar and Sandra attend CanJam Singapore this year. CTM has always had a popular lineup of custom monitors but of late they have been pushing hard into the universal IEM market with their Vintage series and most recently the launch of the Da Vinci product line.
This event they brought with them the Da Vinci IX and X. These are two high end universal balanced armature IEMs with a 9-driver (IX) and 10-driver (X) compliment. The IX retails for $2000 and the X for $2400. You can distinguish them by their nicely crafted IX and X numberings on their faceplates though I am told the final finish is a bit smoother and more refined than the units on display at the show.
The IX uses 2 drivers for the lows, 2 for the mids, and one for the top-end with a 4-way crossover. The X has an additional driver for the top-end and uses a 5-way crossover. Both of them are near 50Ω but quite sensitive at 118dB so DAP users will have no issues, especially HiBy Music R6 users who should not get any low-z skew when paired.
I got about 10 minutes in total and the difference between the two will largely come down to personal preference as both have excellent levels of detail. Those who like a more neutral sound with excellent extension and headroom will opt for the 10. It is technically the most capable of the two but it was not my preference. I just loved the IX and when asked that is what I pointed to.
The IX is slightly more colored than the 10 for sure and lacks a little in terms of a treble extension with one less driver but it sounded so smooth and so likable with an excellent low-end weight that I had to put myself down for one for demoing when it comes out. Proof positive it is not always about the driver count.
Summary
CanJam Part 1 pretty much covered the vast majority of floor one, day one, and portable audio. It was an incredibly busy floor by the way with people coming in and out all day. The diversity of brands and products was fascinating and I would say that thus far CanJam Singapore 2018 edged out 2017's show on that basis.
CanJam Part 2 coming up soon and we have all the second floor and headphones to talk about including Meze, Hifiman, MrSpeakers, Sonoma Acoustics, KuraDa, 1MORE, Auris and the very engaging Valentin, the owner of Kennerton Audio.