AAW/Shozy
There is a reason why both companies are in the title and that is due to the strong collaborative work on their new Pola hybrid IEM. It has been really interesting to see AAW and Shozy work closer together on some projects recently but the Pola is probably the biggest news from that partnership to date.
What is Pola? Well, in short, it is an electret/dynamic hybrid open back IEM. It does not require an electrostatic amp to work. the stats driver is permanently polarized meaning you can run it out of a standard amp.
The Pola form factor looks a little like the UM ME.1 but only much smaller and lighter. It also has an internal amplifier and a detachable cable system for cable rollers. No surprise there considering AAW have always packed some nice cables in their own offerings.
I am told that it may be possible to have a custom version of the Pola as well as the current universal but yet to be confirmed. I believe it will retail around $700-800 US but not final yet. Expect a higher custom pricing if available.
I had recently reviewed the Mitchell & Johnson MJ2 electret hybrid headphone but the Pola is nothing like the MJ2. Due to its open nature, it is a bit difficult to get a feel for the sound in a noisy show but from what I heard I felt it was smooth, well-tuned with an excellent level of the low-end body using the dynamic driver. there was a nice level of detail and some airy highs from the permanently polarized electrostatic driver which is used primarily for sparkle and air.
I am told this may not be the final tuning, nor the final finish externally but this was very interesting for me personally and along with the Anole V6 from the QDC the Pola was one I could not shake out of my head after the show.
Stax
After watching Jude's preview video for CanJam Singapore 2018 there was one portable piece of gear that got me more excited than most and that was the new Stax SRM-D10. Now I have the Kingsound M-03 portable amp and being twice an owner of the Baby Stax system but both have something missing or little lacking in their sound signature.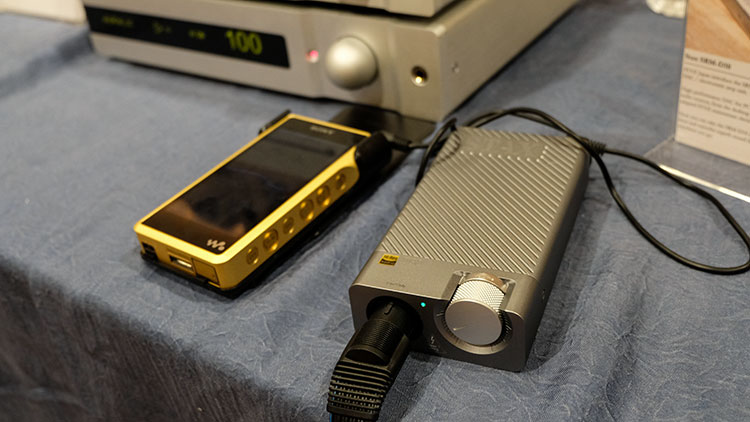 The M-03 is also just a pure portable stats amp and a little on the bright side. The SRM-D10 takes it to a whole new level as not only a portable and powerful Stax amp but also a proper portable DAC/AMP with line and USB input.
It is a little bit bigger than most regular portable amps but honestly not that big as to be unmanageable. Side by side with my W1z I found it easily stackable with excellent grip and good access to the controls. The volume dial is smooth and resistance-based doubling as the power on and off. This jack is a pro bias connector so 560v as standard, there is no normal bias as far as I can see. The Max output is 200v RMS.
At that back, it will accept both digital and analog signals with a line in and micro USB input to its inbuilt DAC. It will also run from a DC main or battery depending on your preferences and decode up to DSD 5.6Mhz or PCM 24/384kHz.
Now when I did manage to get some time with it I was prompted to use the SR-L300 as my own reference Stax, the 007MK2 was in use. How much of the sound was the L300 and how much was the D10 I cannot be 100% sure as I am new to them both.
What I can tell you was that power handling was excellent, no clipping, plenty of headroom and a very clean and pure sound. This is a more dynamic and far more refined presentation than the M-03 from Kingsound. I think this is the one portable amp product above all others that I will remember this year and yes, we will be reviewing it in due course.
Music Sanctuary
If you have not heard of Music Sanctuary then let me introduce them to you. They are one of Singapore's largest hubs for all things portable including IEMs and cables from a very wide range of manufacturers around the world. You could not miss them at CanJam Singapore either, taking up the entire back wall for their brands which included Custom Art, PWAudio, Han Sound, Lime Ears, 64 Audio to name but a few.
Lime Ears & Custom Art
My first stop was to the "Polish central" of sound, Lime Ears, and Custom Art. Custom Art, we just reviewed with the FIBAE 3 which I thought was an excellent and well balanced 3 driver custom with a smooth presentation overall. Very good value indeed.
Lime Ears were also launching their new universal 5-BA Aether edition. I have never actually heard the Aether before in any variation so this was something new to me.
The build quality is excellent and the sound was actually pretty good. The switching system does change the tonality. I found the with switch "on" it worked in much the same way as the Project X with an increase in bass power but also a slight uptick in vocal presence which complimented the bass power nicely.
One of the design features of Lime ears is their Vari Bore technology and how they shape the size of the bores to maximize the FR. Think of it like tips with different stem lengths and openings. The wider the opening the better the upper-frequency response due to lower levels of friction and bad resonance. The tighter the opening the better the low-end presence. The universal metal nozzles I think did an excellent job of demonstrating those varying widths.
PW Audio
Otherwise known as Peter Wong Audio I was presented with a special 2-wire edition of their famous 1960s cable. This is their top of the line or flagship cable worth a cool $999 with the higher strand versions going for much higher (see my Soundwriter impressions for more info).
Now I say specifically because it was terminated in a proprietary MMCX connector for the oBravo line-up including the Ra. This was a project we worked on for a few weeks before the show as the oBravo IEMs will not take a regular MMCX connection and my feeling was the stock cable could do with a bit of an upgrade (6N copper 2 wire).
As it turns out the opinions on this pairing were very good indeed. Peter Wong did a great job with the cable delivering something everyone agreed was more transparent, articulate and detailed sounding. Calvin Lin himself felt the staging took on a whole new level with its performance paired with the Ra flagship IEM.
Mind you the Ra does need a desktop amp to really perform. Most DAPs are underpowered when paired and the sound will lack some control, particularly in the treble performance. But sticking this into a 7W desktop amp output and the cable performed superbly. It was a joy to see David Teng try out the new cable and give it the thumbs up. FYI, I will speak in more detail about the 1960s cable in its own review and together with the Ra in April or May 2018.
Our CanJam Report continues on Page 3, click below