The Acoustic Research AR-M2 is a new Hi-Res Android-based digital media player with a UK price of £899 or $999 in the US.
Disclaimer: The Acoustic Research AR-M2 sent to us is a sample in exchange for our honest opinion. We thank the team at Acoustic Research for giving us this opportunity.
To read more about Acoustic Research products reviewed on Headfonics click here.
I first got the chance to hear the sleek beautiful Acoustic Research AR-M2 during the Headroom Show in London. I remember passing it by initially thinking I haven't ever heard of that company before perhaps I will try it a little later. Well after trying out everything on offer and just before leaving I remembered that oh too curious, unknown shiny box.
I thought it was a great sounding bit of kit although, for the price, I was hoping for a mesmerizing unheard-of sound. I will say this though it's just about as coherent as you can get, refined and mature yet lacked that special stand out feeling. But regarding those aspects it simply was perfect.
Wow!
Now never being a huge fan of the HD700s against my better judgment I placed them over my head to hear exactly what this magic box was doing to them. After seeing a few grinning faces I figure it's worth a shot. WOW yep capital W.O.Ws I simply hadn't heard the HD700 sound so good.
Shortly after this, I plugged my earphones in and just the same again stunned by the spacious clean sound being reproduced.
This thing was even making my humble Dunu 2000 sound better in a few areas compared to the AK240 and Layla combination I had heard prior to this. Maybe this was synergy gone mad maybe this was just plain better recordings and files, who knows but I know it sounded good!
After a brief chat with the product manager arrangements were made to have it shipped out for review when available.
Set-up
So today I finally have the jewel in my hands and it is an honor. I can see this being a very popular product if given the chance with the long line of audiophile daps now available, but please if you can get your hands on it seize the opportunity.
For this review I will be using my Dunu 2000, Audio Technica ATH-50 (Re-cabled by Forza Audio Works using their Hybrid cable) and the Beyerdynamic T 90 using mainly Spotify all at the extreme quality setting.  I will shed some light on the differences when using higher bit rate files which, in my opinion, does give a perceptible boost to audio quality.
What Is The Pitch?
The idea behind the AR-M2 was to create a powerhouse on the go listening device designed to drive some of the most demanding headphones out there with the ability to stream your music all for just under £1,000.
Included is;
A USB cable
a soft drawstring pouch
a few selections of adaptors
a USB plug socket.
Really not much to get excited about but hey they have certainly provided the essentials.
I am not too concerned with the lack of accessories, as when purchasing anything to do with audio sound will always be my primary concern. However, even a nice leather case or a memory card would have been the cherry on top to sweeten the deal, but I digress.
Build & Functionality
Rugged
Some of this is obviously going to be very subjective as some may find it a little too rugged etc. I quite like the simple and brick-like design. I know that sounds like a negative, but I really like the feeling of this manly machine in my hands. This to me is a real bloke's music player solid, rugged, thick and firm, keep the comments clean!
I do remember holding the AK240 and as innovating as the design was, which I still like by the way, I was slightly worried I might have dropped the dainty little thing. Aside from that brief comparison I still find this player to be elegant to my eyes but for some quite the opposite.
Marmite
It is a marmite design in its nature, for me I love it, almost a hybrid of an iPhone 4 and a brick with fewer bezels and more meat. The official dimensions are; 136.5 h x 71.1 w x 15 mm deep, with a weight of 245 grams. Not bad at all, for comparison's sake I've uploaded a picture of it next to the iPhone 6, which I'm assuming most have had a chance to see in real life.
Display
Now on to the screen what more could a person really want! It is clear, un-pixilated and just a pleasure to look at. The IPS LCD panel it uses gets bright enough but if there is one criticism I have here it's the panel is almost too clean and reflective on a sunny day. I can see this certainly picking up some glare, but really I am nit-picking now.
Unfortunately, as you will find with most if not all big touchscreen DAPs and smartphones alike fingerprints are just going to be smitten to the screen, wanting to get a piece of that sexy sheen all over the front and back. Make sure you keep something to wipe it down if your anal about the device remaining prestige.
Controls
Analog Rotary Dial
One thing I really like is the volume dial, don't ask me why I just like fiddling. The volume dial is located at the top of the device simply scroll left or right to turn the volume up or down. In terms of realism, it is quite useful to have it located there.
It operates very smoothly with no clicks, just glides from side to side and I love it as you can probably tell. But you must be quite careful due to the lack of resistance meaning the volume can shoot up or down at any moment for example when putting into your pocket. This is the only real cravat I have found with the design and could have been avoided by adding a touch more resistance.
This unconventional analog volume control is a nice change of pace to say something like the iPhone. If a song happens to pop up on that and it's a little quieter or louder than the previous song I always find myself having to pull my phone out of my pocket to mess around with the volume. With this, on the other hand, the volume dial protrudes just out the corner of my pocket allowing me to safely adjust the volume to my desired level.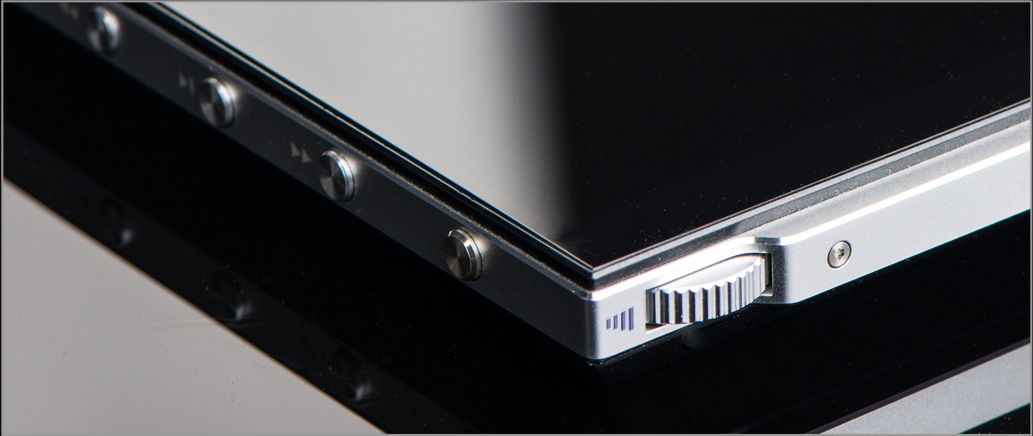 Playback Controls
Another plus for me is just the simple convenience of playback controls on the side without having to open the device which I find quite useful. I can tell someone really sat down and thought "ok guys what would we like form this device, what is going to be practical, and how are we going to combine the two effectively?  Oh, that's right let's bring back that classic bit of common sense."
That's essentially what I feel they have created, a functional and practical design; the buttons are firm and feel well implemented no complaints here.
Output Location
In terms of the headphone out and line-out location, I'm not really sold on the idea of them being at the bottom of the unit. With the volume knob being located at the top naturally I would have assumed the headphone out would have also been located there for convenience but alas you can't have everything you want.
Memory & Expansion
Now there is something I have left to the last section as I really have had a slight issue with the SD card slot. Aesthetically, this is probably one of the sleekest designs for an SD port I've seen on a portable music device.
The problem lies after I've slotted the memory card in it is just a pain to get out unless you have nails or something quite slim to poke down in there. This probably could have done with a bit more thought, but I will say I love how the slide down cover masks the appearance of any additional bits or bobs.

Battery Life
This is a nice step in the right direction on average I'm getting about 7-8 hours out of a full charge. Bear in mind, most of my listening is done via live streaming. I think with pre-loaded files held by the internal memory and with connectivity off, you should be able to get the claimed 9 hours out of it.
Charging time is good but not great with about 3.5 hours on average to get a full charge. Considering it is running a Class A headphone amp under the hood and packing a 4000mah li-poly battery I'm not surprised at these numbers at all although quick charging would have been nice.
Software & Functionality
Installation, File Transfer & Boot speed
Now on to installations, well it works as it should. Kidding aside I think the design makes for a real functional and practical solution.
Things really couldn't be easier simply plug in your device to a USB port and your computer will do the rest. There is no need for driver installation and file transfer is just a simple drag and drop. I absolutely commend this firmware implementation. It's nice to have an audiophile dap without the typical firmware glitches that can accompany them.
Everything works smoothly without any bugs. I have tried various file formats from WAV to DSD files all of which work perfectly fine and produce some stunning sound I might add. From a fully shut down position, boot time is about 15-20 seconds before you're up and fully operational.
App Installation
Typically speaking if you're thinking of purchasing this player it is not to play games or download a crapload of bloatware. However, some apps may be a vital need i.e Tidal or in my case Spotify. Installation of apps is simple. Initially, upon receiving a new unit I had a few issues trying to download from Google play which seems to have no functionality on this device at all. One can only hope a future update will fix this.
For apps, you will need to go straight to an apk file and side load. If you have any issues downloading any apps always try switching security off for third-party app installation which can be found buried in the setting section. Once this was sorted I had no problems getting what I wanted to be installed. Simply download, open and let it do its thing.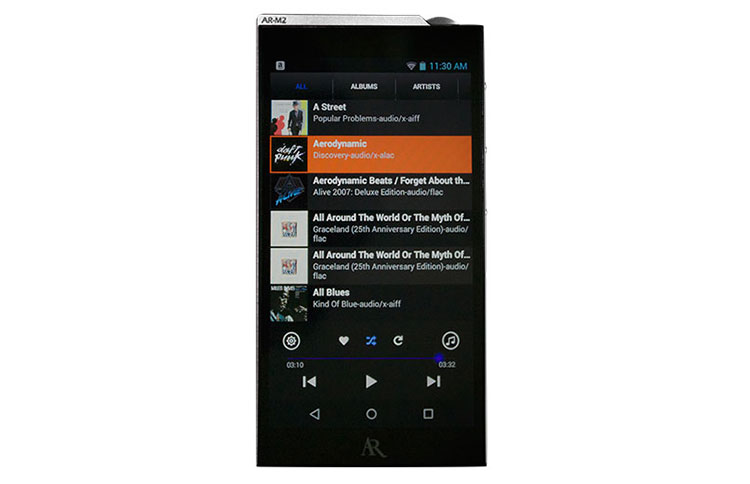 Album Art
After pushing in my Micro SD card all my videos, pictures and music were available instantly. To date, there have been no problems with viewing anything I've thrown at it. In fact, all the pictures and videos were displayed incredibly clearly probably due to the stunning display.
Album art I had a little grip with but for most songs all pictures were there and anything you needed could always be manually uploaded.
User Interface & Display
For the record, I haven't had the pleasure of using countless high-end DAPS yet, but I will say in terms of usability this is one of my more favorited approaches to a high-end player. Anyone who is familiar with an android or IOS operating system will be able to learn and pick up the basics very quickly as the device itself runs on Android Jelly Bean.
However, navigation is still swift and easy to use with minimal lag or delay. Essentially, it's a glorified smartphone without the smart or phone bit.
Thankfully the interface on the AR-M2 reminds me an awful lot of something seen on most smartphones. It is very nippy and doesn't bug out when handling complicated commands or doing a touch of multitasking.
Now although I know some thought has gone into making sure this thing doesn't overheat I will pre-warn you it does get a little warm when pushing it. Tasks, like browsing the net, running apps and especially using higher rate files, cause this device to turn into a real pocket warmer, great for the winter I guess.
Connectivity
Wi-Fi
The connectivity is good not the strongest I've experienced but generally problem free. Although, it still won't have the range of most smartphones today. For home use, you are free to roam and still have access to live streaming, browsing and whatever else you like to do with your internet.
Hotspotting
If you can use a personal Hotspot the AR-M2 allows you to stream anytime anywhere, which is great to have on tap if you happen to like streaming music. I really have been enjoying this feature as an on the go listener mobile devices don't ever usually tend to measure up. With the AR-M2 and a personal Hotspot, it's like having the best of both worlds, you get all the sound quality and what is essentially an unlimited library at your disposal.
Speed
YouTube and browsing are all nippy, but YouTube can take a few moments to load even with a great connection. Surfing the web is all the same as today's modern smartphones like a mini laptop on the go not sure why's you need to use it for this but hey ho if you do it's there.
Page 2: Sound Quality and Comparisons