The Colorfly C10 is a robust yet attractive mid-range digital media player with an accent of wood and a retro volume slider priced at $299 SRP.
Disclaimer: The Colorfly C10 was sent to us in exchange for our honest opinion in this review. Many thanks to Colorfly for giving us this opportunity.
You can find out more about Colorfly reviews on Headfonics here.
Note, this review follows our new scoring guidelines for 2020 which you can read up on here.
Despite its elderly age in technology years the C10 is competitive, especially with its tonality and presentation. This DAP may have an older chip but the chip can decode right up to DSD128 and deliver a warm to natural yet open and clear sound.
SRP $299; Tomtop Price $219.99
The Colorfly C10 digital media player has been out for a while actually so this review is not about a new product launch. In fact, the whole process of this DAP ending up in my hands was more of a perchance situation when I visited the Guangzhou Audio Show back in early November 2017.
I had my eye firmly on their new flagship DAP on display when I went over but the team at Colorfly got me to sit down and have a nice chat about this and that. At the end of it all the wood of the C10 proved too much to not ask about it and the net result was I walked away with one for a review.
I am a solid C4 PRO fan, one of the original high-end DAPs way back when AK was a concept on the iRiver board meeting table. It was the DAP that got me off an iPod and into audiophile digital media player madness. It sits beside me to this very day.
Who can't resist that retro wood and volume slider design? It is the same legacy now on the C10 albeit a bit slimmed down and it is equally full of old-school charm.
What Is The Pitch?
Mid-Fi
The C10 was launched in 2015 and is still selling today though the street price seems to vary a fair amount. When launched the price was much higher at over $500. However, today the SRP is $299 making this a decidedly mid-fi DAP that competes squarely with non-OS mid-fi players such as the FiiO X3 Mark III and the Shanling M3s. This is 100% a music player and has no crossover appeal such as you would find with the Android DAPs.
Unique Aesthetic
What makes it 'different' apart from the internals is the legacy of the C4Pro and that very old school combination of wood and retro front design with the slider volume button. That was what turned my head with the C4 and the C10 is aiming squarely for that market also. Never underestimate the wood fanatics, they are more hardcore the should shrugging aluminum crowd.
Competitive Internals
So the external pitch is really one of individual uniqueness, however, the internals is pretty good, even by today's standards. Inside there is the AK100 MK2's DAC chip, the CS4398, you have the ability to decode DSD natively and a fairly light and breezy non-touch Linux OS that older Hifiman DAP users might be familiar with.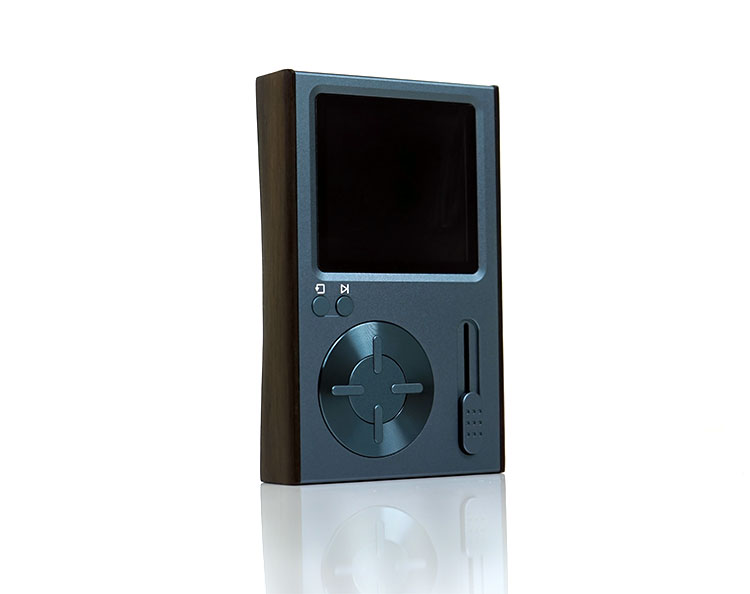 Build
Form Factor
Old school is the best way to describe the C10 in 2017 yet I honestly think it has a charm unique in our ever growing faceless slabs of Android and Apple. The C10 is still fairly boxy by today's lithe assembly standards but it is it much smaller than the C4 Pro measuring in at 67mm x 105mm x 19 mm compared to the C4's portly 70mm x 125 mm x20mm.
Weight
It is also quite light at just 170g. That is a good 70g lighter than the C4 Pro. Just to put things into perspective, the HiBy Music R6 stainless steel version is 275g and the X7 Mark II is 210g. It is, however, a little heavier than some of its competitors with the Shanling M3s weighing 135g and the X3 Mark III coming in at just 126g. Much of that weight is from the wood housing to the rear.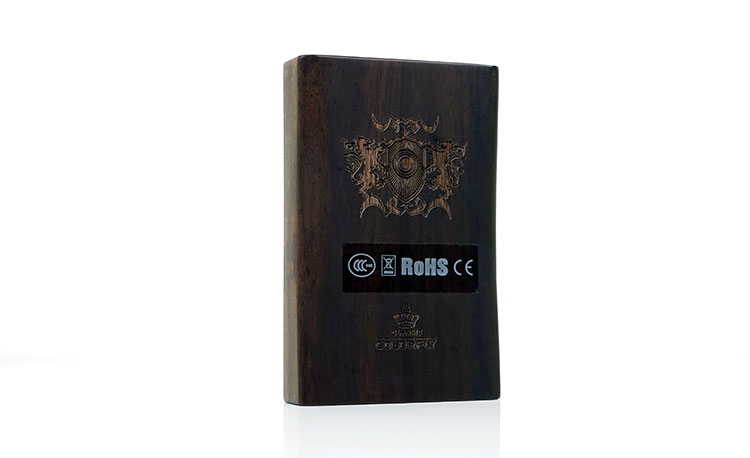 Materials
Side by side you can see clearly the lineage in design thinking with a similar positioning for some key features. The front is a little more understated with its CNC machined aluminum gunmetal finish. It is also much cleaner with a more organized control system to the left and the volume slider to the right.
The rear is finished with a red sandalwood as opposed to the C4 Pro's walnut finish. It is also contoured slightly on the sides for better grip much like the C4. Each unit's wood will have a unique grain and yes, it is real wood. The engraving on the back is apparently hand carved which is impressive though I am sure stencils were used to keep each finish consistent.
Screen
The C10 uses a non-touch control system with a 2.35″ TFT 360×400 screen on the front panel sitting fairly deep behind a plastic cover. It is a bit bigger and more legible than the older C4 Pro's 1.8″ FTFT LCD Screen. Given the majority of the OS is lined based the additional screen estate is welcome for scrolling through media lists.
That fairly deep inset though means angled viewing is not as good on the C10 and certainly not on the level of modern touch-based LCD screens. Even FiiO's smaller X3iii TFT 320×240 screen has a slightly superior viewing angle due to its close proximity to the glass guard.
Mind you, head-on both screens have a similar performance level if you disregard the C10's lack of theme changing capability. The black on white background screen aesthetic is just ok for me but I would love a black background with white font for a more relaxed visual.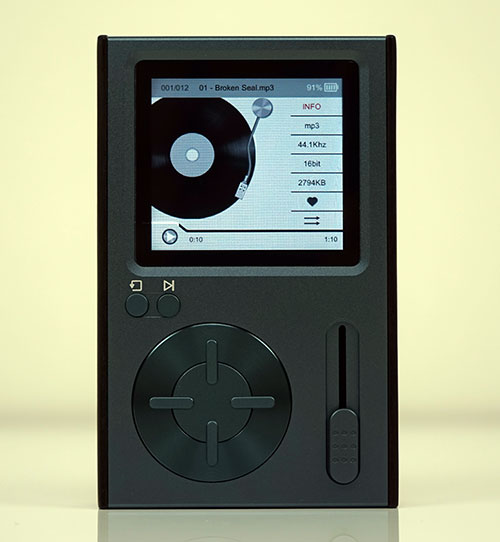 Memory Capacity
It is tempting to say 32GB onboard memory is a bit frugal but scanning across today's DAP releases I have to say its quite good actually. Considering the FiiO X3iii and the Shanling M3s have zero onboard memory and even the might R6 ships with just 32GB you have to say the C10's quota of onboard is more than competitive.
Like its competitors, it does offer an expandable microSD memory slot but it has no OTG capability for flash sticks and portable HDD's. Officially it can hold up to 128GB cards though this information was first rolled out in 2015. The current firmware and custom feedback do seem to suggest you can slot in up to 256GB without any problems. Testing with my own range of 64GB cards never provided an issue for the C10. Note exFAT formats will work on the C10 with no issues.
Loading the C10 with files is a simple drag and drop process though you can manage it in media library managers such as an old Winamp edition.
Battery Life
The C10 has a fairly large 3400mAh 3.7V battery but the performance at 8 hours is at best average. In 2015 8 hours was the norm when you consider the competition such as Hifiman's mid-range HM-650 was rated at 9 hours and real-world tests often put it lower.
Even today we do have DAPs that can and do go lower such as the Alien+ at a miserly 6 hours. You will get a similar 6-hour rating also from the AM5 amp card using the X7 mark Ii from FiiO.
Compared with the direct competition in 2017 it does fall a little behind but in varying amounts. It is closer to the X3iii which averages 8-10 hours, but way behind the Shanling M3s which does a more impressive 12-13 hours using its single ended jack.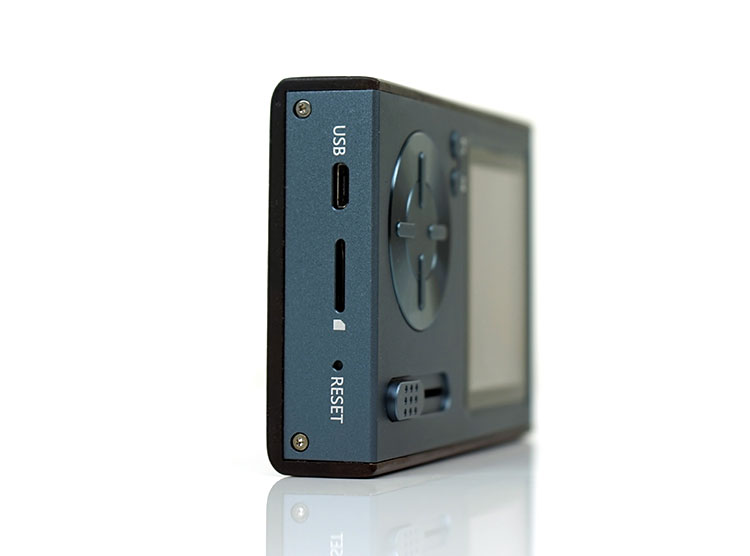 Inputs & Outputs
The C10 has two sets of inputs housed on the top and bottom panel. USB controls and an open memory card slot are at the bottom alongside a discreet hard reset button. The USB slot is a micro-USB connection and will load for data transfer, USB-DAC out and charging. Colorfly has included a USB wall plug for faster charging should you wish to use that instead via USB out.
At the top, you will find a 3.5mm stereo jack output as well as a fixed voltage line-out 3.5mm jack. This is a true line out by the way though Colorfly has not supplied any voltage specs. I would presume it to sit between 1.8v to 2.2v or basically the norm. There are no software controls on the line-out so it will function as soon as you slot in a jack.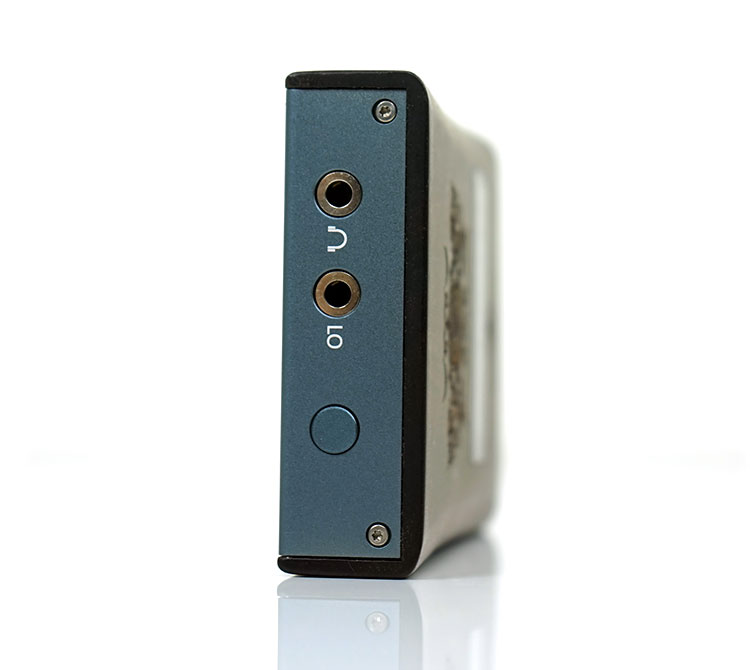 Physical Controls
Directional Pad
The controls on the C10 have been significantly cleaned up over the, at times, confusing control system of the C4 Pro. Primary navigational controls are houses in 4 directional line pads on top of a fixed circular bed to the far left. It has the impression of a wheel but it is fixed in nature.
Return/Play/Power
Just above it is the primary settings menu and play pause buttons. The return/settings button will allow you to skip out of whatever sub-menu you are in or navigate during playback. The left slim navigation will also navigate in the same manner apart from during playback where only the return button will allow you to navigate out of the playback screen. The play pause button has no other dual functionality. On the top panel, you have a single circular and slightly raised power button which also duals for LCD on and off functionality.
Volume
Volume is controlled through the alps designed volume slider on the far right. It operates in the same manner as the C4 Pro and I personally love it. It has a lower profile than the C4 Pro to prevent accidental nudging during use and it is pretty accurate and balanced in its operation.
There is no correlating digital volume meter in the OS to show you precise levels so just watch your settings when you change headphones and IEMs of varying sensitivity levels.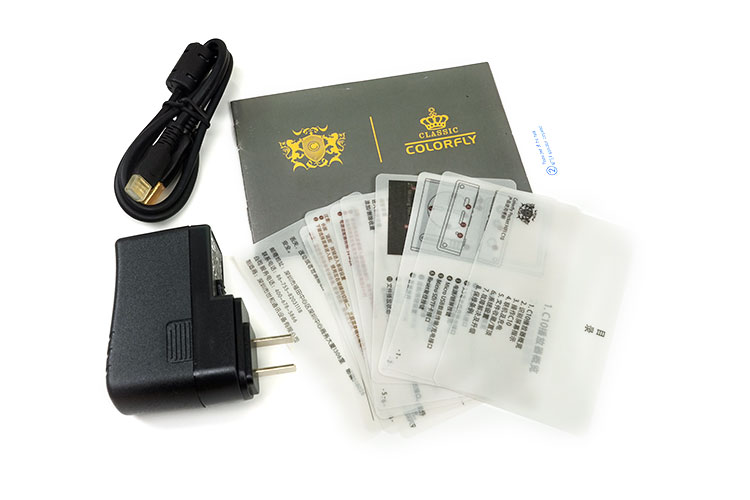 Accessories & Packaging
The C10 package is basic but professionally put together in an understated black retail box. The box has two layers with the player on the top layer as soon as you open it and accessories and pamphlets below.
Accessories include a sturdy looking cowhide case, USB charging and data cable, a set of cool little semi-transparent plastic quick start cards and a proper more in-depth paper manual. You also receive a wall socket charger and an additional screen protector.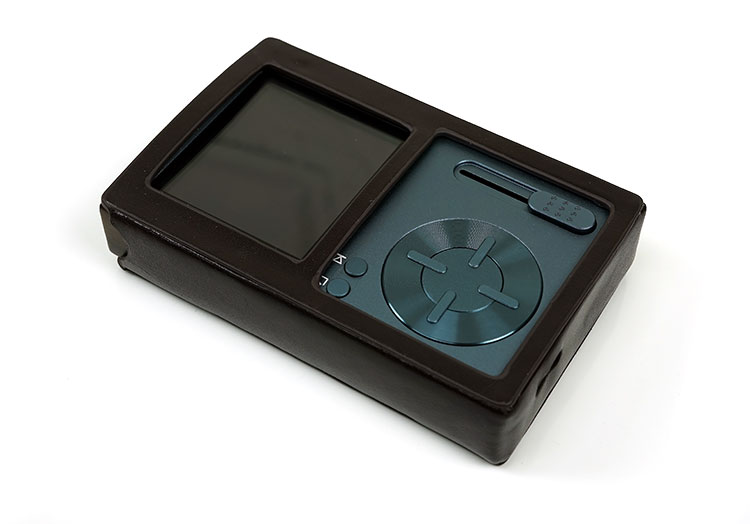 The case is excellent quality and fairly well designed. It is made of real cowhide leather and looks fairly durable. The brown color matches the rear red sandalwood colors in a complementary fashion.
There is only one caveat and that's when taking it on or off. There is a small band of leather across the top of the case separating the screen from the physical controls. This will catch the slider when inserting or taking out the DAP. My advice is to just lift the leather band slightly as you go over the slider to avoid any accidental damage.
Page 2: DAC and Software Performance