Sound Impressions
Tonality & Presentation
Online Streaming Using Spotify
This is my preferred method of listening because I don't particularly always like to listen to the music I have in my library, other benefits include having a limitless selection of music at my disposal.  
All the audio has a beautifully composed tone that makes everything sound incredibly clean and effortless. I can sense a slight lift in the upper mids of vocals when using most earphones and headphones. Typically, a lover of vocals this thing sings but sometimes the bass can be a little overbearing with the wrong partnership and results in a slightly less than accurate presentation.
Overall without turning the AR-M2 into a monster AR have managed to house that oh so familiar analog-type sound sprinkled with a dash of digital to clean things up and add sparkle and detail in the areas that need it most.
The AR-M2 wasn't created for the flat reference listener it was created for a lover of music who doesn't mind that extra punch in the low-end enjoys the shimmers and shines of smooth but detailed treble decay. It isn't flat by any means but that certainly doesn't mean it can't do what you want it to.
One thing I love about the way this device portrays the music is how clear and detailed music sounds without ever sounding hard-edged or sharp. Every detail is there from clicks to the subtle breaths of the singer as they inhale to exhale their next word.  The soundstage is very good with excellent width and holographic imagery. Depth isn't the greatest I've heard but still very good however I don't think many will pick up on this unless you are clinically listening which is a hard feat to do when you are enjoying the music so much.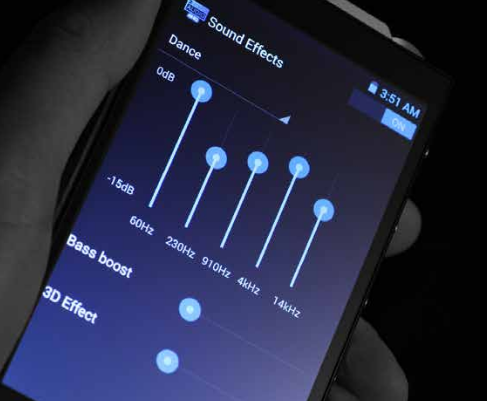 Hi-Res Playback
Now whilst all of the above hold true for the following write up without repeating myself too much I'll try and explain some of the most important differences when you are listening to upscaled music or true 24 bit.
I wouldn't have thought many would really hear a night and day difference between the iPhone running Spotify and the AR-M2 if I am completely honest. On the other hand, when switching to some of my acoustic music, which I effortlessly uploaded from HD Tracks, there is a difference and yes, it is clear.
You will find stringed instruments suddenly have more room to breathe, there seems to be almost boundless space that surrounds you and it's like you finally stop getting this persistent urge to analysis the music so you can finally relax and enjoy it.
If you are considering buying this player I would do so being prepared to have everything ready to feed it. The differences between a compressed file, streaming and uncompressed are night and day to a discerning ear.
Line out quality
Simply super-duper clean. The line out adds nothing and takes away nothing. In comparison to say the Meridian Explorer's line-out, you can hear the difference in an instant, so synergy is a lot more important in this instance. I personally love Meridian's house sound but even its lineout tends to add its own personality to whatever amp you decide to partner with it.
I only have my trusty Vorzuge Pure ii amp for reference but what I hear is just what you'd expect to hear from such an honest and milky sounding amp. I have plugged my Pure ii into a few devices with some adverse effects. This is not the case with the AR-M2. It's exactly how it should be. Everything that holds true for the character of the Pure ii the sound is simply there without any mess or sudden schizophrenic changes.
For any audiophiles who find the headphone amp section of the device to carry too much character, I would still consider this in the running if you have an amp you like and don't mind using a stacked system.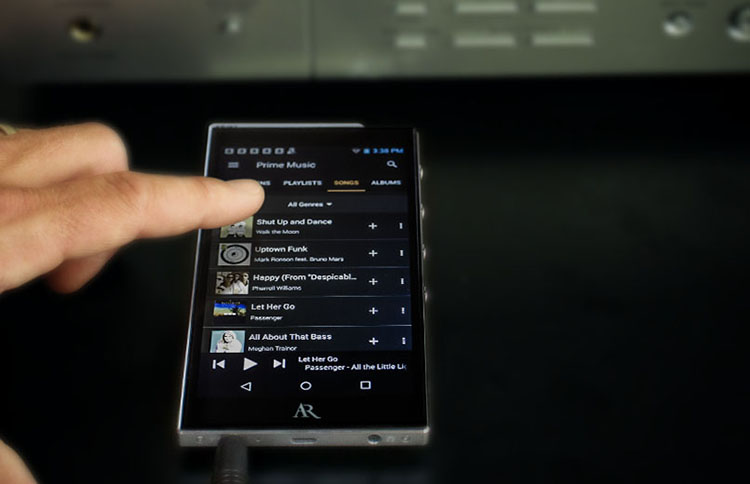 Synergy
Class A
The use of a Class A headphone amplifier means the player has some serious power to give and is capable of driving about anything you are able to throw at it, however, this comes at a cost meaning the noise floor isn't pitch black with sensitive earphones.
Because of how musical and downright fun this player is it pairs really well will more natural and neutral sounding iems/headphones I wouldn't recommend this play to those who aim at partnering it with already considerably bass-heavy headphones unless of course, that's what you are after.
Headphones
I did manage to get some testing done with the Beyerdynamic's T 90's thanks to the guys at Richer Sounds. The AR-M2 certainly has enough power to drive them comfortably. Initially, there were a few bugs with the player suffering different volumes when using third-party apps, happily, these all seem to have been resolved with all the latest updates. Also, I am pleased to report an almost pitch black silent noise floor with these.
The T90's sing with the AR-M2. What was essentially a little lifeless or reference sound as some would call it had now given a new life with this player. This player isn't for the faint of heart it has a voice and it has a soul it will color just about anything you throw at it but that's not necessarily a bad thing if you are able to get the synergy right.
Everything from soundstage to bass was simply bliss. The most noticeable improvement made, other than driveability, were the subtle details and nuances suddenly revealing themselves and the vastly improved soundstage with its added sense of space and air making you clearly aware what instrument is playing with accurate positioning.
IEMs
This player was designed with musicality and raw power at its heart it's no pussycat. If you are planning on using this with sensitive iems and are concerned about the noise floor you'll either need to make use of the line out and use a less aggressive amp or buy an impedance adapter.
Select Comparisons
Cowon Z2
This is such a contrast to the likes of something like the Cowon Z2 which was just abysmally slow and for good reason and almost put me off purchasing any of their high-end DAPs despite the impeccable sound quality. The sheer frustration of waiting for songs and streaming services to load was a nightmare.
There are a few grips. For example, there have been static sounds when the music is stopped. This mainly seems to occur when connected to Wi-Fi or using sensitive IEMs. Most likely due to the amp which doesn't always produce the cleanest noise floor when using sensitive headphones. Whilst the pops and static are a little annoying they are certainly not a deal breaker.
Questyle QP1R
To me the player seems to strike a nice mix between three products QPR1 for its mightily impressive sound quality the AR-M2 doesn't quite keep up with the detailed mids and refinement of the QPR1 but it's damn close and has some of the benefits of what Fiio offer with their X7ii, lastly it holds the fit premium fit and finish of something like a high-end A&K without the price tag.
Personally, after spending more and more time with this player I am becoming too smitten to go back to any of my other sources. This, however, will not by any means be an end game product for some.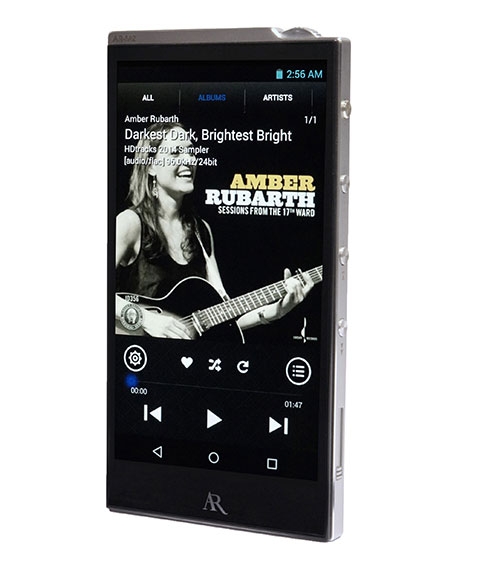 Our Verdict
So, what is lacking? Well, there are so many variables on the AR-M2 but if we really pick this deal apart in comparison to some of its competitors the price is a little steep with new high-end DAPs coming out left right and center. There are other options out there for a more budget concerned person. Outputs may also be a drawback as there is no balanced output for those dedicated to true audiophile perfection and power. There is also no optical out and a lack of fast charging options.
But this is where I am putting my foot down. As it stands the AR-M2 is hands down still one of the best pieces of equipment I have tried. The sound is subjective but this is a machine built for its purpose which it does well and is worthy of the title in my opinion "A True Audiophile DAP".
For £899 ($999) if you have a set of demanding headphones and you need streaming it's impossible not to recommend the AR-M2. It simply does what it was designed for and is nearly flawless for its target audience.
AR-M2 Technical Specifications
Power output (THD < 0.01%)
32 ohms 400mW + 400 mW, 300 ohms 43mW + 43mW
Ultra-low-distortion at max output <0.01%
Supports 16 ohms to 600 ohms headphones/earphones
Ultra high slew-rate, genuinely responsive to Hi-Res contents:- OTG Support
5-inch OGS HD IPS color display screen
Easy-to-use Multi-touch "MusicSurf" GUI
Android OS based, tuned for pure music
Pure Lossless Audio Path bypassing Android OS totally
High capacity battery 4000 mAH – 9hrs average battery life
Duralumin metal housing – tough and good-looking
Dedicated line out
Headphone out
Easy to use play, pause and track selection buttons
Burr-Brown PCM1794A Current Output DAC
64GB built-in memory plus flexible storage expansion through Micro SDXC (Expansion Up to 200GB)
Supported File Formats
The AR-M2 plays the following audio formats (WAV, AIFF, FLAC, ALAC, APE)
Plus DSD64/DSD128 & DXD
Custom developed Hi-Res DSP processing
Firmware updates will allow for other new formats to be supported
We would like to kindly acknowledge our source pictures for this review were supplied by Acoustic Research and remain their copyright.