The Vision Ears EVE20 is a new 6 BA driver universal IEM as part of the 'Exclusive Vision Ears' new product line. It is priced at €1300, (incl. 19% German VAT).
Disclaimer: The Vision Ears EVE20 sent to us is a sample in exchange for our honest opinion in this introductory feature. We thank the team at Vision Ears for giving us this opportunity.
To read more about Vision Ears products we have featured on Headfonics click here.
Note, this review follows our new scoring guidelines for 2020 which you can read up on here.
Vision Ears EVE20
The EVE20 is a faithful and beautiful interpretation of the classic Vision Ears house sound. This time they have gone for a clever mix of low-end body and a more ethereal treble with excellent headroom to combine for a sweet-sounding midrange with just the right balance between instrumental and vocal positioning.
I think it was a smart decision for Vision Ears to launch a universal design that was more accessible to the general audiophile market in 2020.
The 'logistics burn' and 'stay at home' ethos of a COVID19 world means going to your local audiologist for a simple scan and the ship some molds for a custom design is much harder than before. People working from home are also shopping online so a simple click online to get a world-class monitor is an attractive option for many.
Step forward the universal EVE20 priced at €1300. That is quite a contrast to the higher limited edition universal Erlkönig price-point and for many, that might be a tempting proposition to click buy.
The EVE20 is not a loner, however, at least not in the long-term. It does mark the launch of its new Premium Line EVE series. That means an entire range of universals, albeit still a relatively limited edition.
The plan seems to be one big universal launch every year with the actual year number signifying the product name, for example, EVE2. So, this is not going to be a factory line launch but rather a carefully curated marketing strategy.
Configuration
The EVE20 is an entirely balanced armature creation from VE's chief engineer, Oliver Marino, with a 6-drivers per side configuration.
The makeup of the drivers includes a dual-vented sub, a dual full-range driver, and a dual mid/high BA driver. Apparently, the prototype and driver mix sounded almost perfect from the outset and very little tweaking has been done since then.
The precise grouping of the drivers is 2 for the lows, 2 for the mids, and 2 for the highs so nothing quite as complex as the Elysium hybrid. The EVE20 weaves the drivers together with a 3-way acoustic/electric crossover.
Design
I have seen aspects of the EVE20 aesthetic before in my previous custom designs from Vision Ears. I got lucky I guess as this is a merger of my old VE5 and VE8 with a ruby red faceplate and olive transparent acrylic shell underneath.
I remember when I said surprise me for the VE5 design years ago they used the red faceplate but with a dark green acrylic shell underneath. The VE8 was a surprise also with the same olive acrylic shell but with a beautiful heartwood faceplate.
Beauty is in the eye of the beholder but the EVE20 design does look beautiful with the two colors complimenting each other perfectly. However, what really surprised me was just how small and light the EVE20 actually was.
This is possibly one of the most compact creations they have done to date. That might well be an important design choice because tips often add a little length and girth to a universal design so you do have to account for that.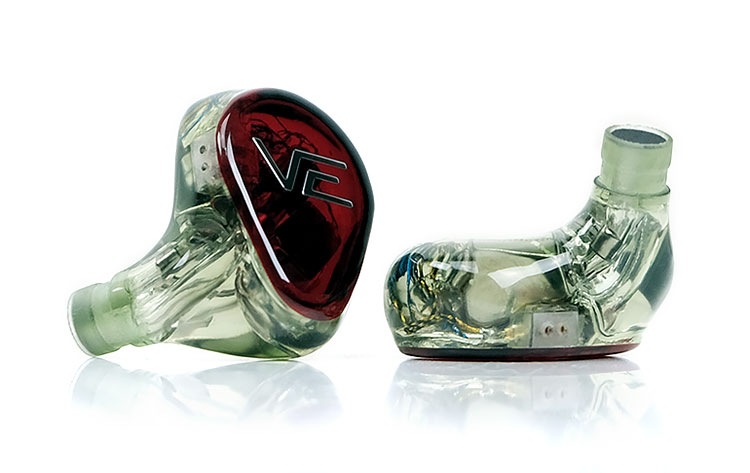 Form Factor
The EVE20 actually has a very unusual form factor, even for custom-universal design. The underside is actually quite flat and not the usual contoured deep design you see from the competition. Comparing it to my original VE6 custom design, the other VE 6 driver I have here, this is much smaller and far less deep.
Because of that underside flatness, the EVE20's nozzle stick outs quite a bit more than the usual models. So yes, tips will play a bigger role, both in terms of how good of a seal you will get and the final sound signature that they will produce.
One thing to note is VE has ditched the custom horn design and gone with a wide grilled nozzle. This can be a tight fit for the supplied SpinFit tips at times. The tip ring is also quite subtle but it is there so they will stay in place once you get them on.
Comfort
The shallow and lightweight body combined with the long nozzle makes the EVE20 a really comfortable fit. It really does not feel like anything at all in the ear and sits almost perfectly flush to my concha basin which is rare these days. Quite a few designs, even custom ones, can stick quite far out of the ear, and for some customers, that might look awkward even if the feeling is not.
The supplied cable does have some memory heat shrink to keep it secure but it is the springy type rather than shape to fit which I prefer as the springy versions tend to be slightly lighter on the back of my ear.
Isolation
The level of isolation is good for a universal BA monitor using the supplied SpinFit tips. There is no venting so low-frequency background sounds will get dulled out with the supplied SpinFit tips.
However, there is a small trick to getting the right seal with the EVE20/SpinFit combo that has not really changed since I first explained it in our initial introduction a few weeks ago.
Basically, do not shove the tips all the way in as this will break their shape and thus seal poorly. Instead, push them in and pull them back ever so slightly and you will get a hugely improved level of isolation.
Tip Rolling
If you decide to tip-roll then you will not have to do that. I found foam tips to be fine for insertion depth as also Final E tips. The passive isolation of the 3rd party tips differs a little also. I found the foams to block the best but they are not the comfiest. The Final E tips were a little bit superior to the SpinFit by blocking our more low-end rumble noises from the likes of air-cons.
In terms of tip signature tweaks, I actually preferred the Final E despite a slight thinning of the mids. The SpinFits offer a fairly balanced but a more neutral sound signature compared to the Final E.
The Final E tip introduces more low-end punch and pushes the presentation a bit further forward which I find quite enjoyable. Foams sweetened the timbre a little but surprisingly left the treble more on the lean side compared to the Final E and SpinFit performances.
Stock Cable
The cable, and we will talk more about this in the main review, seems to be a step back to the classic 4-wire OFC from their lower-models so no fancy 8-wire SPC or Litz builds.
I suspect if you are gaming for an EVE20 you might want to try some cable rolling as these types of cables always leave a bit of room for improvement in terms of lowering the resistance levels and increasing the dynamic range of the monitor performance.
The build is 1.2m 2-pin 0.78mm connector with a straight 3.5mm gold-plated 3.5mm TRS jack. The finish is a shielded and very tightly braided black wrap jacket which keeps the cable very low-profile. Also, on the plus side, the cable is very light, pliant, and microphonic free. You will not hear any noise travel up the wire with this setup.
Packaging & Accessories
The design reminds me of the slimline box of the Elysium but it is not as extravagant with no semi-articulating elevating display design. However, it still is a big step up on the more traditional hard case package they do for lower ranges.
I still love those old school big aluminum cases, by the way. The ultimate VE retail experience for me would be a presentational box like this with that hard case inside. That would be something.
What we have though is a slim but long black cardboard box with the classic VE font in purple on top marketing out the EVE (Exclusive Vision Ears) branding. Inside is a foam protective layer with contoured spacing for the accessories and monitors.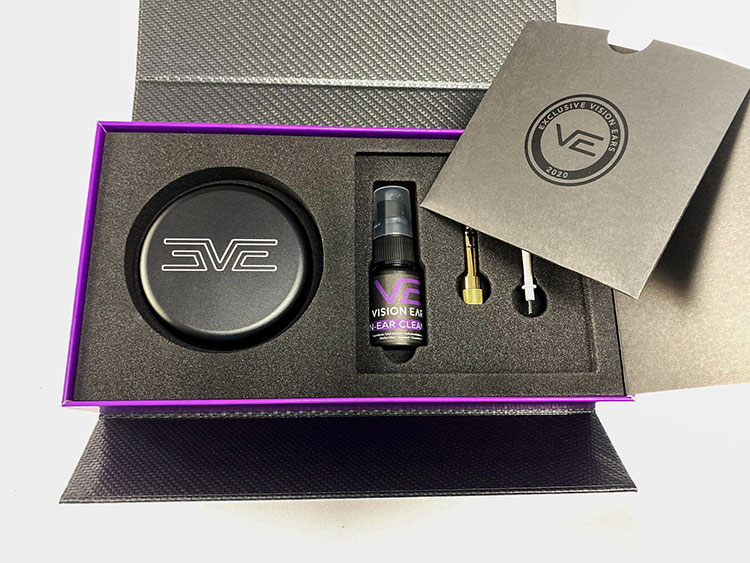 Accessories
To the far right, you have an envelope containing the user manual, warranty guide, digital business card, and some stickers. Underneath is the traditional VE In-Ear fluid cleaner bottle, 6.35mm converter, and a cleaning brush.
To the far left, a heavy-duty black metal screw-top carry case with the monitors, cable, and tips inside. The tip selection is a single set of SpinFits in small, medium, and large. My gut reaction is a nice choice, love SpinFits but some other options in there would not have hurt like foams and dual flange.
Click on page 2 below for sound impressions & comparisons