The Ultrasone Edition 15 Veritas is a closed-back dynamic driver flagship headphone using the company's patented S-LogicEX® technology. It is priced at $3499.99.
Disclaimer: This Ultrasone Edition 15 Veritas is a sample sent to us in exchange for our honest opinion in this review. We thank the team at Ultrasone in partnership with Vitec USA for giving us this opportunity.
To read more about Ultrasone products we reviewed on Headfonics click here.
Note, this review follows our new scoring guidelines for 2020 which you can read up on here.
Ultrasone Edition 15 Veritas
The Ultrasone Edition 15 Veritas surprised me and in a very good way. I usually have a few reservations with regards to flagship-level headphones with closed-back builds but the Veritas smartly plays to the strengths of that design and avoids trying to shape and bend in such a way to poorly mimic open-back qualities. 
Ultrasone surprised me last year with the launch of the Edition 11 headphones. This was a good-looking limited edition woody open-back that is still somehow on sale. I do encourage you to try it because the price to performance is beyond what I was cynically expecting and it will not be on sale forever.
The Edition 15 Veritas is a whole different ball game though and I am expecting a lot more because, well, it costs a lot more at $3499.99. This is their 'co-flagship' Edition Line headphone and I say co because the Veritas is the closed-back version of the original open Edition 15 release in late 2017.
Launching a closed-back at this price point is perhaps a little rare these days but historically Ultrasone has never been shy about high-end closed-back designs such as the Edition 8. They have also retained their new S-LogicEX® technology and GTC-based driver which debuted on the open-back Edition 15.
Tech Inside
S-Logic®
The Edition 11 used S-Logic® Plus technology which has been around for a while now. On the Edition 15 Veritas, we have the new patented S-LogicEX® technology which has been launched in tandem with a freshly designed 40mm dynamic driver system using a gold-titanium compound technology, (GTC), for the diaphragm.
S-Logic® technology is basically the decentralized positioning of the drivers in their headphone designs (bottom and front) to create an enhanced spatial characteristic in the sound signature. We have touched on similar concepts with the Crosszone CZ-1 though the application is slightly different in this case.
The concept is to, as far as possible, recreate the feeling of listening to speakers with a sound that is more out of your head and around your ears than a traditional left/right headphone presentation.
There are lateral claims that it also reduces the sound pressure directly into your ear from the decentralized positioning by up to 3-4dB thus reducing the potential damage to your hearing at loud volumes.
S-LogicEX®
S-Logic® Plus technology was tuned for a more neutral sound than before and a more vivid perception of voices and instruments.
S-LogicEX® is based on a funnel-shaped sound driver arrangement, oriented downwards to the front. This allows for more distance between the driver and ear to create an even stronger spatial perception for sounds coming from the front but retaining the benefits of the Plus tuning.
GTC Driver
As far back as I can remember, Ultrasone has always used 40mm, dynamic drivers, for their Edition line headphones, and whilst the Edition 15 is no different in terms of the same dimensions, the materials and design have been radically altered.
As with the open back Edition 15, the new GTC driver membrane consists of a gold foil membrane and a titanium dome as opposed to previously used mylar and titanium, or in the case of the Edition 11, a TruText bio-cellulose fiber compound membrane.
The pitch here is the ability of the driver to extract a lot more detail than previously possible with the mylar edition drivers. The use of less conductive gold however does mean that in terms of specifications the Edition 15 Veritas is less efficient than most of their previous headphones at 94dB SPL.
The impedance level also goes up marginally to 40Ω compared to the rest of the Edition Series which sits around 30-38Ω. Still fairly low in overall voltage demands but a decent headphone output rating will likely bring out the best from the Edition 15 Veritas.
Design
Ultrasone headphones always look stunning and the circumaural Edition 15 Veritas is no exception. I have always had a soft spot for tans and browns so the Veritas aesthetic is right up my alley with its mix of American cherry wood cups, stainless steel plates, and Merino leather pads with matching headband wrap in a slightly darker brown.
This ensemble of materials and color has a sort of a classic 70s vibe or tone which I just love on modern electrical products.
From the wider Edition 11, however, this is a return to Ultrasone's classic Edition Line form factor. That means elongated angular cups, a compact single spring steel headband, and a narrower headphone shape overall.
Everything about the design feels really solid yet despite that it also feels lighter than its 320g weight. I am going to presume this is due to less weight bias to the cups from a typical planar design and a more even distribution across the frame as a result.
The only caveat I have is the knocking sound from where the cups hit the headband when articulating on a vertical axis. It is very minor as it only happens when it is off the head. Other than that, it handles beautifully in the hand, almost like a true portable class headphone.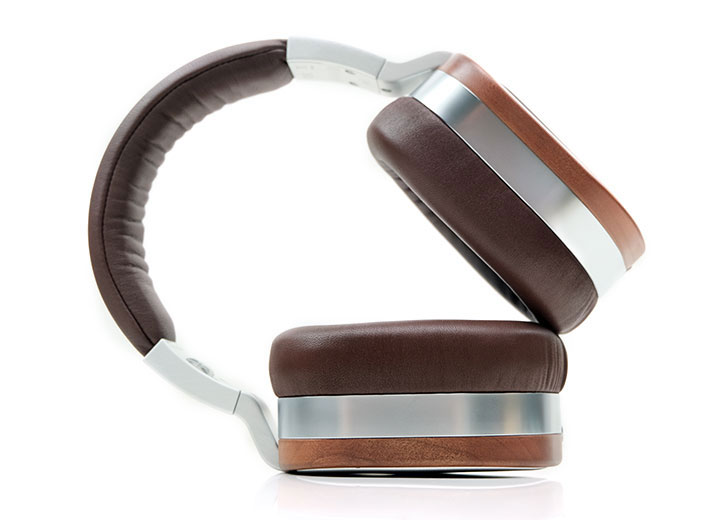 Comfort & Isolation
The Edition 15 Veritas is a tight fit but comfortable one as a result of those tall leather pads and the excellent memory foam. The shaping completely clears your ears and rests directly behind and in front of your auricle region or ears. Unless you have huge ears you will not find the pads to be an issue.
The clamping pressure is more lateral than vertical but the matching merino leather headband strap does very well to ensure there are no residual hotspots on the scalp that could irritate. That is a common problem with narrow headbands such as these and thankfully the Edition 15 Veritas suffers from none of that.
As for long-term lateral pressure fatigue, I was expecting that to be the case but as time went on the foam softened a little and shaped quite well around the curvature of my neck. The pads also seem to be able to breathe quite well but I live in an aircon environment so difficult to tell how much sweat they might induce. Overall, not so much during this review.
Isolation
In terms of isolation, I did compare them to the likes of Dan Clark Ether C Flow and AKG's flagship closed-back K872 and found them to isolate a bit better than the Ether C Flow but not quite as strong as the K872.
The K872 pads are a bit special in that regard for me with their clever inward tilting seams that really bend beautifully to cut out a lot of noise. The Ether C Flow is a more relaxed fit with softer larger leather and foam pads that do let in a bit more background noise compared to the Edition 15 Veritas.
Cable & Connectors
2 Cables
The Edition 15 Veritas comes with 2 different cables but both cut from the same wire, just different lengths and jacks. The first is a shorter 1.2m cable for portable use and the second is a longer 3m cable for home use with desktop equipment.
Both cables are a 4-core 26AWG wire with a shimmering dark-colored PET jacket and finished with a tight braided finish up to the branded rectangular splitter. They then split into its 2-wire left and right channels with the same finish up to two fairly solid 2-pin LEMO push-pull connectors.
The shorter cable is terminated with a standard straight gold-plated 3.5mm TRS jack inside a small anodized grey finished barrel with the Ultrasone logo. It also has a light but durable bit of strain relief to the rear exit.
The longer 3m cable is terminated with a much heavier black rubberized strain relief with a 3.5mm TRS jack and a 6.35mm screw adapter. You will be hard-pressed to break that one in your desktop use.
Microphonics are a bit more present past the branded splitter but pretty quiet below it. The jacket is not super pliant compared to some aftermarket IEM cables and it does show the odd kink here and there but I wouldn't call it stiff or unwieldy.
Cable Critique
There is some critique on these cables because I do feel there is a missed opportunity here. The first is the lack of a balanced cable option with the inclusion of two unbalanced cables.
I would have preferred one of them to either have been their 3m XLR variant for desktop use or the shorter one to have been 2.5mm TRS with a 3.5mm TRS converter or even a 4.4mm jack. Considering the Veritas is a 94dB SPL headphone the ability to go balanced on portable sources would have been a plus.
The second is the depth of the LEMO connector socket and the design of the barrel to match. It feels a little too 'proprietary' despite those connectors being an excellent upgrade on the open 2-pin system of the Edition 11.
I had hoped to roll a Sennheiser HD800 balanced cable with the Edition 15 Veritas because it is also 2-pin. However, the pins inside the HD800 cables seem further back and do not connect to the Veritas correctly. The AKG K872 LEMO system is 3-pin so wired very differently. Sadly, I can only give you a single-ended performance review at this time.
Packaging & Accessories
This is the second time I have been bowled over by a stunning presentation package, the first being the HiBy R8 DAP. The Edition 15 Veritas packaging has shades of the HiBy intention in that the external box is huge for a product of this size.
However, strip away the outer vinyl cover and you get a gorgeous smooth tanned leather display case that is just dripping in a real leathery smell fresh out of the box. If you find yourself sniffing the box for a few minutes then you will be in good company.
Inside the Veritas display case, the grey suede interior and perfectly cut holding areas are very professional and pleasing to the eye. Everything is laid out just perfectly with headphones nestled in the middle and each satin bagged cable with its own cubby on either side.
Aside from the cables and headphones you also receive a large product info card and a velvet cleaning cloth. I honestly cannot complain aside from the cable choices already discussed. You buy flagship headphones you expect flagship-level quality in your accessories and this case is just perfect for pimping as well as a useful storage tool.
Click on page 2 below for sound impressions and comparisons