The Feliks Audio Euforia 20th Anniversary Edition is a refined and upgraded version of the original to celebrate Feliks Audio's 20th year in business. It is priced at $3499.
Disclaimer: The Feliks Audio Feliks Audio Euforia 20th Anniversary Edition was sent to us as a sample in exchange for our honest opinion in this review. Thank you to Feliks Audio for giving us this opportunity.
To read more about Feliks Audio reviews on Headfonics click here.
Note, this review follows our new scoring guidelines for 2020 which you can read up on here.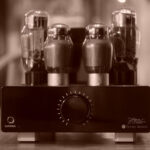 Feliks Audio Euforia 20th Anniversary Edition
The Feliks Audio Euforia 20th Anniversary Edition is easily the smoothest tube amplifier I have heard to date and better sounding than the original Euphoria.
Today, we will be taking a listen to the Feliks Audio Euphoria 20th Anniversary tube amplifier and see how it stacks up…ok, it does not stack up…because there is nothing on its level for the price range that I have reviewed to date that comes close.
Pack it up, boys and girls. The game is over. Sometimes, the audio deities bestow upon me something truly extraordinary. Something that I regard as truly inspirational to this HiFi hobby and I could not be happier!
Design
The Euforia 20th box was standard, and I could not care less. What is inside is what matters. It came extremely well protected, with a cloth covering and each tube neatly tucked away into a foam insert.
Beyond that, the Euforia 20th is exceptionally dense and heavy feeling, built out of all solid materials. The front-facing panel is gorgeous, to say the least. In my opinion, this is one of the most complete builds in an amp for this type of design that I have ever held in my hands. It shrieks insane quality top to bottom.
The volume knob is pure butter in smoothness, margarine even! I do not think anyone can even say otherwise about this after experiencing it for themselves. There are no front-side power buttons. The power switch and Cross Feed switch are on the rear. I cannot say enough good things about Feliks Audio.
The original Euphoria was absurd in quality, so how they have managed to improve the exterior material is beyond me.
The Tubes
The included tubes in my Euforia 20th were PSVane CV-181 Mk2 Golds for the Driver side needs. The power side tubes are 6N13S (NOS) and this pair sounds lovely. I will make sure to detail why in just a bit.
For now, just a little section on these tubes, they are quality. And you can upgrade if you want even more absurdity. Feel free to roll if you got the cash to spend on the uber-expensive tube upgrades.
Sound Impressions
Summary
The Euforia 20th is really expensive, $3500, and much more expensive than the price of my Little Dot H1 (nearly $1500USD) which itself is an amazing little tube amplifier. The tone differential between these two titan amps is beyond shocking.
The H1 is gritty and raw, and IMO, intended to be. It is more clinical in tonality and presentation; its physicality is potent on impact compared to the insane smoothness of the Euforia 20th.
This Feliks tube amp is hyper-slick sounding. Effortless. That is not a knock to that H1, it is excellent overall too, but damn.
The tonality comparison here is extremely addictive as a reviewer. Swapping between them and hearing such a massive smoothness difference between them, especially with an HD800, is just bonkers.
Listen to me and listen well. I am not a fan of the Sennheiser HD800 in most circumstances. It is harsh, slams too much, has treble potency that is undesirable, and it lacks bass depth. It is my pick for the most difficult to find the proper rig for.
I can tell you right now, that the Euforia 20th and the HD800 is not just a home run, it isn't just a knock out of the park…it is more like Superman was up to bat and hit the ball into space and accidentally cracked the moon.
If you like smoothness and refined, effortless sound type, this is an absolute requirement for your higher-end headphone rig.
Power
The Euforia 20th is not equipped for hard to drive Planar Magnetics. It simply does not want to drive my Dan Clark AEON RT's very well.
Sound quality aside, probably not the amp for you to get if you own extremely hard to drive headphones. My 300Ohm Sennheiser HD800 is driven very well by it, but my Audeze and older Hifiman's are not.
With my source DAC on high and this Feliks amp at a 4-5 o'clock volume level on the dial, it only just powers my AEON RT. Is it a big deal? Maybe…depends on your headphones of choice.
The Euforia 20th is not a powerhouse of an amplifier, right next to the $1044 or so Burson Conductor 3, which has 4watt output and can drive a small black hole if needed. I also found that the H1from Little Dot H1 drove the AEON RT much more solidly and loudly. Especially so out of that H1's Balanced XLR, which is missing on this ANV Euphoria.
Bass
The low end of the Euforia 20th is absurdly clean. Immensely smooth and lacking a harsh impact even on an HD800, that is how smooth this amp really is.
I am powering it via the SMSL M400 and the Burson Conductor 3, both of which are regarded among the best $1000 or roughly so priced sources out there. In my opinion, the Burson sounds way better in synergy than the M400. It is smoother and having a smooth DAC + a smooth amp = Smooth Yummy Synergy.
The M400 sounds harsher, more engaging in physical impact, but it also has a slightly better depth of field than the Burson. So, it is a real toss-up for me. I switch out, depending on what I want.
With the HD800 in play, I use the SMSL M400. The reason is the purity factor in the depth of field, which is what the HD800 is all about. But therein lay the issue, the SMSL has less bass and the HD800 can benefit from a small bass boost in the Burson.
The Euforia 20th offers a very dense, but "creamy" type of a low end. If you are a bass head, I recommend using a source with some extra bass EQ or DSP capabilities.
I regard the Euforia 20th experience as the literal best I have ever heard, in fidelity and quality factor, for this price range. I consider the Burson Conductor 3 exceptionally good, as it is both DAC and Amp. But there is quite a leap in liquidity and velvet lusciousness in stepping into the Euforia 20th.
Mids and Imaging
The Euforia 20th midrange is quite special, and I would like to mix this section with the imaging section if you don't mind. The reason is that the Euforia 20th sounds like the audio version of a widescreen effect. It is noticeably wider than tall and very deep sounding.
When meshing this type of sound with the vocal Jazz genre, the experience is a very relaxed feeling and moderately forward. This is the best "wine sipper" amp I've heard in a long time, as it exudes a need to just kick back and relax, dim my lights, and shut the monitor off while letting my music play. Not many amps do that to me. So, to have this happen on this level is quite special.
Having said that, the physical presentation is not very forward, so highly intimate headphones or vocal tracks are better suited elsewhere. However, the fidelity factor makes up for that and I simply do not even care.
There is no question that the Euforia 20th depth of field and realism factor is quite shocking with the Sennheiser HD800, as well as my Empire Ears Nemesis Custom CIEMs.
Due to that factor, my ears focus on the quality and smoothness, forgetting that more forward amps exist. And that is quite common with exceptional HiFi rigs. You might hate slightly relaxed sound; I prefer more forwardness.
However, and again, in this case? I literally do not even care. It sounds so good, that my preference is sucked right out of the window.
Swapping between the Euforia 20th and the Burson Conductor 3, there is a massive forwardness spike in the Conductor. I consider both of them roughly on par in dynamics from left to right. But the Euforia 20th is noticeably better in depth and realism factor.
Treble
The top side of the Euforia 20th is beyond amazing. Again, it tamed the HD800 for the most part. It required ugly tracks and harsh songs to sound bothersome. Even then, it was not really a problem.
That amazing moonlight sparkle I chase, really, what we all chase, is present and the most insanely beautiful factor of this amplifier. The bass, mids, and imaging are all great. But the Euforia 20th top-end treble is probably the best I have ever reviewed in a non-electrostatic model. I can safely say, this amp is not going anywhere for an exceptionally long time.
Having heard this with the HD800, a mythical "omg" amplifier rig was found. Now, my search for the best DAC to pair with it begins. I found the headphone; I found the amp. The source is now the only factor left.
Brightness and Tone
I say this often, there is a desired gentle sparkle that I hope for in my HiFi. I get lost trying to explain it to others.
When the background of a DAC or Amp is so blackened and obviously so, the treble pops like glistening stars in a perfectly clear night sky. Have you ever been out in the mountains or away from the city at night? And just looked at the sky? That is the same visual metaphor for amplifiers like this.
And again, combined with the HD800, a headphone that is notoriously hard to rig pair with but when you do, it is amazing…that is really God's honest truth, with a capital G.
The tonality of the Euforia 20th top side is slightly colored and I think that is because of the tube selection and also, I suspect, because the bass and midrange are so colorless and pure, that the top side needs just a pinch of that coloration.
It is, for the lack of a better way to say it, luster in its most HiFi purity potential. I have never heard a tube amp sound this good with the HD800 for this price range. Not once.
Please, do not take that as this being a very colored experience, it is not. It has just a taste of it to keep my ears interested and not falling into the idea of "eh, the entire tonality of this amp is completely neutral".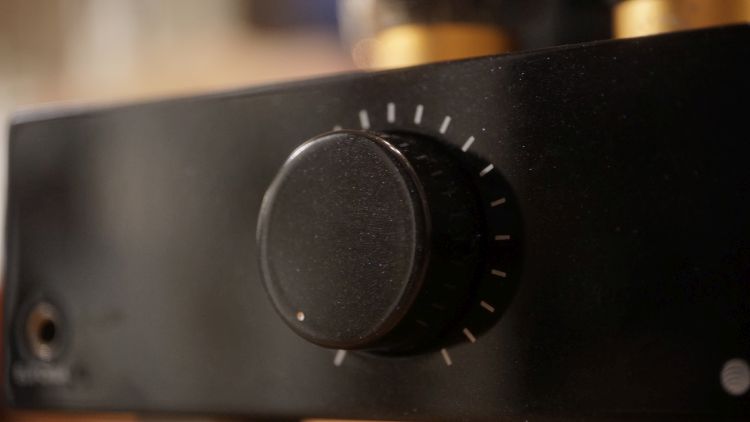 Cross Feed
The Euforia 20th has a dedicated Cross Feed function on the backside of the unit, via a manual hard switch. I prefer using Cross Feed in my DSP. During my testing, I always keep it off. For personal usage, I always keep it on. So, to have this in a physical switch is a miracle for me.
I really enjoy what it offers. I usually prefer much more intensity, more sharing of that feed, but the stock switch on the Euforia 20th offers a physical amount of it that I would consider low, or lower-mid in quantity.
It does a great job evening out the spectrum and sounding more wide field, in the already widescreen effect of the stock experience without that switch active. So, combine that with the absurd wide sound of the Sennheiser HD800 and you have yourself a hell of a sound.
I am glad Feliks did not go overboard with that circuit. I have seen other amps under-do it and overdo it. God's honest, I feel like DSP and digital Cross Feed is the better option, but those connecting to a record player or an older CD player without that function will love this.
Or those using a DAP as a source without a good EQ system that allowed for Cross Feed in the first place. Those buyers are covered. You get some of it now. So, enjoy.
Noise Floor
The Euforia 20th is quiet but does have a typical tube hum when using very sensitive IEMs. I do not recommend this for the most part, as you can hear the tube hum when no audio is playing, but it is exceptionally low.
Once the music starts, even my seasoned reviewer ears cannot pick it up. I love my Empire Ears Nemesis while it is bass boosted and it meshes very well with this amplifier. Thankfully, I can keep the volume pot low and keep that hum to a minimum.
So, I do recommend you maybe try your IEM's out if you have them and opt to judge yourself. Some people are sensitive to hum, some are not. I can safely say that my Nemesis never sounded so good. Simply breathtaking.
My problem? Now I will need a proper custom cable that is longer for my Nemesis. Damn you, Feliks Audio for the hole in my wallet…haha!
Our Verdict
Simply put, the Euforia 20th is the best tube amp I have ever reviewed that was not an electrostatic amplifier.
It is easily the smoothest amp I have heard, yet also one better than the original Euphoria in an audible fashion. I thought the original was great. I think this newer Euforia 20th model is even better.
I am a bit upset over the power output, and the lack of a balanced jack output. Otherwise, the amplifier is sublime. I have not been this happy with a rig pairing with the HD800 in a long time. Wonderful in every way.
Feliks Audio Euforia 20th Anniversary Edition Specifications
Input Impedance: 100 k ohm
Frequency response: 8 Hz – 75 kHz +/- 3 dB (300 ohm)
Power output: 250mW
THD: 0.4 % (300-ohm, 20 mW)
Supported headphones impedance: 32 – 600 ohm
including planar magnetics
Premium PsVane CV-181 Mk2 "Gold"
Improved noise-canceling construction
High-grade power transformer
100% pure silver signal wiring in Teflon jacket
Heavy-duty Teflon gold-plated tube sockets
High-quality Mundorf and Nichicon capacitors
Dale and Caddock resistors
Preamp safety circuit
Gold plated RCA inputs
Headphones output: Jack 6.3mm
Dimensions (DWH): 11.6″ x 8″ x 6.5″ (310x205x175 mm)
Weight: 6 kg