Our review of the Topping D90 which is a new company flagship pure DAC packed with an AKM AK4499 chipset, optional MQA decoding, and BT wireless capability. It is priced at $699 and $799 for the MQA Edition.
Disclaimer: This sample was sent to us in exchange for our honest opinion. We thank Topping for giving us this opportunity.
To read more about DAC products we have previously featured on Headfonics click here.
Note, that this review follows our latest scoring guidelines which you can read up on here.
Topping D90 Review
The Topping D90 is a new company flagship pure DAC packed with an AKM AK4499 chipset, optional MQA decoding, and BT wireless capability. It is priced at $699 and $799 for the MQA Edition.
Pros
Excellent resolution levels
Black Background
Balanced output
Cons
MQA version offers more value
Topping
Surprisingly, this is the debut of Topping on Headfonics. I know they are incredibly popular but I guess our paths have never actively crossed until now. We have been actively receptive to pure DAC review requests so the new D90 is tailor-made to our objective to expand this area for 2020.
I have no previous Topping exposure, even in chance 5-minute store demos to meetings with like-minded audiophiles so I cannot pull any historical comparisons with previous Topping DAC or DAC/Amp models such as the D50 or D70.
We do, however, have a few pure DACs here we use quite heavily such as Cayin's iDAC-6 MK1 and MK2 and Chord Electronics Qutest so comparisons are not a problem.
At $699 and using one of AKM's new flagship chipsets, Topping is hitting what I might regard as a sweet spot in terms of affordability and feature sets for the D90. This value for money perception does seem to be a reoccurring Topping business theme.
Tech Inside
DAC
For the price point, it seems there are a lot of good things stuffed under the hood of the D90. For a start, the DAC inside is the flagship AKM AK4499 which is AKM's first current-output DAC and their flagship chipset at the time of writing. A broad equivalent of this from ES would be the ES9038PRO in terms of product positioning.
The AKM4499 supersedes the AK4497, a DAC we have seen implemented in the Yulong D10 last year and in pure terms, it can churn out 140dB SNR and -124dB THD+N.
The chipset is also backed up by an Accusilicon Femtosecond dual chipset implementation but it doesn't state what frequencies they are operating at. I would have liked to have seen 3 deployed instead of 2 so I must presume that the 100mHz sample rate for hi-res audio from 352.8kHz to 768kHz as well as DSD512 is being omitted.
The SNR and dynamic range from the D90 implementation won't get you those numbers, no system DAC rarely gets that high. However, the D90 does benefit from that enhanced performance spec on paper.
The specified SNR of 123dB unbalanced and 127dB balanced (A-weighted at 1kHz) is better compared to the Cayin iDAC-6 MK2's 115dB and 122dB under similar loaded figures for unbalanced and balanced. I am presuming real-world testing will not be quite as high but as a performance benchmark that is impressive.
Decoding
The D90 looks very competitive indeed for decoding with a ceiling of PCM 32-bit/768kHz and DSD512 natively via USB and the same capability via its built-in I²S port.
The D90 uses an XMOS XU208 USB stage for decoding but for SPDIF it reverts to an AKM AK4118 chipset which decodes at a maximum of PCM 24-Bit/192kHz which is the norm for coaxial. For optical input, the D90 will decode to the max rate allowable which is 24BIT/192kHz.
Now, the unit we have here does not decode MQA but for an additional $100 Topping does offer an MQA-capable version of the D90. I believe that will launch shortly, possibly before the end of April 2020.
Bluetooth
This is a nice bonus feature for me with the inclusion of a Qualcomm CSR8675 chipset, (and a small antenna at the back) to receive a wide range of Bluetooth codecs. This includes LDAC up to 24BIT/96kHz as well as aptX, SBC, and AAC.
This will allow you to hook the D90 up to any transmitting BT source such as the Sony 1Z or even just your smartphone for wireless audio decoding. That will indirectly open up the likes of TIDAL and Spotify if your transmitting source has it.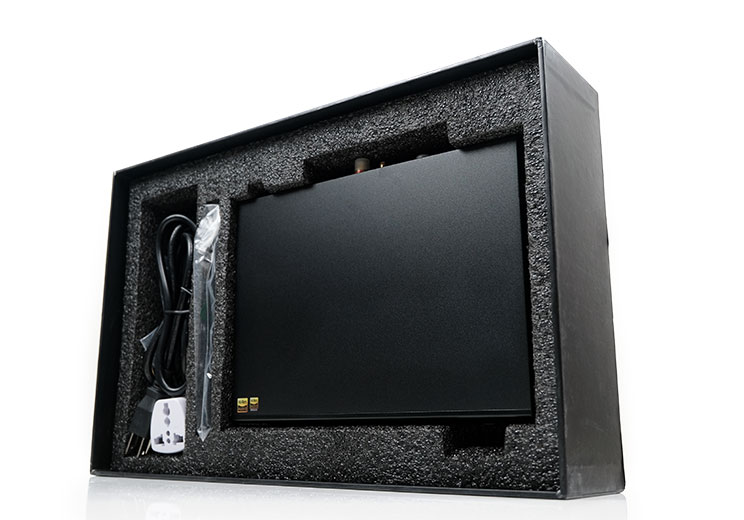 Unboxing & Accessories
Topping has gone for something a little more considered in their packaging for the D90. I cannot tell you if this is an upgrade on previous stuff from them as I have never had one before. However, quite a lot of component systems I get have regular bland HiFi brown container packing whereas this comes in a compact branded black box.
Inside the box, the D90 is neatly placed in some heavy-duty protective foam with the accessories and power cable in a cavity to the left side and the instructions manual/warranty card below. Note this is a 3-prong power lead not suitable for UK sockets but they do supply a cheap adapter for 2-pin slots we use here or something suitable for your region.
The D90 does have a built-in switchable power supply that can change from 110-120 50/60 Hz to 220V-240V 50/60 Hz so there should not be an issue with local power standards using the cable.
Design
Form Factor
Out of the box, and it is very compact and small for a flagship DAC. Certainly, the dimensions are much smaller than the Cayin iDAC-6 i-series unit but still not as small as the Chord Electronics Qutest. Still, the D90 has a lot more features than the Qutest hence there are a lot more sockets to fit in but it is still very stackable.
It may be small but damn, the D90 is solid for its size. I was expecting it to be a bit on the hollow flexy side of things as some of these slimline units can be but not the D90. This is a 'solid knock' on the housing as opposed to some disheartening echo.
In the picture above we stacked it with the excellent Xi Audio Broadway balanced amplifier and it is an almost perfect size match for stacking.
The Broadway measures 212 mm L x 156 mm L x 48 mm H and the D90 is maybe a few mm wider at best. The D90's rubbery 4 feet at the base of the aluminum housing is just inset a little so you can stack it on top or below without it slipping off but aesthetically below seems a little nicer to me.
Aesthetic
The design aesthetic is a little industrial for me so it doesn't quite stand out from the crowd with its slightly angular curved finish and front plates larger than the main body housing. The materials are CNC machined aluminum in black, (or silver) with a non-scratch surface finish so they do look durable.
What I do like is that color-coding applies to the rear plate also. So many DACs tend to leave the rear plate relatively uncoated since you are unlikely to see it. The D90 stays all-black back to front.
I/O
For the size, the D90 has a wide range of inputs and outputs and all neatly arranged on the rear panel. To the far left are the analog outputs including balanced 3-pin XLR and unbalanced dual RCA.
The output voltage on these is fixed at 2.2V, (unbalanced) and 4.4V (balanced), unlike the pre-out and line-out of the iDAC-6 MK2. However, you can elect via the supplied remote control to use RCA or XLR only or both at the same time. Though be warned, that using both at the same time might tax the system a bit much.
To the center of the D90 rear panel, you will find all the digital inputs including coaxial, optical, AES, and USB. The standout connections include an I²S and the detachable BT antenna for its wireless receiver.
I²S simplifies connections between two I²S compliant devices by merely requiring an HDMI connector. For example, Cayin's N6ii DAP has an I²S output which you can connect to the D90 input. The same is also for Cayin's iDAP-6 streamer so technically these two units are quite compatible.
Front Panel
The D90 uses a mix of physical buttons and a separate small remote control. Not everything is accessible via the physical control panel. For example, the built-in 6 digital filter feature can only be operated via the remote control, as also the OLED screen brightness as well as some of the I/O options.
From the control panel on the D90, you can cycle through the input selector to pick the source input and the arrow buttons will give you a measure of digital volume control on the pre-out. You can view your channel status, the signal type (PCM or DSD), the sample rate as well as the volume level, (dB).
Wireless Performance Impressions
(Tested using a Samsung Note 9, Sony 1Z DAP, and a Xi Audio Broadway Amp in balanced mode).
Pairing with a Samsung Note 9 and Sony's 1Z was relatively straightforward. Simply fire up the BT on the source devices and scan and make sure the D90 is in BT mode and it should find the label "D90" quite easily and prompt for a pairing. There are no codes to enter like '0000' as far as I can tell.
Some sources will automatically transmit to the highest codec possible but for the Note 9 I can activate LDAC independently and the D90 received the signal seamlessly. I do see a 96kHz sample rate also on the OLED screen for the D90 so I presume it is recognizing the LDAC signal. When I turn off LDAC it switches to 44.1kHz on the D90 screen.
The D90 wireless range is very good though this is not a huge requirement for a house set up for me. I tend to see that as an essential portable audio measurement. The sync rates when using the D90 BT mode for video playback on the laptop are also very tight.
I would suggest trying and keep the signal to LDAC. It makes such a huge difference in terms of clarity and dynamic range on the D90 playback.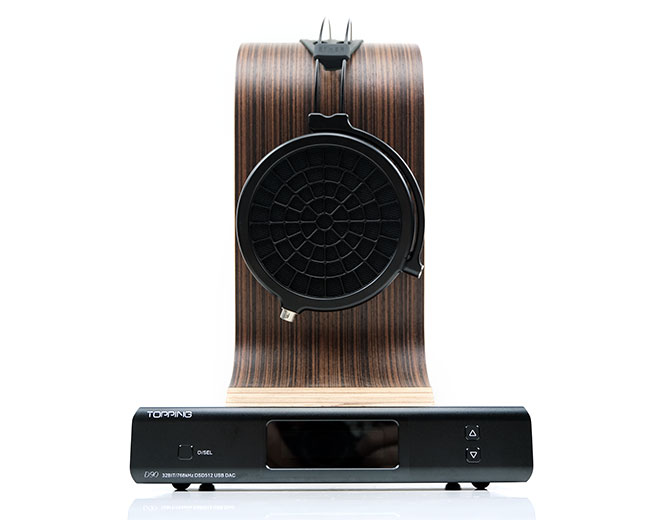 Sound Impressions
Setup
(Tested with a balanced Xi Audio Broadway Amp, USB out from an Acer Nitro 5 laptop. the software was Windows 10, Foobar 2000, and WASAPI drivers. The headphones used were the Dan Clark Audio Ether 2, Meze Empyrean, and Rosson Audio's RAD-0).
Overall, the D90 is not what I expected from an AKM chipset implementation and represents a break from the more colored house sounds of the 4490 and 4497. Of course, amps can weigh in with their own coloration which is why sometimes DACs are a bit harder to mail in terms of their own signature.
However, we did come comparison work recently with the new Cayin iDAC-6 MK2 and it is a fairly neutral tone compared to the Sabre-infused Cayin pure DAC Ha! that feels like a legacy role reversed because it always used to be Sabre DACs that were the neutral performers.
Tuning
Now when I say neutral I mean primarily the low-end. The D90 bass via the Broadway is very nicely defined, nothing soft at all about it. It does seem quite linear right up to the lower mids or relatively uncolored compared to the Cayin iDAC-6 MK2's organic earthy sound.
Not as crunchy or bombastic as the Qutest either but tighter and cleaner than the Yulong DA10 AK4497 implementation which I found very soft.
The D90 neutral low-end and softer treble adds a bit more 'midrange emphasis' to the presentation. However, upper mids percussion sound smooth and quite agreeable with plenty of staging width on display on the Broadway amp. That is one thing that initially struck me is just how good the level of instrumental separation is on the combos we used with the D90.
I would argue Topping has ever so slightly smoothed out the treble response on the D90. That means no glare, nothing brittle or hard sounding but sting a tiny bit of sting out of it at the same time.
If you are coming from an old Ak4490 DAC such as the NuPrime DAC-9 or Cayin's iDAC-6 MK1 the treble is just so much more refined on the D90. Makes for a very natural and agreeable sound signature without any loss of headroom with neutral amps.
Our Verdict
As with any review of a DAC, there is a lot of contextual reasoning in describing how they perform. They are the system 'brains' and often their output is variable depending on the amp and source and input option you choose to hook them up with.
Right now, I do feel this is a relatively neutral signature but the likes of the Broadway amp are influencing the final link in the sound chain. It is also already pretty easy to pick out the difference between an LDAC quality input and regular aptX in terms of dynamic range for Bluetooth performance.
For $699, however, the D90 is something of a bargain in terms of features and potential performance.
Topping D90 Specifications
Flagship level Balanced DAC AK4499
XMOS XU208 USB chip, decoding up to PCM 32-bit/768kHz and DSD512 natively
AKM AK4118 SPDIF chip, decoding PCM up to 24-Bit/192kHz
Bluetooth 5.0 Support with multiple codecs including Apt-X, Apt-X HD, Apt-X LL, LDAC, and many more
Multiple inputs supported like USB, I2S, Optical, Coaxial, and AES
Dual output slots one balanced XLR socket and one single-ended RCA output
Output Voltage: RCA:2Vrms@ 0dBFS
XLR:4Vrms@0dBFS
Dynamic Range: 127dB@1kHz
Signal to Noise Ratio: 127dB@1kHz
Noise: <1.5uVrms
Frequency Response: 20Hz-40kHz