Meet The VE8
Design
Vision Ears spoke to us specifically about how this set of VE8's was made:
This shell was built with cast moulds we made from your ear impressions. These cast moulds are made of silicone and are durable for many many years. So you shells were made the old fashioned way by pouring liquid light curing material into a cast, curing it a light machine and then doing all the drilling by hand.

In general, we also do 3D printing with some colors, because we see the huge potential and the current advantages of this technology. But we are not willing to switch to this new way of production completely because there are currently not so many nice colors available (some colors which are available are not fine for us because we don´t like how they look). So, we want to keep the huge variety of colors, and for this reason, we mix the production methods.
One word – 'pop'. This is one of the most eye-catching CIEM faceplate designs I have seen to date and probably the best work I have ever received from the guys at Vision Ears. When I originally floated this one on our local online group even battle-hardened audio pros gave it the two thumbs up. It says more about Amin's taste than mine because I would never have thought of this myself.
For an old-school design (cast molds), Vision Ears can compete and then some. The VE8 is completely blemished and bubble-free with no visible joints, loose soft inner filling materials or ill-fitting plate sides.
Whilst not being clear in color the translucent olive will give you enough visibility also to see the internal working and BA layout of the VE8 which I always find quite interesting from an engineering perspective.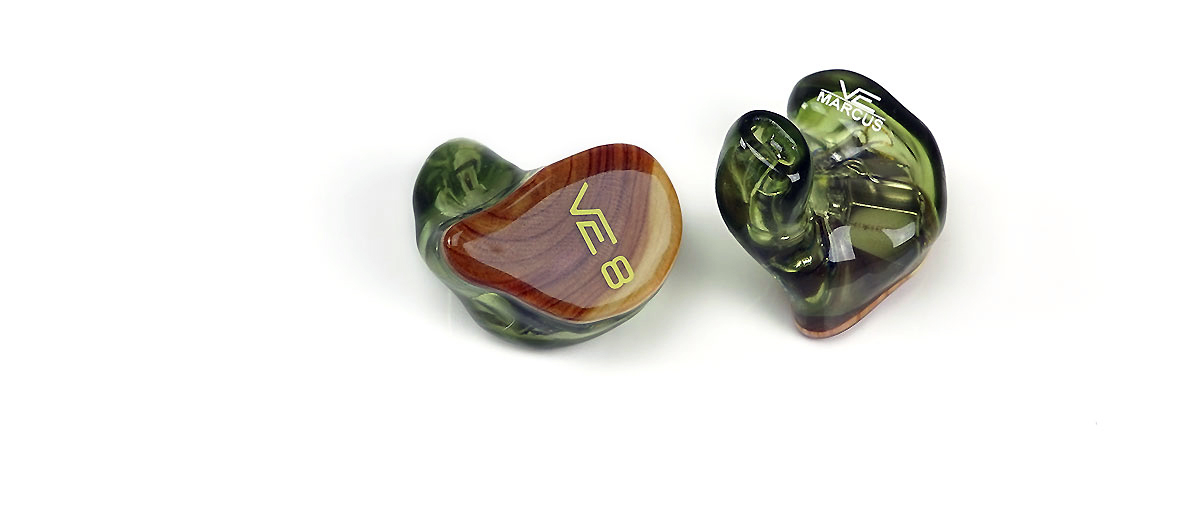 Finish
The olive finish of the shell really combines beautifully with the striking grain of the wood heart plate VE have chosen for this custom. I have had plenty of wood designs before, some very exotic indeed but nothing with this type of grain finish. There could well be a tiny bit of sapwood also at the edges to bring in a bit more contrast with the darker small circular grain markings.
Both the shell and the plate are coated with a thick but clean acrylic finish and given a high-quality UV lacquer coating that makes everything feel pleasantly smooth feel particularly around the nozzle which is normally where the first contact with your ear canal is made.
Cables & Connectors
The VE8 is terminated with a flush 2-pin fitting similar to the VE6 and VE5 we previously reviewed. It is designed to be worn over the ear and comes with a fairly standard CIEM cable which I presume is a copper variant.
You can, of course, choose black or silver during the shopping process. In this case, this one is a silver braided cable with a gold-plated two-pin termination and a 3.5mm gold-plated straight stereo jack. The cable is also fitted with a slim black metal y-split barrel with a detachable and discreet chin strap at the top of the barrel.
The stock cables are finished with an over-the-ear memory retentive wrap that is pretty easy to work around your ear and significantly cuts down on any potential microphonics traveling up the cable.
For a starter cable, it does the job but I am never a keen fan of these types of cables. In fact, VE does allow you to upgrade to some Effect Audio cables and this is something I would highly recommend.
Despite its comfort and low microphonics the stock VE8 cable is audibly average and should really be considered the backup if you want to get the absolute best out of the VE8 performance.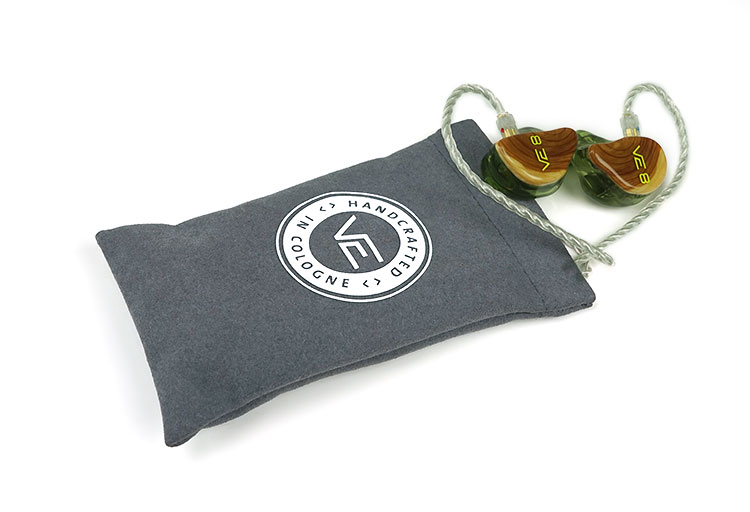 Comfort & Isolation
Accuracy
Accuracy was never going to be an issue considering Vision Ears already had initial scans from a few years back. The only way these would not fit like a glove would be if my ear canal suddenly changed shape or the workmanship dropped. Honestly, I put my money on the former over the latter such as the consistency of the shell accuracy overall 3 reviewed thus far.
Nozzle Length
The single-bore design won't penetrate quite like a multi-bore design which is normally a touch thinner and longer but it is still a perfect fit. There is no uneven pressure within my ear canal, even with my weird crooked left ear canal. It inserts smoothly and stays comfortable throughout.
If anything, I would define this type of fitting as relaxed rather than professional however wide bore is designed that way to allow for better mixing of the channels before it hits your ear canal.
Externally it sits flush to your ear as you can get for a multi-driver CIEM with very little protrusion or getting in the way of your general day-to-day activities. VE has done a good job of keeping the VE8 overall size as close as possible to its smaller driver units such as the VE5.
Seal
Opening and closing my jaw never once broke the seal either, which by the way is once again excellent. I would rate the seal on both the VE8 as relaxed but very well balanced and sits firmly in your ear. This CIEM will not fall out of your ear accidentally even with vigorous movement.
Background noise isolation was really top-notch also with the VE8. Gone was the air con, the fan, and the general din of everyday life. It won't isolate against everything, that's not possible, but it will provide way above average noise-free listening conditions. Essentially you are getting flagship levels of comfort and fit with the VE8.
Short Fitting Comparisons
64 Audio
In comparison to other designs out there, the VE8 is visually more impressive than the 64 Audio series A18 and A6, but slightly shallower than the longer nozzle of the single bore design of the A18. Both fit perfectly but the A18 goes a little bit deeper and thus slightly narrower at the tip than the VE8.
Unique Melody
The VE8 single bore nozzle is a better seal than the UM Merlin and a bit wider. The Merlin always loses out in terms of the pure seal due to the venting of the dynamic driver in its hybrid design. The multi-bore design of the UE Maestro V2 is also a bit longer in the nozzle and going that bit deeper but I think the VE8 has a slight edge in comfort and seal.
Silicone
Comfort king still goes with the 8-driver silicone-based Custom Arts Harmony 8.2. There is very little that can touch a silicone design for comfort but the technical ability to mesh multi-drivers to silicone and keep it detachable really is rare.
Pro Or Relaxed?
For pure depth, or a "pro-fit" I would pick 64 Audio or M-Fidelity, for pure comfort the Harmony 8.2 but as far as relaxed single wide bore acrylic fittings go the VE range has the best seal and the VE8 is no exception.
Accessories & Packaging
Vision Ears may be the last of the big case CIEM companies out there and thank god for that. Everything you will receive from VE will come packed in their rather excellent large hard carry case which I rate as the best in the business bar none with tons of room for a soft pouch, cloth, additional cleaning tool, the quarter jack adapter, a nice leather cable wrap and the VE8 itself.
The case looks incredibly durable with some nice print decal on the top which you can custom order in advance.
On the inside, you have a split layer (soft cushioning) for protecting your customs from any internal downward pressure that could damage the shells, a soft pouch if you just want to travel around, a small netted holding area on the inside of the lid and excellent quality cushioning all around the insides.
There is enough room, in this case, to carry more than one cable also so if you decide to order more than one during the checking out process.
You can also order an alternative round metal screw top case for 35 euros and these come in a variety of colors both subtle and garish depending on your personality.
Sound Impressions
Summary
The VE8 is a little darker sounding than the VE6 XControl or even the VE5 but it is has a far more detailed and musical signature than either of them. I also think it also has a more natural-sounding instrumental timbre with a more realistic quality to its imaging. It's not up front, close or personal but it is lively and engaging.
Frequency Response
The VE8 response is relatively balanced with a smooth attack and a thicker note than previous creations. Bass is pacey with excellent texture and more powerful sounding sub 50Hz than either the VE5 and VE6 are capable off.
The relatively small drop into the lower mids is fairly linear with no serious scoop so you get excellent low-end definition and clarity but at the same time, the VE8 retains a lovely weighted quality to its fundamentals that gives it a strong musical focus.
Mids are smooth and balanced sounding with excellent resolution and instrumental separation. There doesn't seem to be any deliberate vocal presence boosting either so the positioning is a bit more neutral and less forward than the VE5 or VE6 but then again nothing is as unique sounding as the VE5 is for vocals.
The four-driver treble design is beguiling because it is softer in its attack and more laid back than say the VE6 but it is actually more extended and detailed than the previous flagship treble response. The emphasis here is very much on a smooth delivery with detail.
Depth & Separation
The presentation is more about depth and separation than pushing out an ethereal studied experience. It is not a very airy-sounding CIEM, the approach is somewhat softer than before but it is detailed and the extension is top-notch.
Musicality
Vision Ears have kept an amazing level of clarity into the presentation of the VE8 without losing one drop of musicality in the process. The PRaT on the VE8 is really fantastic, to be honest. You can argue there is more detail in the Katana or the A18 and you may not be wrong but neither sound as natural or fun to listen to as the VE8.
This could quite possibly be the perfect monitor for metal and rock in my opinion which is funny really as it's superb for musicians who like to 'connect' with what their audience is hearing during live sessions rather than the stereotypical audiophile who usually prefer something drenched in aching neutrality.
Bass
The VE8 bass response has a slight sub-bass bias with very little in the way of roll-off and is more elevated than either the VE6 and VE6. The drop to the lower mids is still a relatively linear curve so it retains a very coherent sound.
Depth
What struck me about the low end is the depth and extension more than the weight. You get a tremendous sense of power sub 100Hz but it is controlled, tight, and snappy rather than bloated and voluminous.
The lack of huge mid-bass boosting also keeps the bass from sounding overly warm and retains excellent clarity on low-reaching instrumental work that needs a bit of space to breathe.
PRaT
As a result, I get a tremendous level of PRaT in the VE8 response that makes this an ideal low-end signature for modern rock. I normally throw in EDM, yes it is great for EDM but it is harder to get good texture and well-defined sub-bass for anthemic rock and metal from BA designs. The VE8 bass signature seems tailor-made for this genre.
Mids
Unlike the VE5 and VE6, Vision Ears have pulled back the mid-range positioning, particularly the vocals, so it sounds a lot more neutral in its staging and not as forward-focused as previously.
Timbre
However, the quality of the mids timbre, as well as the level of detail and instrumental separation has improved. With the VE8 the instrumental timbre is their most natural sounding yet with a slight bias to even harmonics and great upper harmonics control.
Imaging
Imaging is more life-like rather than artificially wide with the VE8 so instrumental positioning is precise and realistic sounding. You won't miss any spatial cues, it is nuanced enough to give you the fine detail but it is not an analytical delivery. This is more of a dynamic live concert experience than a drier studio presentation.
You get a smooth delivery but not a smoothed over delivery with a thicker more organic sounding note that is backed up by fantastic bass fundamentals. Guitar work, in particular, sounds engaging and authoritative with good weight and enough edge on the attack, and very good decay control to sound very clear and precise.
Vocals
Vocals are neutral to a tiny bit forward in their positioning but they sound very textured with excellent spacing for both male and female vocals to breathe and shine. I never get a sense they compete with the instrumental work either which isn't staged as far back as the VE5.
Treble
Beguiling
I mentioned the word beguiling in my initial summary of the response of the VE8 treble simply because it is will seem initially laid back to those coming from the likes of the Katana or A18 but in reality, it is a lot more natural and musical sounding to my ear and does retain a very high level of articulation and detail. It does not roll off, it is just not in your face.
4 Drivers
With 4 drivers all focused on the treble response the VE8 lacks nothing in the way of detail and speed. Vision Ears seems to have worked out a way to keep the top end smooth and sibilant-free but at the same time prevent roll-off and keep it clear and detailed in the final octave.
If there is a boosted lower treble response, say around 3-7k it is slow, gradual, and plateaued rather than a quick up and down so it is not a forced or forward sound meaning mids can perform and take center stage even if they are relatively neutral and vocals do not get swamped by over-eager persuasion splashiness.
Cable Swapping
The VE8 comes with a fairly generic stock Plastics One Cable. It isn't the worst though but you can get better. In the checkout process, you can order Effect Audio Thor aftermarket cables for an additional fee and we recommend you try them but if you have cables already with 2-pin connections and can go balanced so much the better.
I have worked with the ALO Audio SXC24 and Twag v4 from Whiplash for a good few months now and longer as is the case with the SXC24.
They are some of the easiest cables to pick up an audible improvement in sound quality over the stock cable and have the matching connectors (2-pin) to use right away. They come in balanced or unbalanced depending on your preference.
SXC24
$249
The SXC24 has better dynamics with a cleaner presentation and a bit more upper mid to treble energy than the stock cable's performance with the VE8. I especially like the mid-range layer and separation. It doesn't mess with the imaging or push the vocals out forward but it certainly sounds more vivid and energetic than stock.
With the SXC24 you also get a bit more clarity in the lower mids and combined with the cleaner attack guitar work just has a more rapier type feel and is less soft sounding. The low end stays fairly linear but the definition is tighter and the sub-bass presence is a little more powerful and spacious sounding. This is a great cable for musicality with excellent dynamic contrast between the bass and treble.
Switching to balanced with the SXC24 brings everything up a notch. If you felt the mids were a touch too neutral on stock or even single-ended with this cable then balanced should address that issue with vastly more open sounding mid-range.
Of particular note is the vocal performance which is a little more forward sounding than single-ended but sounding much more dynamic and life-like.
The only slight issue I have with this cable in balanced is the odd time the attack can be a bit too sharp or energetic in the mid to upper mids with some recordings but it is not always the case.
Whiplash Twag V4
$350
The TwagV4 is a silver Litz combination and requires a little less voltage than the SXC24 or stock cable to sound optimal, especially in balanced mode. Tonally this cable sits somewhere in-between the stock and SXC24 in terms of energy and dynamics.
It takes a more neutral and natural-sounding path with an especially good emphasis on detail and control. This is usually my go-to cable for listening to the VE8 because it gives me the best balance and the most refined sound out of the three.
You get the same level of dynamics, nuanced detail, and imaging as the SXC24 but it trades some of that wilder energy of the ALO cable for a smoother delivery. It is still cleaner sounding than the stock cable but it doesn't get quite as sibilant as the SXC24 with a treble performance that sounds a bit more controlled.
For those who enjoyed the softer delivery of the stock cable but want more in terms of dynamics and clarity then the Twag v4 is ideal.
Click on Page 3 below for Pairings & Comparisons