The 64 Audio A6 is a 6 balanced armature driver per side custom IEM showcasing their latest APEX technology for hearing protection. It is priced at $2299.
Disclaimer: The 64 Audio A6 sent to us is a sample in exchange for our honest opinion in this review. We thank the team at 64 Audio for giving us this opportunity.
To read more about 64 Audio products we reviewed on Headfonics click here.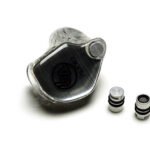 64 Audio A6
Who should get this? Well, people who enjoy rock, the mosh pit, and being right in the heart of the music should give this a whirl. It does an excellent job of conveying that intimate front-row rock concert experience.
For many years and through a fair few product branding changes the number 6 in the 64 Audio line-up always seemed to represent a type of reference sound for the company and fans alike. Not super flat analytical but rather a more neutral to mid-centric signature with a tight bass and sparkling treble.
The V6 from way back in 2013 was, in many ways, the go-to choice for those looking for a mid-fi custom fit experience with just that type of sound.
Even with the release of the 64 Audio A6 under the ADEL brand the legacy signature resonated in the A6's performance with solid feedback on how the ADEL system further refined the high-end response with phrases such as "fatigue-free". It has proved a popular choice for musicians, plenty of audiophiles, and studio peeps.
What Is The Pitch?
So now I guess we have an unofficial 'generation 3' of the 6 in the form of the A6 packed with 64 Audio's new APEX technology and 6 BA drivers which have now replaced the ADEL technology. The 64 Audio A6 retails from $1199 upwards ($899 for the universal) depending on the level of customization you want to have.
The Switch
It does not seem that long actually since I discussed ADEL at length during the A12 review last year so I was a bit surprised to see the term APEX recently replacing it. Turns out the laws of supply and demand played a heavy role in the switch to APEX which is 64 Audio's own in-house technology.
APEX
APEX is short for Air Pressure Exchange. Essentially the end goal is the same and that is to reduce the level of pneumatic pressure being delivered alongside sound pressure when inserting and using an IEM or in this case a CIEM. By reducing this type of pressure the eardrum gets less of a workover.
Thus, the potential of long-term hearing damage from using such devices is reduced allowing you to safely play music at a louder level than you normally can.
Like ADEL, APEX works its magic through a series of small modules that are designed to fit snugly into the actual shell of the CIEM. Naturally, a parting of ways means a requirement to come up with a new physical design that could convert APEX into reality without infringing on patents from the previously used product.
64 Audio came up with such a design using a multi-cell studio-grade TPE material which they claim to be very effective and should yield a consistent level of results with the new technology when deployed over the long term.
The Product Range
Since we last reviewed a 64 Audio product the range has now been simplified into two channels, customs, and universal. The Ambient Universal series is no longer available. Universal is tagged as their U series and customs with A series. All of them come with APEX modular as stock with the option to buy other modules.
Both lines reflect each other in terms of what they offer with the A series having the additional A2e. The 64 Audio A6 is right smack in the middle of the range and is a 6 BA driver design with only the 10, 12, and an all-new 18 driver design above them in the A range.
Modules
Should you wish to buy alternative APEX modules these are now available under the accessory options. You can opt either for the M15 APEX module or the M20 APEX module and both are the same $99 price.
The M20 offers a straight -20dB of noise isolation using the APEX technology and the M15, which 64Audio are pitching as the middle ground between bass attenuation and isolation. The M15 features a combination of dual ambient ports and modified internals to achieve -15dB isolation at 350Hz and an additional 4dB cut at 20Hz to achieve that compromise.
The Process
The 64Audio ordering process is still the gold standard for online interaction and building your custom IEM as far as I am concerned.
Nothing has changed since 2014 and no company has come up with something as involving as the 64 Audio automated design tool. It takes you right the way through choosing shells, faceplates, designs, initials, colors, modules, and cables. It finishes with a choice of shipping before it takes you to the payment options. That's great control and choice right at your fingertips.
Yet the journey doesn't end there. You get an account that allows you to log in and keep track of your build process and where they are and what there is left to do. You also get an email letting you know from time to time what is left to do which is very cute.
Finally, you get an update with tracking details when the unit is being shipped out. It does not come any better than that. All of this is within three to four weeks max which makes 64 Audio one of the fastest for turning around your purchased design into reality.
Options
This being my third design with 64 Audio I opted for something with a bit more sparkle. I am a sucker for browns, orange and black so I bucked the trend and went with a clear translucent shell and tips, brushed aluminum premium faceplates, a matching silver cable, and the 64 Audio logos on the front.
You can, of course, have your own printed design at the front should you wish to personalize the experience a bit further.
Shell Colors
Since I last went through the online design interface 64 Audio has added one more shell color to the rather limited shell color range and that is translucent charcoal. Now I believe it is possible 64 Audio will be expanding their repertoire with the new A18 (TBC), but for me, this is all a bit limited in scope despite the fact it is a high-end 3D printing process.
Yup, there are plenty of faceplates to choose from but the lack of matching shell options does make some of them a bit moot. I do hope the guys can figure out new ways of bringing in a wider range of shell colors in the future so we can color coordinate with a bit more panache.
Impressions
Nothing new here from the last time with 64 Audio as I stuck with the closed or relaxed jaw impressions which of late has been serving me pretty well with tight seals and great isolation.
You can, of course, try open-jaw clay impressions which might be a bit more relaxed overall but unless the customs company is very specific I would opt with closed. There is nothing worse than getting a set where the seal gets broken with a slightly loose fitting and having to send them back.
Click on Page 2 below to Meet the 64 Audio A6 & Sound Impressions