Time and time again, DUNU have captivated audiences with their fearless commitment to innovation, sonics and customer value. Established in 1994 as an OEM manufacturer, DUNU soon grew to be much more with their own in-house high-quality earphones to tempt the masses. Their impressive DN-series of earphones have been able to deliver stellar sonic performance with good articulacy and bass. While DUNU's strive for high-end perfection has not ended, each iteration hopes to achieve just that with their bold and entrancing vision.
The DK-series is DUNU's latest concoctions with an emphasis on hybrid technology to capture the best spectrum of sound. The advantage of such a technology is that DUNU is able to employ dynamic drivers with large coils to drive those impactful and deep lows whilst still capturing the precision and extension of mid to high frequencies with balanced-armature sets.
A usual drawback of this is that the dynamic driver sound may not fit in line with the rest of the frequency spectrum causing an imbalance of frequencies across the spectrum. However, DUNU has always been good in this department, selecting and tuning drivers which fit in line with their end sound.
Enter the $499 DUNU DK-3001, a hybrid IEM with 3 balanced armature drivers for mid-high frequencies and a single titanium dynamic driver for low-frequency reproduction.
Box & Accessories
The packaging of the DK-3001 deviates from the normal DUNU matte black packaging. In its place is more refined white and black slide-out cover which homes a textured black box. The box which an imprinted DUNU sign opens to reveal a pelican case which houses the DUNU DK-3001 headphones.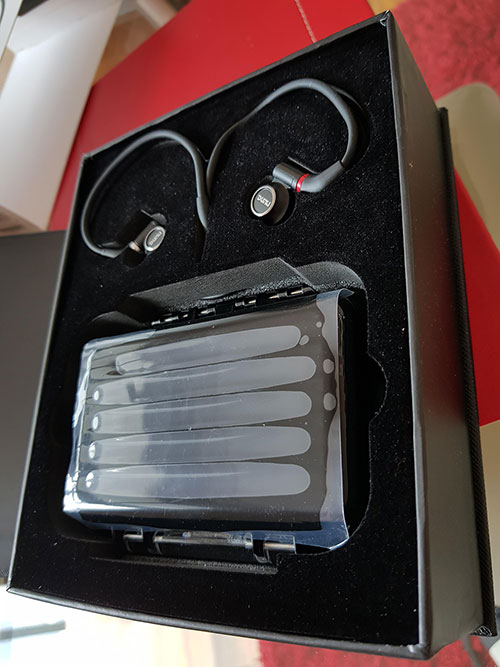 As per usual, DUNU does not disappoint with their accessory selection. Included are two detachable MMCX cables, a pelican style waterproof case, an airline adapter, one set of SpinFit tips, a Comply set of ear tips, ¾ inch jack adaptor, 1 set of DUNU silicone gray ear tips and 1 set of DUNU silicone white ear tips.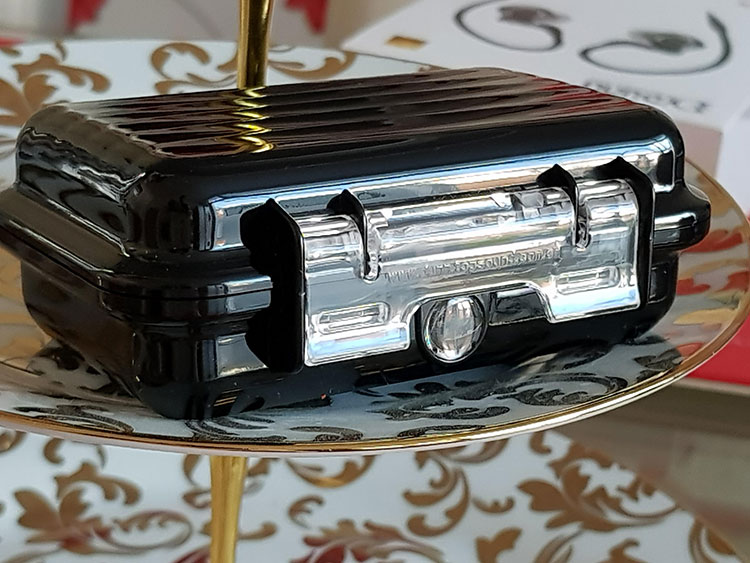 Design & Build
The design of the DK-3001 is a stark departure from their traditional bullet-shelled housing and more akin the DN-2002. They are no strangers to drawing inspiration from elsewhere and this time it looks like they have used Audio Technica's older IEM designs as a benchmark. While not the most appealing design, it is certainly durable with a CNC-milled steel chassis and high-quality plastic rear.
The cable adopts the same non-braided plastic finish that DUNU have used in plenty of their other creations. However, they have made the DK-3001 detachable with a rotation-locked MMCX connector. Both the Y-split and L-shaped jack have secure connections and look to be sturdy enough for the daily commute. I am also pleased to see that DUNU has kept their cable tie accessory which is a neat little practical feature to keep the overall product tidy and easier to store.
Fit & Isolation
The DUNU DK-3001 was comfortable and a good fit with its additional memory cable. However, I can see that this IEM may not fit perfectly for all types of people and thus DUNU could have tried to have developed a more ergonomic fit – especially for long-term wear.
The ear tips are also shallow which may not hold during episodes of running but this is yet to be determined. Overall, comfort levels are adequate but I could see the housing design be more ergonomically fit with a wider variety of people in mind.
Noise isolation is very good and offers the same level of ambient dampening as the DN-2002 and improves upon traditional bullet-shaped DN-2000J and DN-2000 earphones.
Sound Impressions
Bass
The low-end of the DK-3001 extends gracefully low with good decay and articulacy; this is likely owing to the titanium coating of the dynamic driver. Compared to the DN-2002, however, the DK-3001's sub-bass falls slightly short of the former's more extensive and rounder bass.
However, the DK-3001 does extend below DUNU's DN-2000J IEMs. The mid-bass is slightly elevated in the overall frequency mix but nothing which may detract from the overall listening experience. While the DN-2000 has more an enveloping bass compared to both the DK-3001 and DN-2002, the DK-3000's low-end comes across as cleaner and more refined. In "Differences" by Ginuwine, bass sounds compellingly natural with good impact and authority.
Mids
As with a majority of DUNU's offerings, there is a mild U-shaped imposition where frequencies run from 300 Hz to the 2 KHz region. Although vocals are not overly distant sounding there is a good sense of space to avoid an overall claustrophobic mid-centric sound. Immediately, the DK-3001 comes across as warmer than the DUNU DN-2000J and more natural sounding than the DN-2000.
A point to note, however, is that there a slightly forward emphasis on the upper midrange which does add some transient leading edges to the overall sound. Having said that, note presentation is fuller than the DUNU DN-2000J which does lean towards a thinner, albeit more clear, sound presentation.
Treble
The high frequencies of the DUNU DK-3001 are linear with good extension and texture. There is a slight relaxation of the lower treble frequencies which when compared to the DN-2000J, sounds more forgiving. The high-end frequencies do lack a bit of air in my opinion compared to the Rock-it R50.
For example, cymbal crashed and hi-hats roll off slightly more quickly than my preference but that is not to say that the tonality is not natural. In fact, the highs could be described as slightly laid-back with emphasis on a more natural and relaxed performance compared to other strident IEMs.
Soundstage & Imaging
While not the biggest soundstage I have ever heard, the DK-3001 does an incredible job within it's sub-$500 price range. Soundstage proportions are well above average with good projection in both width and depth. This is helped by the shape of the frequency spectrum which allows the midrange to breathe and not be so close to the listener.
Instrument separation and imaging are world-class with easily defined passages of music. It must be said, though, that bass-heavy tracks can suffer from some bleeding into low-midrange which can detract from vocal performances. However, this is avoided in tracks with moderate to low levels of bass where a vivid and spacious soundstage is depicted.
Matchability
The DN-3001 has a sensitivity of 13 Ohms and 106 dB sensitivity which means it is relatively easy to drive.
Questyle Q1PR
The DK-3001 pairs well with the QP1r; the overall sound becomes more analytical with an emphasis on details. Bass becomes tauter and there is a more accurate portrayal of notes. With that said, some of the spacious midrange is lost in a slightly more intimate sound.
Fiio M3
The Fiio M3 is a small but capable companion of the DK-3001. There is an overall smoothening out of upper midrange frequencies and the sound becomes slightly more musically-tuned. Bass is not as accurate as either the Questyle QP1r or Fiio X7 but it is certainly impactful and enveloping when called upon.
Fiio X7
The Fiio X7 is also another great pairing with the DK-3001. There is a more holographic representation of soundstage. Upper midrange frequencies become slightly more smoothed out and there is a neutral to warm imparting that does well in rendering low-end frequencies.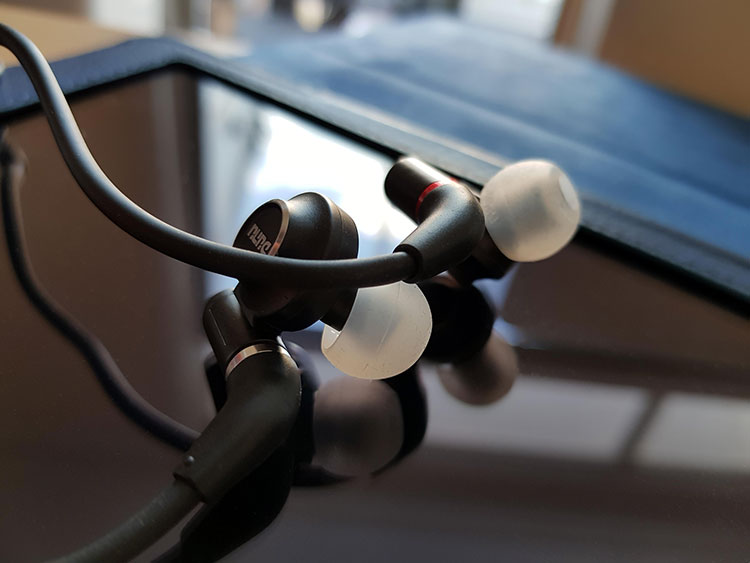 Our Verdict
Overall, the DK-3001 represents a culmination of DUNU's attention to detail and search for their next best sound. While there is certainly competition from up and coming brands, DUNU has done well in delivering a well-priced and thought out product. With a capable and authoritative low-end, strong natural vocal range and extensive treble, the DK-3001 is one of their finest creations to date.
This also rings true for their build quality which is fantastic and a steep departure from their traditional bullet-shaped housings which were easily prone to nicks and scratches. However, with that said, comfort levels could have been improved upon for long-wear use and the housing could have been made to be smaller. For what is worth though, the DK-3001 is a commendable sub $500 addition to any audiophile seeking great tonality with a build and accessory list to match.
Can buy from:
http://penonaudio.com/DUNU-DK-3001
Specification
Model No: DK-3001
Type: Dynamic(13mm)*1 Balanced Armature*3
Response:5Hz-40KHz
Sound pressure level:110+/-2dB
Impedance:13Ω
Plug Size:3.5mm Gold-plated
Cord length:1.2m
Weight:31g