Sound impressions
Out of the box, I can definitely say that this sounds above its price point and is one of the better Brainwavz I've heard so far.  It sounds more complete than probably all budget in ear monitors circa 2013 and below like VC02 and MH1C. Personally, at first I'm expecting an explosive type of bassy sound with muddy vocals due to its hip look, but I was wrong. It was fairly balanced and in a slightly dark presentation. I'm impressed with its easy to love overall sound and it has a good wide soundstage that's a little better than MA600i, for example.
Treble
While the treble response of this in-ear monitor is just fine and a tad forward sounding. It's not its strongest point though as it will not give you Goosebumps in the highs as it doesn't extend that much to my liking. High hats and strings are not that emphasized Fortunately, I can say that there are still enough highs in most tracks that was able to give good enough details.
Bass
This part of the sound is definitely one of the stronger points of this in-ear monitor. It has that huge quantity of bass that most of the public would love. It may not be super technical and fast compared to the Havi B3 Pro 1, but it sounds more complete especially on the sub bass part and goes deeper. The S0 also has that sweet bass decay on slow fading bass on some acoustic tracks. It doesn't overwhelm the mids that much even if listening to bass heavy songs like Clarity by Zedd and Liar Liar by Avicci was a delight as it was able to deliver that big heart thumping bass. Some may think that it is heavily bass boosted, but it is not. It was just able to deliver the right amount of bass at the right time.
Mids
I'm amazed by the Mids this was able to produce! It was to be about on par with the mids of the RHA MA750i I have here. It's very clear, soothingly smooth, balanced with details that sound unfair in this price point. It sounded very complete, non-fatiguing and hiss is almost nonexistent which is very rare for an earphone at this price. Talking about the details, there's a lot in this IEM. The little soft whistle in the background from All Day by Kanye West was there and the background voices from the Joy to the world by Mariah Carey feels like they're very much into the song. To my surprise, it is also great with live tracks of Guns and Roses. Honestly, the Mids is the most mature part of this earphone that could surprise a lot of people.
Overall, I love the way the S0 was able to impress me! It's a very good all-rounder for an entry level IEM. The mids is its strongest point, the bass came in a close second and the treble part is its not so refined part. It was able to do very well on acoustic tracks, live recordings, general rock, EDM, and vocals. The overall tonality just lags a little in clarity; treble and soundstage compared to the highly regarded Havi B3 Pro 1, but it is slightly better and definitely bigger in the lows department. Having said that, this can match up pretty well with the best of under USD 50 in-ear monitors and the Brainwavz S0 is a legitimate dark horse in that category.
Matchability
At just 16 ohms Brainwavz S0 is easy to drive and doesn't require amping. It paired very well with most phones that have good DACs like the Nexus 4 and the iPhone 4s. As expected, it sounded very good with the FiiO X1 and FiiO X3K as there's added clarity, depth and feels more full-bodied. However, I had a hard time driving it using some entry-level Chinese and local smartphones that I'm playing around at the moment as it sounded dull and lacking there. I included them as I think that some of the markets of this IEM are the budget oriented people who just use their smartphones as their main DAP. So I advise getting at least a FiiO X1 or something like budget HiFi capable smartphone like the ZTE Blade S6. If your budget permits the Nexus line, HTC's, iPhones and Meizu MX4 Pro should definitely drive this very well.
Final thoughts
Brainwavz did a great job with the impressive S0 for a budget in-ear monitor. It has that hip and celebrity stylish look that should appeal most of the young people who love flat cables and hip looking design. Don't let that design fool you! It has a quite balanced sound that could bring a smile to the faces of those who love good music. However, this is not going to appeal the more mature audio purist due to subtle weakness in the treble department and slightly bassier sound.
Overall, I love this great strategy by Brainwavz to bring an affordable in-ear monitor that sounds GREAT to educate more and more people on how decent music should sound like.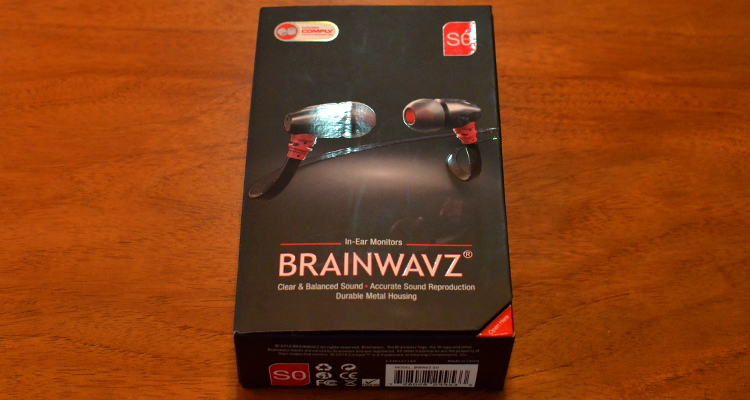 Price
USD 49.50
Links
http://www.mp4nation.net/brainwavz-s0-iem-earphones-free-fedex-2-day-to-select-destination
Brainwavz S0 Technical Specifications
Drivers: Dynamic, 9mm
Rated Impedance: 16 Ω
Frequency Range: 18Hz ˜ 18kHz
Sensitivity: 100 dB @ 1 mW
Cable: 1.2m/Y-Cord/Flat/Copper
Plug: 3.5mm Gold Plated
Warranty: 12 Months