Brainwavz has that long tradition of making good sounding in-ear monitors with great overall package at a very affordable price. In fact, the very first IEM that I fell in love with last 2011 is the Brainwavz Beta.
To keep the long story short, I'm very thankful to Brainwavz as they opened my eyes (ears) to what music should sound like. Fast forward to 2015, I have had a chance to get to know more one of Brainwavz latest affordable and hyped budget offering called the Brainwavz S0.
What you get
To give a lot of credit to Brainwavz, their packaging improved a lot since I last saw them with the Beta, M1, and B2. The package is jam-packed for the price which includes a very much improved hard carrying case with compartments, 9 sets of ear tips (1 Comply, 1 Bi-Flange, 1 Tri-Flange, 3 Standard SML, 3 Translucent Red), shirt clip, Brainwavz velcro cable tie and a silica gel.
Build
The Brainwavz S0 has a nice hip and stylish black painted aluminum bullet-like body. Despite being very light, the body of this IEM feels durable and wouldn't break unless you force it. It also has a nice strong red strain relief on the body of the IEM and Y Splitter that could protect the cables attached to the IEM from breaking. Then, it also has a standard straight 3.5 mm gold plated jack too. Overall, the aesthetics part of this IEM was nicely done and should be durable enough especially when properly used.

Fit / Isolation
The shallow fit of this IEM is very good. Thanks to its quite small body that can be angled freely to your ear. Just choose the right tips then voila it sits on your ear very comfortably. When it comes to blocking the outside noise, this probably is on the average side. It doesn't isolate as much as IEMs like VSonic VC1000 and VC02, but it could be enough not to hear the person beside you talking. However, really loud outside noise and shouting are hearable. For commutes, it did just fine with blocking motor noise. Just like I always suggest with any IEM, do not use it while crossing the streets as they isolate well enough to attract accidents. We don't want that to happen. For the best listening experience, I suggest using the S0 in a more quiet place like the library, office and your room.
Cable
While I'm not a huge fan of flat cables, I feel that the Brainwavz did a good job with it. The cables are neither too thick nor too thin as it feels just right for me and it feels durable enough to resist moderate abuse. It is also surprisingly light compared other in-ear monitors with flat cables. At first, I thought that the IEM do not have chin slider, but I was wrong. It is just hidden properly on the upper part of the y splitter with the same pattern that's extremely hard to recognize. So far, the only complaint I can say to this part is it is microphonic when worn straight down. It could be remedied by wearing the IEM over your ear. In terms of overall quality of the cable, I would put this to be on par with the good flat cables of the LG Quadbeat 2.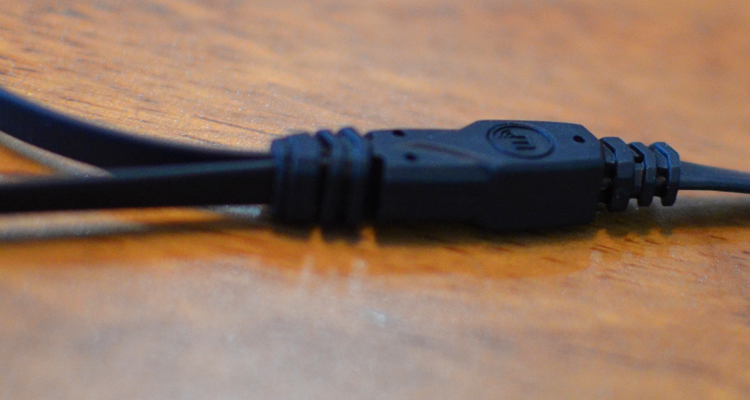 Tips
The ear tips included in the package have different characteristics. Some may love the Comply S400 tips, others may prefer the double flange and triple flange tips and most would prefer the normal looking tips. For me, the best tips in the package are the medium-sized translucent tips which gave me the fullest sound and most comfortable fit. My advice to anyone who'll get this is to try everything in the package until you get the best fit possible. Overall, all the tips included in the package is made out of good materials and doesn't feel that cheap.
Everything else
The case included in the package looks very good and durable and it has a nice Brainwavz Velcro strap to keep your IEM organized. The other thing I loved in its package is the inclusion of a silica gel in order to keep your IEM dry and away from molds.
Page 2: Sound Impressions