Since its original release, Sony has updated this headphone with the $299 MDR-1A.  Despite the difference in price tags, the 1R is still a monstrous deal in terms of price to performance. Sony is still selling the headphone at $299 new, but most if not all retailers are selling it new at $179. That makes it a phenomenal value in the sub $200 tier
Build
The headphone is light at only 240 grams or so.  As I'd mentioned in my recent review of Sony's 950BT…Sony simply understands exterior design better than anyone else in the market.  Not only is the headphone comfortable, but it rests on the head properly with neigh perfect weight distribution.  No weird, monitor-headphone like headband angles.  Due to this excellent fit factor, Sony was able to drop down the thickness of the foam inside each earpad to mere shavings of most other foam rings.  The earpads are imitation leatherette, but are very soft and smooth.  Hardly any plushness to them, as they are thin and sink in a bit too much for my tastes.   Beyond that, I've no gripes about comfort.  I think thicker pads would ruin the excellent fit the MDR-1R offers me, so I really cannot complain at all.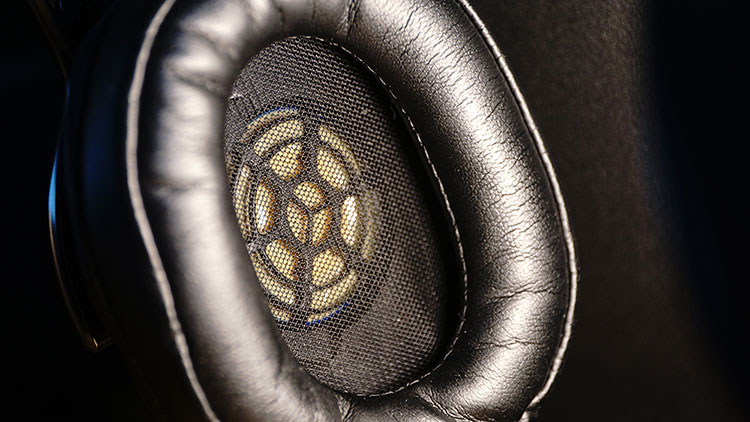 The headband is also imitation leatherette, but just like the pads is more than justified in comfort quality, despite being a bit thin.  There is some give to it, some plushy, squishiness and again I think I feel the same about the headband as I do with the earpads:  If Sony had added more foam padding, the fit wouldn't be as nice as it is.   Thinner padding is actually the right way to go with headphones this light and with headbands shaped like human skulls naturally tend to be.  The headphone comes with a ribbed 3.5mm to 3.5mm cable that attaches to the single sided left earcup.  Again, I applaud Sony for not making it difficult to swap 3rd party cables onto the 1R if need be, no silly locking mechanism or 2.5mm proprietary nonsense.  Kudos to Sony for this simple and sturdy mini to mini.   As a personal gripe, I want to see the death of rubber casing cables.  To me, all cables should be fabric laced.    The cable is thicker and seemingly more tough than my 950BT cable, so I guess that is something to write home about.
Sound
Keep in mind this headphone sells for $99 Refurbished now, less in used form on eBay.  For this price, the 1R is without question the best sub $100 headphone I've ever heard in the current market, which was a title stolen away from its brother the Sony MDR-950BT ( which dipped to $60 or so during Black Friday of 2014, but is now back to around $199 in most places ).
The low end of the headphone is no where near as potent as my beloved 950BT, which really took it too far in bass quantity.  When I wrote that review of the Sony 950BT, I'd mentioned that I'd rather have had less bass quantity, more quality without sacrificing midrange.  Sony got very close to that sound signature I want and prefer with this 1R, I simply wish that it was more Hifi and Summit level tier in quality across the board.  Not that it is a bad thing to be a budget, low-fi headphone, it is just that it hurts me deep inside to experience the general presentation type that I desire inside of a budget headphone…and not a supremely clean on that is reflective of some of the higher end flagship headphones out there.
Bass
The low end of the 1R is loose and lacking authority, I can easily feel that the edges of the bass extend to odd plains of existence, dispersing outward in uneven patterns, where as in comparison the Sony 950BT is rugged, tight and more precise.   With regard to quantity, it is on the upper end of bass light and something I would very lean, almost into the realm of bass-moderate…but not quite.   Quality is certainly the downfall of the bass that the 1R shells out, but for the price I really don't think anything else out there can match it pound for pound.  It really doesn't reach deep, but it gets the job done.  I think the literal quantity of the bass this headphone offers is very consumer oriented and was intended to be of a certain type that will not cause problems with iPod level track quality.  My theory on that is that most lower end portable music players and cell phones don't have much of a bass response anyway, so it might be wisest to provide a headphone that responds much nicer to midrange than it does to low end.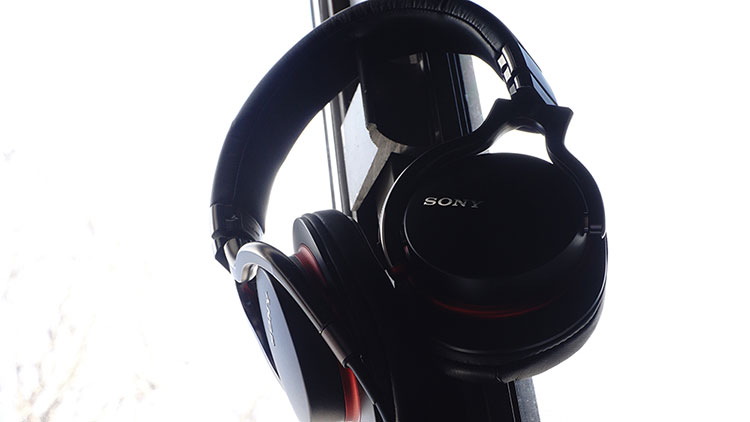 Midrange & Treble
The vocalist and midrange foundations of this 1R are very forward and engaging, yet also have a light, airy fluff to them that reaches up into the treble.  This is a great vocalists headphone and I desperately want a flagship with a midrange that sounds like this.  True, the substance factor is reminiscent of budget tier headphones, something with a thinner sound signature, but the general aired out feel and separation qualities are both excellent on this headphone.  By comparison, the 950BT sounds more lush, thicker and more realistic, where as the 1R sounds thinner and with less physical substance from top to bottom.  The 950BT is also more relaxed and sounds more like a widescreen effect vs the 1R's high immersion factor.  Sadly, I do not consider the top end of this headphone to be reflective of its new price tag.  Unfortunately, this headphone has a loose appeal to the entire upper end of the spectrum, something that leaves me with a longing sentence for more quantity and quality.  This sentiment doesn't exist when I take into account the price of this headphone on the used market, at $99 refurbished I really do not think much else is out there that can compare.   The only closed headphones that I have experience with that are even in the same ball park are the 1R revision in Sony's 1A, AKG's K267 and of course Sony's 950BT.
Soundstage
I think one of the strongest traits of this headphone is the overall sound stage and stereo imaging, which pound for pound really seems like one of the best deals around for a $99 refurbished headphone.  It really does sound uncharacteristic of headphones with this type of price tag: aired out, good separation, lacking a harsh impact/snap.  Depth of field seems very good, however the generalized height of the headphone seems a bit closed in.  I realize that statement conflicts with the aired out that I found said phones offer, it really isn't common for headphones offer a light sense to the stereo imaging but also offers a bit of a constrained feel to the physical presentation self as well.  I think this headphone is trying to be something more than what it actually is, I consider that a great thing.  It really seems like the designers pushed as hard as possible to get as much out of this headphone as they could.  Sadly, the end result is a mixed bag of results with regard to physical presentation qualities. Again though, most of the qualities are pretty good for the price despite most of them conflicting with what most audio experts and enthusiasts would assume would naturally go hand-in-hand with each other.
Matching
I found that the headphone responds fairly well to classical values and live recordings, once again probably due to that excellent midrange presence Sony make sure to design into the headphone. One thing that really bugs me is the overall fit of the pads and I believe this physical trait is sorely limiting the potential of the headphone. Unlike the 950BT, this headphone has much thinner pads and it is entirely possible that lacking base that I found during testing and review as well as the poor frequency response could possibly be attributed to the general thinness of these imitation leather pads. Perhaps if they were thicker, more bass response might be squeezed out of it, more air might be sifted around inside the seal between the cups in your ears.  Just a theory.
Tracks like Michael Jackson's – Get on the Floor are shockingly light and airy, which is a common trend I found in tracks that were recorded pre-digital compression era with this headphone.  Just something about the older tracks that sound more lively, realistic and spacious than the more current era of digital mastering can hope to compare to.   Anything with an upfront sound signature is going to excel with the 1R's excellent midrange presence.  I'd try to avoid bassy tracks in general with this headphone, leave that to their little brother: the 950BT.  This 1R is more refined, more clean, clear and spacious.  It doesn't perform very well with slow rumbling bass, nor does it reach nearly as deep as the 950BT.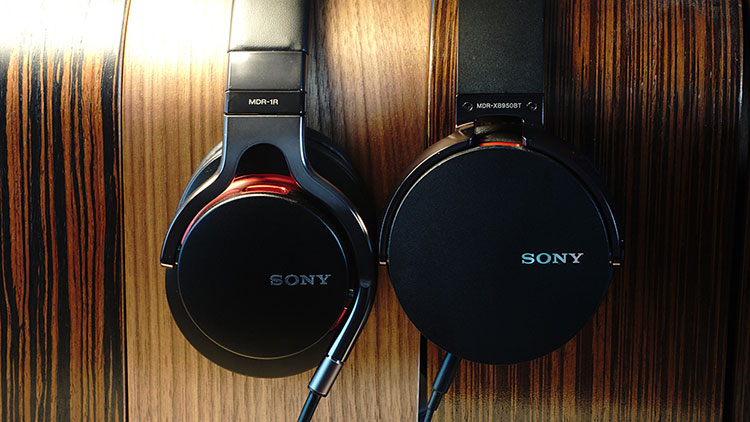 The Flaws
As good as the headphone is, it has a serious flaw:  responsiveness to bass boost…or the lack thereof.  Wow, this headphone loses total control with just +3dB of extra bass inside Foobar2000.  Holy moly, Batman.  By comparison, Sony's bass head monster the 950BT can respond up to +7 before anything even sounds a bit off, let alone reacting with absolute loss of its bowels.  The 1R handles low end EQ poorly, ending up sounding like a dollar store headphone with just a little boost on the low end.  On the flip side, the treble seems very nicely responsive to some boosting and retains a good sense of clarity even with uncomfortably high treble boosting.  The midrange is absolutely destroyed and masked when you boost via the low end, but the upper mids are definitely made even more light and spacious when you boost the treble a bit.
Final Thoughts
My primary gripe with the headphone is the thin sound signature and lack of bass quantity.  I think it offers up a more than plentiful "everything else" beyond those two qualities of listening.  Hard to compare and contrast to bass head headphones, it is very clear the 1R wasn't meant for that but I do wish it had a bit more quantity behind that well pronounced midrange.  I feel like this headphone is excellent for vocal enthusiasts and the general consumer will really enjoy this headphone, but I cannot see audio enthusiasts in the hi-fi market willingly opting for a safe headphone such as this Sony 1R.  It does nothing grand, but it does most things well.  I do consider this headphone a genre master due to the solid immersion factor and forward midrange, the light appeal to the stereo imaging presentation itself as well as comfort qualities.  This headphone receives high marks in most areas, was intelligently designed and offers high price to performance value.  I would not purchase this headphone new and would not recommend it at its current price point, I would however absolutely recommended if you can grab one under $99 refurbished or used.
As mentioned earlier in the review, this version of the headphone is a bit old now and has since been replaced with the 1A, which sadly is a headphone I have not heard yet.  I do hear good things from other audio experts in the reviews of it seemed very positive on other websites.  The general consensus about that model is that it is better than this 1R.  Truthfully, I really don't think anybody else has done quite as good of a job in the budget to lower middle tier headphone universe than Sony.  They really get it, hardly anybody else does.  I do not think this 1R offers nearly the value of the 950BT, but it does offer a better vocal experience and a higher immersive factor than most headphones in their used price tier.
Price: $299 SRP ($177 Amazon current price)
Links: http://store.sony.com/premium-hi-res-stereo-headphones-zid27-MDR1R/cat-27-catid-EOL-Headphones-Earbuds
Sony MDR1R Technical Specifications
Sensitivity (db) : 105 dB/mW
Driver Unit: 40 mm, dome type (HD, OFC Voice Coil) Liquid Crystal Polymer Diaphragm
Volume Control: No
Frequency Response : 4 – 80,000 Hz
Power Handling Capacity: 1500 mW
Magnet: High-energy Neodymium (360 kJ/m³)
Cord : Single-sided; PCOCC cord, detachable
Headphone Type: Closed supra-aural, Dynamic
Impedance: 24 ohms at 1 kHz
Weights and Measurements
Weight (Approx.): 8.47 oz. (240 g.)
Cord Length (Approx.): 47 1/4 in. (1.2 m)