I am usually a bit hesitant at any literary toe-dipping into the cult of personality, especially when it comes to audio gadgets given the rate of tech R&D share out there but in this instance, I could be persuaded to change my mind given the pedigree of a certain Jason Wei-Min Lim. Cue the Troy McClure jokes but you may have heard of him in such previous classics as Ex-CEO of NuForce (yup who has not had the uDAC at one time in their life or another) and current brains behind Heap Venture PTE Ltd whose brands include NuPrime Audio and Celsus Sound.
Unlike dear old Troy though Jason very much isn't in retirement mode, at least not yet and with the Celsus brand. He might just be onto something pretty cool that could well be ahead of the competitive curve. For his sake, I hope not too soon but in any event, the all-new Celsus Companion One DAC is one heck of a Swiss army knife of hi-res listening options.
Hi-res streaming, heck even the word hi-res, is trending heavily right now in audiophile circles and has the mainstream gadget merchants chattering on its plus and negative points. Just recently the New York Post waded into the Pono/hi-res debate with a decidedly chilly overview on the benefits of lossless to the average Joe blaming it all on the illogical OCD lust of wallet emptying audiophiles needs for perfection without any sort of grip on reality. Each to our own dream I say and after a few solid weeks with the Companion One I would take a solid $50 bet to the New York Post along with a few earphones and just say "try it!".
What is most striking about the Companion One is that it pretty much captures just about 99% of our current listening styles in one achingly modern looking device. I am not just talking about USB and perhaps OTG and lightening compatibility and a healthy dose of lossless codecs. That has been done to death by some great units for the past few years. It is the addition of a built-in wifi network and in particular, wifi streaming in hi-res mode is what makes the Companion One a very interesting device indeed, particularly if you just took out a subscription to say Spotify or one of the hi-res streaming sites that are now cropping up all over the place.
I did say achingly modern looking right? Just catch a look at that case alone in the picture below. Celsus designed this modern audio slab as an 'on the go' package.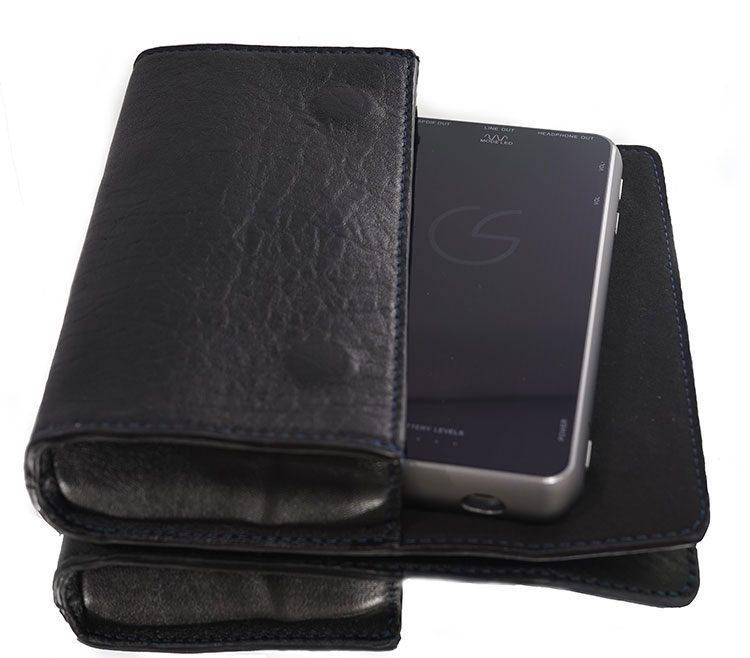 The leather carry case is probably light years ahead of most "me too" satin or velvet drawstring pouches you get these days masquerading as high end carry cases. The split inside is just perfect housing for a regular size 4-5″ phone (boo I have the Z Ultra) and the Companion One (2 slots). It really does scream "we thought of who might like this and we know how you want it to look". Just for giggles, I put the Oppo HA-2 in slot number 2 beside the Companion One. It felt manly, stylish, like an executive listening pack of connectivity devices. If this doesn't find its way into an Apple Store at some point then I do not know what qualifies as stylish anymore.
The rest of the Companion One connectivity package is a simple set of white cables, much like the Aurender Flow, for connecting to the wired device of your choice and for charging the Companion One itself. One for OTG, one for Lightning iOS, a 30 pin connector for those who resisted the 'upgraditus' over the last few years and a USB A to USB Micro B charging cable/DAC cable for PC/Mac's. Sadly no SPDIF or optical cable in sight which would have completed the line up in terms of all-round wired connectivity. Otherwise, it is a neat and tidy accessories kit with the emphasis on the unit and the 'spiffing' leather case with a spare screen protector and microfiber cleaning cloth.
The One is Many
No kidding this is one myriad of features housed in a very minimalist modern design. From afar you could be forgiven for thinking it is a rather thick Smartphone or iPhone given the familiar lines and curves. Close up it much bulkier than the iPhone but those lines give it a familiar feeling in your hand. You almost expect the top black screen to light up with some sort of information but it doesn't. Instead, the only digital interaction you get is at the top and bottom of that ubiquitous black panel with a 4 LED light battery indicator (bottom) and the LED mode waveform light (top) to indicate USB or Wifi. You will not be receiving any unwanted in-law's "Face Time" calls on this device instead all you get is the Celsus One logo, albeit a classy looking logo.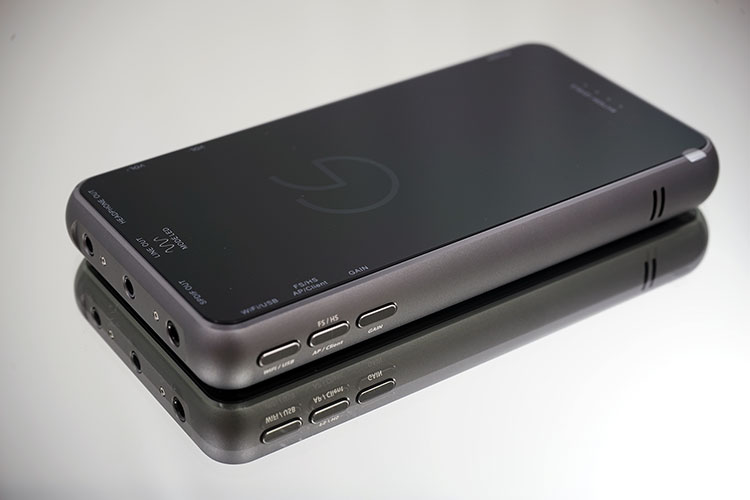 The build quality is top notch though and finger friendly. One caveat is that the top panel, gorilla glass toughened and stylish as it maybe, does not have any etched labeling apart from hints on the out of the box plastic peel off cover. Take that off without familiarizing yourself with what output and input does what and you could be using that PDF manual more than you bargained for. There are no physical buttons at the top either, it is all on the sides alongside some strategically place air vents.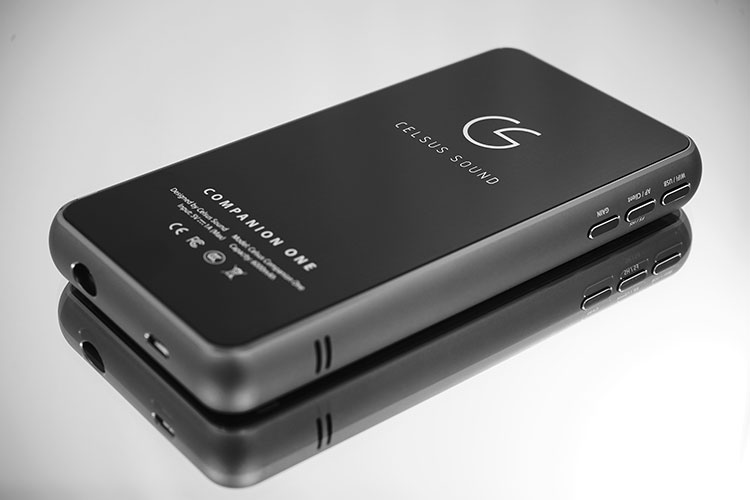 The physical button and input/output control on the side is a mix of the familiar and the new. To the rear you have two different micro USB inputs. The first is a universal micro USB input for charging the Companion One and the second, to the right, is a recessed micro USB for source input. To the front you have an SPDIF 3.5mm output and a 3.5mm analog headphone jack output. To the left you have a digital +/- 100 step volume control and on the opposite side you have a USB/Wifi toggle, gain and the wifi network control buttons. It is this side that will give you most cause for a careful read of the manual.
Battery Life
You can charge the Companion One via USB via your computer or any DC 5V/1250mA compatible AC and you can gauge its charge levels at any time with the 4 LED blue lights at the base of the black gorilla glass top plate. The LED lights will go into ascending blink mode 1 to 4 during the charge cycle and when charging is complete it will stop blinking and remain steady blue. The more battery you use up the lower the LED light count. Each LED accounts for roughly around 25% on the battery. Kind of like how the Cayin C5 amplifier LED system works (though they do 3 instead of 4).
When the battery hits a low point the top LED "wave form" light will go from either blue or green (wifi or USB) to red. There is no degradation of the sound on low battery it simply shuts down. Battery life is projected to play around 10 hours on average with a 6000 mAh battery packed inside but this may vary slightly depending on how you use it. You will get longer cycles on wired than wireless naturally and increased gain or output demands will lower by 1-2 hours roughly. Thankfully for those like me who nod off during charge cycles the Companion One will shut down 3 seconds after a full charge to prevent it being over charged. Just as well as it takes a whopping 8 hours for a full charge meaning basically an overnighter.
Functionality
This is where the Companion One puts it's marker down. Not only can you go wired to both computer and mobile platform, which is a rarity in its own right, but you can also take it wireless and to a very high standard in resolution indeed.
Wired
The Companion One is much like the Aurender Flow in this respect and also shares some similarities to the Creative E5 in terms of its wired functionality. You can connect the One to a PC, a MAC and also via OTG to an Android device as well as any iOS device of the last few gens via the lightning cable supplied. That pretty much covers 99% of mobile and desktop users right there as mentioned before. Connectivity to Windows though is through a set of proprietary drivers which you need to download from the support section of the Celsus website and it is plug and play for MAC's. The Companion One has 2 USB audio transfer modes; FS and HS. Both denote speeds of transfer with the FS clocked at 12mbps (full speed) and HS chiming in at 480mbps (high speed). Pressing the Connect Mode button for two seconds toggles between FS and HS modes.
Note the Companion One uses ASIO and not WASAPI drivers. If you rely on WASAPI you will find some bugs in the One playback when using with Foobar. You can start play, but if you stop or pause and try to restart you will get an "unknown error" or "component in use" type error and even restarting Foobar will not work. Better to install 'ASIO for all' for Foobar also and work from there as it presents a largely bug free experience on all platforms including Foobar.
The One supports up to PCM32Bit/384KHz, DSD64 and DSD128 decoding and USB hi-speed and full speed mode when connected to a PC or MAC. Just to note that DSD decoding is also native decoding which was once the preserve of high end systems just a matter of months ago. Such is the speed of DAC development and implementation the adoption of high end DSD decoding is fast becoming the norm rather than the exception.
The One also supports Android version 4.2 and iOS (iPhone 4/4s, iPhone 5/5c/5s, iPhone6/6 Plus, iPad/iPad2/iPad Air/iPad MINI) devices. For Android it is simply plug and play for those with Digital Audio out via OTG like most of the new gen Sony and Samsung or OTG via apps such as USB Audio Recorder Pro (higher bit rate also) for older gens and those wishing to bypass the usual 16bit resolution limit from digital out direct on stock apps. For iOS its simply plug and play but again its limited to 44k 16bit in much the same vein as Android.
Wireless
The icing on the cake and very much a modern trend given the endless lists of streaming sites and NAS/network setups in consumer homes that can broadcast in both hi-res and other tasty formats. The One uses a 2.4G wireless network and supports DLNA, Airplay and Qplay giving it plenty of flexibility in both the PC and Mac domain. The One also supports all commonly available music file formats, including FLAC and WAV. Though it loses DSD native playback at DSD64 and DSD128 over wireless it still decodes to a very respectable PCM 24 Bit/192KHz rate over wifi. That gives it a clear edge over do it all convergence units such as the Creative E5 which is wireless through aptX BT only and the newer Oppo HA-2 which has no wireless whatsoever.
Using the connect mode button on the side of the Companion One you can elect to connect via AP mode one-to-one using Companion One Wifi SSID) or Client mode (using an existing Wifi network). If there is no connection available in Client mode the Companion One will default to AP mode. Personally I was happy enough to try it over the AP mode and everything worked but note, this is not kids play in setting it up. It will require a level of careful reading again of the manual if you are not network savvy. My own particular experiences was a bit hit and miss in setting it up initially on my Sony Ultra Z using DLNA Throw but once you get the hang of it things go more smoothly. Those with existing home networks should find the task of connecting the Companion One a little bit easier especially if you are already using Airplay technology from Apple.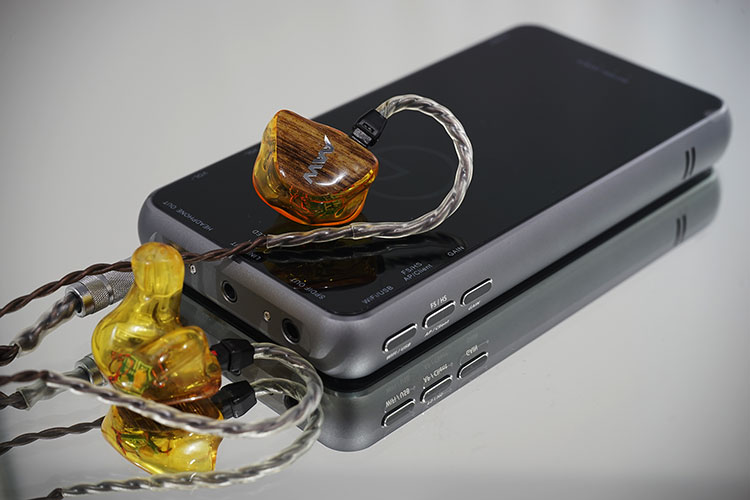 Internals
The Companion One's internals are a ES9018K2M DAC which is the same DAC used by Ibasso in their dual Sabre DX90 and the rather impressive The Resonessence Labs Concero HP. It even pops up in the Meizu MX4 though sadly the MX4 is also saddled with "Retina Sound", quite possibly the worst meme in the history of bad audiophile memes I have heard to date and does the Sabre DAC no favors at all. The ES9018K2M DAC, if well implemented, punches way above its weight, relatively cheaper to source and uses less power than its bigger and more illustrious sibling the ES9018 making it ideal for the Companion One's on the go profile.
The Companion One's amping is delivered via a mixed set of opamps including the OPA1612 for analog delivery and conversion and an AD8397 for buffering and output gain. Both combine to produce a very impressive level of sensitivity and output gain control. The One can handle loads up to 300ohms making it an amp that is ideally suited to working with a wide range of gear but not exactly a power demon in the same mold as the all-conquering HPA-01M from Bakoon or even the Cayin C5's amp but it certainly is far more adept at working with IEM's and low impedance cans like Grados. The amp has two gain modes controlled by the Gain button to the side of the Companion One. You can toggle between both gain modes by pressing and holding the gain button for 2 seconds. Low gain is ideal for IEM users and the One starts in low gain by default when turned on at 1.5Vrms output (0db). Switching to high gain will work better for more demanding headphones (read above 32ohms) at 3Vrms stretching up to some of the latest gen planars also though by no means class-leading.
Page 2: Sound Impressions