The FiiO M3 Pro is a complete revision of the original M3K entry-level DAP featuring an ESS ES9218P DAC and up to 15 hours of battery life. It is priced at $99.99.
Disclaimer: The FiiO M3 Pro sent to us is a sample in exchange for our honest opinion. We thank FiiO for this opportunity.
To learn more about FiiO reviews on Headfonics you can click here.
Note, this review follows our new scoring guidelines for 2020 which you can read up on here.
FiiO M3 Pro
The overall sound performance is particularly good for the price and it matches well with entry-level dynamic driver IEMs. You just need to make sure a more sensitive one is paired so that it could be driven nicely.
The M3 Pro is the successor to the M3K entry-level player and is the company's entry-level M-Series DAP next to the M5. With a sleek, full metallic casing and a long screen, the design is a true delight that brings back my memories of the iPod Nano Gen 7.
The new M3 Pro follows the same design language under the M series and is equipped with ESS ES9218P decoding chipset, the same one we have seen in the BTR5. At just $99.99 this DAP could be the best looking in its class, well-differentiated from competitors and the higher-end models. The UI experience is smooth and complete, while the device measures extremely light and is very well built.
Looking for mega portability for a secondary music device? Read on to see why we think this is possibly one of the best entry-level DAPs to date!
Tech Inside
The M3 Pro is one of the thinnest DAPs with a professional UI, DSD128 decoding, high-quality fully laminated 800×340 IPS screen plus USB-audio output support.
Compared to the older M3K it is completely overhauled. The M3 Pro features ESS's ES9218P, the same DAC chipset inside LG's V20. It is capable of up to 32BIT/384k sampling and enhanced output power tripling that of the M3K's capability.
The OS also has some features inherent in competing DAPs including recording and txt reader apps seen on Cowon's players. The very mature X1000/E SOC solution from Ingenic supports decoding all the common hi-res formats.
We also have support for memory cards up to 2TB cards. I am using a 512GB card and everything works smoothly although it does take a while to renew the library.
Design
If you compare the M3 Pro to the M3K you will immediately see how much of a leap in design this is. The CNC machined, screw-free designed M3 Pro nearly doubles the screen size of M3K. This is further enhanced by a much smaller bezel for a quasi-borderless design.
The long screen ratio also allows for more rows of information to be displayed by stretching every page. This makes the M3 Pro layout much easier to use than what we see on common 16:9 or similar screen ratios. This saves a lot of scrolling effort for such a small device.
There have been some similar concepts for mobile phones, for example, the Project Gem by Essential, and the M3 Pro actually looks quite similar, albeit not as long.
The 70g weighted design is sleek and modern, but more masculine looking than the very rounded M6. Glass panels sits seamlessly on the fine sandblasting finished framework, adorned by a gold Hi-Res audio logo at the back. If only we could have high-end sound output built into such form factor it would be heavenly.
On the left side, there are 4 buttons for power, Vol+ / play, pause / Vol- and a card slot. You will not find any analog volume or rotary dial on the M3 Pro.
Screen
The 3.5 inch, 26.2M colors, 800×340″ IPS screen is the centerpiece for the M3 Pro's high screen-to-body ratio. The size is perceptibly enhanced with a bezel-less design and a high pixel density.
This is a screen with a wide viewing angle and above-average contrasting color schemes making it easily legible under sunny conditions. I can still remember some lower end DAPs before that had a tinted screen or low pixel density that you could almost count the pixels it was so low-res.
The bezel measures 0.27mm, with excellent screen coverage that mimics the higher-end M11/ M11Pro and leaving plenty of room for touch gestures which can be challenging on smaller screens. You will need to swipe to exit the current page on the M3 Pro like Android devices without a bottom navigation bar so that lack of edging and clean lower bezel design makes it a lot easier.
Swiping action on the screen is actually silky smooth. Sometimes lower end DAPs will feel cheap and there are always some glitches when you navigate around. This doesn't happen on the M3 Pro.
Battery Life
Battery life is one of the more convincing reasons why you should get this DAP. I am not turning the M3 Pro off for a week and it still holds 75%+ power with a few hours of playback.
From the official data, you will get around 15 hours long of listening and more than 30 days of idling time. This is close to Sony territory and probably a trait of the SoC and mobile DAC chipset that helps save on CPU power.
Inputs & Outputs
Digital I/O
The FiiO M3 Pro can operate either as a USB sound card or a source for your other USB DAC/Amps. From our Lotoo PAW S1 review, we tested it and it can drive a USB-powered DAC with zero issues so you do have OTG digital audio capability which is a bonus.
This allows for greater flexibility in terms of connectivity to a wider range of devices and almost a mandatory feature for me in a DAP these days. Particularly as a source if you need one to connect to superior amps and DACs to drive demanding headphones.
Analog Output
On the bottom of the M3 Pro, you will find a 3.5mm unbalanced analog output which duals as a LO, though this is not a dedicated LO rather it is a double amping feature.
Both options are controlled via the settings and play menu via a PO and LO selection. Once activated the volume will be maximized so that you can connect the M3 Pro to other Amplifiers on a maximum current setting.
Packaging & Accessories
The M3 Pro comes in a plastic casing with a paper sleeve, offering good protection. FiiO has dispensed with the previous budget white box designs and gone with their previous black premium design effect and it does look more impressive.
Inside you will find a spartan lineup of a user manual or quick start guide, warrant, and the usual and a USB-C cable for PC connection. You will not find a protective case for the M3 Pro inside, a current product-wide policy for the company.
Screen protectors are handily preinstalled on the M3 Pro. Even more, they are applied on both sides so you don't need to worry about your awful screen protector sticking skills messing it up.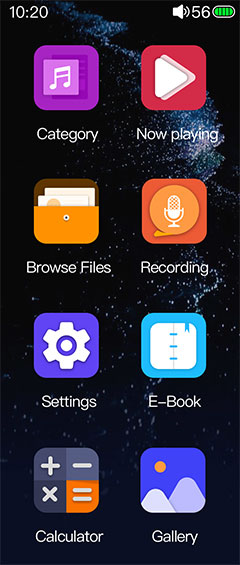 OS Features
Recording
The M3 Pro has a microphone on the bottom panel with an associated app that you can use for recordings. However, you will need a micro SD card inserted for the function to work. The mic takes in the audio signal at quite a large angle, practical for recording a meeting or to record yourself speaking. It should also be ok to pick up sound from a street show but not to a pro-level.
The recorded signal is quite clear and free from noise. You could change the recording quality in the settings also to fine-tune it. I just wish that the microphone could be more directional so that it could work better for lessons and seminars, but this feature is more of a useful bonus than an attempt to compete at the professional level.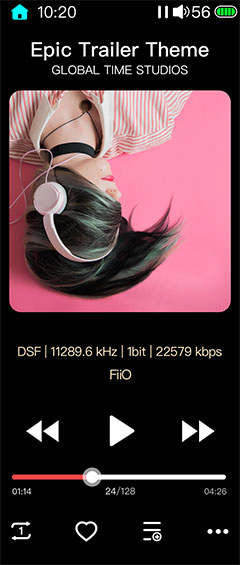 Playing modes
Aside from the normal Loop/Shuffle/Single Play or Single Loop settings the M3 Pro also allows playing through folders. By switching that on you will automatically jump to the next folder in sequential or alphabetical order once you finish playing the current folder.
If you are an M3K user you may remember an A->B point loop function which could be helpful for language learning and instruments practicing. This is sadly missing on the M3 Pro and I wish FiiO could add this helpful feature back in any future firmware.
Equalizing presets
The M3 Pro has a useful but limited EQ feature with 7 presets. These include Rock, Classical, Jazz, Pop, Dance, Vocal, and Metal. These seem to be the sock FiiO presets found on their previous EQ implementations. The EQ menu can be accessed by pressing (…) in the Now Playing screen which instantly activates it.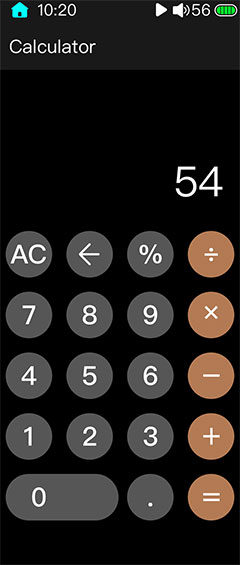 Calculator & eBook
The Calculator function reminds me of older Cowon players which are also running on SOC and features similar apps. This is actually quite cute and handy for some simple math. There is also a small eBook App that supports .txt files only but useful enough to store some light reading materials on it for a short read.
FiiO M3 Pro Sound Impressions
Setup
The M3 Pro was left playing music for more than a week to run it in. I can confirm the battery doesn't drain switching it on in the morning and checking it before I sleep so big up to FiiO for a good standby mode. The M3 Pro does have sufficient power and control to drive sensitive IEMs as well so I am selecting some IEMs to be tested on it which you can read more about below.
Summary
We have seen the ESS ES9218P on some flagship audiophile phones and DAPs, however, the M3 Pro is expected to sound better than quite a lot of phones with entry-level DAC chipsets or poor implementation.
The overall sound is quite clean with some elevation in the lower-treble to help tease out a bit more perceived clarity and contrast. Overall, this closely follows FiiO's developing house sound for the M series with a relatively neutral tuning up to the mids and good clarity.
The upper mids are more aggressive than the higher-end models from FiiO but it works well with darker sounding IEMs that need a boost for the vocals to bring it forward.
This is not the most powerful DAP for demanding monitors and headphones and plenty of entry-level IEMs tend to be more bassy. So, this is a useful approach to compensate for the missing extension in the upper treble due to a lack of power or an inherent dark IEM tuning.
That being said, the M3 Pro power is quite decent for its size. Its bass punch is quite firm, albeit being more to the 'polite side of firm'. There is enough speed in the low-end to deliver PRaT when required and without it sounding bloated.
You will also notice the tuning being less forgiving with lossy formats so do prepare your tracks in higher-res format, which will help deliver better texture and dynamics.
Synergy
Testing with the FiiO FA1
With the M3 Pro, the FA1 sounds quite balanced and clean in the mid-treble range. The bass attack is quite solid and there are enough dynamics presented without being very analytical in sound or veiled for vocals.
The crispy treble goes well with cymbals and higher-pitched elements when replaying DSD files. Treble is fairly extended though you may notice a gentle roll-off in the upper treble. I am playing a copy of Riccardo Muti conducting Verdi Aida with the Chicago Symphony, and the M3 Pro does quite well with instrumental articulation and separation. The pacing remains light and clean.
Staging is surprisingly not congested with the bass control being quite well done. The M3 Pro definitely sounds more layered and detailed, or less colored, than how the FA1 sounds on my smartphone.
Testing with the ER2SE
While the power on the M3 Pro is sufficient to drive IEMs that have fewer driver counts or more efficient, I thought it worth putting it to a stiffer challenge. Pairing with the ER2SE the combo picks out a bit more sibilance overtone but also some enhanced treble detail.
The M3 Pro/ER2SE pairing mid-bass is shy in the tuning which makes vocal sound well separated from the mix. This helps create a stronger perception of openness in staging with is pairing.
The vocals are quite full and rounded, with better micro-detail retrieval with this combo compared to the FA1. There does not seem to be any struggle to power the ER2SE to get it to sound natural, but more power would help make the bass firmer.
The sweet spot is at a higher volume where the ER2SE sounds more balanced and a tad more opened up than the FA1 pairing. If you enjoy sweet vocal timbre and a midrange focused pairing, you will find the ER2SE a pleasant pairing with the M3 Pro.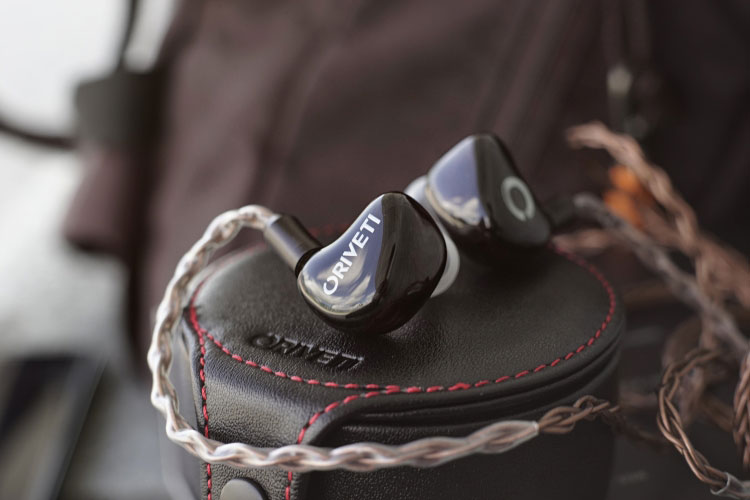 Testing with the Oriveti OH300
Switching to the Oriveti OH300 the vocal is smoothest amongst the three IEMs tested. However, the soundstage is more intimate sounding than the other 3. The bass punch is soft and vocals are slightly forward. At the same time, the treble is tamer than the FA1 and ER2SE.
The signature is still clean but with a dynamic driver for the bass, you can feel more air and body while maintaining a tight, detailed mid-treble performance. The slightly V-shaped tuning is dynamic and engaging for pop, it works quite well for jazz and other relaxing, slow-paced genres too.
Selects comparisons
FiiO M3K
The older gen M3K is quite a different device and it is clear that the new M3 Pro is quite a big leap in terms of design and features. The screen is nicely updated from 320×240 to 800×340 and now there are USB Audio and DSD128 support.
The M3K doesn't sound as clean and resolving as the M3 Pro. There is noticeably less power in the output, though it doubles the playback time. The M3K sounds marginally better than some phones and it is not my cup of tea. This time M3 Pro trades playback time for more power in 3.5mm output and that makes a difference in terms of dynamic range.
In comparison, the M3 Pro's clarity, bass control, and vocal performance outperform the M3K which sounds softer and less refined. The overall user experience is a step up and the design is a lot more appealing with the M3 Pro. Unless you need the long playback time on the M3K you have no reason not to pick the updated M3 Pro.
FiiO M5 & M6
Unavoidably we are putting it with the bigger brothers for a showdown. The M3 Pro has a similar tuning to the M5 but you will notice a punchier low-end and more detail on the M5.
Being more of an audiophile player in architecture compared to the lifestyle design of the M5 the nature of the SoC powered M3 Pro helps it to focus more on sound quality and allocate more power for the decoding and amping.
The FiiO M6 is more rounded and controlled in the treble with a hint of warmth in the mids. If you need Bluetooth connectivity and have a higher budget the M6 is a decent choice that works nicely as an independent DAP with better sound performance than the M3 Pro.
If you own higher-end DAPs or a smartphone with no 3.5mm output, the M3 Pro is weightless to carry around which makes it a perfect secondary EDC option as a backup for wired earphones.
Lotoo PAW S1
The PAW S1 is a small dongle we reviewed earlier and putting it them side by side you will notice how slim the M3 Pro actually is. You can hook up the M3 Pro to the S1 as we mentioned above but this time we will pair the S1 to an Android phone and see how it compares to the M3 Pro.
There is a little bit of similarity in how they both rendering the sound especially with the vocal presentation as both devices lift the treble a bit for a sweeter or cleaner presentation. The detail retrieval power on both devices is quite similar. However, the S1 has a slight advantage in power and bass control as well as sounding more textured and rounded on the top end.
I recommend listening to higher resolution formats on both or else the treble may sound grainy. The PAW S1 requires a host device and you may not have enough space on your phone to put music files. Also, the performance varies with different USB outputs, yet you can stream from Tidal and also work with balanced monitors using the 4.4mm output on the S1.
In comparison, the M3 Pro works very well as a standalone traditional solution and delivers consistent quality over its 3.5mm output. It is easy for anyone to navigate and manage the music library on the M3 Pro.
Our Verdict
FiiO has been doing great recently to release really attractive and mature devices. The M3 Pro has a fantastic form factor and a stylish design with a practical UI that allows entry-level users or seasoned audiophiles to enjoy their music collection.
I wish there could be Bluetooth or balanced output support, but it is a bit too much to ask for at such an asking price. The overall sound performance is particularly good for the price and it matches well with entry-level dynamic driver IEMs. You just need to make sure a more sensitive one is paired so that it could be driven nicely.
If you are looking for your first Digital Audio Player, give this a shot!
FiiO M3 Pro Specifications
High-grade DAC from ESS, ES9218P
Smooth and Snappy Ingenic X1000E CPU
PCM Decoding up to 32-Bit/384kHz
Native DSD up to DSD128
3.5inch IPS Touch Screen with full touch gesture operation
MicroSD card support up to 2TB
64MB RAM
USB Type C Charging Port with USB Audio Output
3.5mm Single-Ended Port with Power Output of 92mW at 16 ohms load
1000mAh Battery
Battery Life of up to 15 hours
Charging Time: Less Than 2 hours(DC5V/2A)
Deep Sleep Time: 35 Days
Support ebook reading, picture preview, HD recording, Built-in calculator