The Unique Melody Maestro V2 is a second-generation 12 balanced armature driver monitor in custom and universal formats. It is priced at $1979.
Disclaimer: The Unique Melody Maestro V2 was sent to us as a loan sample in exchange for our honest opinion. It will be returned after the main review. We thank Unique Melody for this opportunity.
To learn more about Unique Melody products on Headfonics you can click here.
Unique Melody Maestro V2
The Maestro V2 is actually quite a serious reworking of the old V1 sound. Gone are the more neutral midrange and the sparkling top-end of the V1 and in comes a darker, heavier hitting smoother sounding V2. They are very different in approach yet both are equally detailed and technically very good. The choice is simply down to preference for me personally.
This review of the Maestro V2 has been a long one in the making and thanks to Andrew and the team at MusicTeck for walking with me every step of this long journey.
Unique Melody was, of course, the first-ever custom I put money down after hearing a demo of the Merlin back in 2011. It was the moment that I felt IEMs had hit the mark in terms of competing with headphones. It is still with me today and still a very competitive CIEM for the price.
However, 5 years in IEMs is like 5 dog years, things move very fast indeed. We are now hitting 18 drivers, multiple DD hybrids, and even more fantastic CIEM packages and designs. The whole CIEM scene has really exploded.
V1, now V2
Originally when we sat down and talked about the Maestro in April of this year it was a universal version alongside the Miracle v2 but given the price point, $ 1,979.00, I really didn't think people would stop at universal when shopping with that kind of budget.
Customs were the likely seller here so a few months down the line and out comes, not just the UM Maestro, but the latest and greatest UM Maestro v2 (Mason v2). This is Unique Melody's top-of-the-line, their flagship, and the one I think personally people want to hear as to what UM can really achieve given a money-no-object stance.
What Is The Pitch?
Big Driver Count
The Maestro V2 is the big kahuna with regard to Unique Melody CIEM driver counts and is rightly considered as their flagship in terms of technology stuffed in there.
A fully customizable design for both faceplates and shells, the Maestro V2 packs in no less than 12 drivers per shell with a 4-way crossover design. It is an all-BA setup consisting of 4 drivers for the lows, 4 for the mids, two for the highs, and 2, as they term it, for the super highs. I can only guess 2 for the lower and 2 for the upper treble in that respect.
It is the first time I think I have reviewed a quad BA design tuned for dedicated aspects of the treble range. UM claims that these four tweeters combined with the two sets of quads BA's for bass and the mids will give the Maestro V2 one of the most complete frequency coverages (20hz-20kHZ) in its class.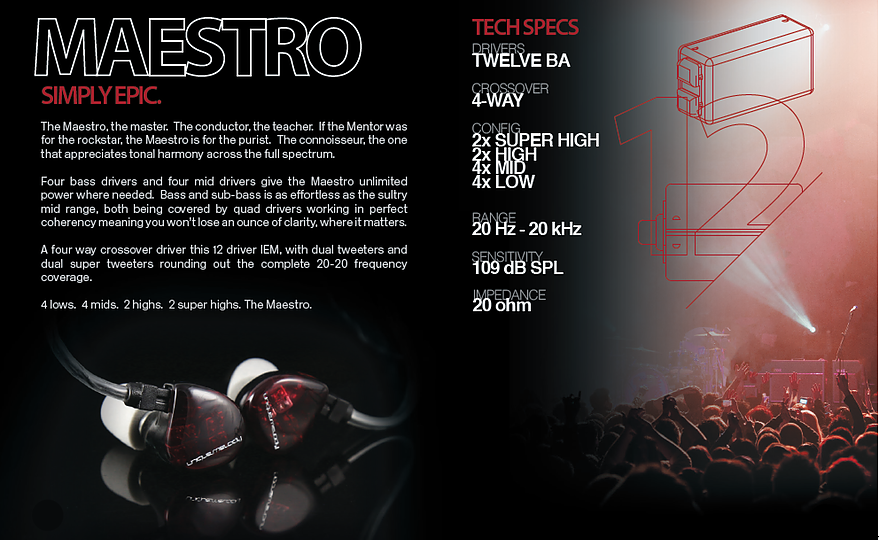 The Revisions
The second key pitch is the V2 aspect. The Maestro has been out for some time already and the V1 also packed 12 drivers in a similar configuration but this time UM has seen fit to do some tweaks to its premier CIEM, much like the rest of its lineup.
In comes a brand new upgraded silver/copper hybrid cable with a slick new interconnect design much like the ones we saw on the UM Martian in September. These are raised stems with a sweeping interconnect designed to have a smoother and tighter fit around your ear.
Internally some tech tweaks have also taken place with a newly designed sound tube composed of a metal alloy material that UM claims further refines and improves upon the V1 sound. All of this is now also packed in what should be a more compact shell than before offering a superior fit to the V1.
Build Process
Unique Melody actually sources out a lot of the ordering and distribution rights to regional companies, Musicteck being one of them and covering the US market exclusively.
Bear in mind if you order in other regions your experience may vary including the ordering process but you will get the same product as they are built to spec in their Chinese labs.
Ordering Online
The website itself is just ok, I have seen worse and I have seen better. Right now 64Audio is the gold standard with regards to building and ordering your CIEM online.
It is a truly remarkable piece of software but the limitations in what you can order are restricted considerably since they moved to the 3D printing process with only three custom shell colors.
Not so with Unique Melody who still does it old school via handcrafted processes but with that you get a ton of style and plate choices.
Forms
The old-school approach permeates with the use of emailed ordering forms for UM CIEMs. This is the same process as I actually used in 2011 and whilst the use of an Excel sheet printout from the online order does help to ease the mind with regard to the accuracy of your design request I can't help but wish it all stayed a bit more online.
Edit: Update but UM is working on a new site upgrade that will eventually do away with this forms process shortly.
Impressions
Impressions go with the order form and if you want a blow-by-blow on how to get impressions done and send them in click here for more information on how UM wants it done. I
n summary, it is a closed mouth full ear impression to the second ear canal bend with lightly expanding good quality clay at your local audiologist and then packed in a solid food container of sorts and shipped off with your favorite courier to UM's Lab headquarters.
The Design Portfolio
You do not necessarily get to see the full range of artistic capability through through their website, UM Global's website has a more enticing gallery of options to peruse but I usually find the Unique Melody Facebook page to be the most up-to-date and dynamic in terms of design inspiration.
You also have at least 5 to 6 regional sites to see what other people are requesting with all types of pop art and cultural influences. The possibilities are very long indeed with UM designs with no less than 30 different types of color combinations and 10 premium faceplate inserts not to mention options for initial and custom art integration.
Design
For the V2 Maestro, I decided to go with a woody-plated and smoked shell. I have too many woody plates but I can't resist, call it a weakness. This time the plate is a Zebrawood faceplate with a high-contrast grain nestling on top of a lightly smoked acrylic ear shell.
Wood inserts will cost you slightly more so be aware the quoted price is the base price without any premium designs such as woodies. Just for good measure, I threw on top of the wood plates a copy of our HF logo as our custom art of choice.
Finish
The end product is just beautiful. It is a subtler finish than the outlandish candy-toned Harmony 8 from Custom Art but what I love about UM designs is that quality of finish.
It's beautifully polished, and the wood insert is nice and deep under the acrylic layers but not too deep to lose its pop. Leave the plates too shallow and often the wood starts to look cheaper or just slapped on making the whole feel look disjointed. Not the Maestro v2 which is smooth as can be and not a joint in sight.
The custom art of our logo was also sharp, clean, and with the correct ratio. On the inside of the shell, you will find your printed initial (if requested) plus the serial number; blue for the left and red for the right.
Sockets
You will notice also the protruding connection sockets which are part of the new design upgrade along with the new 2-pin sloped connectors for a more comfortable and streamlined fit over the ear.
The 2-pin config is still the same traditional config and technically they will work with your aftermarket cables but the stability will not be as strong given they are not using flush or flat socket designs.
You can, of course, order aftermarket cables with the new connectors from respected vendors such as Whiplash but UM is hoping you will not need to do that with their new upgraded cable.
Cable
Materials
The cable looks fantastic compared to the old stock braided black cables UM used to pack with their customs. This is now a silver/copper hybrid cable replacing the older cable and should breathe some life into the performance, particularly on the mids and treble which is often an area that I felt took a hit with the older cables.
Often I moved to Twag cables just to inject a bit more definition in the sound and get away from that slightly duller, warmer sound when using the Merlin. A silver/copper hybrid should do the trick without the need to upgrade.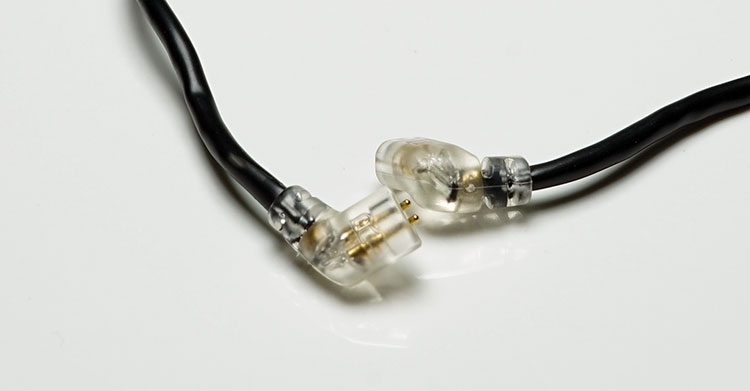 Terminations And Options
The cable is approximately 50″ long and is terminated with a sturdy rubber coating around the sockets as well as sporting a healthy fat-looking in-house 3.5mm gold-plated straight stereo jack on the other end.
You can order spare cables and even grab the old standard cables but these are not that cheap starting at $72 for the regular edition and $165 for the stock silver/copper hybrid so that is a testimony to the value you are getting with the supplied cable on the Maestro V2.
If you want to go all-out silver it will set you back a cool $255. For aftermarket cable pricing that's actually fairly competitive.
Comfort & Isolation
The fit is excellent and by all accounts, the units are smaller than the original V1 shells so it sits flush with your outer ear and not sticking out as before.
The smooth finish and deep nozzle (I tend to prefer "pro" fit over relaxed fits), keep everything rock-solid in the ear with top-notch passive isolation. The Merlin had a slightly more relaxed fitting and combined with the bass port is nowhere near as isolated as the Maestro V2.
Open or closed jaw stances do not break the seal and sudden head movements have no impact on the stability of the units in your ears. I am amazed actually that they managed to produce a 12-driver shell this small and comfortable, to be honest. The 10-driver Roxanne from JH Harvey is huge in comparison.
Accessories
UM has long since harmonized the accessories that come with its CIEM range and the Maestro V2 is no different in that respect.
However, with the Maestro V2 you do actually get the standard SPC cable alongside the stock upgraded silver/copper hybrid one should you wish to change the cables back and forth and compare the sound. That's a $72 accessory right there.
Apart from that, you get a cleaning brush, airline, and quarter jack adapter as well as a soft cleaning cloth.
All of this is neatly packed in their now standard round screw-top black hard case which I find to be a significant upgrade on the admittedly lavish but unwieldy red box they originally used on the UM Merlin.
If you find the hard case to be a bit on the big side for carrying around UM has supplied a small drawstring cloth pouch for your customs but they provide little or no protection from bumps or knocks so be aware of the trade-off.
Sound Impressions
Summary
The Maestro V2 has a dark to neutral tonal presentation with a mildly plateaued but solid-sounding mid-bass performance and a neutral but smooth-sounding and detailed midrange.
It has a thickish rounded note, particularly in the lower midrange where bass presence is slightly boosted over the older V1 and overall the V2 conveys a more musical and natural sounding signature than the brighter sounding and thinner V1. Vocals and the presence region are more elevated in contrast to a laid-back but articulate treble signature.
Of the two the V2 is the more aggressive and energetic sounding from the low to midrange whereas the V1 has the greater treble energy and a more forward top-end profile.
Bass
V1
Bass was gently elevated from 50 to 100Hz on the old v1 with a quick drop off below 50Hz. Bass is more subtle than anything else adding body to the sound rather than dominant and overpowering. Lower harmonics are good with a reasonable bass presence right up to 300Hz followed by a gradual drop off into a very balanced, detailed but largely neutral midrange.
V2
The bass on the V2 is more planted and with more body than the v1's low-end signature which sounds thinner by comparison. It is slightly more forward, somewhere around the 250Hz marker but not by a huge amount, just enough to offer a fatter sound but with a touch more decay.
Sub-bass rolls off a little less on the V2 so you get a better low-end rumble than before but it is still not earth-shaking levels.
Mids
V1
Vocals on the Maestro V1 are clean, accurate sounding, and fairly neutral in their positioning. It's not the thickest note you will hear on a midrange but it is very smooth indeed with a nice brisk pace, decent dynamics, and very good instrumental separation. Timbre in the midrange is more analytical than musical but it is definitely not sterile.
V2
Overall though the midrange is a little more aggressive on the new V2, a touch more forward and more engaging. There is a little bit more body to the sound though with what seems to be a boosted lower midrange and a rounded attack over the older V1 cleaner profile.
Vocals
Performances are front and center on the Maestro V2 and again sounds slightly more rounded in its attack but more natural sounding than the older V1 which sounds more analytical and brighter in comparison.
Vocals on the V2 are much less likely to exhibit sibilance, ethereal vocals such as Ellie Goulding actually sounded very smooth on the Maestro V2 compared to the edgier and less forgiving V1.
Treble
V1
I do love the treble on the V1, it's airy with excellent extension, quite revealing in some ways depending on what you feed it but it's not in any way harsh-sounding or horribly peaky. I really like how the dual tweeters present the treble on the v1 and I do not really consider myself that much of a treblehead.
Percussion work is snappy and well-defined, sibilance is negligible and the peak at 6k is a lot milder than you might imagine. That gentle roll-off up to and beyond 10k is done in such a way as to create a really nice sense of cohesion without sacrificing air or detail.
V2
The V2 treble, on the other hand, has been toned down a little in comparison making the treble performance sound darker than before. Gone is the 6k peak so any lingering concerns that it could get overly bright have now disappeared but at the same time, percussion and cymbal work haven't lost their edge.
It is still relatively clean and clear just not as peaky and unnatural sounding as the old V1.
I actually think the V2 top ends slightly more laid-back tuning help the overall presentation considerably. After all, it is largely the same dual tweeter configuration so you get plenty of the V1 detail and articulation but the edge on the attack has dropped slightly due to the smoothing out of the peak.
Some will find this new tonal presentation much easier on the ear, less fatiguing, and better equipped for a wider range of genres and quality of recordings, others might feel the air and sparkle have been sucked out a bit too much.
I can see the arguments for both but after listening to both for a period of time I tended to prefer the V2's slightly more natural and forgiving sound.
Click on Page 2 below for Matchability & Comparisons