The last two Cayin DAP's we reviewed, the N6 and the N5 were solid traditional style non-touch based media players that, initially with the N6, went straight for the audiophile market and then, subsequently, with the N5, went for a more musical broader appeal. The introduction of the AK4490 DAC into Cayin's portable products and its fine tuning for a bombastic musical experience on the N5 went down quite well, not to mention the competitive sub-$400 price.
However non-touch DAP's and Linux based framework UI's feel restrictive in 2016 and so it is no surprise that Cayin has decided to introduce their new i5 which is their first touch-based DAP at a very competitive $499. I say competitive because the i5 has a lot of excellent features and sound quality that I think makes it by far the leading mid-fi DAP out there right now sub $500.
What Is The Pitch?
This is Cayin's 3rd DAP and represents their most ambitious effort to date in terms of a compelling modern platform for delivering hi-res audio. Built on a standard KitKat 4.4 platform it has actually been skinned and designed in conjunction with the makers of the HiByMusic app, HiBy Music.
Now I am a huge fan of the HiByMusic app on Android and iOS and regularly use it over most native audio apps on offer. It simply works with just about any OTG device I plug into my smartphones. I even use it on the X7. More than that, the media management is very accurate and there is a level of wireless connectivity that I consider above average. Cayin's move to partner with HiBy on developing the HiBy platform on Android as the main UI on the i5 makes it unique and cuts out a heck of a lot of UI cul de sacs right from the start.
The i5 is also being pitched as a very cloud-centric DAP. Made possible by HiBy Music's wireless integration, the i5 is being touted as being able to stream and playback remote files either on your LAN or WLAN as well as services such as DropBox (though it cannot share its own library). This is a big step forward from the N5, and like the X7 and other newer Android flavored DAPs there will be plenty of life in the legs of this DAP beyond the initial honeymoon period with apps such as Tidal and Spotify and Facebook also possible. Let me repeat one more time the price, $499 SRP.
Build
Touch sensitive in 2016 means going "slab" like in the form factor and the i5 is no different to the X7, AK380, AK240 or any other Android platform in that respect. However, Cayin being Cayin have introduced a few design accents to mark it out from the more uniform design of the X7. In comes a rounded barrel-like top end with a large grippy analog pot on the far right-hand side that is more an extension of the rounded curves than an afterthought. It's blended, eye-catching yet discrete at the same time.
Volume Control
The analog pot itself is resistive based rather than stepped based which I prefer given quite a lot of cheaper plastic stepped attenuators tend to start pitting after a while and losing contact giving you a fair degree of audio drop out if not serviced on a regular basis for oxidization. The resistance is just enough to prevent accidental movement during everyday usage also but it will require a two finger operation. Cayin has very kindly added an additional screen overlay on the software to control the steps of the volume digitally which for some might be preferable for micro control.
Materials
The actual chassis is made out of CNC aerospace aluminum alloy chassis with a carbon fiber back plate, a legacy if you will from the N6 and N5 back plate which had the same back plate design. The chassis measures 126mm x 64mm and weighs 196 grams. That's just 1g more than the N5 and approximately 30g less than the N6. It is also just 14mm thick and the thinnest Cayin DAP in the range. In the hand it feels substantial enough but nothing more than say a regular smartphone would feel. Subjectively it is like holding a slightly thicker iPhone 5, that sort of dimension.
'Sans' Balanced
Gone! Yes, the balanced output of the N5 is no longer there with the i5 on the top panel. I feel sad about that, it was a great feature on the N5 with the right earphone but this is a personal stance and projecting outwards quite a few felt it was a bit hissy on sensitive IEMs. Instead, now you have a dedicated analog line out jack on the left and a dedicated unbalanced 3.5mm output jack on the right. Both are slightly inset to the curve of the top panel and suitably far enough away from the analog pot for fatter 3.5mm plugs.
Bottom Panel
Sensibly Cayin has replaced the metal on the base panel of the i5 with a plastic resin cover to enhance the wireless connectivity and reduce the internal interference caused by reflection and minimizing channel effects. In short, this little plastic cover should help reduce potential noise interference when listening to music and using the WiFi function at the same time.
Apart from the plastic cover, the bottom plate sports an all new USB-C connection instead of micro USB. I am in two minds about that but from a neutral perspective it is the future, it works with Mac technology as it stands and you do get a USB-C to USB A cable in the box so you do not have to go hunting for a new cable at a local store. On the downside, if you are using OTG or have a plethora of short USB cables on the 2.0 or 3.0 micro USB standard then you will have to find yourself some replacements to use the i5 the way you normally do with other DAPs.
Hardware Controls
The left panel is mostly flush with a few design accents and a single power button which doubles up as the screen on and off button when booted up. The button is slightly raised with a nice snap to it when pressed and a soft curved edge that feels comfortable in the hand. The right panel has three playback control buttons including back and forward side by side and a small 5mm gap between them and the play/pause button. The buttons on this side are a little sharper and low profiled than the power button also.
Memory Capacity
The memory slot is housed at the bottom of the right panel and holds microSD cards up to 200GB. This is on top of the onboard 32Gb memory capacity (and an additional separate 4GB for system memory), so it is fairly hefty for mid-sized hi-res audio files though you may want to explore OTG if you want to go primarily DSD. There is no specific format requirement with the i5 so you can use NTFS, exFat and FAT32 if you wish rather than be limited to FAT32 like some older designs. For upgrading the firmware, you can drop the upgrade file on the root of the onboard memory or onto the memory card itself and again there is no specific formatted memory card required which is a big bonus.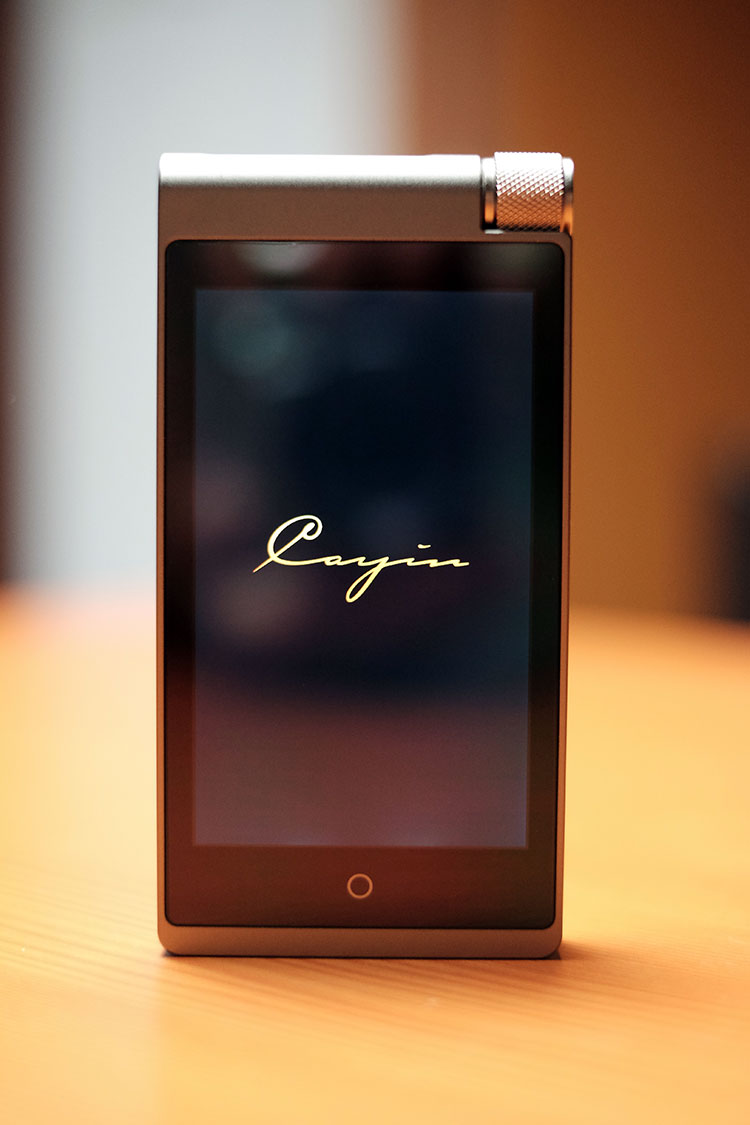 Screen
The Cayin i5 uses a 4-inch TFT IPS capacitive touchscreen display with a resolution of 800×480 pixels. Color saturation is excellent with plenty of pop on the screen and just as good if not better than the FiiO x7's IPS 4″ screen in terms of wide viewing angles and sharpness. Unlike the X7 screen, also its flush with the chassis whereas the X7 is slightly raised.
However, the one caveat is the level of backlit light leakage on the i5 screen which is fairly noticeable at the top and particularly at the bottom where it has at least 2-3 clouds of light just nestling above the bezel. As a music player, this is not an issue, as a media player, say for movies using 3rd party apps it may be an issue. Certainly, it is something Cayin might want to tighten up on future production runs as this is an early production unit. Otherwise, the i5 capacitive screen response is pretty snappy on all corners in both swipe and press mode with no noticeable lag and a noticeable step up on the DX80's laggy screen.
Battery Life
Rating
The i5 uses a 4800mAh 3.8V Lithium ion polymer battery which is actually an above average battery size and bigger than the N5 (4200), though smaller than the N6's 5600mAh. On paper, specs show the benefits with a rated 10-11 hours of battery life in everyday usage scenarios which is an increase of around 1-2 hours over the N5 and 3-4 over the N6.
Charging
It is not the fastest though to charge at almost 4.5 hours through an AC charger which does not come with the i5. You can use the supplied USB-C cable to charge from your laptop though at the cost of some additional time in the charging cycle. From 0% using my laptop charging took almost 6 hours. The latest firmware, v1.81 also has improved battery performance over the older 1.5 and the stock firmware it came with. Battery draw down does seem a touch lower than before under heavy usage.
Usage scenarios
However, this is Android and with the ability of the i5 to load up on 3rd party apps, use Wifi and BT you can end up shaving quite a few mins and hours off that 10-11 hour spec. If you are frugal and stick to music playback only on a mix of FLAC and 320k with the stock player then you can expect to get pretty close to that measurement and sometimes a few mins more with the screen largely turned off. Once you start upping the resolution, say use DSD files, throw in some Wifi to stream files then it drops to 9-10 hours or less. Overall though the i5 is one of the better performing DAP batteries out there right now and certainly edges out the Hifiman DAPs
Functionality
DAC
The Cayin comes packed with a quad-core Cortex A-7 processor, dual core GPU and an ARM 9 PMU and of course the rather well known 32 bit AKM AK4490EQ single DAC chipset. If some of that sounds familiar well it's because the N5 also packed in the AK4490 EQ as its core DAC so the decoding capability is somewhat similar on both DAPs. However, this time, Cayin have let the leash off a bit more on the AK4490's decoding ceiling allowing it to cope with up to 32BIT 384kHz which is a jump on the N5 which was set at 24BIT 192kHz.
The codec list is as impressive as ever with coverage for native DSD, DST encoded SACD, FLAC, ALAC, AIFF, M4a, WAV, APE, WMA, WMA Lossless, OGG MP3 and AAC. DSD is still set at DSD128 which is the same as the previous 2 DAPs from Cayin. I think that is a sensible commercial decision right now. DSD256 is not as prevalent, eats memory and expensive to buy.
You will notice I have yet to speak about the forthcoming USB-DAC feature of the i5. It is simply not out yet as of FW1.81 which is a shame but it is coming. When it happens you will get SPDIF out and USB out from the USB-C socket. Once we get it we will update this review.
Processor
Where the i5 breaks away from the N5 and N6 is in the processor selection with the i5 using the more powerful quad-core LC1813 plus Cortex A-7 compared to the older Ingenic Semiconductor JZ4760B – SA2000 processor used in their previous DAPs. Given that the i5 is running Android 4.4 with a highly integrated HiBy Music skin the upgrade in processing power should come as no surprise. There does need to be a level of capability also in running a lot of those 3rd party apps.
The one area I am hesitant on is the 1GB of DDR3 inside the i5. It's pretty good for 4.4 as it stands, no question on that. However, as apps progress with frequent updates more suited to the likes of Marshmallow and Nougat it could put a strain on the memory even if compatible with 4.4. That is pure projection at this point but with 2Gb and 46Gb of RAM the norm now in smartphones, 1Gb does seem a touch light.
Amping
Cayin has been careful to build an amping circuit design that really hammers down on noise and interference without compromising on power. This is the first DAP in its range with a wireless module so there is a bit more going on inside that can result in interference and noise than on the previous non-wireless DAPs (N5 and N6).
Volume is controlled by a Burr-Brown PGA2311 low noise digitally controlled analog volume chip which has been out for a few years now and by all accounts a DIY favorite for preamp builds. Cayin has stuck in two different flavors of opamps for specific amping tasks in the i5 to further target noise: the AD712 (low pass filter) for its noise performance and resolution and the OPA1652 for its distortion and dynamics performance. All of this is churned through a dual BUF634 buffer to get maximum clean distortion free output up to 250mA.
As a result, the i5's power numbers, though not groundbreaking, are more than adequate for IEM's and medium efficiency headphones in single ended mode achieving up to 190 MW + 190 MW into 32 Ohms. The distortion figures are also excellent on paper, rated at THD+N: 0.006%. Now when you compare that to the rated specs on the X7 amp modules of <0.001% (32Ω/1 kHz) then you might think the i5 is vastly superior but if the truth be told FiiO are simply playing it safe to account or variables unforeseen and perhaps Cayin, down the line, might opt for similar ratings.
Accessories & Packaging
Inside the slimline Cayin i5 retail box you get the following accessories and leaflets:
Type C to USB data cable
Type C to micro USB adapter
3 x Screen saver (with one pre-installed)
Back panel protector
Quick user guide
Warranty card
QC certificate
I would have loved to have seen an OTG cable or a short line out IC in the box also given both are features Cayin is touting. Also, there is a very fetching brown leather case which is a huge upgrade on the N5 leather case but it is an optional extra. Price is not that high, around $25 so I would highly recommend you get it. It is a nice natural tan color. Over the space of the review period, it does loosen up a touch so be careful about holding it in the leather case as it can slide out since there is no strap holding it in at the top.
CS-30TCR USB-C To Coaxial Cable
This one is hot off the press and it does not come packed with the i5 sadly but on its own its beautifully packaged and sells for $69.90 so not too steep.  The USB-C to coaxial will open up the i5 to digital delivery to any coaxial input on your DAC or receiver and give you an additional option beyond USB for using the i5 as a digital source.
It does not work on the Mojo by the way without a RCA to 3.5mm adapter which you can get in any hardware store though it does work with the Hugo but I found it a touch loose. You can argue that both are mobile platforms and the length of the cable is not in keeping with the Hugo purpose but for many they will be using the Hugo as a desktop DAC and most certainly I do also. In any event it slots in very nicely on my NuPrime DAC-10 flagship DAC as well as the Essence HDACC desktop DAC so it does open a lot of options while we wait for the USB DAC function to come online.
The cable comes packaged in a beautiful compressed cardboard wood effect box with some eye-catching grain. You really would think it is wood but it is not, some clever stuff there from Cayin. Open it up and inside there is a contoured felt display area with cushioned foam in the top lid for safer transport. The cable itself is nestled nicely in the cutaway central area of the case. The cable itself is 42″ in length and finished in a braided cloth sleeve, smoked chrome-finished connectors branded with a very elegant Cayin motif.
Looks fantastic for $69 to be honest. I won't get into a cable debate on its audible qualities, that is for another day but the cable meets the 75ohm standard so it should offer good frequency spectrum as required by a decent S/PDIF connection.  Also, its potential usage scenarios and system integration using the Cayin i5 as a source as well as the quality of materials makes this a promising additional accessory.
Page 2: The Software