The Cayin N6 is the company's debut digital media player featuring a dual PCM1792 implementation and an unusual design aesthetic. The price is $619.99.
Disclaimer: The Cayin N6 was sent to us is a sample in exchange for our honest opinion. We thank Cayin for this opportunity. To learn more about Cayin products on Headfonics you can click here. 
The last review we did with Cayin was on their C5 amp and we lauded them for producing a very worthy budget amp with excellent design sensibilities that in picture form honestly didn't do it as much justice as it did in real life out of the box. The price was right also and plenty in our local forum groups lapped it up for its power and imaging capabilities.
Well Cayin have been very busy since then and quite apart from their all new, still be launched C5 DAC, they have gone and released this year a spanking new DAP called the N6. True to Cayin form the N6 is no vanilla box designed to just sound good, it also looks incredibly unique. You will not forget this DAP in a hurry and perhaps only the cheaper Shozy Alien comes close in terms of standout aesthetics.
Cayin are also deadly serious about performance. Packing a wide range of codecs including native DSD piped through a dual DAC PCM1792 design and an original UI with plenty of 'ins' and 'outs' the N6 is gunning for the top spot of the mid-range DAPS both in terms of price at $619.99 and performance (hello AK100/120!).
What You Get?
The N6 package is perhaps a little austere in what you get and is more of an emphasis on presentation and style which, to be fair, Cayin does very well indeed with the N6. The outer packaging is all about branding but strip away that little external slip and you get quite a stylish yet understated boutique style box with the company name and logo on the front only. Open it up and that boutique theme continues with a tidy presentation of the N6, a small USB microSD flash reader and a keychain ring all arranged in a foam layered cut away. The flash reader I can certainly use for OTG work with some other devices if needed but the keychain ring is largely ceremonial. To the right you have a small white carton box with the obligatory Micro USB to USB A cable for plugging into the PC and charging as well as a short coaxial cable to allow you to maximize its DAC functionalities.
Latched to the side rather than inside the box there was a grey silicone slip on case for the N6 in a plastic bag which is most welcome for on the go use and abuse. Though not the most beautiful of things it will be next to impossible to get something shaped for the N6 to fit inside to prevent potential scrapes. You also get 2 extra screen protectors for the N6's large round glass screen and one of them is already semi-applied meaning you just have to peel away the top layer and it is protected from the first minute. Given my clumsy fingers I always appreciate little touches like that to avoid the big air bubble patchwork design I nearly always end up achieving when I do it myself. Apart from that you get a physical copy of the manual but note you also get a digital copy of the manual in the setting menu of the N6 itself which is a very handy feature when on the go.
Build Quality
Beauty is in the eye of the beholder and never a truer word said about the N6. Some will find it stunning to look at, others will not. There is nothing bland about the N6 and that goes doubly so for the materials used in the build of the N6. The unit itself is finish in CNC aluminum which gives it a fairly solid feel and the back is actually a true carbon fiber finish which stands out much like the AK240 rear panel finish. Buttons feel tactile and smoothly raised from the panel itself and nothing clunky like a set of screws or gaps in the buttons so the seal is tight from dust or other unwanted elements.
Aside from the unique and eye catching design of the N6 you will notice that it is a rather big DAP by today's standards with only the Shanling M3 and the Ibasso DX100 matching it in terms of dimensions for DAPs that I have reviewed thus far. In fact the M3 is almost the twin brother in terms of measurements coming in at 69x21x125.5mm compared to the N6's own 68x126x19.7mm.
The Screen
Of the two Chinese DAPs though the N6 has probably the more involving design aesthetic with the large circular glass display screen dominating the front panel unlike the M3 which is more like a square portal on a wall of monotonous metal. It doesn't operate like the more expensive Aurender Flow volume dial sadly being more of an aesthetic touch than possessing any functional capability. The LCD screen itself is not circular but rather a 2.4 inch 400×360 IPS glass TFT screen that sits squarely in the middle and right underneath the branded Cayin logo. Much like FiiO and Shanling this is not a touch sensitive screen with all controls being through the physical buttons on the front, sides and top panels.
The screen is sharp and easy to pick out detail. Colors are full and deep with plenty of contrast and though the font is thin and narrow I didn't find any difficulty in reading the menus or smaller icons during everyday use. The LCD screen has a very nice wide angle of view also with a viewing angle tilt of approximately as little as 10-20% at eye level. That's a huge benefit for on the go operation where it's not always possible to hold the unit in direct eye contact for viewing purposes. Compared to the Shanling M3 DAP, which also uses similar styling but with a slightly bigger screen dimension, the N6 screen is far more vibrant and easier to read in most usage scenarios despite being slightly smaller.
The Panels
Since the N6 is a non-touch based DAP the whole unit is awash with physical controls unlike the M3 which controls everything except power on and off through the command dial. On the front panel you have an artistic array of four buttons that control playback, UI navigation and option or track selection. Unlike the DX series from Ibasso though the control of these buttons only works when the screen is actively lit much like FiiO's X series units. Once the screen turns off the buttons deactivate also. The button array does not take up a whole lot of panel real estate but it offsets the LCD screen quite nicely and they are fairly tactile when pressed and easy to learn how to use.
On the left panel there is a small navigation wheel which allows for movement up and down within the UI as well as being able to push in and out for selection/enter once the option is highlighted. Movement is stepped yet smooth and the click is also quick and accurate though it does not actually allow you to start or stop or pause playback which is shame but not a deal breaker. On the right panel you have volume up and down buttons and on the top panel you have the power button.
The top panel also houses three 3.5mm output jacks for both DAP and DAC functionality. The first on the far left is an analog line out, the middle jack is the headphone jack out and the final one on the right is the coaxial digital signal out. I would have preferred the headphone jack to the far left personally, I guess a creature of habit there but otherwise no issues there. All three jack ports are finished in gold plating and the jack to port lock is pretty solid. The bottom panel has 3 features. To the far left you have a microSD slot which takes up to 2TB in size in theory with testing up to 128GB so far. In the middle you have the reset pin hole and to the far right you have the micro USB slot for USB DAC implementation, storage access and firmware updating and finally for charging.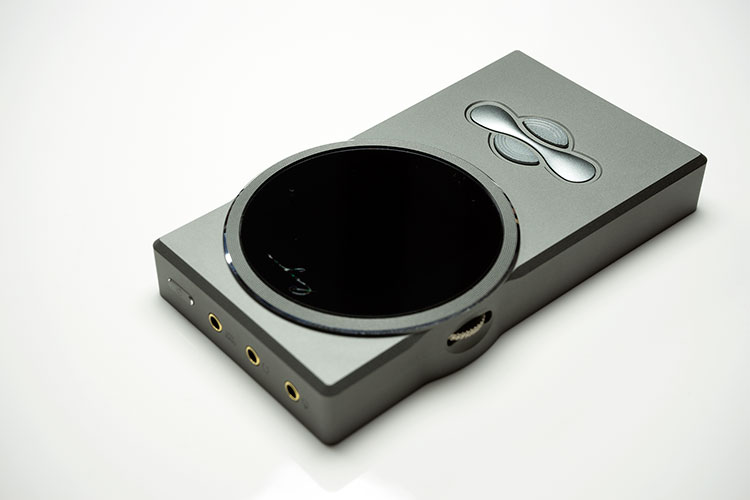 What is Inside?
The Chips
The Cayin N6 is both a DAP and a USB DAC with analog line and digital coaxial outputs and an independent circuit design for digital processing, the DAC implementation and the amplification. Processing is from an SA2000 chip (which controls the coaxial line out also) into a dual Texas Instruments PCM1792A DAC implementation. This is then converted into a single ended signal via a TI OPA134 and fed into a Texas Instruments OPA1662 for line out and a TI BUF634 for direct amplification out to your headphone or earphone.
According to Cayin the whole build is fully discrete and of course the TI DAC is fully implemented for DSD, PCM right down to lossy MP2 for decoding at rates of up to DSD128 and DSD64 as well as 24bit/192kHz for FLAC, WAV and ALAC. Cayin have also brought in a digitally-controlled analog volume solution to avoid potential channel imbalance for earphone users and used a TI PGA2311 for this purpose.
As a USB DAC the Cayin N6 will plug and play with MAC as standard but you will need the necessary drivers for it to load up in Windows (nothing new there) which you can get from the Cayin website if you really need it because thankfully Cayin saw fit to load the drivers onto the root of the on-board memory in zip format. Simply copy and paste the zip file to your desktop and do the usual and you will be up and running in no time with the N6 as a USB DAC.
C5 Commonality
It is a thoroughly modern DAP in many respects and the choice of chipsets and opamps confirms my belief that Cayin sought to bring a certain sound that built on the positive feedback or the best aspects of the C5 amp. If you remember the C5 was lauded for fantastic imaging qualities in its amplification. Well the N6 uses that exact same OPA134 opamp so you can expect both the C5 and N6 to share some similar tonal qualities namely that airy 3D staging quality and big sound stage. Given the PCM1792A dual DAC setup one wonders though why Cayin opted not to offer the option of a balanced output as well as a single ended output (TRSS) in the equation but perhaps cost was a deciding factor. Power loads are adequate at 220mW into 32ohms on the high gain setting but the output impedance is at a tasty 0.26ohm which in theory should make it a very attractive proposition for IEM users. Planar power is not there and it will need a good amp strapped to the line out to get the best performance.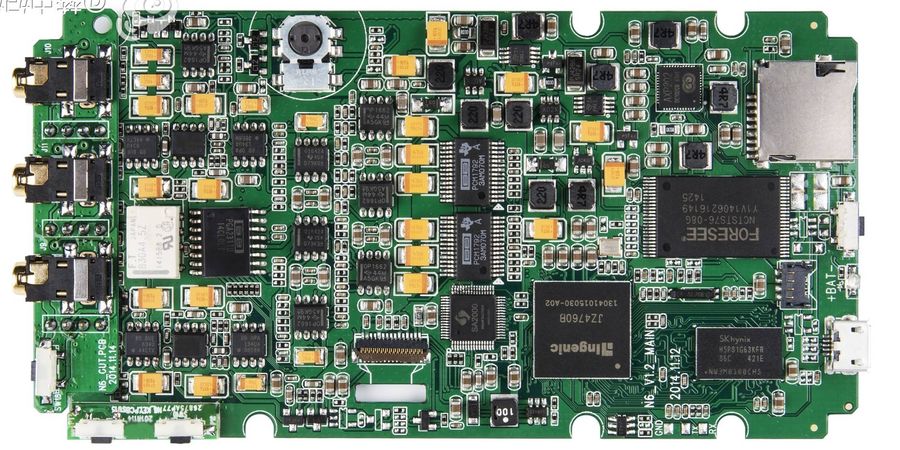 Battery
The N6 houses a fairly large 5800mAh lithium battery with a battery life of around 8 hours. There could be possible improvements coming through future firmware revisions though much like Ibasso and FiiO delivered with their units. It is quite understandable in using a chunky battery like this, given the processing power and dual DAC implementation, though I do hope Cayin can tweak it a little to break the 10 hour mark if possible since unlike say the DX90 the battery is not user replaceable. A full charge on the N6 will take around 3-4 hours via USB which is par for the course for most modern DAPs.
I did notice after extended periods of use however the N6 did get a bit warm even inside the silicone jacket due to the aluminum chassis itself being designed to dissipate the heat being generated inside. It's not hugely warm but it is much more noticeable than a few other DAPS such as the DX90 or X5 from FiiO. Reminds me a bit of the HM901 in terms of heat.
Memory
The N6 has a single microSD slot externally and 8GB of on-board memory. I believe at the time of writing the N6 requires FAT32 for firmware upgrades but audio files can be read from SDXC type cards and exFAT as well as FAT32 formats. Cayin have gone on record as being confident larger microSD cards will work fine with future firmware revisions if required. Note also the Cayin N6 comes with 8Gb of on-board tSD memory which is in theory more stable and better performing than regular flash memory but also a bit pricey.
Coming from FiiO's zero on-board memory DAPs even a small 8GB is a welcome relief but I do think at $619 a pop the N6 value proposition could have been better served with say 32GB of on-board memory even if it was dropped down to flash memory only to save on the cost of tSD implementation. Older FiiO units used to have on-board memory and the Shanling M3 at half the price had 8GB also, though it is of the flash variant to be fair. AK units when they first came out at close to the same price of the N6 also had around 32GB of on-board memory with dual microSD slots and also came with one microSD card pre-loaded with some nice demo music. It would be great to have some demo music pre-loaded actually on the N6 just to show what it is capable off.
Page 2: UI