The SoundMAGIC E11D is the digital audio friendly version of the E11C and uses a USB Type-C connector with inbuilt DAC. It is priced at £59.99.
Disclaimer: The soundMAGIC E11C was sent to us a sample in exchange for our honest opinion. We thank soundMAGIC & Hifiheadphones.co.uk for this opportunity.
To learn more about SoundMAGIC product reviews on Headfonics you can click here.
Note, this review follows our new scoring guidelines for 2020 which you can read up on here.
Since Apple ditched that traditional 3.5 connectors, Bluetooth earphones and adaptors have been snapped up like hotcakes. Android-based phone manufacturers follow the trend to leave out the connector on many mid-higher end phones and there are not many choices for good sound well within the $100 price bracket.
SoundMAGIC keeps good track of it to release the E11D with USB-C compatibility & built-in 24/96 decoding chipsets. This variant of E11C/E11 and successor to the very popular E10 is a mere $10 higher than the 3.5mm version, highly affordable as an earphone with internal decoding onboard from a promising label.
If you are used to forgetting the type-C converter cables or forgetting to charge your Bluetooth earphones, E11D could be your solution promising decent clarity in the output and a very affordable price tag.
Accessories & Packaging
The packaging is the same as the previously reviewed E11C, the E11D comes in an envelope size packaging with an open window at the back showcasing the IEMs and USB-C connector. A small carry pouch also (S/M/L) size silicone tips are included.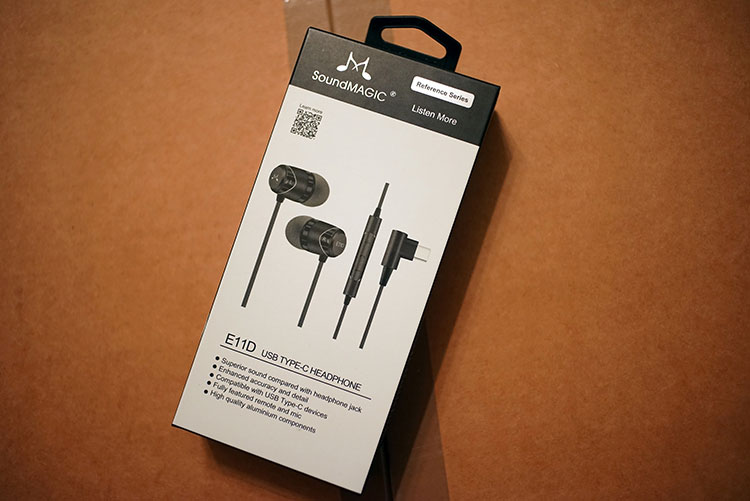 E11, E11C, and E11D
Just a quick rundown then of the exact differences you will find in all the E11 variations:
E11 – 3.5, no mic
E11C – 3.5 with mic
E11D – USB-C with built-in DAC
You should have no trouble guessing that D in the E11D stands for digital with a USB-C termination as well as a 3-button in-line control. Remember the E11C has nothing to do with USB type C despite the C on it's ending! If you don't need the in-line control or have a headphone jack on your source then choose the E11 which is more budget friendly.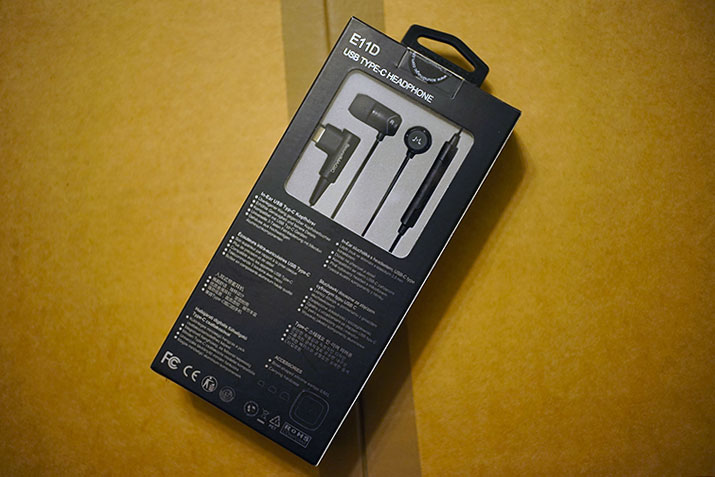 Build & Isolation
The E11D has a very attractive contrasting matte and glossy finish with CNC milled aluminum curves. This a huge upgrade from the older model E10 and displays a more professional finish than its predecessor.
Unlike the E11C, the E11D has a simple black SPC cable which is more stealthy than the E11C's semi-transparent grey sheathing and possibly a measure to control cost after adding decoding hardware.
The cables, however, feels quite strong though it gets tangled slightly. You will see L/ R lasered on the earphones and it may be easier to remember the left side is equipped with the microphone.
Right-angled plug
You can plug the E11D both ways into your phone's socket with USB-C's multi-way dumb-proof ergonomic design. This would be handy considering when you tilt the phone sidewards for PUBG/ Netflix you will certainly want the cable facing the upper side not to block your hand's way.
The connector is shielded by a robust aluminum housing. The cable may be a bit thin in audiophiles' standard but compact and light to wear.
In-line control
The E11D has the same handy line control configuration alike the E11C, you will be able to control vol., play/ pause and skips your track also to take phone calls on the splash-proof line control unit.
Be aware if you plug it onto Apple devices with USB-C connectors, the control logic may be different.
Comfort & Fit
Like the E11C performance, the E11D passive isolation is good enough for bus rides and I prefer wearing it over-ear to prevent microphonics. Be aware that when you wear it over-ear the mic will be at a higher position though. There is also no noticeable driver flex and with the lightweight design, I don't feel pressure on my ears after an hour or two wearing the E11D.
Power usage
Surprisingly, the E11D doesn't seem to draw too much power on my device. I would recommend, however, to disable the connection when the earpiece is idling so that it will not drain power however little that may be.
Sound Impressions
Testing the E11D on Xiaomi Max2, Samsung S8, Hiby R6, and FiiO M6 you will hear a consistent output and presentation. Everything goes through the built-in DAC so that is not surprising and it sounds quite like the E11C which houses the same shell and driver design.
The earphone is sufficiently powered by the inbuilt DAC but if you have dedicated DAPs or amps with strong single-end output the other version E11C would be more suitable for you.
There is more punch and body in the mids and low-end compared to the E11C with no built-in decoding. On an audiophile DAP, you may find the E11C more natural sounding with better extension and balance but E11D may give you the feeling like listening to the E11C on a mid-tier DAP.
The treble is tweaked for extra clarity and pushing forward the vocal frequencies. On the other hand, its mid-treble is lush compensating background noise and delivering a more forward vocal presence along with a decent soundstage and little to no background hiss.
Selected comparisons
Dodocool DA 156B
The DA 156B is a Bluetooth 4.1 wireless earphone with a warm and dynamic tuning. Putting the two together you will hear more details on the wired E11D and noticeably more resolution and clarity in the treble boosted by the internal decoding/amping.
The more analytical performance and firmer bass on the E11D make the music more energetic while the softer bass on DA 156B is comfortable to listen to. Doubling the price and coming with a built-in decoder E11D pumps out better fullness in sound and crispy trebles with emphasized details in the mids.
While the wireless headsets are good for jogging the USB-C wired E11D easily sounds a step up especially with treble quality and resolution. Without the need to recharge the E11D is more ideal to carry if you are a heavy user compared to wireless headsets which you need to charge every few days.
Final Audio e3000
The sleek design and quality machining on the e3000 make it a very popular budget option in Asia. Putting E11D and e3000 on the Hiby r6 you will hear a flatter tuning on e3000, shy midbass that is not as pronounced, unlike E11D's energetic and crisp presentation.
Noticeably the E11D has a fuller mid-bass and e3000 is more balanced and well-transited between frequencies. The e3000 has a faster response and is pleasant for long listening with the lower spectrum being more controlled, while the E11D behaves very differently with a strong punch in the lower spectrum and more texture in the pronounced treble.
Expect the e3000 to scale up with higher end DAPs/Amplifiers and the E11D to be a more engaging and handy contender for your commute and casual listening. It is also great for streamed vids /calls due to the better vocal presence and black background.
There is a more natural tuning and better headroom with the e3000 however on public transport it may feel less clear and harder to focus on any vocal performances.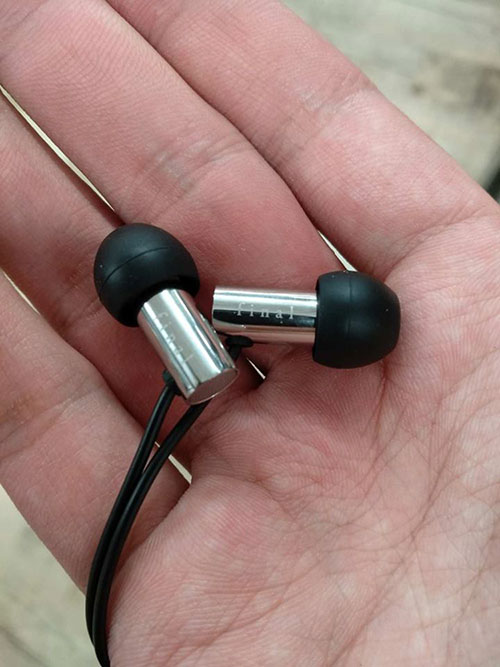 Brainwavz KOEL
You will again hear the E11D delivering more bass impact and more top-end sparkles compared to the KOEL. The KOEL sounds quite bass shy next to the E11D but you will love the balance and control over the whole spectrum, while E11D is more musical with its juicy low-mids.
The E11D boosts decent clarity and you may find it helpful compensating for lossy formats or older songs which has too much echo in the mix or fat lows. It is great for handling handheld games' bgm/SFX as well. the KOEL, on the other hand, has good synergy with better sources /better-mastered tracks where you need something more coherent and balanced.
Our Verdict
In comparison to other quality new contenders we reviewed recently, the E11D displays a fun character and matches well with sound content you would play on your phone daily.
The tuning boosts clarity on 70's songs and streaming content as well as blocking out background noise well on trains and buses. It may not be the best tuning to appreciate your high-resolution files but it handles sound content on the phone with decent resolution and dynamics while being very practical for phone calls and games.
Still, forgetting to charge your Bluetooth earphones or finding your USB-C adaptor? Try E11D and it could be the best solution since the 3.5mm smartphone 'hole' is fast disappearing.
SoundMAGIC E11D Technical Specifications
Driver: Dynamic 10mm Neodymium
Frequency range: 15Hz – 22kHz
Impedance: 42Ω
Sensitivity: 90dB at 1kHz/mW
Cable length: 1.2m
Connection: USB Type-C
Earphone body material: Aluminium
Weight: 15g