The SoundMAGIC P22BT are entry-level on-ear Bluetooth headphones priced at a competitive £39.99.
Disclaimer: The SoundMAGIC P22BT was sent to me for the purposes of this review, it is a sample and does not have to be returned. I want to thank SoundMAGIC's UK retailer Hifiheadphones and John personally for giving us the opportunity to review these headphones.
To read about SoundMAGIC products we have reviewed on Headfonics click here.
Prologue
I remember first hearing of SoundMAGIC when in the beginning phases of my audio addiction. Their E10 really put the company on the map for me. The E10 was one of the first balanced-sounding, budget conscience earphones I'd heard at the time. The less aggressive mid-bass bloat, soundstage, and tone was a refreshing change of pace when coming from something like the Skull Candy Ink'd.
Needless to say, SoundMAGIC left an impressive smile on my face back then and I still consider them budget kings, so I'm pleased to report things don't seem to have changed much with their newer models either.
What's in the box
Well upon opening the box you are introduced to a plastic grey holder that encompasses the headphones themselves. Pull this out and you'll also find the following:
1x soft faux leather carrying case
1x 2.5mm to 3.5mm wire
User manual
Charging cable
Unboxing impressions
Whilst this shouldn't be an important thing I think it only fair to explain and express the experience. Sound, functionality and possibly aesthetics should essentially be the only thing to really care about when buying any audio-related product. However, when a company goes the extra mile it does somehow give a better impression.
In this case, I feel SoundMAGIC failed to stand out as the box feels relatively cheap in addition to the packaging. The case, whilst very nice in some aspects and thoughtful though it might have been, almost added to this idea of cheap as it was quite thin and flimsy. But I still would like to give a tip of the hat to them for including it, as it makes an essentially portable headphone slightly more desirable to carry around with you. The faux leather has its own sex appeal and I guess some could really like it either way. Despite my viewpoint, they are deserving of an A for effort.
Build Quality
The build quality is what you would come to expect of a headphone at this price point. An all encompassed plastic takes care of the outside and a metal insertion has been added to the headband. The headband feels rigid and reliable, it is easy to adjust and features indicators from 1 to 11 on each side to ensure you can tailor the fit to your perfect preference.
This is quite a handy feature especially if you like sharing your headphones around like myself. Just remember your numbers and no matter how many times they are adjusted by your friends you can get them straight back into that sweet spot.
Headband
The headband itself is ever so slightly padded and covered in leather. Everything feels well made and there are no eerie, unnerving or creaking sounds coming from the headphones. They fold away swiftly without a hitch, solid and well-built are words that spring to mind when describing these puppies. So far so good well yes, however, there had to be a caveat somewhere and for me, it is the earpad design.
Ear Pads
The earpads are made from pleather and despite them being soft, squishy and comfortable they tend to get hot easily. Unfortunately, I am quite sensitive to ear heat and am unable to wear these for extended periods of time.
Now, these impressions are very subjective and for others, the design will be more than sufficient. These are designed to be worn as on-ear headphones and unless you happen to have the world's smallest ears there is no way these will work as over the ear.
That is a shame as I prefer the fit of most over-ears. I would still say there are much worse out there, however, if comfort is a big concern and you don't like the idea of sweaty ears I highly recommend either trying a pair before purchasing or looking at alternatives.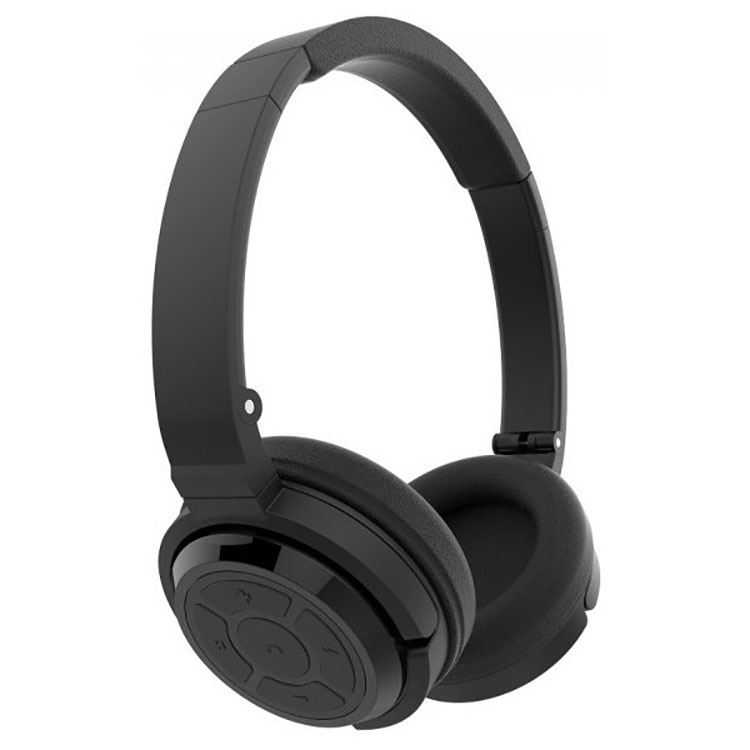 Ports
Located on the bottom of the headphones is a 2.5mm female jack slot for a cable. Other than that, you'll find the rest of your standard controls located on the left ear cup which also features a mic offset at the bottom and charging port tucked away at the top.
The final note add is regarding the buttons they are big and chunky to which I have no complaints. In fact, I am pretty sure they'd be pretty good for my old age when I no longer am able to work small things.
Functionality
Controls
You'll find an intuitive setup here. Each button does what you think it will do bar the phone icon which doubles as a play/pause button or answer key. The left earcup is home to the following buttons skip track, play/pause, and volume up and down. I do very much like the big button style and the way they click when pushed is always a nice sign of quality. My only gripe would be their inability to fast forward and rewind tracks but alas we can't have it all.
Practically speaking they work great for phone calls and I've heard no complaints when using them. In fact, the inbuilt mic is likely better than the one on my phone which is a benefit in my opinion.
Conference calls
The P22BT also has a feature that allows for conference calls should you need it. Whilst I haven't tested the feature myself I thought it an interesting one for them to add. They seem to block out outside noise well but of course, won't be on the same level of a set of good in-ears.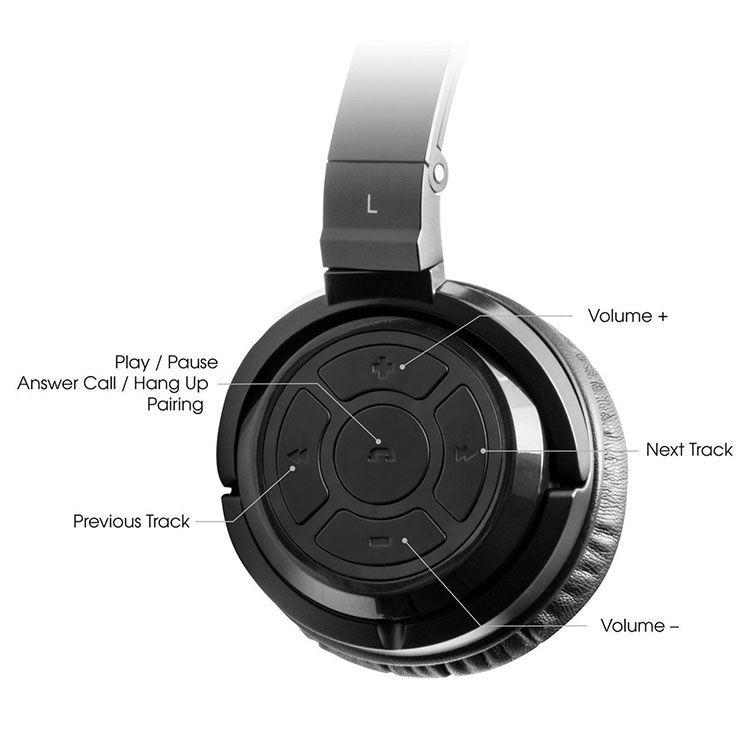 Bluetooth
The Bluetooth range is more than adequate. I got about 12M before things started to break up a touch more on that later. The pairing process for BT is also quite simple. Just push and hold down the phone button in order to switch the device on and pair there is also a blue led indicator below the phone button to inform you of connection and battery life of the headphones will be displayed on your mobile.
Bluetooth Quality
In terms of Bluetooth quality SoundMAGIC went for the basics here so don't expect to find any aptX or super HD 5.0 Bluetooth here. Nope, just the simple 4.1. Truth be told I have found in the long run to have more stability with Bluetooth 4.1 due to the data streaming being slightly lower.
The quality and performance of the P22BT is pretty dang good. The amp they are using seems to be doing a damn fine job of powering the headphones. The differences between them wired and running Bluetooth isn't night and day but the overall picture is running them wired will naturally capitalise on all the pros I've mentioned in the sound section below.
Bluetooth Performance
I've heard a few Bluetooth devices ranging from cheap to expensive and in this price tier I can't say I've heard anything better for the money. To elaborate on the signal breakup, I mentioned earlier I did run into some interference when doing some listening indoors but generally it seems to clear up fairly quick as doesn't interrupt the flow of music much.
Battery Life
The battery life isn't monstrous but generally better than others with an accurate-ish rating of 18 hours for music playback. I don't think there will be many of us who could find a phone to outlast them or perhaps even manage to listen to music for 18 hours a day. The results yielded about 16.5 hours when running all the way through. However, in real time, the results I got on average were about 10 days with moderate daily use before needing to top up.
Sound Impressions
Tonality & Presentation
Sound quality is more than decent, a real bargain at this price point. The only slight fault could be conceived in the midrange as it can be prone to peeking into spaces with stabs and dashes resulting in some unusual harshness depending on the recording. However, it is worth mentioning this is only apparent at higher volumes and is more prominent in Bluetooth mode vs wired.
From the moment you try them on you know they won't take too much time deciding what to be or how to sound. The P22BT might not be the most confident in its approach meaning it isn't bass overkill or particularly audiophile orientated or lean sounding. However, is certainly not bass shy either so expect some decent bass to greet you handsomely from track to track. It stays well controlled unless there happens to be a copious amount of midbass in the recording itself.
V-Shaped
They are mildly V-shaped, and the midrange sits slightly behind the bass and higher notes but there is still a good level of clarity and there is hardly any congestion which a rarity to find at this price point.
I do feel these headphones work great with all genres of music but after hearing some of its meatier notes sing I was forced to play some Club music. Oh, what a treat they are. The sound is rich with some good depth and sparkly treble and an ample soundstage.
Treble
The treble can take the centre stage but it generally tends to shy away from sounding brittle or peaky. The added colour to the low-end offsets this which means the treble tends to come away feeling more energetic than harsh. Air can flow between each instrument, but these are by no means hyper-detailed sounding monitors. The treble just seems to blend in to deliver a lively and engaging top-end signature.
Mids
With the SoundMAGIC p22BT mids you'll hear that V-shape signature kick in. Vocals still come across as clear and punchy but there are no mesmerizing or seductive vocals on show here. With the right genre of music, these do shine.
The midrange is still warm and offers a comforting touch when listening to some tracks. It is probably one of the hardest aspects of the presentation to describe on the P22BT. The best way to describe the midrange is that it lacks a vivid character with is dipped response.
Bass
The p22BT has an emphasized midbass response and a little more elevated than the sub-bass performance. The sub-bass delivers a nice level of power with the mid-bass warming up the instrumental timbre. The dynamic driver has a slowish bass decay but not for too long leaving a long-lasting smile on your face when you are listening to them.
Staging
The last thing I want to mention is the soundstage. Being a closed-back gives them the typical characteristic of most closed backs though they are not overly congested or terribly inaccurate. They simply do not offer any distinctive wow factor.
They still offer a good amount of air between instruments and certainly don't feel constrictive. There is still and out of your head kind of feel to the sound, spatial cues, panning and positioning are all accurate. There is a good depth to the soundstage although I would have like to see some more width but alas for £40 these keep up really well.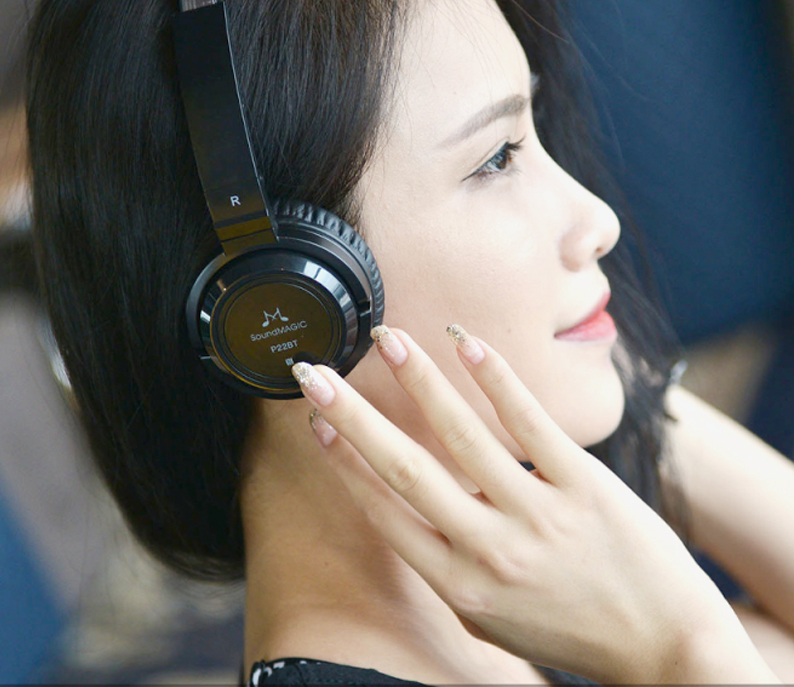 Our Verdict
Are SoundMAGIC still budget kings? Simple answer, in my opinion, yes, they somewhat are! It would be far too unfair to give them a complete yes because due to the growing market and competitors popping up left and right I'm sure there are companies out there who offer a similar if not better experience, but I haven't the pleasure of trying them.
These are an ideal day and daily pair of headphones for work, the gym or even a backup pair for on the go listening. You get a solid amount of battery life from them not to mention them being ready from the get-go. Bluetooth quality is good and if you don't happen to need this feature there is always the included cable.
To sum all this up the P22BT are a good offering from SoundMAGIC taking things right back to their roots. Sure, if you want something with a wider soundstage lush vocals etc you may need to look elsewhere but if you need a great sounding portable headphone for under £50 you really can't go wrong with these.
SoundMAGIC P22BT Technical Specifications
Driver: Dynamic 40mm Neodymium
Frequency range: 30Hz – 20kHz
DC Resistance: 32Ω
Sensitivity: 95dB
Maximum input power: 100mW
Weight: 85g
Bluetooth version: v4.1
BT frequency range: 2.4 – 2.4780 GHz
Range: 13m
Energy Consumption: Class 1
Music playback time: 18-20 hours
Talk time: 13-15 hours
Standby time: 640 hours
Audio output: CD sound quality, 44. 1.48 kHz 16bit stereo