The Xduoo X3II is a feature-packed entry-level digital media player priced at $119. It boasts of DSD playback, BT, USB DAC, and OTG capability.
Disclaimer: The Xduoo X3II was sent to me for the purposes of this review, it is a sample and does not have to be returned. I want to thank Xduoo for giving us the opportunity to review these headphones.
To read more about Xduoo products we have reviewed on Headfonics click here.
XDuoo X3II
If your headphones are generally not exaggerating in tonality, but, also do not impact hard, then this is a fantastic portable choice for you. If you are okay with strapping a musical amplifier to it while on the go, I highly recommend doing so.
.
Budget tier portable music sources seem a dime a dozen, don't they? With so many options in the Asian Market to choose from, how are we supposed to know which ones are actually good?
Well, thank the audio deities for this fake science degree I am holding right now, this lab coat, and these glasses too. Today, we are going to take a look at Xduoo's newest $119usd portable music player. Let's not waste any time and get right into the nitty-gritty of the review process.
Design
The exterior of the X3II is aluminum with a very dense feel to the entire unit. At 112g, the X3II feels very good in the hand and of high build quality. It doesn't feel thin or hallow in the slightest.
Typically, one can feel very gimmicky build in this price tier, so I am extremely happy to report that Xduoo did a great job with overall tactility. And truly, I think that is very overlooked in the review process, at least most of the time.
How does it feel when you hold it? You'll be holding it often, so I'd hope the design is enjoyable in the hand, right? It is. The button placements are very strange and too far near the bottom of the player to hold and also toggle comfortably for me.
I'd actually rather sacrifice some screen size there for something physically raise up with button placements. Not at all a big grip, but could be if your hands are large.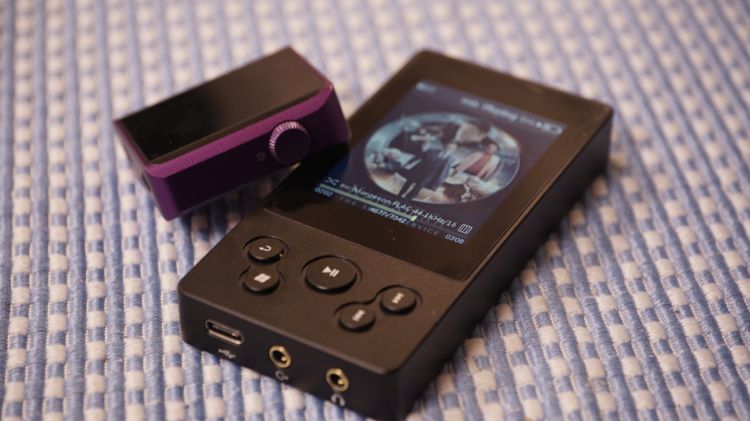 Software
I really enjoy the UI quite a lot. It has been a very long time since I actually felt comfortable navigating the menu of a non-touchscreen portable player such as this. What is there is very user-friendly and extremely well set-up.
What I love most is the back button and how fast the player actually responds. When cycling down the tracklist, it really moves nicely for such a budget-oriented player. Track skip is very responsive and I've not encountered even a hint of lag or sluggishness inside the player's UI.
The features button (which looks like a Windows start menu icon) will reveal a bunch of options in the way of favoriting, shuffle, and similar basic function toggles. I really enjoy the layout very much. From the home menu, everything is easily selectable and properly placed, at least, in my opinion.
Usually, I have some type of gripe on where certain folders are left and stored. But, in this case, I really have nothing negative to say. Great job, Xduoo. The player looks and feels fantastic in setup.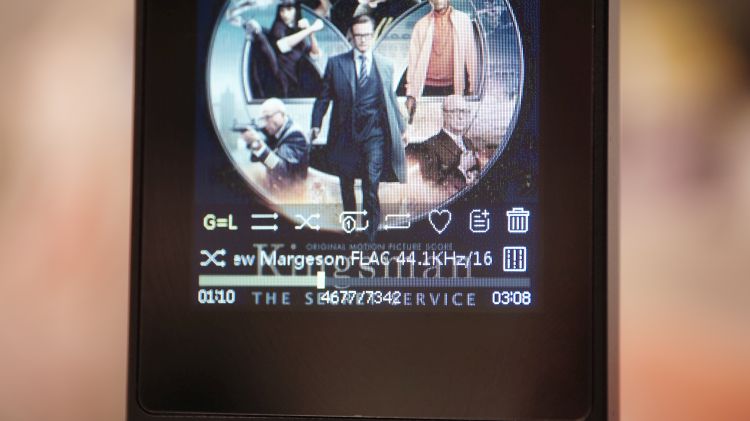 Wireless
The X3II is DSD128 capable and I feel just fine with that. I don't actually own DSD256 or beyond and usually have to outsource for loaner files from friends when sources are capable of it, so DSD128 is just fine for me. I can't hear any difference beyond that anyway, so for me, it is perfectly fine and at $119? I can't complain in the slightest.
It also offers bi-directional Bluetooth capabilities. Meaning, it can stream Bluetooth in an output format to something else, perhaps another player, or a speaker, or it can stream input into the player itself and listen to another source entirely through a Bluetooth connection.
Beyond that, it is totally HiBy link compliant when connected to a smartphone using the mobile HiBy app. Lastly, you can use it in OTG mode and use it as a file selection browser with a hard drive or a USB portable drive. Neat.
Internal Hardware
DAC
Most of my subscribers are putting their hard hats on right now because they know how I feel about the AK4490 chipset inside. I am not fond of it. In fact, I really dislike it on a subjective level.
Via a PC, the experience is less than stellar as a USB DAC. For the price, of course, one can purchase a $119 or so USB DAC that sounds better, but, it won't have a portable source capability. So there is a good trade-off there.
This DAC doesn't feel musical to me. Quite the opposite. I find the treble and bass a bit too sterile for a portable player. On a zero EQ phase setup, the X3iII performs shoulder shrug-worthy, at best, when used as a USB DAC.
CPU (Using as a DAC)
The CPU is very slow and has trouble shifting through shuffled tracks in Foobar2000. It will lag and hang because the internal hardware just isn't really suitable for fast track skipping. For me, that is a big issue. I have a 10,000+ track listing on my hard drive and I don't want to wait and lag when I am pressing skip.
Amping
The X3II dishes out 210mW, roughly, and that just isn't much at all for anyone using a Planar or anything above 120Ω. I find it unsuitable for portable USB DAC usage because of that fact.
You'll just need a good portable amplifier to strap to the X3II if that is the case. If you are going to do that, I suggest the XRK Uber. It pairs nicely with the X3II and will make it sound yummy, velvet-like and very dense feeling.
Sound Impressions
Bass
The X3II doesn't respond well to bass equalization at all. I am able to raise and toggle the low end in the custom music settings to my heart's content and hear very little difference. I have to really jack up the low end to absurdly high levels to really get more depth. By that point, there is too much distortion introduced.
As mentioned, the AK4490 DAC here just isn't musical sounding to me in this X3II. It feels overly linear and lacking in depth. But, overall fidelity and quality for $119 are very good. If you are into the linear feel without much depth (bassheads) you will enjoy this very much.
It isn't quite clinical in tone, there is certainly some bloom and thickness to it. I just feel like the quantity of the low end, for the most part, is very streamlined with the midrange and treble experience beyond it.
Midrange
As mentioned just a bit ago, the midrange falls in line with the bass experience, and the entire bottom and middle sections of most of my listening tests were extremely linear feeling. Meaning, equal bass, and mids without either feeling more prominent than the other.
On a flat EQ, the X3II performs very well in a tactile reference feel, but not with tonality. The experience feels flat but sounds quite sweet and soft sometimes in dynamic impact. That means that the vocal experience and bass feel more on the soft and relaxing side.
Usually, clinical tonality equates to a harsh feel to everything. But, in this case, the X3II is showcasing a rare quality: a flat bass and midrange quantity of equal portions, but with a more gentle approach.
I actually wish a lot more DAPs and sources would sound like that. I subjectively enjoy that type of sound field in my preferred music listening. I don't like harshness. Those who enjoy a more simplified and enjoyably soft approach to it all will really feel at home with the X3II.
The midrange is not bloomed and does not feel very forward. It is moderately relaxed in the physical locale and does not feel recessed at all.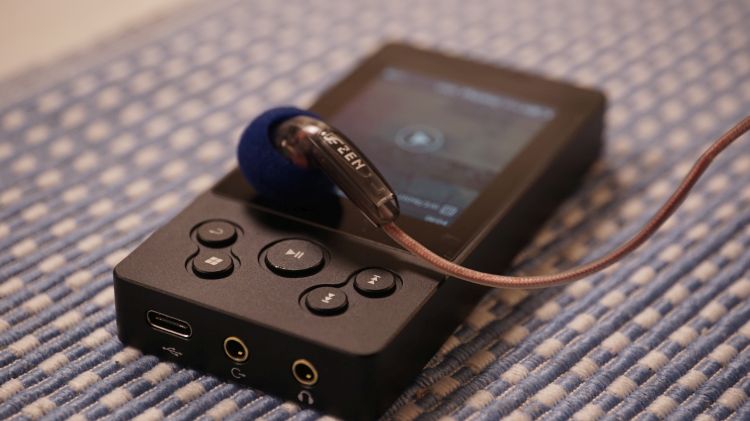 Treble
I'd naturally expect the treble at this point to feel a stark contrast to the rest of the response of the product. But, I was pleasantly surprised to hear yet another softer approach on the treble end. Even with an elevated treble response in the custom EQ window. I don't consider the player overly soft feeling, I do consider it relaxing.
It meshes very well with headphones that do not have harsh dynamic kick and slam. The more musical the headphone, the more enjoyable I found the X3II to become, as a source. The top end is very gently sparkled in certain "very top end of the spectrum" areas. But, the upper mids and very low areas of the treble response are a bit too dry.
This is very easily understandable and audible when referencing modern Jazz tracks from artists like Bireli Lagrene. When Bireli is playing his guitar, high E-strings are felt with a sense of dryness and lacking sensibilities.
Then at the same time, some piano key strikes are felt with a very beautiful sweetness and tonality that is on the musical end of the spectrum. That same guitar will then invert to a more sweetened tonality when Mr. Lagrene hits a harmonic.
High Pitched Vocals
The same is said with certain vocals and higher-pitched voices. Again, further enforced when I listen to "lo-fi hip-hop" tracks via Spotify. Some pianist moments can sound quite stunning at times, but then high hat cymbal strikes behind are overly lacking an interesting tonality.
Is this a problem? At $119? Nope. Not really. It just feels overly audible at times in that the very top end of the spectrum is pronounced more than than everything else below it. And it isn't a negative pronounced feeling. It is actually very musical and enjoyable.
Staging
Sadly, the X3II fails to impress me with staging dynamics. Although, I am happy to note that the soundstage feels excellently coherent and well-formed. While not large or deep feeling, what is there is very similar the what I consider the Beyerdynamic T1 to have been: the ultimate incoherent and proper feel and setup.
The void bubble of sound coming at you is so well balanced and snug. I enjoy it very much subjectively. But, the stage doesn't play well with the relaxed midrange appeal on a flat EQ. Meaning, if the mids were more bloomed and more forward, this X3II could have been one of the best intimacy lovers portable players I've heard in a while.
I am unable to fix that via EQ because the player doesn't respond well to customization alterations. Height and width are just fine and not lacking at all.
The depth of field and airiness factors are also good and neither great nor lacking in any sense of audibility. The strongest feature it has is the very jet black background effect and how quiet and clean the space between instruments and vocalists can feel.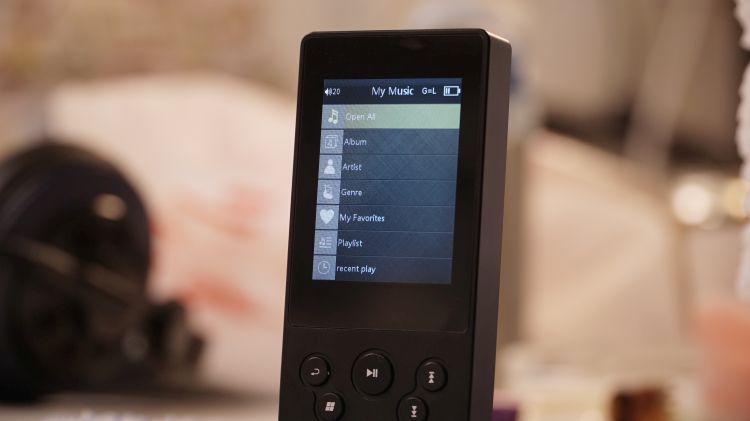 Our Verdict
Gosh. At $119? This was probably the best overall DAP I've ever reviewed in the way of overall fidelity and features. But, it doesn't cater well to people who might want more EQ functionality and to sound very different from the stock flat EQ sound the player exhibits.
If your headphones are generally not exaggerating in tonality, but, also do not impact hard, then this is a fantastic portable choice for you. If you are okay with strapping a musical amplifier to it while on the go, I highly recommend doing so.
My XRK Uber + X3II combo sounds very good and combined with the excellent UI, the experience is very enjoyable. I'd like to see the hardware used in the design that is friendlier to alteration in the next model.
For now, I really can't complain too much. The price is excellent and the features list is too. At $119, I feel comfortable saying it was a great improvement over the recent D3 from Xduoo. They did a good job on this X3II, no doubt.
Xduoo X3II Technical Specifications
Output Power: 210mW (32Ω/THD + N<0.0015%)
20Hz~20kHz (±0.15dB)
Crosstalk: >75dB
S/N: ≥114dB
3.7V/2000mAh
Charging time: 3H Quick charge
Battery life: about 13hours
Weight: 112g
Size: 102.5×51.5×14.9mm