In today's feature, we review the new Shozy Elsa which is an all-BA Knowles 5-driver in-ear monitor with customizable face plates. It is priced at $749.
Disclaimer: This sample was sent to us in exchange for our honest opinion. Headfonics is an independent website with no affiliate links or status. We thank Shozy for this opportunity.
Click here to read more about Shozy gear that we have previously covered on Headfonics.
Note, that this article follows our latest scoring guidelines which you can read here.
Shozy Elsa Review
I'm quite impressed with Shozy Elsa. It is a technical monitor with an accurate timbre. There is very little to complain about given that it's built to be a reference monitor.
Pros
Consistent Reference-type tuning
Plenty of design choices
Cons
Cable a bit stiff
Not for bassheads
We checked out the mid-fi quad driver offering from Shozy called the Magma, a couple of weeks ago, and what we have right now is another monitor from the same company. This time it's with a 5 Balanced Armature configuration, the Shozy Elsa.
At first, I thought it was a refresh of the Shozy BG released a couple of years ago, given they have the same configuration, but Elsa is clearly a higher-end offering from Shozy.
Elsa is placed on the higher side of the mid-fi market, with a $799 price tag. Will this full BA monitor live up to its promised reference tuning?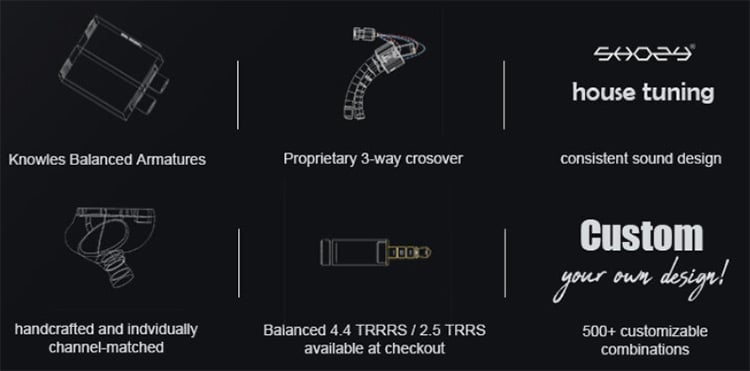 Tech Highlights
Shozy did not skimp on the Elsa as it is packed with some excellent Knowles BA driver components. This includes a bass/sub-bass woofer, Mids-treble range dual driver, and a smaller tweeter composite dual driver.
These are connected with a 3-way cross-over design, specifically, with a custom spec high purity OFC internal wiring, Tantalum capacitors, and Japanese Sanko solder leads.
Design
When I thought of "Elsa", the only thing I can think of is a winter-themed or an elegant blue-toned monitor. Shozy's website shows a blue design that was close to what I imagined it to be.
Although, the one we have here is of a different color and is unique – galactically colored foil showing rainbow colors, depending on the angle.
If this is not your cup of tea, then you would love that the faceplate can be customized among Shozy's wide selection of over 60 designs with over 500 customizable combinations.
Beyond the faceplate, the shells are ergonomically shaped with no vents. It is of a transparent shell, showcasing the beautiful engineering inside. The 5 BA drivers are neatly packed inside, showing off its complicated architecture.
Comfort & Isolation
The Shozy Elsa's shell is rather compact, making it easy to wear. It has an average insertion length which is quite comfortable.
Isolation with this pair is quite average. When used, I could not be bothered by outside noise as the outside noise is drowned out. There is no need to turn the volume up to further isolate the noise. It generally isolates well on different occasions.
Tips
Two different sets of tips are included in the box –black silicon tips and a grey one. They run rather small. I usually wear a medium but for this one, the large one fits me perfectly.
The difference between the 2 tips is their internal width and depth. The black tips are taller and narrower, while the grey one is wider and shorter. Comparing the two, there was almost no difference felt, but rather find the black tips to fit better.
Stock Cable
There is no mention of the specification of the stock cable but I might say, it is a bit stiff and sturdy. It looks like high quality 8-core copper cable, with a matte brown insulator.
The memory wire on the ear-hook side retains its shape very well. It is terminated with a 2-pin 0.78mm and a 3.5mm straight plug. If you have a balanced setup, the Elsa can also be ordered with a 2.5mm or 4.4mm termination.
Despite being a bit stiff and sturdy, there is excessive microphonics when in use. It's not heavy at all, so it's easy to move around with them.
Packaging & Accessories
The Elsa comes in a very small package, with the accessories well packed together. Others might be bothered that a $799 IEM has a very basic packaging, but it might just mean more budget for the IEM itself, which is a good compromise, isn't it?
Everything is enclosed in a simple small box. Inside, you can already see the accessories included – 1 pair of monitors, cable, 2 sets of S, M, L tip, and a semi-hard case. The case is unique, shaped like the SHOZY logo.
Sound Impressions
The Shozy Elsa is generally a reference tuned monitor. It is tuned to be relatively flat, with balanced lows, mids, and highs.
Bass
Knowing this is a five balanced armature driver in-ear monitor with a natural and reference tuning, there is very little expectation on the sub-bass and mid-bass region. I found the sub-bass to be hollow and thin, with little to no impact even in bass-heavy tracks. The mid-bass however is a different story.
Despite the lack of sub-bass, the mid-bass gives a full presentation, with articulate bass textures. It's not full-on thick, however, the quantity and quality are just right for a reference tuned IEM. For example, when listening carefully, the bass thwacks are presented with much clarity to be audibly heard.
The mid-bass is impressively neat. There are no bass blooms that introduce muddy or unnecessarily heavy low-end. It's just tuned well to give a referenced tuned monitor.
Mids
Despite the lack of bass with the Elsa, it excels in the midrange region, as a reference monitor should be. Despite not being a fan of reference-tuned monitors, extended listening does help in appreciating the tuning.
First of all, the positioning of the midrange is rather flat, with no forward elevation but instead side by side with the treble and bass region.
Delving more into the midrange region, it is mostly even, with a good balance between the lower and upper midrange. There are no noticeable dips between the lower and upper midrange.
When it comes to the quality of the midrange region, it is exceptionally clean, natural, and articulate. It has a very low noise floor, meaning when listening across different genres, the music flows smoothly, with no hint of graininess.
It also has an accurate timbre. Instruments and vocal textures are consistent with how they should sound when listening live. Elsa has an exceptional replication, which shows in listening to live recorded tracks.
Treble
The treble on the Elsa is surprisingly clear and accurate. It is a bit bright, although it works well with the overall tuning of the monitor. It extends high, with stable control, even as the notes ascend to the ultra-high frequencies.
What I found impressive is the extended frequency's clarity. It is exceptionally transparent and articulate, to the point where some noise from the recordings is picked up.
Listening to cymbal crashes and crisp strums on the acoustic guitar delivers an accurate and resolving performance. It does not round the sound but instead lets it flow naturally, without being overly sharp. It is also not overly amplified, to the point it sounds artificial.
Staging
When compared to other IEMs in this price range, the soundstage of the Elsa is average, It does lack in-depth, but it does well with its height and width.
The imaging is above average, with its good projection of the different elements even in busy tracks. Sound is projected in a circular radius, with my head being the center point.
There are no perceived elevation or dips across the frequency range, which makes vocals and instruments on the same stage, with equal weight, projecting an accurate representation.
Synergy
Efficiency
The Elsa is not hard to drive at all. With 15Ω and 105dB sensitivity, it can be easily powered by a mere smartphone. It does well with my iPhone 12 Pro Max with comfortable listening levels.
Moving to a good quality source does scale up the performance. It projects a better soundstage and imaging with the Astell and Kern SE100. You get a nice black background with no unwanted noise or background hiss.
Pairings
Pairings would primarily depend on how it is intended to be used. For people wanting a reference tuning monitor, it would be good to pair it also with a neutral-sounding source like the FiiO M11 Pro or a neutral with a hint of warmth like the Astell and Kern SE100.
For people who want more of a boost on the lower end, warm DAPs such as the Sony WM1A or a Shanling M7. This will introduce more push on the mid-bass and lower midrange for people who might find it to be lacking and dull.