The Cleer NEXT is the company's flagship open-back circumaural headphone featuring innovative 40mm ironless magnesium driver technology. It is priced at £699.
Disclaimer: The Cleer NEXT sent to us is a sample in exchange for our honest opinion in this review. We thank the team from HiFiheadphones.co.uk and Cleer for giving us this opportunity.
To read more about Wireless products we have reviewed on Headfonics before, click here.
Note, this 2-page review follows our new scoring guidelines for 2021 which you can read up on here.
Cleer NEXT Headphones
The Cleer NEXT represents a very good value headphone proposition. If you have a nice SET setup, prefer a vocal or mid-centric tuning but want to remain lush-free in terms of timbre, then the NEXT is very much worth a demo.
We have covered Cleer previously on Headfonics with Jarvin's review of their Flow II ANC headphones. However, this is the first time I have personally handled one of their products and secondly, the NEXT is their flagship set of headphones.
Now based on my understanding, the NEXT is not fresh in the market. In fact, it was launched as early as 2018 at an SRP of $699 US or £699 UK so we are a bit late to the game but nevertheless, this is still a very tempting price point in 2021 for any well-made and good sounding headphone.
Also, what makes this stand out from the rest of Cleers' headphone range, apart from the price, is the fact it is their only 100% wired headphone. The rest are wireless though they can operate in wired mode with additional cables. That makes the NEXT an audiophile class entry for the purposes of this review.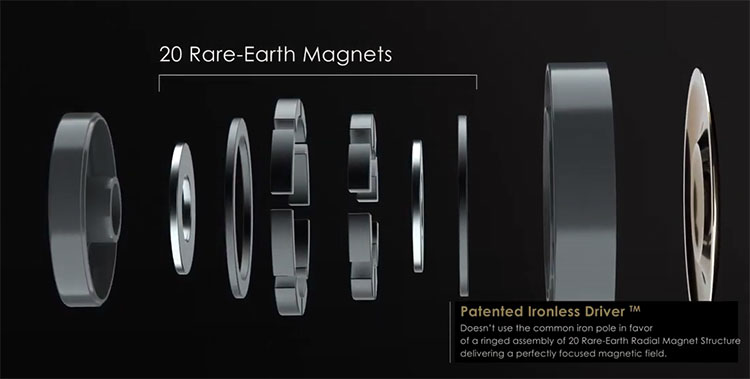 Tech Highlights
Driver Configuration
The Cleer NEXT is a single dynamic driver open-back circumaural headphone, however, this is a dynamic driver with a bit of a twist. Now the first interesting highlight of the NEXT is the use of Cleer's 40mm ironless driver technology which is also listed as the main driver in Flow II.
However, whilst their patented Ironless motor assembly is similar in both headphones the NEXT uses an upgraded diaphragm with a proprietary magnesium alloy hard dome and a polyurethane surround whereas the Flow II diaphragm is less descriptive.
THD Performance
So, what is an ironless driver? Well, Cleer has done away with the traditional iron pole design surrounding a dynamic driver's moving coil and replaced it instead with a ring-type assembly of 20 rare-earth magnets in a radial structure.
The idea is that this structure creates a far more evenly balanced magnetic field than typical pole-based dynamic driver magnet designs and in doing so reduces the amount of detectable THD or distortion in key areas of the driver's performance such as the bass and upper-midrange.
In fact, Cleer testing claims a similar convention iron pole dynamic driver has up to twice the amount of distortion using a 100dB SPL sound test though personally, I am listening at a lot lower than 100dB so possibly not quite the same THD gap in a normal day and daily use.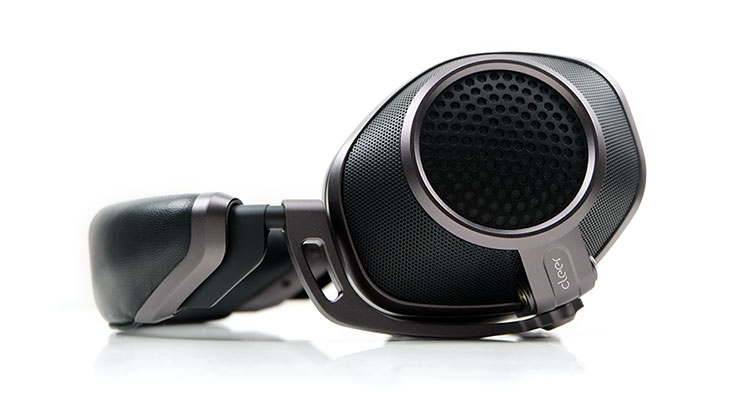 Design
The NEXT is a thoroughly modern and very attractive-looking set of headphones. This is a beautiful blend of black and middle-tone gray accents throughout a very robust but creak-free 6061-T6 aluminum frame body, black lambskin-covered memory foam pads, and matching single-arch headband.
I am hard-pressed to find any cheap plastics anywhere externally on the NEXT. I do know there is some used on the internal driver enclosure but on the outside, this is a premium build you would expect from big corporate brands.
In some ways, the NEXT shape reminds me of a Dan Clark Audio creation, particularly the AEON 2 series with its half-gimbal elongated cup form factor.
It is one of my preferred shapes given how easily elongated cups clear my ears compared to the more traditional rounded cup designs. It also helps the NEXT to keep what is a fairly slim profile shape despite being very much a circumaural fitting.
The aluminum gimbals on the NEXT do feel very robust also with decent lateral articulation but they will not fold flat so bear that in mind. The connector ports, (LEMO push-pull), are housed outside of the cup on an integrated top alloy ring and conjoined with the gimbals to retain rigidity.
The positioning is quite clever also. Not only are they halfway up the rear to keep the cables neatly out of the way but keeping them out of the cups altogether helps reduce the size of cups required to house the connectors.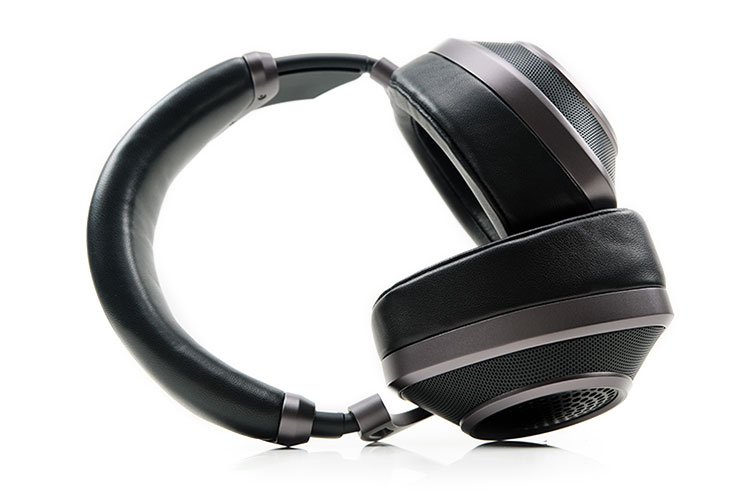 Comfort
Granted, the NEXT is not the lightest at 395g but coming from some circumaural planar headphone designs it very acceptable in terms of handling with weight distribution on the head that is simply excellent.
The single strap headband does have a tiny focused pressure hotspot on your scalp but it is not that cumbersome or distracting. The elongated and thick lambskin memory foam pads do an excellent job of mitigating lateral pressure also. That means it clamps well but not uncomfortably so.
The 3D pads are wedged at the base so they balance quite nicely around the general shape of your neck and temple. The inner cavity is also very substantial so unless your ears are huge there shouldn't be any aspect of the pads pressing down on your ears.
Overall, a very comfortable fit with a solid pressure distribution that keeps them very secure on the head at the same time. Note, although isolation is relatively low as it is an open-back headphone, there does seem to be a copious amount of damping inside the acoustic chamber as there is a small degree of background noise attenuation when wearing them.
Stock Cable
Connectors
The NEXT is terminated with a fairly deep 2-pin LEMO push/pull socket so sadly my HD800 balanced aftermarket WyWire and Audio Art alternative cables are too shallow to go all the way in and connect.
These are good connectors, however, the supplied male plugs on the cable side do not have too much resistance pushing and pulling but off a secure low-profile lock when in use.
Cable Design
The NEXT stock cable is a good quality 1.4m quad-core 4-conductor OFC Canare Star-Quad L-4E6S sheathed in a thick black PVC jacket.
This is also a 'double-balanced' internal geometry with special irradiated polyethylene insulation and overall a fairly dense shielding component to prevent EMI interference. It is a relatively heavy cable but super easy to manage, with no kinks or memory retention to speak off. It remains disciplined at all times during use.
The aluminum barrel and spring coil strain relief are grippy but substantial for a 3.5mm TRS jack and it does add a fair amount of weight to the cable end product. The cable does come with a 6.35mm TRS converter plug for desktop use so this is an entirely single-ended system unless you have a deep LEMO terminated balanced cable that fits.
Accessories & Packaging
The outer packaging for the NEXT is fairly professional medium-sized construction but relatively standard in terms of headphone boxes.
This is an all-black affair with a minimalist graphic vinyl sleeve outer and a lift-lid inner with the headphones nestled in a deep satin-wrapped foam layer. It is plenty good for the travels so everything should arrive in one piece.
The NEXT accessories inside include the following:
Stock cable
6.3 mm adaptor plug
Carrying pouch
Quick Start Guide
Safety Sheet
Carry Pouch
I do not know if the included carry pouch is wholly adequate for protecting the headphones, in fact, it is probably not given how soft it is.
However, I kind of like it as a storage pouch. This is a black synthetic leather bag, relatively long and unique with a lip that cleverly houses the cable inside a zipped enclosure and feels really soft and luxuriant in the hand.
The inside is faux fur lined right to the bottom and feels tremendously soft and of excellent quality. There is plenty of room for the NEXT headphones to fit in with the cable fitting neatly into its own little designed area.
I have seen similar before with Sony's smaller pouch system on the MDR-Z1000 with its own dedicated pocket for the cable but this NEXT pouch feels more substantial and better made also.
Sound Impressions
Summary
The Cleer NEXT could be considered an unusual headphone in today's saturated market. By unusual I mean its tuning and FR curve which is quite mid-centric but at the same time very spacious with excellent clarity and instrumental separation.
Vocals, especially higher pitching vocals, are to the fore but the NEXT does not bring the whole orchestra with them so it's not an 'everything in your face' presentation. Instead, it sounds quite wide, with some excellent stereo imagery and plenty of space for vocals to breathe quite easily.
What is also unusual is the lack of roll-off in the sub-bass below a relatively controlled 100-300Hz mid-bass bump. This ironless driver is quite linear from 100Hz down to 20Hz though the quantity is not huge or pervasive enough to affect the timbre dramatically further up in terms of bleed and warmth.
Some might find the treble fairly energetic but it is not a shrill or brittle tone. There is some peaking at 6-7k but it's fairly balanced with the upper-mids where the amplitude in the FR is at its highest at around 4k.
Lower-mids tuning has a very minor dip around 800Hz-1k that keeps instruments positioned behind the elevated mids to upper-mids including vocal presence. 2-4k is where you will find the NEXT at its most dynamic covering some vocal ranges and higher-pitched percussion passages.
Timbre
The overall timbre of the NEXT is quite neutral with a small nudge of warmth in the mid-bass from 100-300Hz and a brighter upper-mids and treble presentation. IN between the mids are generally on the cooler and lighter side in terms of note tone and body, but not so light as to sound brittle or squeezed.
Part of that neutral character in the instrumental timbre comes from that fairly flat sub-bass tuning. It extends wonderfully well so there is no problem picking up on nuanced rumbles when called upon but it does not inject a huge amount of warmth or power into lower-pitched instruments bass fundamental.
Thus, instrument characteristics are presented to you for analyzing or observing rather than gripping you with any sort of dynamic intensity. You get an accurate picture of their power without being overwhelmed with power if that makes sense.
It does mean, however, the NEXT is blissfully free of upper bass bloom. This headphone lacks mud in its lower-mids timbre which simply helps reinforce the perception of great mids clarity.
Vocals that have a higher pitch, either head or mixed vocal with a soprano lilt, will come across as quite neutral in terms of their harmonic balance.
Synergy with your source and amp will make a difference, especially across the 4k peak. If you are using a smoother R2R DAC and SET amp it will sound more accurate than hard-edged but a very cool solid-state setup might push it the other way.
Staging
The NEXT is a 'quick sounding' headphone with a nippy bass and a relatively fast transient response. So, while it doesn't excel in terms of absolute power, its clarity and excellent layering on the low-end give it a fairly defined performance allowing you to pick out what is happening quite easily below 100Hz.
That lack of strong bass fundamental and stronger 4k peak, however, means your ear is going more in the direction of the mids and treble. Not too far north since Cleer has not pushed that 8-10k too high but it does have a stronger staging width and height characteristic combined with a forward vocal presence region.
Despite the forward nature of the vocals, instruments have been smartly tuned to tuck in behind and out wide creating a relatively wide stereo image. Combined with a relatively short decay and neutral weight from the ironless driver you will hard-pressed to find any smear or veiled imaging cues from the NEXT's presentation.
Click on page 2 below for synergy and select comparisons.