Today, we review the Shanling EM5 which is an all-in-one desktop DAC, amplifier, and streaming device designed for headphones and IEM users. It is priced at $849.
Disclaimer: This was sent to us as a sample for our honest opinion. Headfonics is an independent website with no affiliate links or services. We thank the team at Shanling for giving us this opportunity.
To read more about Shanling products we have previously featured on Headfonics click here.
Note, this article follows our latest scoring guidelines which you can read up on here.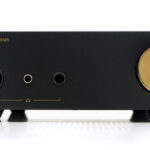 Shanling EM5
The Shanling EM5 is a bit of a bargain considering the price it is being sold at compared to what it can do. You get a lot of value here with a DAC, headphone amplifier, pre-amp, local media player, wireless connectivity, and tons of I/O. It is a proper all-in-one device for the headphone enthusiast who has a modern digital set up in their home or office.
Pros
Plenty of input options
Good output power
Easy to pair
Sometime around the start of the 3rd quarter of 2021, Shanling launched two desktop units geared primarily toward headphone users but with some crossover appeal to modern home audio lovers.
The first is an integrated amplifier with wireless connectivity called the EA5. This unit includes an Abletec Class-D amplifier with connectivity specifically for speaker users but also offers a single 6.35mm output for headphone functionality.
The second, and current subject of this review, is the Shanling EM5. This version also operates as a DAC, amplifier, and pre-amp with wireless and wired streaming capability but also a much stronger focus on headphone users with a wide range of PO outputs, both balanced and unbalanced.
At a price of $849, the EM5 covers a hell of a lot of ground with tons of features. It is also far cheaper and more headphone-focused than our previously reviewed all-in-one award winner, the Cyrus Audio One Cast.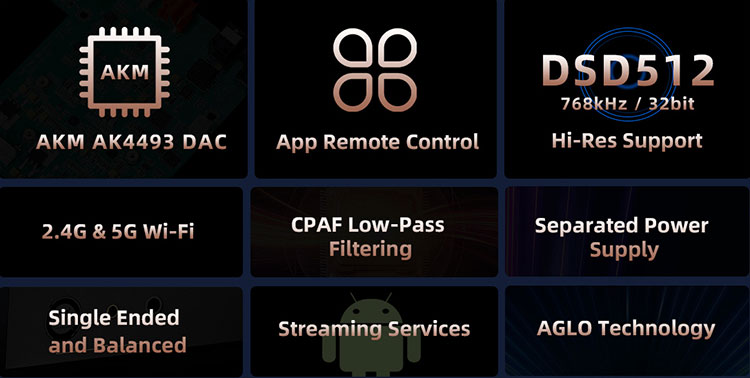 Tech Inside
DAC
It's an AKM, it's an AK4493, and it's possibly a collector's item, well almost. For those who are concerned about the EM5's potential life-cycle, Shanling has assured us they have enough chipsets for the projected lifespan and this will not be a limited-edition item.
It is a single channel implementation with CPAF low-pass filtering as opposed to a dual-channel despite the circuit being balanced output capable. The conversion stage itself is able to decode up to PCM 32BIT/384kHz as well as DSD256 natively, and DSD512 via a software layer. MQA is in there also with an 8X hardware unfolding capability.
The digital bridge is FPGA controlled with a USB ComTrueCT7601 stage for digital input, as well as multiple coaxial, optical, and RJ45 inputs. The FPGA is the same version used inside their recent DAP lines such as the M6 Pro 21.
Via the FPGA controller KDS Femto Clock inside as well as Shanling's own CPAF technology, (Constant Phase in All Frequency), the AKM DAC is able to feed a phase-aligned analog signal to the LPF (OPA2211) and the OP+BUF stage for amplification.
Note, the EM5, like its DAP technology, makes use of Shanling's patented ALGO technology for bitperfect output from the DAC. An important inclusion since an Android software layer is at the heart of its digital audio management.
Amplifier
There are two stages to the EM5 amplifier and both are IC-based: the headphone output (2 x TPA6120A2), and a pre-amp, (2X Muse8920), with both balanced and single-ended options available.
For the EM5 headphone output, the power raw numbers are reasonably good at 540mW @32Ω for its single-ended 6.35mm output and just over 1.5W or 1.62W output for its 2 balanced outputs, the 4.4mm and XLR 4-pin connections. Both ratings are measured with a 32Ω load so there should be enough in the tank to drive modern planars such as the Meze Elite or the LCD-5.
Just to note the maximum output ratings are closely linked to the EM5 amplifier's 4-stage gain feature which will throttle to its lowest point of around 16mW in low gain and somewhere around 195mW in high gain for SE and a bit higher for balanced at 64mW low-gain up to 577mW in high gain.
To achieve the top-rated aforementioned numbers, you need to select the 4th gain stage called turbo mode. All EM5 gain stages are user selectable and affect both the headphone output and the pre-amp to the rear.
Output impedance for the EM5 PO section is comfortably under 1Ω at 0.8Ω for SE but a little high for balanced at 1.6Ω so IEM users take note. The rear pre-amp output is rated at 2.8V for SE and 5.5V with variable volume control possible being controlled in the digital domain.
Streaming
Of course, the big stand-out feature is the EM's streaming capability with both wired, (ethernet), and wireless (WiFi & Bluetooth) options. Streaming is closely linked with the EM5's CPU which in turn powers its Android OS layer where all the streaming apps management is done.
Here, Shanling has used a Qualcomm Snapdragon 430 (MSM8937) which is a version that is a bit behind what they are churning out on their DAPs but given the EM5 OS is far less complex and effectively a walled garden it should not pose too much of an issue to most users.
For WiFi, the EM5 is capable of both 2.4GHz and 5GHz signal management including support for Airplay (2), TIDAL, Qobuz, Amazon, and Apple Music streaming. Bluetooth is lagging a bit for me at BT4.1. but the codecs levels are good, however, with up to LDAC support.

Design
The Shanling EM5 is actually quite a compact boxy unit measuring in at 238mm x 188mm x 55mm. It is not that far off the size of the Ferrum OOR we reviewed last year save for a slightly deeper dimension. If you have a compact desktop space allotted it should fit in fairly neatly.
The matt black aluminum chassis is very nicely done with a very low-profile assembly with all the screws to the rear of the base. Venting grills are also housed in the base panel of the unit further reducing disruption to the clean lines.
Some of the housing seems to dissipate heat as it can warm up a little during use and I can only put that down to what Shanling called their Airgap design technology. I suspect that is primarily managed via the top panel which has some purposeful grooves combined with the base venting system.
Gold accenting is prominent on the aluminum front panel with a very smooth and shiny gold-plated or gold-finished multi-function stepped attenuator as well as the 4.4mm PO socket. It is not a very grippy surface in all honestly but the stepped motion of the attenuator makes it feel fairly precise in its movement.
Top Panel
All the aesthetical focus will primarily be on the top panel of the EM5 for two reasons. The first is the built-in capacitive Android-based touchscreen functionality that is basically the media center of the EM5.
The second reason is the attractive glass panel that stretches right across the main chassis body. It not only houses the LCD panel but also outlines the circuit design diagrammatically and in quite some detail.
It is quite an elegant finish and quite discreet also with the screen only becoming apparent once you turn it on. When turned off it looks as if it is not there at all. Having said that, the EM5 glass panel is a bit of a fingerprint magnet so you will need to give it a little wipe now and then.
IPS Screen
The EM5 uses a 4.7″ capacitive touchscreen which in turn houses what I believe to be a customized Android OS but which version I am not sure as Shanling has not shown that information in its setting section. It looks to me like Android version 7 but clearly very customized, (more details on the OS on page 2 of this review).
The screen itself is a 720P IPS panel, (720 x 1280), with a horizontal axis so if you are coming from a typical smartphone or DAP setting the screen is wider but there might be more scrolling for media management lists.
I presume the Android layer is being motored via the Qualcomm Snapdragon 430 CPU so touch response is good but not lighting fast. Legibility is fine, no issues there with a fairly wide legibility angle but since it is also app-controlled via a smartphone I suspect wide viewing angles may not be an essential requirement with the EM5 screen.
You do have the option of two types of direct physical touch control, either through a singular floating orb or via gesture controls. I prefer the gesture controls after messing around with the floating orb for the first few weeks. You end up having to move the orb out of your way a lot to access some of the menus whereas gesture controls are a lot cleaner.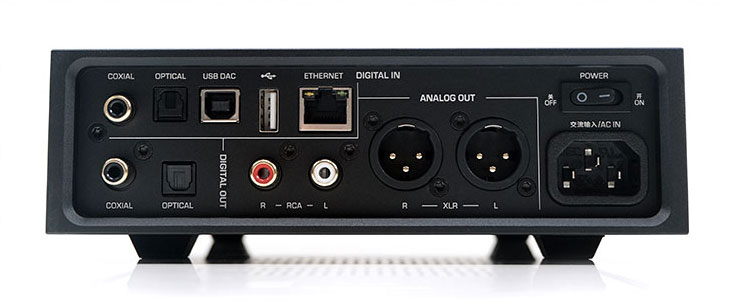 I/O
All the digital I/O and the analog PO are to the rear with a wide suite of headphones PO on the front panel. PO options include balanced with a 4-pin XLR and a 4.4mm connection and unbalanced with a 6.35mm output.
The EM5 does have sensors in each output socket to detect which input is active to send the audio signal to. However, there is no override feature for each PO as far as I can detect which means you can play both balanced and unbalanced headphones at the same time.
On the rear, you have ample digital inputs for a headphone orientated DAC/Amp with coaxial and optical digital inputs and outputs as well as an RJ45 input. You also have two USB connections, a traditional USB-B type input, and a USB-A which you can use for OTG digital audio linking to DAPs and expanding your storage options via flash drives.
For analog, you can bypass the internal amp with dedicated balanced and SE outputs which are always nice to see at this price point. This is where the pre-amp comes in also with balanced 3-pin XLR or single-ended dual RCA output options.
Storage
There are multiple storage options on the EM5 both virtual and physical. On the physical side, you have 32Gb of internal storage as well as MicroSD support for up to 2TB via a left panel slot near the front. To the rear of the EM5, you have that USB Type-A connection for OTG flash drive expansion.
I am unsure of the maximum capacity for the media manager in Android for OTG storage since I only have a 64GB drive but I presume at least 2TB powered or otherwise external HDD will work.
On the virtual side, you have unlimited and will depend on your NAS or DLNA/Airplay setup. My own DLNA server (Serviio) has around 3.5TB and barring a few congestion hiccups I was able to route audio via BubbleUPnP to the EM5 or connect directly to Serviio via the EM5 NAS menu.
Packaging & Accessories
The EM5 packaging is par for the course for most desktop HiFi or DACs and amps of this nature. The outer packaging is a lift-lid brown stiffened cardboard box with ample amounts of contoured foam on the inside to protect both the unit and the accessories.
Accessories are kept to a minimum with just a 3.5mm to 6.35mm convertor inside the same plastic bag as the detachable 3-prong plug. You also get a fairly succinct user manual in Chinese and English and a small warranty card.
Click on page 2 below for software and sound impressions
Click on page 3 below for pairings and select comparisons