The Shanling BA1 is a desktop Hi-Fi Bluetooth receiver featuring an ES9218P DAC and up to LDAC wireless decoding. It is priced at $169.
Disclaimer: The Shanling BA1 sent to us is a sample in exchange for our honest opinion in this review. We thank the team at Shanling for giving us this opportunity.
To read more about Shanling products we have reviewed on Headfonics click here.
Note, this review follows our new scoring guidelines for 2021 which you can read up on here.
Shanling BA1
It may not be the most powerful or resolving device at the price range but the Shanling BA1 flexible design and natural timbre pair well with different genres of music and moderately demanding headgear.
The Shanling BA1 is a low-profile, USB-powered desktop Bluetooth receiver and amplifier with Sony's LDAC technology and AptX LL/HD Hi-res playback.
The slim single-ended receiver doubles as a USB DAC and amplifier and it also supports optical output so you can use it as a digital transport to turn your DACs into a wireless setup.
This is one of the coolest-looking Bluetooth products I have ever seen and it is capable of handling a lot of usage scenarios not realized by older-gen wireless products. Let's walk through the features together I will share my impression from a portable audio user's perspective!
Tech Highlights
The Shanling BA1 can handle multiple usage scenarios. This includes acting as a headphone amplifier, a streamer, a USB DAC, a digital transport to your DAC, or adding Bluetooth receiving capabilities to your amplifiers. In addition, the BA1 is supported by Shanling's Controller app which will allow users to customize the sound tuning as well as digital filters.
The BA1 uses the same CSR8675 Bluetooth solution embedded within their flagship music player M8, and it supports aptX HD, aptX LL, and LDAC.
That means you can switch between high performance and low latency connection codecs, stream with Bluetooth while playing games and movies without a lag, or switch to the higher fidelity LDAC connection with 3x the data transfer compared to the SBC codec.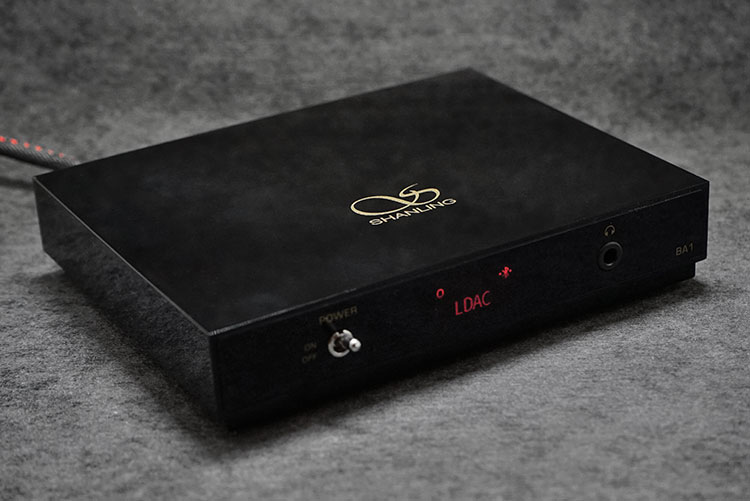 Design
Measuring just 120mm x 26mm the BA1 is extremely compact and light and can very easily fit on the desktop without getting in the way of other items.
The glossy body with a golden logo imprinted looks like the lacquered finishing on pianos, this is possibly the classiest design on a Bluetooth receiver I have seen to date.
A small screen on the front panel displays the codec being used and the connection status. Lighting up in red, the screen reminds me of some REGA devices and it looks really cool when you dim the lights also. All components are symmetrically lined up on the front panel, neatly arranged with a cool retro feel because of the metallic switch used.
There are rubber feet below the machine and it holds on well to other amplifiers or the tabletop, also to keep it from mechanical shocks. You will find the Hi-Res Wireless and Hi-Res certification logos, LDAC logo, and Qualcomm AptX logos imprinted beneath. At the back, there are two screws that hold the case to the body of the device.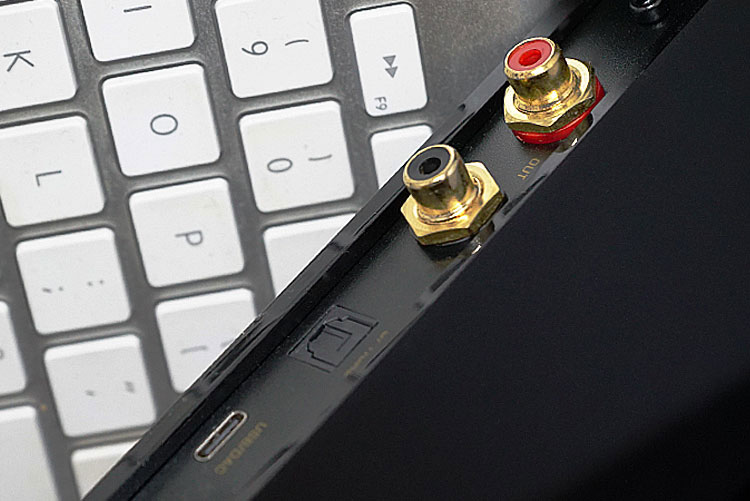 I/O
The front panel houses a 3.5mm jack, a red-colored LED screen, and a power switch. When you plug in an earphone on the front panel, the RCA output will be muted.

On the back, you will find gold-plated RCA analog outputs jacks and an optical output jack, plus a USB/DAC input socket for you to connect to the PC or phones or just to power it.
Internal Hardware
Performance Numbers
The Shanling BA1 features the Qualcomm CSR8675 Bluetooth 5.0 solution and ESS Sabre ES9218P DAC chips with QUAD DAC™ technology, 32-bit HyperStream architecture as well as Time Domain Jitter Eliminator technology.
The DAC chipset designed for mobile applications is power efficient. From the official data, it can deliver up to 121dB dynamic range and -114dB THD+N, as well as outputting 2.0Vrms with analog gain control.
The actual figures from the output measure -115dB SNR, which is pretty good for a USB-powered device, and suggests a decent noise control level on this device.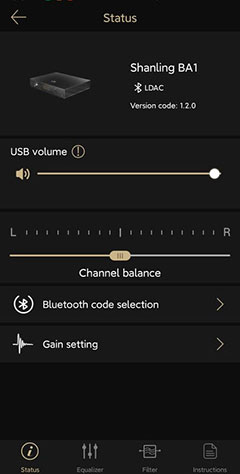 Software
By downloading the Shanling controller app users will gain access to more features. Inside the app, there is a discreet digital volume control bar for the earphone output, and users can adjust the channel balance as well as the gain (L/H).
The device will automatically connect to the highest quality Codec during use. You can select between LDAC, aptX, aptX-HD, AAC, and aptX-LL according to your usage scenario. As for me, I am using LDAC for the max quality and aptX-LL for gaming.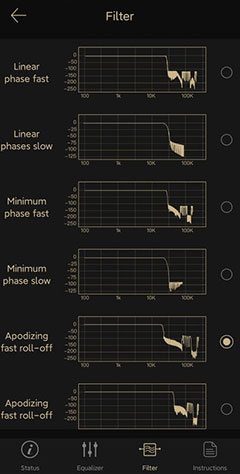 Equalizers & filters
With equalizers and filters, users can tweak the output to compensate for ambient noise or tune the sound towards their own personal preference. There are 8 filters inherited from the DAC's inbuilt options and a 10-band equalizer can be switched on if you want to fine adjust the tuning yourself.
The filters are graphically explained so if you want to learn more about the topology behind them, search up the ES9218P's datasheet and you will get a handful of information that can help you pick the most suitable filter.
Wireless Connectivity
Bluetooth
When starting the BA1 it enters pairing mode instantly. The connection with LDAC is almost instantly set up and it is stable across a few meters. There is no 3dB antenna on the BA1, however, its connection strength is good probably due to its plastic housing.
I prioritized LDAC connection for music but if you game or watch movies on your portable devices and want to use your home set up for the sound, switch to AptX LL and it will keep the picture and sound in sync.
On a side note, the BA1 has some multi-point functionality that allows 2 devices to connect to it simultaneously, so leave Bluetooth on for two of your devices and there is no need to switch back and forth.
Wired Connectivity
USB-DAC
Ideally, you could plug the BA1 onto your desktop PC which doubles as the power source, and it would function nicely as a DAC which supports up to 16BIT 48K, enough for streaming and watching movies on Apple TV.
You could also hook up the BA1 to a phone with an OTG cable just like other dongles and use it as an adaptor to output to your speakers. There is enough power in the output to sound satisfactorily resolving and firm when using the RCA signal. Also, a bit of equalizing will make it sound even sweeter.
Packaging & Accessories
The BA1 comes in a well-padded plain cardboard box package and inside you will find a USB-C cable in a separate compartment along with the user manual. There is a layer of fabric sheath shielding the cable and that looks more professional than common USB cables and adds to the shockproof capability.
Sound Impressions
Summary
Testing the BA1 is really fun since it can be put under many usage scenarios, it performs quite well in every aspect and is very easy to use.
Compared to battery-powered USB receivers like the BTR5 the perceived resolution and power are quite similar. However, you are getting digital output and RCA instead of a balanced output.
That being said, impressions here are drawn from a portable audio user's perspective so the BA1 is tested with various sources and paired with both IEMs and headphones.
Bass
There are certain power constraints from a USB connection but that doesn't stop the bass on BA1 to sound clear and firm. There is little sub-bass presence with various earphones and headphones, just enough weight and speed to color the output sounding extended and steady without being bass-light.
The upper-bass or the lower midrange around 300Hz is on the shy side but it keeps the vocal smooth and swift, smartly steering the tuning towards clean and defined.
The BA1 pulls off an impactful and clear bass punch when pairing with sensitive IEMs like the Andromeda and SE846. It also works quite well with low-load headphones like the ATH M50 which sounds decently balanced and clear in the midrange frequencies.
Though amplification power isn't very strong, the clean bass helps maintain good transparency in the tuning. The resolution is still decent when you EQ up the bass frequencies for additional power.
Mids
The mids on the BA1 are neutral, not protruding, and swiftly rendered. The upper mids have a bump that helps outline the vocal more clearly and boosts the virtuoso's presence. This allows voices to cut through the mix with clearer imaging and sounds more realistic.
Hoarse voices may get a bit edgy if you don't EQ it down but some may like the aggressiveness that will color clean vocal mixes as more exciting sounding.
Considering the use cases scenarios, the BA1 actually works well with streaming content. Firing up my YouTube playlist and Netflix the tuning on the BA1 sounds dense and smooth in the mids and compensates the upper mids that sometimes lack a bit of sparkle.
Trending music videos sounds more defined and movies get more engagement with the cleaner tuning as well.
Treble
Beyond the energetic upper mids, cymbals and higher notes in string works are definitely not shy with the BA1. Instruments around the 5kHz area are pronounced, capturing good air and overtones, as well as lighting up the whole picture while keeping the sibilance zone in control.
There is always good clarity and energy for anything that sounds bright, and it works well with Jpop/KPop as well as jazz, sounding quite refreshing.
Staging
Soundstage is not exaggerated with instruments defined and layered satisfactorily. If you compare it to the iPhone's adaptor output it is more holographic and expansive, also naturally rendered without over pushing any frequencies.
The bass doesn't go very deep but it does have a fast impact. Together with the more protruded upper mids, it sounds brilliant with woodwinds and synthesized instruments, though bass guitars and acoustic instruments are not as up-front positioned.
Vocals are imaged out of the head, with a rather slim body that could be strengthened by equalizing or pairing with IEMs that has a full-bodied tuning. The vocal image holds up decently when I jack up the volume and it does not distort before getting really loud.
Click on page 2 below for pairings and select comparisons